19th October 2004
The Forgotten Route
Jason Warner on a day out to the north.
After seeing an article in Novembers Railway magazine about the North Berwick Class 90 Hauled services I thought a trip was necessary. It appears that the rail grapevine seems to have forgotten about these services - loco haulage/branch line/frequent services - perfect in this day and age.
Firstly I booked a ticket from the GNER website - Peterborough to Edinburgh for a very reasonable £24 for the 19th October. After speaking to "Big P Fuller" of C58LG (http://www.c58lg.co.uk/) Fame he provided me with the diagrams and decided that he fancied the trip as well.
I live 24 miles from Peterborough but allowed 75 minutes for the journey and this proved to be a wise decision as I arrived on Peterborough station with only 5 minutes to Spare (lots of traffic jams on the way). Soon 91130 rolled in with 1S07 0800 Kings Cross - Edinburgh. On board was "The Big P" who had travelled up from Cardiff that morning. First stop was York and noted on the way were a 08/60 in Peterborough yards along with GBRf 66's & 73's. Doncaster was passed at speed and all that was seen was the odd shed and 1 shunter. York was reached on time and again on the trip up to Newcastle the only locos were seen were sheds on coal services, In fact the only locos we saw before we arrived at Edinburgh at 1230 were 08331 and 08615 at Craigentenny - not like the old days at all.
At Edinburgh we wandered over to Platform 7 where 90040 were waiting to push the 1234 to North Berwick.
We walked up the guard and asked if we could purchase tickets on the train to which she replied yes. The train was formed of 4 STD Mk3's and 1 DVT. We departed a few minutes late and eventually the guard produced and we purchased a £4.50 cheap day return, the train has excellent acceleration but as soon as it had got to top speed it has to slow down again, basically, it has to stop at these wonderfully Named stations - Musselburgh, Wallyford, Prestopans, Longriddry and Drem during the 22.36 mile trip. The branch to North Berwick veers of the ECML 1/2 mile after Drem Station and is single track all the way.
Soon we arrived at the one platform station, unfortunately the loco is just out the platform to take a decent photo, so we made do of a forward facing one. In doing this we noticed that the route out of North Berwick is a steep one: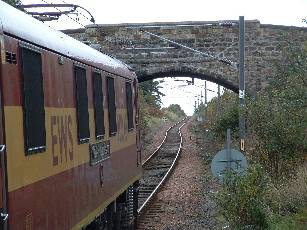 As it was lunchtime we decided to flag the return trip and walked into North Berwick to find something to eat. We settled for the County Hotel which is about 10 minutes walk away - we had from their lunch menu 2 courses for £5.90 - good value in our books. We returned to the station to find 90024 on the 1417 to Haymarket which we duly took all the way. At Haymarket we arrived into Platform 1 where you are told to get off as the train then pulls out only to reverse back into Platform 2 to form the 1529 back to North Berwick. So we did another return trip to North Berwick. On the return we baled at Edinburgh Waverly Platform 20 as it was unlikely we were going to make the + 4 at Haymarket. So we watched 90024 depart and then a few minutes later 90040 arrived into the same Platform with the 1702 Haymarket-North Berwick. So we boarded this for another trip - this time on the way out we noted 90039 on another rake as this would form the 1805 Haymarket-North Berwick. We had a choice now, either drop back for 90039 or stay on the 1702 as this forms the 1750 Non Stop run back to Edinburgh, we elected for the non stop run which was completed in 24 minutes - though it was signal checked a couple of times. We then went for some more food back in Edinburgh as we were booked on the 1900 GNER back to Peterborough. However back on the station the 1900 wasn't showing on any of the monitors, we soon found out that had been a farce during the day and noticed in Platform 19 stood a set with not to be moved on it - this turned out to be the 1900 which departed 30 minutes late with 91128 on the back.
After a 317 mile run back to Peterborough we arrived 34 minutes late - but as it had been a good day we weren't that bothered. I would recommend trip on the North Berwick's before they go, Scotrail has just been taken over by the First group so they may get rid of this loco hauled service sooner rather than later.
Jason Warner



Please use your "back" button to return a Page