7th May 2005
W.S.R. Diesel Gala
Rob Fraser describes...
(all photos also by Rob Fraser)
I had been looking forward to the WSR Diesel Gala for one main reason. D2133 had been promised for a passenger turn. Normally resident at Minehead D2133 only worked a demonstration freight at the Gala last year. PLEG had posted the roster on their website on Thursday and sure enough D2133 was booked to work on the Norton Fitzwarren shuttle. I decided to catch the 09:00 from Paddington to Taunton (the 07:07 via Bristol would have only got me there an hour earlier) and then catch the 11:12 connecting First Group No.28 bus to Bishops Lydeard. This was rather inconveniently only a theoretical +2 onto the Class 03, and not surprisingly – as there is a five minute walk from the bus stop in the village to the station – I missed this. No problem I'd have a cup of tea gets some phots and do the 12:30 shuttle.
The weather was glorious sunshine and I managed to bag some decent shots.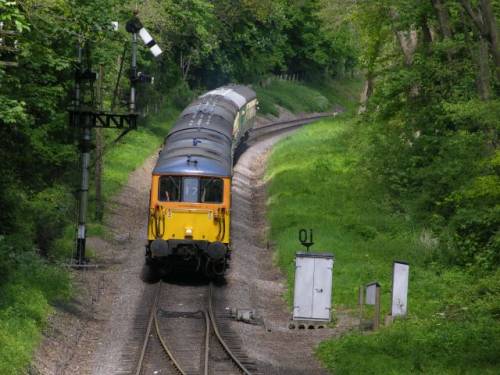 73204/205 arrives at Bishops Lydeard with the 10:50 ex-Minehead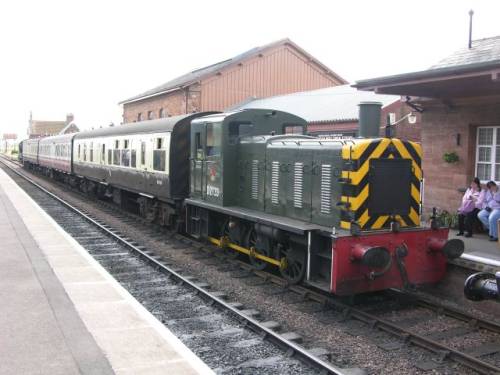 D2133 at Bishops Lydeard with the 12:52 from Norton Fitzwarren (D3462 at rear)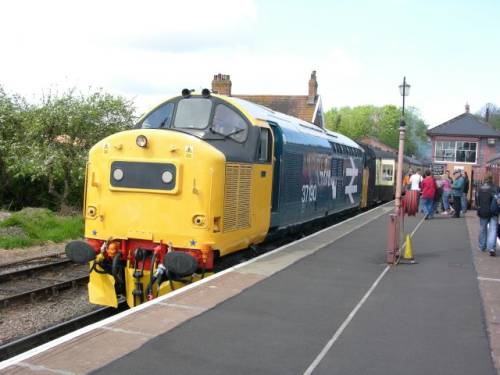 37190 at Bishops Lydeard with the 12:15 from Minehead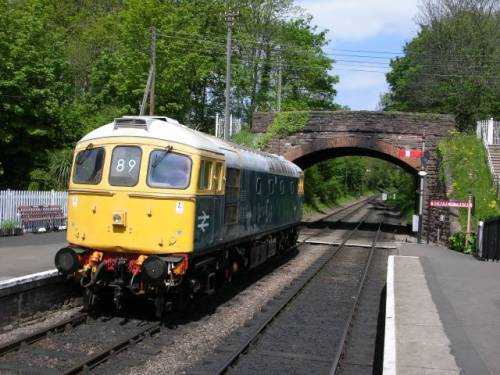 6566 waits at Bishops Lydeard to do the 12:20 to Minehead
The 11:30 shuttle returned shortly after 12:20 and the 12:15 service to Minehead with Crompton 6566 and the two GBRf EDs was held for connecting passengers. I boarded the shuttle along with Pogo and Trevor from York who had also made the trip especially for D2133. We departed on time and D3462 soon reached the maximum 15 mph allowed. At Norton Fitzwarren we waited for around six-seven minutes for our booked return time and headed back to Bishops Lydeard, this time with D2133 leading. Again the maximum of 15 mph was quickly reached. On the approach to Lydeard the gradient steepens and the speed fell away. Those who were sat in the back coach (next to D3462) claimed that the Class 08 assisted at this point.
As we ran into platform 2 at Bishops Lydeard the ex Virgin HST pulled out of platform 1 … a bit of staggeringly useless timetabling. Especially as I then had an hour's fester until the next northbound departure. Oh well, more tea and phots.
The Roster published by the WSR had been amended several times, the most recent change being because the Freightliner 47 hadn't turned up. My plan now was to sample some small engine thrash (big engines on small trains at 25 mph doesn't do too much for me). I intended to do the Hymek to Blue Anchor for the Rat to Williton and then the superb AIA Group Class 31 to Minehead and all the way back to Lydeard.
Unfortunately the Hymek was being piloted by the Class 14 (not that there is anything wrong with Teddy Bears, but being paired up reduced the opportunity for both locos to thrash). The 14:05 from Lydeard crossed 45112 at Williton and effectively had a twenty minute break there, so I was able to do a lightning visit to the D&EPG museum. D7018 was still on its "stilts" and has been half repainted in green (a "cosmetic" job rather than a proper paint job – I hope!!). The D&PG guy I spoke to said that he hoped that this would be ready for 2007.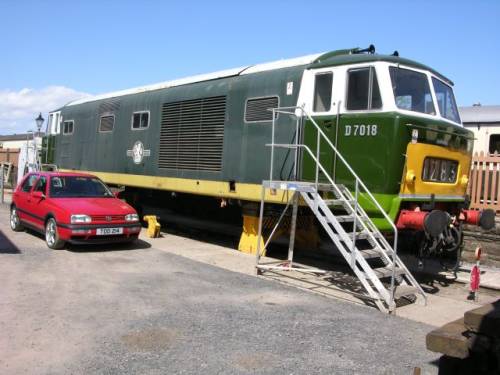 D7018 under restoration at Williton.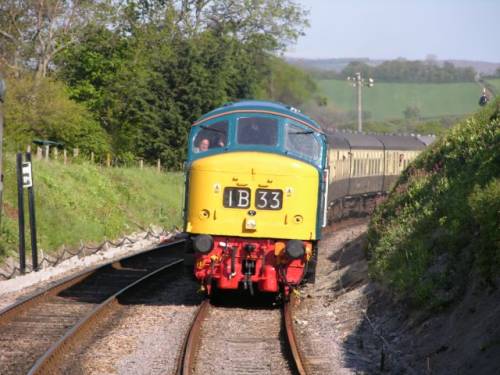 45112 at Blue Anchor with the 16:05 Bishops Lydeard to Minehead
I photted 45112 arrive and hopped back onto D9526/D7017 for the thrash up the bank to Washford and the trundle down the other side to Blue Anchor. Here I was expecting D7523, but was greeted by 6566! Apparently the Rat had failed to start with a lack of coolant. This, also apparently, has been a regular problem, so I have to ask why someone didn't check it earlier in the day and if it was out of coolant fill it up in good time, rather than just jumping on the loco five minutes before train time and expecting it to start. Of course I may be being totally unfair on this one, but there were several people who had made a special trip just for this loco – they were not too pleased.
I took 6566 back to Williton for 31271. Luckily the WSR had put this fine loco on the load seven rake of stock, so I was able to savour three good climbs with this absolute beast. This loco is superbly restored both to the eye and to the ear and is a great credit to those who have put all their time and effort into its preservation.
Back at Lydeard I just had time to get a few phots before walking back into the village and getting the No.28 bus back into Taunton. I rejected the slightly earlier "breadvan" on the bus service direct from the station in Lydeard. There were at least 40 people queuing to get on this and when I saw it leaving it could barely get out of the car park it was so overloaded. I took the 19:29 HST back to London (which was the last through service due to engineering work at Maidenhead).
Rob Fraser



What Worked What...
Observations in bold type
Assumptions/booked workings in light type
Loco(s)
Set
Train

43123+43094

HST
09:10 Minehead-Bishops Lydeard
6566
A
09:55 Minehead-Bishops Lydeard

73204/73205

D

10:50 Minehead-Bishops Lydeard

37190

C

12:15 Minehead-Bishops Lydeard

31271

B

13:10 Minehead-Bishops Lydeard

45112

A

14:05 Minehead-Bishops Lydeard

6566

D

15:05 Minehead-Bishops Lydeard

7017/9526

C

16:00 Minehead-Bishops Lydeard

31271/50007

B

16:50 Minehead-Bishops Lydeard

45112

A

17:35 Minehead-Bishops Lydeard

73204/73205

D

18:30 Minehead-Bishops Lydeard

37190

A

08:30 Bishops Lydeard-Minehead

73205/73204

D

09:15 Bishops Lydeard-Minehead

31271

C

10:00 Bishops Lydeard-Minehead

45112

B

10:55 Bishops Lydeard-Minehead

50007

A

11:40 Bishops Lydeard-Minehead

73205/73204/6566

D

12:20 Bishops Lydeard-Minehead

43123+43094

HST

13:05 Bishops Lydeard-Minehead

9526/7017

C

14:05 Bishops Lydeard-Minehead

31271

B

15:05 Bishops Lydeard-Minehead

45112/50007

A

16:05 Bishops Lydeard-Minehead

6566

D

16:55 Bishops Lydeard-Minehead

9526/7017

C

17:35 Bishops Lydeard-Minehead
Loco(s)
Set
Train

D3462 (1)

(E)

10:30 Bishops Lydeard-Norton Fitzwarren

D3462 (1)

(E)

11:30 Bishops Lydeard-Norton Fitzwarren

D3462 (1)

(E)

12:30 Bishops Lydeard-Norton Fitzwarren

D3462 (1)

(E)

13:40 Bishops Lydeard-Norton Fitzwarren

D3462 (1)

(E)

14:40 Bishops Lydeard-Norton Fitzwarren

D3462 (1)

(E)

15:40 Bishops Lydeard-Norton Fitzwarren

D2133 (2)

(E)

10:52 Norton Fitzwarren-Bishops Lydeard

D2133 (2)

(E)

11:52 Norton Fitzwarren-Bishops Lydeard

D2133 (2)

(E)

12:52 Norton Fitzwarren-Bishops Lydeard

D2133 (2)

(E)

14:02 Norton Fitzwarren-Bishops Lydeard

D2133 (2)

(E)

15:02 Norton Fitzwarren-Bishops Lydeard

D2133 (2)

(E)

16:02 Norton Fitzwarren-Bishops Lydeard
Notes :
(1) D2133 on rear.
(2) D3462 on rear.
73209 & D2119 were spare at Bishops Lydeard (Both were booked to work either Friday and/or Sunday)
D7523 was spare at Minehead (provisionally booked on the 15:05 Minehead and 17:35 Bishops Lydeard on Sunday, may have also worked on the Friday)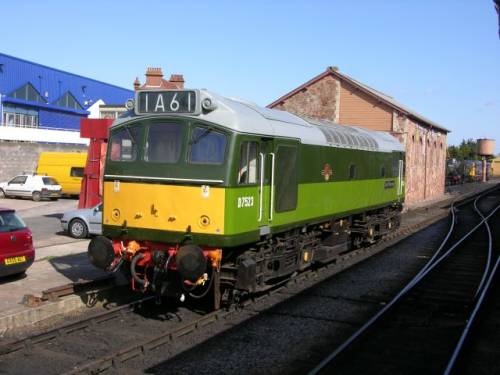 Stock
(Leading vehicle at Minehead end)
| | |
| --- | --- |
| Set | Stock |
| A | 4909/4435/4987/9380/4449 |
| B | 5024/25323/4814/35257/4260/4911/4884 |
| C | 4660/3058/9278/25308/24985 |
| D | 4876/35451/4875/5030/5025 (Air Brake) |
| (E) | 80736/59515*/59505* (* ex Class 117 DMU trailers) |
| HST | 43123/41114/41162/40422/44074/43094 |


Please use your "back" button to return a Page