6-Day Scottish Bash, 2005


(travelling around Scotland.....by train of course)

Stuart Smith takes up the story...

This trip had been "in the pipeline" for about 18 months, but only now was the time right to actually go North and complete it.

The main objectives were as follows:-
Cowlairs North - East Curve
Newcraighall Branch
37 and 67 haulage on the Sleepers
90 haulage on the Berwicks
Visit to Several 'required' Preserved Lines
Spotting Class 170 and 334 Units

WEDNESDAY 20TH JULY

The trip actually started around 5pm on the Wednesday as I thought I'd get to Euston early and sample the "Cobblers" in the final week of operation with Class 90's. The 17.23 had by now gone over to Class 350 operation, but the 18.22 was still booked for a Loco. At around 18.15 the stock was propelled into platform 16 with DVT 82127 leading and 90034 on the rear. I took my place in the front vestibule behind the 034 (a winner if you must know) for the trip ahead. However, just before departure I was pleasantly surprised to be joined by a "railtour companion" who was heading back home having been in London to purchase a Euro-Domino for his forthcoming trip to France.

I left the train at Milton Keynes, leaving Lee to continue on home, via Northampton.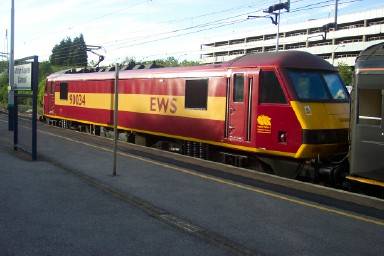 90034 at Milton Keynes Central.
A Pendolino back to Euston, saw me have time for a quick dinner before heading down to platform 15 for the 21.15 to Inverness. Having deposited my bag in the cabin (Coach M, Berth 9 for those who are interested in such details) I ventured to the front to photo 90024 which would head the 16-coach train as far as Edinburgh.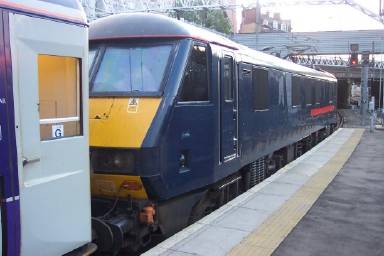 90024 at London Euston.
Having departed Euston on time, I decided to have a beer or two in the Lounge Car, but all too quickly I found myself feeling sleepy and so headed off to bed..............................................................................
THURSDAY 21ST JULY
........................................................................................................ The next thing I remember was Perth.
Feeling surprising refreshed, I decided to get up and venture back to the Lounge Car for breakfast and to watch the amazing Scottish scenery go by. Passing Aviemore, two WCRC Class 37's, 37197 and 37261 were noted stabled in the Strathspey Railway Head shunt. Arrival in Inverness was on time, behind 67007.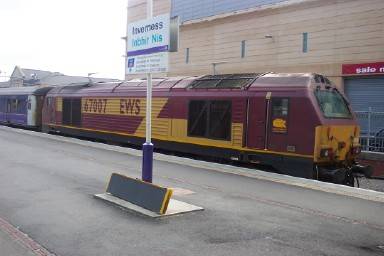 67007 at Inverness.
From here, I retraced my steps back down to Aviemore with 170454 on the 09.24 departure.
The reason for heading this way, was to visit the Strathspey Line for the first time since they had extended to Broomhill, and also into the Main station at Aviemore.
Kettle 80105 was the motive power on a four coach train (sorry, but I don't do kettles so can't say what type of loco this is) which passed 31327 with the Royal Scotsman stock at Boat of Garden heading back towards Aviemore. Our train continued to Broomhill, where it ran through the station to the run round loop, before pulling back to allow people to alight. A brief 15-minute break was had, before heading back along the line. This time noting D2774 and also 26002 under restoration in the sidings at Boat of Garden. Back at Aviemore, the 'Scotsman' had been shunted to the Inverness bound platform and was waiting for passengers. As I had an hour to wait for the train down to Edinburgh, I decided to head for the town and see what was on offer...............
(Not much, although I did pick up a couple of nice beers and some lunch from Tesco).
The 13.22 from Aviemore was formed of 170452, which arrived in Edinburgh just before 16.30.
As I didn't have any solid plans for the evening, I decided to spend some time on Waverley spotting 170's and noting which Class 90's were on the Berwicks. The latter were 90029, 90031 and 90037. It also proved a very effective evening for spotting, as I noted around 25 new units. (It must be stated at this point, that I hadn't previously seen anything above 170416). Of further note were the ex-Hull Trains 170393 - 170396 units now in Scotrail livery.
Following the spotting session, I decided to do the Berwicks. I made various trips to Prestonpans, Drem and North Berwick to get some photos of them and any ECML action too. Various GNER 225's and several EWS coal trains were also noted. I used all three sets, which were as follows: 90029 + 82109, 90031 + 82132 and 90037 + 82120. (90029 and 90031 being required for haulage).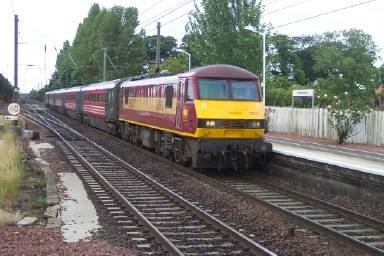 90037 at Prestonpans.
Back in Edinburgh, I quickly took a trip to Newcraighall and back (158741) to do the track. However, in reality, this only parallels the freight line from Millerhill Yard to Niddrie South Jct, which I've done numerous times on railtours. In fact, as recently as Pathfinders "Celtic Freighter" the previous Saturday.
FRIDAY 22ND JULY
The only plan I had for today was to do the sleeper from Fort William back to Edinburgh with the Class 37/4. I therefore started with an hour or so spotting in Waverley, scoring plenty more units and also photographing 66611 was heading towards Haymarket with a coal train. I caught the 09.45 to Glasgow Queen Street (unit not recorded for some reason) and then spent an hour or so spotting the 170's in Strathclyde livery operating there. Whilst sitting on the platform ends, I decided to "bash" the Clockwork Orange as I'd never before ventured down to it and currently had time to kill. I made a full trip in both directions to ensure that all track was covered and scored units 106 and 120 in the process.
However, Tube and Light Rail Systems rate about as low as steam trains in my opinion, so no further mention of this will ever be made, except for the 'high-lighted' track in my Atlas. Leaving the Tube at St. Enoch, I decided to try to spot my last four Class 334 EMU's at Central Station.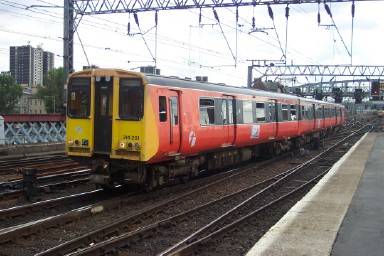 314201 at Glasgow Central.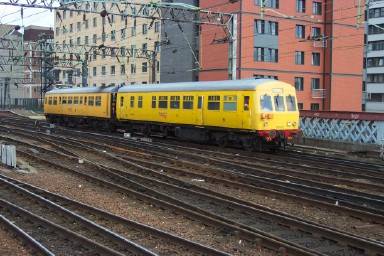 "Iris 2" at Glasgow Central.
Scoring 334019, 027 and 040 was fairly simple and quick, this just leaving 334001. An hour later it still hadn't appeared and it kept occurring to me that it was probably passing below my feet in the Low Level Station. Now I faced a dilemma, risk going down stairs and then it appears for the evening peak 'up top' or vice-versa. However, I decided to go down and head to Partick (in order to spot both Central and Queen Street Services). It didn't start very promising, as it seemed to be all 314, 318 and 320 units. But my luck was clearly in, as 334001 finally appeared on the 17.20 to Carstairs.
Most happy, I headed back to Queen Street in plenty of time for the 18.20 to Oban and Mallaig. This was formed of units 156492 and 156449, and was strangely quiet for some reason. Admiring the scenery again and armed with a "Sudoku" book, we rapidly reached Crianlarich where the split took place. 156449 then headed solo up to Bridge of Orchy where I planned to get off.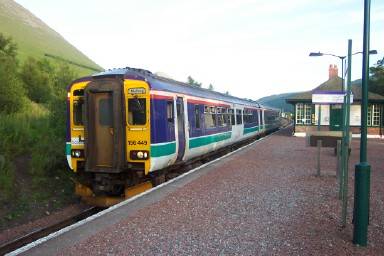 156449 at Bridge of Orchy.
The reason for choosing here rather than Rannoch to get the Sleepers was in two parts. Bridge of Orchy was a required 'shack' and it gave more chance for photographing the scenery from the station.
Big mistake.............. as soon as I stepped off the train the "Scottish Midges" were attacking me and I had no where to hide. The only option was to keep walking and hope they found the station cat that was lurking around and liked his flesh better than me.
Needless to say it didn't work, and my arms and neck are now covered in little itchy bite marks.
After a while, the sound of a 37 was heard in the distance. Then from around the hillside, the headlight of 37401 appeared and all was ok in the world again, and the "Midges" could bite all they liked.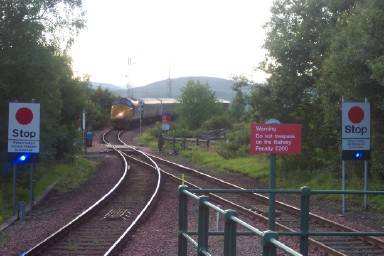 37401 pulls into Bridge of Orchy.
I have to say, it doesn't get much better than this, a Class 37 (complete with driver ready to give it loads of thrash), amazing scenery and a couple of 'real ales' to enjoy into the night. Like the outward run, it went by very quickly and at Ashfield we slowed to take the curve from Cowlairs North - East Jct. (Another piece of required track done, and currently my last in Scotland until the various proposed schemes are opened). From here it was a quick dash across to Edinburgh where 90039 was waiting to head the three portions down to London. For me, it was off to bed in the near-by hotel.
SATURDAY 23RD JULY
Today was a relatively straightforward trip to the Caledonian Railway at Brechin.
From Edinburgh, I took the 09.10 Aberdeen train, formed of 170401. Some fantastic views of the Fife Coast were to be had, and of course, those from the Forth Bridge were just as spectacular. As you will know, the Caledonian Railway runs from Brechin to Bridge of Dun, neither of which are are connected to the National Network. I therefore, alighted from the train at Montrose and 'flagged' down the nearest taxi for the short trip to Bridge of Dun station. Arriving there, I found the place totally deserted, yet completely unlocked and open to big wide world.
I wondered along the platform to the depot limits, and noted 25072, 25083, 27024 and 37097 all parked up in the sidings.
Shortly after this a volunteer appeared (actually he turned out to be the Station Master and sole representative for the eastern end of the line) and informed me that all was ok for the day ahead, and the first train was just leaving from Brechin hauled by 26014. Whilst he was setting up his office, he gave a detailed, yet informative account of the line, both currently and historically.
26014 was soon here and quickly run-round in readiness for the 12.15 departure. During the afternoon I took 1½ round trips, had a guided visit to both depot areas and managed a photo of every diesel loco on the line. (Remember, I don't do steam so no photos of such items).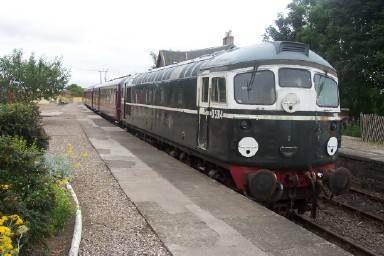 26014 at Bridge of Dun.
Currently the full motive power line up is as follows:- D3059, 12052, 12093, 25072, 25083, 26014, 26035, 27024 and 37397.
From Brechin, I took the bus back to Montrose, (Info for Colin- Route number 30, destination Dundee) for the 17.16 train back South (170408). However, as this was a Glasgow bound service, I opted to alight at Arbroath (another required shack) for the following train to Edinburgh. Whilst waiting, 66408 was seen speeding through with a Southbound freight train. The 18.16 service was yet another Class 170 formed service, this time being 170429. Arrival back in Edinburgh was just before 8pm, and I headed back to the hotel for some much-needed dinner and beer.
SUNDAY 24TH JULY
The final day, and today I was heading for Keith. As the Forth Rail Bridge was now closed for a 10-day refurbishment programme, buses were replacing all local services and long distance trains being re-routed via Stirling. In the regular timetable the 09.10 departure is a GNER HST service, however, in the amended version it was being operated by Scotrail. So yet another 170 to look forward to then I guess.
Sure enough, 170403 was the booked unit. We first headed West to Polmont, then turned Northwards towards Stirling and Perth, then back East towards Dundee and the Coast, then finally North again for the final leg to Aberdeen. Despite the longer route, we actually arrived in Aberdeen only 10 minutes later than the original timings, although in fairness, we had run non-stop from Haymarket to Dundee.
At Aberdeen, I had an hour wait for the train to Keith, so decided to grab some lunch for later.
The 13.12 Inverness service was formed of the same unit as earlier, having had a lay over in platform number "6N". The journey to Keith, is a little over an hour, so just enough time to snooze and catch up on some more Sudoku puzzles. From Keith 'Junction' it is a short walk to Keith 'Town', however, if one stopped in the near-by distillery, it could become a rather long stagger I presume. Apparently you can use the old track bed between the two stations for an even quicker route still.
All services are currently worked by one of two Class 108 DMU's. Today it was "Spirit of Speyside". Having not done this line before, it was the track that appealed mostly to me, although heritage units are better than 'kettles' by a million miles. The line takes a slow meandering route through mostly deserted countryside, although at some points, it seemed to pass through back gardens of several properties. The end of the line at Dufftown is where the yard and depot can be found, although in honesty, this only really consists of a few sidings both beyond and adjacent to the station.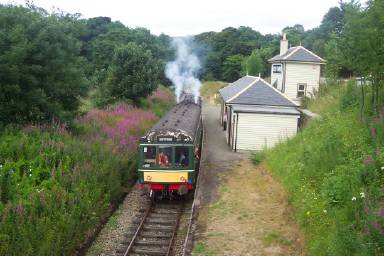 The DMU at Keith Town
Stock here was as follows:- 73119, Prototype DMU 140001, 2x Brighton Belle vehicles, 2x Industrial Shunters and the spare Class 108 DMU. 2 other coaches are used as the tearoom and restaurant. Having taken some photos it was back on the train for the trip back to Keith. From here there was time to photo the unit departing back to Dufftown on the final trip of the day, before walking back to the main station.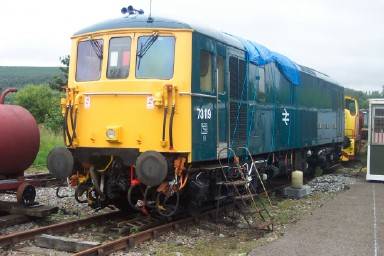 73119 at Dufftown.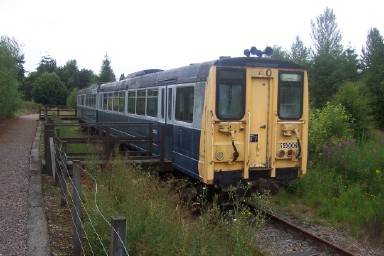 140001 at Dufftown.
Being a Sunday, trains are far from frequent on this line, but it was only an hour's wait for the 18.17 departure. This turned up on time, being formed of 158708 and 158709.
So that was that, nothing more to look forward to except the sleeper back down to London.
In Aberdeen, I had nearly two hours to wait, so opted to head for some food, eventually finding a Chinese restaurant (Jimmy Chungs) in the town centre. Fully fed, I returned to the station for the 21.10 departure. This is usually the 21.40 departure, but being re-timed due to the diversion via Stirling.
67002 (not required) was at the head of the stock in platform 3, and our coach was the leading one on departure......... so plenty of thrash to be had then..........NOT.
As the train was full, I met the guy in my room (he had been in Aberdeen for a friends wedding, so like me was in need of sleep) and then decided to head straight for bed. I didn't manage any sleep till Edinburgh, but must have dropped off somewhere after that.
MONDAY 25TH JULY
I woke somewhere to discover it was raining heavy and that we had stopped. Judging by my "enthusiast radar" I guessed that we were somewhere near to Milton Keynes. We were stationary for about 20 minutes, before heading off again at full speed. Breakfast was soon delivered, and shortly after we made our arrival into Euston. Arrival being at 08.05 behind 90028, a dud loco to finish as well.
Oh well................
So a round up of achievements from the trip:-
1- 2 required sections of passenger track. (resulting in Scotland now completed).
2- 3 new preserved railways completed.
3- Scoring D5314, 67007, 90029, 90031 and 90034 for haulage.
4- Scoring D3059, 12052, 12093, 26002 and 27024 for sight.
5- Spotting my last 4 Class 334's for sight.
6- Spotting 32 out of 35 of my last Class 170's for sight. (leaving just 170453, 170455 and 170475).
7- Collecting 9 required stations.
8- And finally, having a blast of a time whilst doing it.
Stuart Smith



Please use your "back" button to return a Page