Isle of Wight Steam Railway Shuntabout


6th August 2005

Ian Dobson bashes over the water....

It all started in with Brillo and I in the back of David Russell's car on the way back from 'The Solent Syphons' earlier this year. That should have got your attention anyway….

I've been after 05001/D2554 for many years and missed the previous charters with it. I fully expected that the demand for it and D2059 would be diminishing as all the main men will already have had them so I delicately tested the water by asking "when are PLEG running another charter at Havenstreet then?". Brillo, to his credit, replied by asking when I wanted one running and suggested I offer him some dates and he would see what he could do. I duly did this and suggested that the least convenient date of several for me was Saturday 6th August 2005. Needless to say, this was the most convenient date for the Isle of Wight Steam Railway and as they held all the trump cards by owning the locos concerned I agreed that I would change my other plans and get there for that date!

Before booking mega cheap deals with Travel Inns and Ferries I checked with Brillo in June to see how bookings were coming in – i.e. was the charter on! He said that there were about 9 people including myself so I persuaded my wife and daughter (20 months) to come along so we were into double figures! As a past Chairman of a heritage railway I guessed that the IOWSR would be less than keen to charter a train for 10 people but apparently they were confident so off went the money, and Travel Inn and Red Funnel ferry bookings were made.

Being an active member of PLEG, Brillo asked me if I would be the PLEG co-ordinator for the day at the Railway, I duly agreed and was told that shouldn't have anything to do on the day as it was a straightforward charter – I have been heavily involved in Middleton Railway galas as a driver and senior responsible officer, so was will aware of how 'straightforward' things can go spectacularly wrong, but seeing as I had asked for the charter in the first place how could I refuse?

So that is how I found myself at the Eastleigh Lakeside Railway on the Friday afternoon. A cunning plan to keep wife and daughter happy – visit a miniature railway in a country park on the way to a PLEG charter! Actually the railway, ice creams and park went down very well and it is well worth a visit if you are in the area. The last train of the day was worked by a battery powered Eurostar power car and as we only managed runs on the last two trains of the day we managed two scoops – having had 'The Empress' tea making device on the penultimate train. A very professional and well run outfit.

So, one night in a Travel Inn later we found ourselves at Southampton Red Funnel Terminal at 08.15 on the Saturday morning. Polly (daughter) managed to scoop in some slides and roundabouts next door before her first ever boat trip.

We got to the Railway at around 10.45 after a mega farce unloading the ferry at East Cowes. I quickly found Jim Lowe (our IOWSR contact) who assured me that the locos and stock were all in position and everything was going according to plan. This made a pleasant change from some railways that only seem to realise that they need to shunt locos and stock into position about a minute before the train is due to depart. Jim outlined what they intended to do for the brake van rides which seemed to consist of running D2554 and a brake van up and down for 90 minutes or until everyone got fed up with it (whichever came first). As all was going according to plan the Dobson family adjourned to the buffet from where we witnessed D2554 starting up for the first time that day. The exhaust resembled a Deltic opening up after idling for several hours and was very impressive – at least the thing had started up!

Shortly before departure time D2059 rolled into Havenstreet platform with the 'Ventor West' (RIP) set of stock. I had been told that there were around 37 pre-paid tickets with 8 people to pay on the day. A vast improvement and one that brought a smile to Jim Lowe's face as the railway had suggested 40 as a 'worthwhile' head count. I managed to blag the family into the previously locked first class compo and promptly removed Polly's shoes as she likes climbing on train seats. The stock was – as is usual with the IOWSR – immaculate and D2059 looked strangely out of place at the front where a terrier (that's a kettle to all you PLEG hardcore) should be. She didn't hang around though and once unleashed down the hill to Smallbrook Junction we had a very spirited run to the delight of all concerned. The usual prompt IOWSR run round at Smallbrook still allowed photo opportunities and we were joined at this point by Stuart Clarke who was to assist in the 'policing' of the brake van trips later. A run through Havenstreet got us through to Wootton where more photos were taken. It was noticeable how obliging and pleasant all the IOWSR staff were – perhaps just bemused (or stunned) at all these people travelling from all over the UK for some diesels. I never heard one snide comment about diesels or diesel enthusiasts at this event from staff – a pleasant change from some railways I have visited!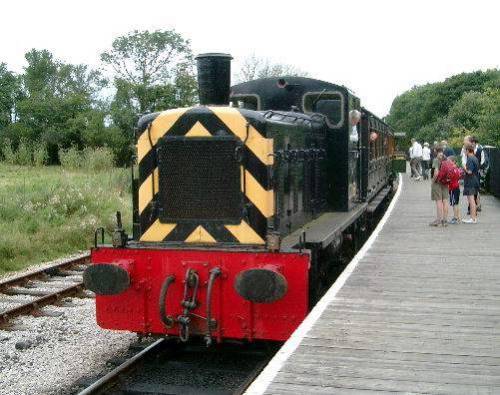 The 03 at Smallbrook Junction (photo: Ian Dobson)
On arrival back at Havenstreet Stuart, Jim and I had a brief discussion as to how the brake van rides should be run. We agreed that they should be over the maximum length of track possible for the BLS members present and that we would allow everyone to have one trip before allowing anyone 'seconds'. Stuart and I arranged the gripping on entry to the brake van and we worked out that we needed three trips to get everyone on. I graciously allowed Stuart first go and prayed that D2554 didn't fail! We needn't have worried, everyone seemed to fall into line and I think we managed to get everyone on who wanted a go.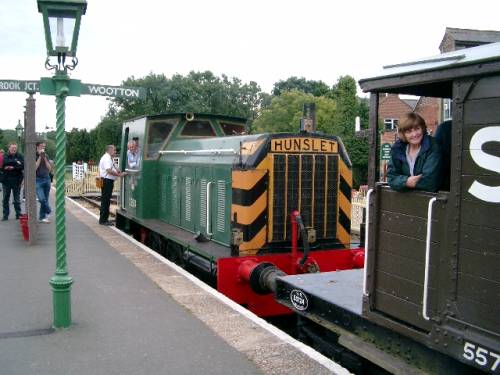 The 05 on brakevan rides (photo: Ian Dobson)
We ended up doing 9 trips (I think) but by the end it was only the hard core who wanted to ride – others were pacing the platform to see what 'chainage' they had achieved! The enterprising 05 driver even offered cab rides in return for a donation towards some paint for the cab interior – very clever and well received! It was all too soon time to put D2554 back in its box for another time and a few people headed back to the mainland behind Hunslet austerity 'Royal Engineer' rather than waiting for another trip with the 03 – your secret is safe with us!
Actually the Dobson family didn't stay for the second run with the 03 either (and 'Royal Engineer' was dud anyway) so we went to say our farewells to Jim Lowe. He said that the guards count on the first 03 trip had been 52 passengers and we reckoned that another 8 people had arrived since so altogether around 60 punters had had a spin with the rarely used diesels. Jim was pleased that the Railway had delivered what was promised and we thanked him and all the staff for a great day out – here's to the next time!
Ian Dobson



Please use your "back" button to return a Page