Saturday 6th June 1998
Battlefield Line Diesel Weekend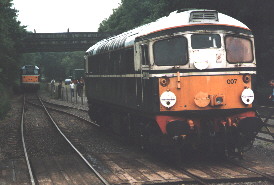 D5300 and D5518 at Shenton having arrived with the days first service.

The advertised motive power for this regular event included two locomotives I required for haulage, so with nothing better to do my decision was made. The railway were operating an hourly service from 0900 to 1900 using;
| Class | Number |
| --- | --- |
| 08 | D3236 |
| 25 | 25067 and 25265 |
| 26 | D5300 and 26011 |
| 31 | D5518 |
| DMU | 51131, 54289 and 55005 |
The promise of 26011 and class 08 D3236 in action was enough to encourage me out on what was forecast to be a foul day with heavy rain showers and thunderstorms. In the event the 26 did not perform and the weather was quite nice with only a few spots of rain late in the afternoon. A chance meeting with Stuart Clarke of the Stevenage Locomotive Society also gave me a chance to visit the nearby Cadeby Light Railway where he had arranged for ex-BR 24" gauge diesel shunter 85051 to be turned out for our visit.
The Battlefield line gala did not get off to a good start on the Saturday morning - the 0900 departure with D5518 and D5300 not getting away until almost 9.30am due to delays shunting at the station. The run to Shenton was not too bad and once there D5518 was dropped off and D5300 worked back to Shackerstone. Despite the late running, a few of us noted the crews did not seem to be too bothered about regaining time. This was the case throughout the day (although by early afternoon the timetable was back to plan).
At this point we had our little outing to Cadeby. For those of you who have not been before, this is a narrow-gauge railway in the garden of The Old Rectory in Cadeby village. 85051 (ex-depot shunter from Chesterton Junction central materials depot) was in fine fettle and the journey around the garden in an open flat wagon was something rather different. For a loco so small, 85051 certainly made some noise as it was opened up away from stops! After a quick look at the other exhibits and the museum we headed back to Shackerstone in time for the 1200 departure which had 25067 in charge. Much of the afternoon was spent going back-and-forth with the various mainline diesels and one trip with the DMU. They all put up quite good performances. It is worth noting that 25265 was in much better form than the last time I had it for haulage back in December 1997.
For me the highlight of the day was the use of class 08 shunter D3236 on the 1800 departure. Although quite a slow round trip, at least it was a required haulage, and quite rare too. Arriving back just after 7pm I watched the last departure leave behind D5300 rather than travel on it, then headed for home.
Verdict : At £10 for a day rover it was certainly good value as it was possible to make 11 full round trips. Getting the visit to the Cadeby Light Railway was a pleasant surprise and also very enjoyable. My thanks go to Stuart Clarke for allowing myself and a colleague to join his group on the visit to Cadeby.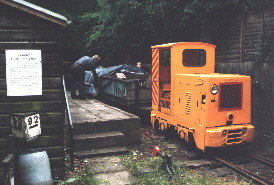 Former BR narrow-gauge shunter 85051 at Cadeby.

Gary Thornton.


Back to "Diesel Galas"