13th August 2006
P.L.E.G.
(Fawley Hill Railway)
On Safari in deepest Bucks....
| | |
| --- | --- |
| Locos Used | D2120 & steam : 31 (Hudswell Clarke 1026/1913) |
| Stock Used | 20t Brake Van 993896 + 13t 5-Plank Open Wagon 127565 |
Route:
| | |
| --- | --- |
| Loco | Route |
| D2120 | Somersham - Bourne Again Junction |
| D2120 (1) | Bourne Again Junction - Inverernie - Fort Invergordon (end of line) |
| D2120 | Fort Invergordon (end of line) - Inverernie - Bourne Again Junction - Star Lane |
| D2120 (1) | Star Lane - Bourne Again Junction Loop |
| 31 (2) | Bourne Again Junction Loop - Somersham |
Notes :
(1) Loco propelling.
(2) Loco slipped to a stand twice on return leg up the very steep gradient to Somersham - the first time involved a roll back of about 6 feet and the second was about 20 feet.
Sources : Gary Thornton & Rob Fraser (on the train throughout)



Review
(by Gary Thornton)
I must be dreaming - early on this Sunday morning I found myself standing in an open 5-plank wagon behind a class 03 shunter dropping down a 1:30 gradient. To my right in the field adjacent to the railway were a herd of deer and a few wallabies feeding peacefully alongside a large colourful cast iron structure which came off the now-demolished Blackfriars Bridge. To my left were a number of large stone structures from various long demolished older station buildings in London - Broad Street, Ludgate, Waterloo....and a set of tyres off Flying Scotsman...
As we neared the end of the first leg of the journey a few Emu, Rhea and Capibara sat watching our passage, obviously an everyday scene to them.
Dreaming? No, this was reality! These were all scenes from part of a journey on Sir William McAlpine's garden railway at Fawley Hill near Henley-on-Thames. Bizzare it may seem, but it is a really worthwhile visit if you are given the chance to do it.
A small group of us had arrived to sample the class 03 shunter resident there, D2120. On arrival, in the pouring rain, D2120 was sat ticking over in Somersham station. Stood looking down the steep curving line towards Bourne Again Junction it was amazing to think anything could make it up such a steep hill.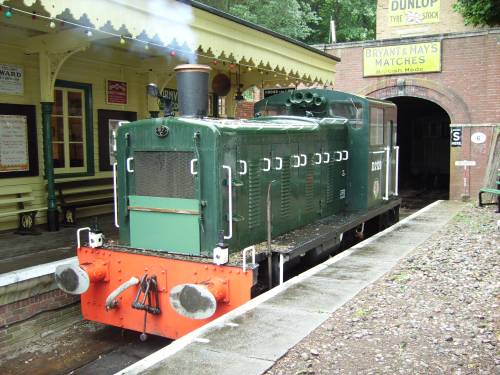 D2120 at Somersham Station (photo: Gary Thornton)
After a few minutes activity D2120 backed into a structure at the far end of the station and reappeared soon after with a brake van and open wagon in tow. The volunteers swept out the wagon but offered the choice of vehicle on account of the rain - as it had nearly stopped a few of us opted for the wagon rather than brake van.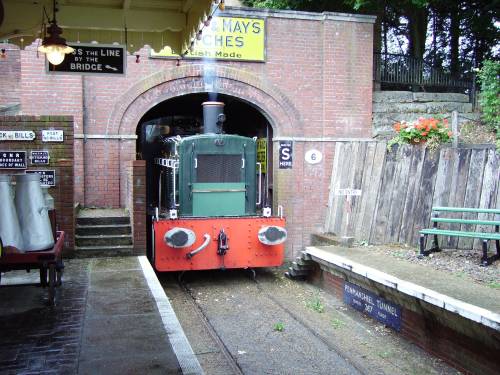 D2120 collecting the train stock (photo: Gary Thornton)
D2120 made steady progress down the hill, giving plenty of chance to view the various large pieces of architecture which had been erected along the route of the line - most having come from long-demolished railway stations. The wildlife glimpsed alongside seemed quite used to the train and just watched our passage.
At Bourne Again Junction a quick reversal was made and the train continued down a falling grade to Inverernie and the end of the line by Fort Invergordon Signal Box. We made it to 7 sleepers short of the buffers. A quick reversal and we retraced our steps to Bourne Again Junction but then ran on to Star Lane. On reversing here we entered the loop at Bourne Again Junction whilst the small industrial steam loco, no. 31, then entered at the other end and buffered up to the open wagon after which D2120 was detached. Those in the brake van got a chance to get off here for photos but those of us in the open wagon were captive :-(
The run back up the grade with damp rails was interesting - we slipped to a stand twice but the loco crew did an excellent job and got a well-deserved clap from some of their working colleagues when we finally struggled back into Somersham station.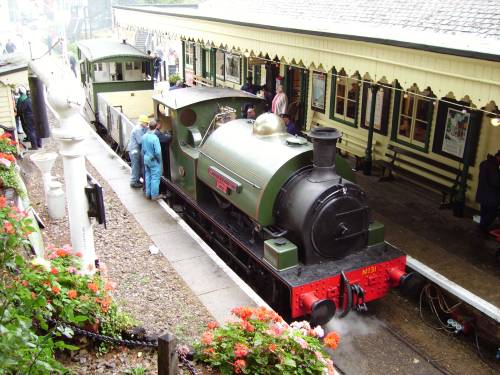 31 Back at Somerton Station (photo: Gary Thornton)
A short but very interesting run, another class 03 scooped for haulage. Thanks go to the Fawley Museum Society staff for making our visit such an enjoyable one.
Gary Thornton.



Timings (Actual Only)
(from Rob Fraser)
Miles
Location
Actual (out)
Actual (rtn)
Miles
0.00
Somersham
10.44½d
11.12a
0.28
0.30
Bourne Again Junction // Loop
10.49½a ~
10L59½a ~ 11.05½d
0.00
1.14
-
Star Lane
-
10.57½a ~ 10.58d
1.09
0.30
Bourne Again Junction
~ 10.50d
10/57
1.05
0.65
Inverernie
10/53
10/54½
0.70
0.68
Fort Invergordon
10.53a
10.53d
0.68


Please use your "back" button to return a Page