7th/8th April 2001
Mid Hants Railway Diesel Gala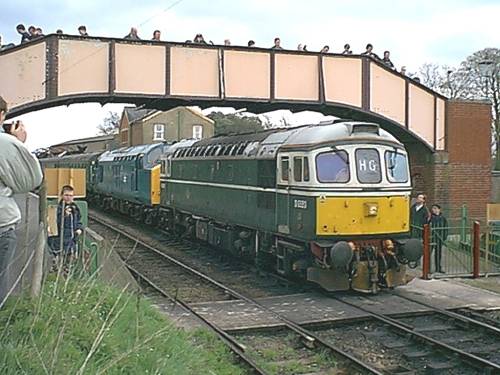 Green and blue together - 33208 and 37308 on the Sunday.
(photo by Daniel Bound)
A review of the Saturday by Nigel Benning :
Having been unable to make the first Trainspotters Ball in 2000, I was determined to attend the second. So, having persuaded a friend to join me (a Tractor fan), we drove up to Alresford from Bournemouth for day one of the event. My targets for the day were the visiting mainline locomotives, 37308, 47224 and 47306, plus Mid-Hants resident 20188. I also hoped to grab as many of the double-headed services as possible.
Being unable to obtain diagrams before the day, arrival at Alresford at 8:45 allowed plenty of time to purchase a souvenir programme and timetable and plan the moves. We started off behind 821 on the first departure as far as Medstead where we dropped onto 47224 and 47306 double-heading back to Alresford. Next it was 20188 to Ropley followed by the mixed pair 37308 and 47306 on to Alton. So that was all the required locos scored early on (rule 1 of galas - get the required locos before they fail!). Actually, I later found out that 37308 was formerly 37274, which I'd had for haulage on a rail tour back in 1995.
Next move was to have been 20188 & 47306 on the 1:06 departure from Alton but, as 37308 had developed a fault (coolant leak), 20188 was transferred to the 12:36 departure so we caught this down to Ropley. Now we had booked for the evening mainline tour 'The Vac Venturer' behind 449, so it was a bit disturbing to see 449 sat in the yard at Ropley with some of its roof panels open. It seemed to be receiving attention so the hope was that it would be fixed in time.
From Ropley, 33208 was taken as far as Medstead for 47306 back to Alresford. For various reasons, services became later and later as the day progressed, so when 47306 was taken (substituting for 37308) on the 1:55 service, departure was at 2:10. The 47 was taken to Medstead with 821 and a resurrected 37308 double heading back to Alresford. With the tour due off Alresford at 4:15, there was enough time to take solo 47224 as far as Ropley for the late running bubble-car W55003 back to Alresford. However a number of other folk had had the same idea, and when we went to board the already full single car DMU at Ropley, the guard initially refused to allow us to board. We pointed out that we needed to get back to Alresford for the tour and that this was the last service that would allow us to do this, so he allowed everyone to travel in the brake compartment. Very cosy!
We were relieved to see 449 had recovered and it departed Alresford spot on time at 4:15 with the 'Vac Venturer' tour. Although booked non-stop to Alton, due to having to pass late running services, stops were made at Ropley and Medstead with Alton reached 9 minutes down. From Alton the 50 took us on to Guildford and thence to Havant where, due to late running, a 14 minute pathing stop was not required and we passed through the station on the fast lines just 1 minute late. Next stop was Eastleigh, for an eight minute pathing stop, before heading for another pathing stop in Wallers Ash Up Loop. After allowing a SWT service to pass, it was onwards to Basingstoke, Reading (a non-stop run through Platform 4), and Wokingham before a stop at Guildford where the 50 ran round to return us back to the Mid-Hants. Back on the preserved line, a Wine & Dine service was passed at Medstead before Alresford was finally reached at 22:40, just 6 minutes down.
In all the 181 mile run had taken nearly six and a half hours to undertake, but despite the rather casual schedule it was a rather pleasant evenings jaunt behind 449.


...And now....no less than three reviews of the Sunday!!
(1) By Phil Sherringham :
Where to start, well lets try the beginning, always best. An impressive line up was arranged for this gala so it didnít take much persuading to pay the line a visit for the first time. Sunday was chosen For two reasons really, 1) I was working Saturday and 2) the 0955 departure from Alresford was 37308+20188. Both my favourite type of traction, first visit go with the best power makes sense.
After being picked up by Alistair,( taxi & TV deliverer) we headed south, stopping for breakfast of course. We arrived in good time and managed a photo of 47224 on the first departure, yes late running had begun already. We boarded the 0955 which left about 5 min late. As the journey got under way it became apparent that the 20 was mainly being used as a dead weight, powered twice (I think) why bother pairing things if there not going to work as a pair? We had another chance later with the warship. 821 was quite ill , only on one engine and suffering from fuel starvation, we actually did this the length of the line very entertaining. Arriving back at Alresford in between departures the used to warship to shunt coaches why they did this is beyond any bodies comprehension. They had late running trains, and had to run the 20 round nice move Mid Hants. Things went from bad to worse they got to use the 20 this time especially if the warships ill. Once again we departed for Alton. They used the 20 once to assist the warship up hill. For gods sake whatís wrong with you people? One final chance was the last departure from Alton 20188 and the bubble car (W55003). After a break in Alton, a visit to Woolworth and any other shop that was open. There was also a Physic Fair, should have paid them a visit. Back at Alton we watched 37308 arrive on top of the 9F, ďthatís not in the Time TableĒ It depended on which of the three in use you went by! Anyway we had I trip on the kettle to cross at Meadstead with the Bubble Car there we sat until 47306+50049 went though light engine, who the hell diagrams L/Eís to run the length of the line during a gala!. Trains were now around 55 late. We arrived at Alton and sure enough 188 was sitting there whistling quite happy, some 20 thrash at last. The Mid Hants had other ideas, they proceed to attach the 20 to the rear of the unit, it power a little (yet again) and to rub salt into the wound was removed at Ropley. Now you know why a visit to the Physic Fair would have been of use.
Verdict: I donít know if your aware of a film called This is Spinal Tap. A spoof about a British rock Band. Thereís a scene where theyíre going through some reviews of their old albums. They had an album called Shark Sandwich. One magazine gave it a two word review S**t Sandwich! Nuff said.
Locos used:
33208
33109(once)
37308
47224
47306
50049
D821
Bubble car
9F(kettle)
I wonít include 20188 as I didnít think it was used.
Ttfn
Phil Sherringham


(2) by Daniel Bound :
A very busy weekend of loco and line bashing was completed at the highly enjoyable Mid-Hants railway. While not a great deal of modern (e.g. GM) traction, for the connoisseur of locos a good day out was promised. There were a lot of visitors to the railway including D449, D821, 37308, 47306 and 47224.
An interesting road trip (OK, wrong turn) saw David Clark, his dad and I arrive at Alton just before the first train (33208 and 47306) departed. The sound of the crompton disappearing into the distance as we bought our car park ticket. A £10 rover ticket was gained and we crossed onto platform 3 to be greeted by D449 revving away in the small yard. A reversal into the platform saw us all clamber aboard awaiting the 10:06 departure time.
On time, the 50ís horn blew and the climb began, passing 47224 named Arcidae, on our way out. 33204 looking very forlorn was sitting in a siding just outside Alton.
The plans for the day were formulated thanks to Mr Clark junior (an EWS train planner so he must be good eh?). The first move was to bail at Medstead for 37308 and 20188 back to Alton. As we pulled in BR blue 37308 and black 20188 named Pectinidae on one side and River Yeo on the other were waiting on the opposite platform. A quick dash over the bridge and another seat was found as the engines pulled away. A 5mph restriction over the summit meant our departure was not as spectacular as could have been, but still the engines worked well (37308 in particular sounding tremendous) and Alton was reached on time with 47224 again passing us.
37308 reversed around and was ready for departure at 11:06 for our 3rd train of the day. We took this train all the way to Alresford passing the 9F-steam train 92212 at Medstead and D821 at Ropley. On arrival at Alresford D449 was again waiting in the opposite platform, this was attached to our train along with 37308 (we liked these locos!) and this impressive BR blue line-up formed the 11:55 departure which we took to Ropley, the clag from these 2 locos was great!
This half-hour break gave us time to look around Ropley shed where the 2 shunters (black 08288 and 12049 in green DAY Aggregates livery) were sitting. Class 27 D5353 and 45132 were in the top shed. 33109 was being fired up to work later in the day.
A walk back to the station saw 92212 arrive from Alresford before warship D821 pulled into the station and we boarded for the short trip down to Alresford.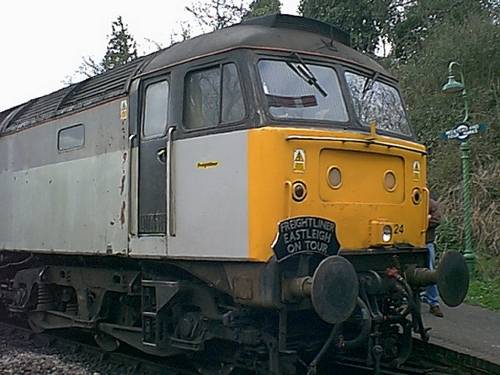 47224 waits at Medstead with the 12:55 Alresford - Alton (D.Bound)
Freightlinerís 47224 was waiting to back onto our train and very shortly we were away heading up the incline to Medstead, where we again bailed for 37308 (told you we liked this loco!) and 33208 back to Alresford.
Timetables were running about 10 minutes out at this point, which for a gala day wasnít too bad! 33208 reversed around our train and we left Alresford for the last time for the run back to Alton. Then home, to please my suffering fiancťe! (2 days of trains takes it out of a relationship, but Choc Choc chip Hagen-Daz ice cream sorts it out very quickly!!)
Although I didnít stay very long at the gala event, a lot of excellent running was had, and some of the loco pairings were well thought out. (Especially 37308 and D449) The good weather also helped and the trains were all well loaded, with a lot of familiar faces from the previous day! The £10 rover ticket proved excellent value for an excellent day out.

(3) Miggy's review:
On the strength of last yearís excellent diesel weekend and confirmation of 37308 being a possible guest accommodation was booked in Hampshire for the Saturday evening the plan being Pathfinder 33 tour from Kenny O on the Saturday, Mid-Hants on the Sunday.
Two things that really wind me up about preserved railways are:
1) Those that decide to rip off diesel enthusiasts by inflating ticket prices for diesel events especially when there are no visiting loco costs as we will always pay (Gloucestershire Warwickshire please note I will not be returning for a while after your 4 and a bit loco £14 rover price). Steam was replaced by diesel as they were more efficient and cheaper to run, so far only the Nene Valley seem to have realised this-well done.
2) Those railways (Severn Valley are always the first to spring to mind) who steadfastly refuse to issue timetables to the public in advance, and have people on the phones who do not know, or do not want to issue, details of which locos are operating trains. This is the 21st century all railways should publish gala rosters on the web in advance, not just to staff manning the signal-boxes. If not, they should at least ensure one is located by the telephone advertised to issue information and that the person answering the phone is able to understand it. On the first of these the Mid Hants are to be applauded as the rover was £10 . On the second the railway used the excuse of foot and mouth spreading photographers as an excuse not to publish the timetable in advance. However, this excuse was seen in its true light when, on the day rather than issuing free timetables and roster to all who purchase a rover (as all railways should) they were selling them to ticket holders and photographers alike for £1. Read into that want you want but many of us were of the same opinion.
Anyway onto the travel. The first train arrived in Alresford platform, at around booked departure time, with required 47224 on the front. However we were not to board for several minutes whilst safety checks were carried out on the stock (previous days rubbish removed). 47224 were taken to Medstead for 33208 and 47306 back to Ropley (spoon for a spoon, a move I never wish to repeat on a preserved line). 20188 and 37308 then were boarded for the journey to Alton. Obviously the safety team had not checked this train too well as on the climb to Medstead a member of the buffet walked through the front coach announcing the buffet was open, continued to the corridor door, opened it, and was faced with the black cab of 20188! During the remainder of the day 20188,a sick 821,37308,33208 and 50049 were sampled. Disappointed by the little use made of 20188 considering its rarity in use since its East Lancs gala days its solo last run of the day out of Alton was a must despite the stock being the bubble car (interesting to see what the railway would have done if 150 passengers returning to cars at Alresford had tried to board this, the last train).
To reach Alton the bubblecar, 55003(but without Meld nameplates or white window surround) was suffered for the length of the line. Despite late running we were held for an age at Medstead whilst 47306 and 50049 ran light from Alton to Ropley - the same move also heavily delayed the following 33109/208 hauled train - you know it makes sense - sod the customers who want to get home it says light engine movement on the timetable so light engine movement it is. On at Alton arrival 20188 left the siding where it had been parked for half the day, came alongside the bubblecar, then reversed!!!!
Despite the timetable clearly showing 20188, someone had decided that the 20 would be attached behind the bubble car and bank as required - the 20 bashers onboard (including shareholders of one class member) were far from impressed.
We then sat around 25 minutes awaiting 33109 and 208 arriving in the loop before we could leave. As we departed a friend phoned from the Crompton train asking where we were as they had been stood in the loop for 5-10 mins and he had a train to catch to Woking in less than 5 minutes. It was not without reason many enthusiasts were referring to the railway by its alternative name of Mid Shambles Railway.
At Ropley the 20 was uncoupled, we proceeded to Alresford and left the railway. After a three hour 40 minute journey in the rain to Yorkshire I arrived home. Will I return next year? Without a timetable in advance and more solo use of type 1-3 locos suited to preserved lines rather than type 4-5 power I doubt it.


Back to "Diesel Galas"