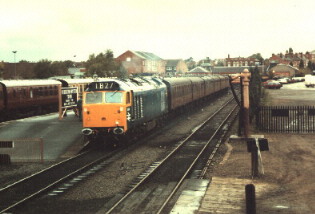 D444 at Kidderminster station.

As per previous years the Severn Valley Railway diesel gala was not run over a weekend but on the Friday and Saturday. The Sunday is the "Vintage Vehicle Day" although there are usually one or two diesel diagrams in addition to the steam. In the past few years it also seems to have become tradition that I work a signalbox on the Saturday of the gala (I'm a working member on the SVR) however this year I chose to take a break and spend the day travelling. I'll admit that the presence of a Deltic and the unique Class 17 "Clayton" had a lot to do with that decision.

The list of diesel locomotives in action were;
| Class | Number |
| --- | --- |
| 17 | D8568 |
| 25 | D7633 |
| 27 | D5410 |
| 42 | D821 "Greyhound" |
| 50 | 50015 "Valiant", D444 |
| 52 | D1013 "Western Ranger" |
| 55 | D9019 "Royal Highland Fusilier" |
Having seen the working timetable the previous Saturday I was already aware that the Deltic was booked to work the days first departure from Kidderminster, the 09.00 to Bridgnorth. An early start (nothing unusual there) got me to Kidder with time to spare so I could confirm the days moves and that nothing had changed since I'd first looked. Nothing had, although there was some doubt over the use of 50015 owing to some dispute between the locos owners and the SVR traction inspectors. D444 was also at the wrong end of the railway and it was therefore decided to put it on the back of the 09.00 departure. A quick shunt was needed to achieve this and so the days first train ended up leaving a few minutes down. D9019 was only on one engine but still put up a reasonable performance. At Hampton Loade we passed D1013 "Western Ranger" on the first train from Bridgnorth.
Once at Bridgnorth we had a few minutes before leaving again behind 45110 - in case you're wondering, yes Peak 45110 was cut up some years ago - but this was kettle 45110 which had just recently returned to traffic on the SVR following restoration. For quite a few of us a run behind it was worthwhile as it was a required haulage. Most people took it to Hampton Loade for 50015 "Valiant" back to Bridgnorth. Another out-and-back to HL secured D444 and the other kettle, 2968.
We were all heading for the 12.10 departure which was D9019's return working. This was taken as far as Arley where quite a few of us baled so we could pick up the Clayton which was out on the "local" between Kidder and Arley. It should have been the 27 but that had been failed due to an oil leak so the 17 took over the 27's diagram until it was fixed. This was actually the first time I had ever heard a Class 17 in action - and quite good it was too! On-going repairs meant it was restricted to working on one engine only and with only 450hp on tap it thrashed away to build up speed. A colleague described it as sounding like a cross between a motor boat and a Class 14 - quite an accurate description. The "local" was only 3 coaches and after Bewdley it was well-wedged! At Kidder it was time for a journey over to "Captain Cods" for a bag of fish & chips. We returned to the platform to eat them and were entertained by Warship D821 "Greyhound" which was being used on the "drive a loco for a tenner" duty. We also got a look at the Claytons engine and extremely spacious cab.
14.35 and it was off again with D8568 but only as far as Bewdley where we picked up "Western Ranger" back to Kidderminster. As usual the crew put on a show at Bewdley tunnel - slowed to walking pace at the tunnel mouth then the Whizzo was thrashed through the tunnel - in the front coach its certainly loud! We stayed with D1013 on its return journey as far as Hampton Loade where we passed the 16.20 off Bridgnorth with Deltic 9019 in charge. This was sampled through to Kidder at which point quite a few people left for home as it was now nearly 6pm. A few of us stayed on as D9019 still had a round trip to Bridgnorth diagrammed. At Bridgnorth those who really wanted value from their rover tickets were able to fit another trip to Arley in - out with one of the 50's and back with D821, the Warships first outing of the day. The days last run to Kidder was a top-and-tail effort with D9019 at the head and D821 on the rear. D1013 was passed at Bewdley on the last down service of the day. Arrival at Kidderminster was around 10.40pm after which it just left the 90 minute drive home...
In case you're wondering, the 27 didn't get repaired so didn't work any of the locals, D8568 doing them all. The Warship in turn substituted for both locos on the "driving experience". On display at Kidderminster station were 50035 "Ark Royal" and D1062 "Western Ranger". Also in action doing some shunting in the yard was black "gronk" 12099.
As a footnote, the Northampton & Lamport Railway also held their diesel gala on this weekend (Saturday & Sunday). I paid them a brief visit on the Sunday to see what was about (it's only about 10 minutes drive from home). Around the middle of the afternoon the train service was in the hands of visiting "Teddybear" D9555 and resident maroon liveried 25035. Also on display were 26010, Class 27 D5401, 45118 "The Royal Artilleryman" and their 2-car DMU. Bubblecar 55003 was also about, but in the sidings to the south of the main site.