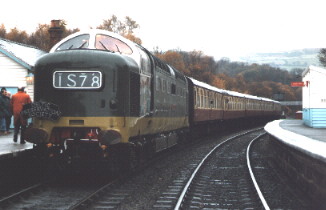 Un-numbered "Alycidon" (D9009) at Grosmont with the 10.50 to Pickering - her first passenger run since 1990.
Compared to some weekends this particular one did not offer too much of interest. Now that is not really a criticism as it made the choice of what event to visit very easy. Namely, the North Yorkshire Moors diesel day. A good selection of locomotives were on offer and without doubt the highlights were the planned use of Class 24 D5061 (first passenger use on the NYMR) and the first passenger train duty for Deltic D9009 "Alycidon" since 1990.
The full list of diesel locomotives in action were;
| Class | Number |
| --- | --- |
| 08 | 08556 & 08850 |
| 24 | D5032 & D5061 |
| 25 | D7541 & D7628 |
| 50 | 50027 "Lion" |
| 55 | D9009 "Alycidon" |
To save a really early start I arranged to stay with a friend (David Russell) near Harrogate. By chance we both also knew several others who were staying in or near Harrogate in readiness for the Moors diesel day. A few e-mails and phone calls later and a suitable watering-hole was chosen for Friday evenings entertainment. Getting to the chosen pub in Knaresborough involved a short bash on a 144 unit (144012, which I required for haulage) and a quick walk up the hill out of the station. Six of us made it to the pub - including two Deltic Preservation Society committee members, David Russell and Murray Brown. Of course Murray is perhaps better known as the editor of "Rail Express", one of the more recent (and I might add, best) enthusiast magazines to come on the market. Needless to say, there were just two main subjects of conversation all evening - Deltics and railway magazines!
The next day dawned and a quick look out revealed that the threatened frost had not materialised - the reason being it was raining rather heavily. To get the best of the runs behind the Deltic meant we would have to drive to Grosmont rather than Pickering. All the way there it continued to rain until shortly after leaving Pickering when it turned foggy. Oh yes, and around this area there was also a thin layer of snow! Fun, especially when you realise that none of the traction on offer could provide train heating.
We arrived in Grosmont just before the first departure of the day - 50027 "Lion" on the 09.50 to Pickering. The station car park was full so we had to leave the car in the overflow park a few hundred yards away. As "Alycidon" was booked to do the 10.50 departure we were content to watch the 50 depart. A look through through the tunnel towards the loco shed revealed our first glimpse of the Deltic which looked ready for action. Shortly after and "rat" D7628 appeared and coupled up to the demonstration freight train which was in one of the platforms. About 10 minutes ahead of plan there was a blast of the horn and it spluttered away for Goathland. Shame it left early as I had intended to video it leaving - unfortunately I was busy chatting to a few people I knew and missed it. With the stock for the 10.50 departure in the station, "Alycidon" soon appeared and ran onto the train. After an extensive 8-year rebuild it is fair to say this locomotive is in absolutely immaculate condition! Although named, the Deltic had yet to receive any numbers making it look just a little strange.
With a seat secured in the front coach (which very quickly filled up with Deltic Preservation Society members) there were a few minutes to catch up with some old friends and be introduced to a few new ones. Shortly before our booked departure time No.9's second engine was started, much to the delight of all on board. Those familiar with the NYMR will know that the run to Goathland (a bit over 3 miles) is a steep uphill climb with the gradient as steep as 1 in 49 (2%) - not exactly steep for road transport but a stiff challenge for railway traction. With only 5 coaches in tow "Alycidon" fairly romped along and was not troubled by the climb, despite the atrocious weather conditions (it was raining quite hard). There was not a spare window to be had and, oblivious of how wet we were getting as we hung out, we savoured the sound of the two Napier power units singing away. As usual, there were quite a few people trackside photographing and videoing our passing. Boy did they look bedraggled! At Goathland our driver shut down one power unit as it was not required for the remainder of the journey.
At Levisham we expected to see 50027 on its return run but we rolled in and, after a quick conversation between the signalman and driver, No.9's engine was shut down. Word soon filtered through that 50027 hadn't yet left Pickering as there was still a train (08 hauled) in the section. Oh dear, it was beginning to look like one of those days when things just got later...and later. A while later and there was a roar from "up-front" as "Alycidon" was re-started and 50027 rolled past. It looked like that train was as full as ours - but not for long as many people transferred over to ours. We also heard a bit more about the shunter shuttle. Apparently it was turned out with just one coach but there were over 150 passengers for it! A quick shunt had strengthened it to 3 coaches but hence things were a bit delayed.
At Pickering 08556 was waiting to form the next shuttle run back to Levisham. In scenes resembling the Tokyo rush-hour, what seemed like several hundred of us piled on for the bash. The journey to Levisham was, err, slow. Shunter journeys always seem to drag but, well, they just have to be done to get the gronk in the book! A few minutes at Levisham (still raining) and in rolled "Alycidon" on the 12.20 to Grosmont, already somewhat wedged. Still, we all managed to get aboard.
Around this time myself and my travelling colleagues all began to have different ideas on how to cover the traction we each required and soon we began to go our separate ways. I baled at Goathland for D7628 back to Levisham where we crossed with the other rat, D7541, which I took back to Grosmont. I was somewhat amazed to find the front door window free so enjoyed the thrash at close quarters (or at least I did until the rain turned rather heavier than it had been). A walk to the back of the train approaching Grosmont put us "in position" as Deltic 9 was attached for the 14.50 departure. This was sampled to Levisham where a spin back to Goathland (50027 - superb thrash) picked up the pair of splutterbugs, D5061 and D5032. Things looked a bit dodgy when we stopped near Newtondale Halt and soon we heard that there was "a technical fault" which was being attended to. We were soon on our way again though for most of us our destination was again Levisham. Here a change found us back with "Alycidon" in charge and the last run back to Grosmont. All that was left now was to find the car in the overflow car park which was pitch black!
To finish my weekend off I suggested a visit to the Yorkshire Dales Railway as it was required track. David needed the extension to Bolton Abbey so this was duly sampled, with traction provided by an NCB kettle. Train pre-heating was provided using a rather bizarre little blue steam loco. I will admit to being pleasantly surprised by this railway - all the staff were well turned out and very friendly. Well done! I will certainly be happy to visit again sometime.
Prior to leaving for home I noticed a rail-gen message on my mobile phone stating that 66014 was at Knottingley depot and easy to photograph from public waste ground by the depot. I had also heard that 66022, the newest loco in the UK, was on display in the National Railway Museum in York. Decision made - home via the NRM at York (peered through the window to "cop" 22) and Knottingley depot (14 duly copped and photted)!
Verdict : The NYMR diesel day was a great day out. It was good to see a gala so well supported.
Gary Thornton.