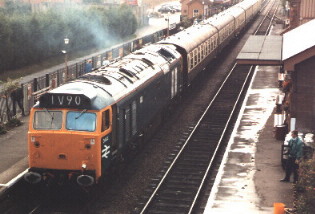 D444 waits to leave from Bishops Lydeard with the first train of the day on Saturday.
With no less than 5 Hoovers on offer, this three day event was obviously going to be a big draw for Class 50 fans. To temp a few more along there was also a Class 25, 33, 35, 52 and 55 to be sampled. Certainly something for almost everyone. Of interest this was also the first time ever that a Deltic had visited this line for a diesel gala. The full list was;
| Class | Number |
| --- | --- |
| 25 | 25173 |
| 33 | 33048 |
| 35 | D7017 |
| 50 | 50015, 50117, 50031, D444 |
| 52 | D1010 |
| 55 | D9019 |

Friday
By David Russell
My two day trip to the West Somerset Railway commenced early on Friday September 18th, as I had booked an Apex ticket on the 06.05 from Leeds to Taunton. I'd returned from a weeks holiday in the USA just two days earlier (with an overnight flight), and was still adjusting to British time - however, I managed to get up, drive to Leeds, park the car and get on the train. Then I went back to sleep...

Arrival at Taunton was on time at 10.49 and I wandered into the town centre to get another camera film before returning to the station for the 11.30 WSR bus connection to Bishops Lydeard, which was worked by a Bristol VR. I was quite surprised to find that I was the only person on board the bus, but later found out that quite a few people had gone on the service bus 15 minutes earlier, unaware that there was a special bus to the railway. I'd only found out about it via the Web.

At Bishops Lydeard, I had a choice of two moves, the 'kettle' to Minehead at 12.20, or Deltic D9019 'Royal Highland Fusilier' to Norton Fitzwarren (a line not used on normal running days, and the junction where the WSR connects with the main line) - obviously, the latter move won! It seemed strange to be sat behind D9019 at Norton Fitzwarren with a Virgin HST flying past. However, its something I'll have to get used to as D9019 should be back on the main line itself within the next year. D1010 'Western Campaigner' (a scratch for me!) pulled us back to Bishops Lydeard where D9019 was detatched from the rear, and I continued behind the Western to Crowcombe Heathfield. The line between these two points is quite steep, and D1010 gave plenty of thrash.

I returned to Bishops Lydeard and Norton Fitzwarren with 50015, another visitor from the ELR, before enjoying a full trip on the line to Minehead behind D9019, which was, in true Deltic tradition, giving out plenty of noise and smoke. Another line cleared for Deltic haulage.... I found myself a Bed & Breakfast in Minehead, visited the cash machine and returned to the station in time for the 4.45 departure to Bishops Lydeard, hauled (again) by 50015, but this time hauling a rake of four DMU trailers. I travelled all the way on this train (can't remember much about it though as I fell asleep!), before returning to Minehead on a 3-car DMU set (with engines running) hauled by D1010. I'm looking forward to the day when a Western goes out on the main line.

As part of the weekends events, a slide show/talk by Geoff Hudson (manager at Laira during the final years of the Class 50s) had been arranged at a local hotel/bar on the Friday evening, and I went along to this. There was a £2 admission to cover the cost of room hire, but it was well worth it. The talk was very interesting and entertaining - Geoff Hudson has a good sense of humour and it was obvious that he really enjoyed his work - and if you get the opportunity to go to one of his shows I thoroughly recommend it.

After a drink and chat to people, I retired to my B&B about 11.00, ready for the next days fun on the railway, which had a very sociable 09.30 start. I'll leave Gary to explain that day.

David Russell

Saturday
By Gary Thornton
Why do I do this? It seems each Saturday I get up at some extremely unsociable hour, travel many miles to bash some decent traction at some gala or other then get home rather late. This day was no exception! My alarm was set for 05.10 and by 07.30 I was at a friends near Evesham where I had arranged to dump my car and become a passenger for the remainder of the journey to Bishops Lydeard. Good job too as I spent most of the couple of hours snoozing! I was woken just as we approached Taunton however as my mobile phone burst into life with some Rail-gen messages. The first nearly had us doing a U-turn and heading for Birmingham - Deltic 9000 was not going to do the usual trip to Ramsgate but was headed for Newcastle.

Anyway, we arrived at Bishops Lydeard with about half an hour to spare before the first departure at 09.40 - and a good job too as there was quite a queue for tickets. It didn't seem to help that the "on the day" price for a day rover was £16 and the ticket office soon ran out of change. I think I got the last of the pound coins! Day Rover secured and it was next stop the buffet (well, I had been up over four hours by this time). Unfortunately this too proved a bit painful as there was no-one manning the buffet counter and the guy running the shop had to double up. Time to watch D444 shunt the stock and we were soon off. We headed as far as Williton behind D444 before baling there in favour of D1010 "Western Campaigner" back to Crowcombe Heathfield. A pair of large-logo logs (015 & 031) then took us to Blue Anchor where we were able to pick-up D9019.

As expected I met up with a few more people I knew on this train. A good run soon had us at Bishops Lydeard though I had been reminded of the disadvantage of a Deltic working on a preserved railway - my glasses and face were covered in a good coating of oil spots! Time for a quick clean up as we waited at BL and Hymek D7017 was added to the back of the train. We then set off for Norton Fitzwarren in top-and-tail mode. Once there it was D7017's turn to shine on load 6 plus dead (in theory) Deltic. The run back to BL was brilliant with the Hymek working hard most of the way. With the Deltic dropped off we carried on for Minehead with the type 3 on its own.

Again we changed trains at Blue Anchor - this time to the pairing of 50031 & 50117. Yes, thats right, 117. The former 017 "Royal Oak" is currently in two-tone fright grey livery and numbered accordingly. This weekend was also 17's debut in preservation. The pairing returned us to Crowcombe to allow another thrash behind Deltic 19. Blue Anchor and time for another change - D1010 again back to Williton so we could sample Crompton 048. A run through to Minehead this time and (at last) 50149 was spied - dead at the station. Unfortunately repairs had not been completed in time to allow this 50 to participate in the weekends action. Our return from Minehead was behind D7017 where we doubled back to Williton using 50117 and 50015 to get 25173 on the last train of the day to Bishops Lydeard.

Oh, well, just the slog home now! A pretty reasonable day, though the value-for-money factor is not as high as on other railways. The WSR do not allow any of the usual preservation society discounts that normally make such days out cheaper. Perhaps if they did I'd visit more often and they'd end up taking more money off me...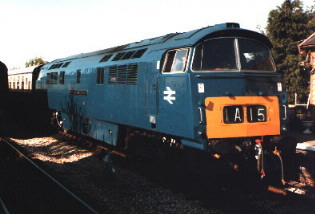 D1010 "Western Campaigner" at Williton

Sunday
No willing volunteers came forward to provide a report on Sunday so you'll just have to guess as to how the day went...


Back to "Diesel Galas"