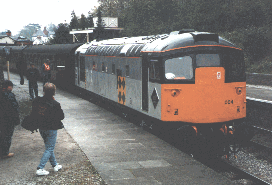 Star of the show, immaculate 26004 is seen at Llangollen.
A quick check in the book showed I needed three of the locomotives on offer on this diesel weekend and so I headed of to Wales for the second day running (having travelled over the Trawsfynydd branch on the Saturday on a railtour). The diesels rostered were;
| Class | Number |
| --- | --- |
| 20 | D8142 |
| 25 | 25313 |
| 26 | 26004 |
| 47 | 47449 |
I have to admit I do rather enjoy driving through Birmingham on the M6 motorway first thing on a Sunday morning - it's way less busy than during the week when I am often to be found stuck in the middle of the jams. I arrived at one of Llangollen's car parks just after 9am, just a few minutes behind one of the two colleagues I had arranged to meet there. Down at the station and we met up with colleague number three who was waiting on the footbridge to video the arrival of the first train.
At about 9.55 the stock for the 10am departure appeared, propelled in by the train locomotives 25313 and 26004, the latter looking very nice in a fresh coat of freight-grey. The run to Carrog was superb, both locomotives producing much noise and clag each time they were opened up. The 26 though did sound rather sick and at one stop it was decided to shut it down to affect a quick investigation and repair. Once on our way and it sounded much better - unfortunately the rat then went in the huff and shut itself down! We limped into Carrog where after some gentle persuasion 25313 erupted back into life for the run-round. The return run to Llangollen was also good, though 25313 was sounding very dodgy. On the outward leg we had passed D8142 at Deeside and 47449 was passed on the way back at Glyndyfrydwy.
On arrival back at Llangollen colleague number three decided to go track-siding with his video and stills cameras as the next trip was to be 26004 on it's own. A front window was secured by myself for this event - and well worth it too! Took me back to my days of 26 bashing in Scotland in the late 1970's and early 1980's. In fact, I think this was actually my first 26 haulage in preservation. Somewhere around Berwyn it turned distinctly cold and started to drizzle. From then on the day deteriorated into rain, rain and more rain. By Carrog I was starting to feel the effects of the rain and cold so a quick look at the timetable showed that a bale at Glyndyfrydwy on the way back would secure D8142 and 25313 on the Carrog service, for the chopper then on it's own back to Llangollen.
Good move in theory - but bad considering the weather. The Carrog-direction platform at Glyn-thingy has no cover except for a little square patch under the footbridge. It's surprising how many people can fit into that little patch when the weather is foul! Problem was, as we waited and waited for the rat and chopper (pub name perhaps?) the water started dripping through the wooden steps on the footbridge. Ten minutes or so later we were glad when our train arrived. A reasonable run soon had us at Carrog where, after about a half hour wait, we began the return to Llangollen
Back at Glyn-whotsit, where we were supposed to cross with 47449, we found the Carrog platform occupied by two brake vans. Hmm, interesting. Soon class 03, D2162, appeared and ran on to the Llangollen end of the vans. OK, so what now? The crew dashed about but seemed to achieve nothing, except they added a headboard to the 03 which read R.M.S. Titanic! Then things got even more interesting when 47449 appeared around the corner with the Carrog service. Right three trains, two platforms and both the platformed trains with their engines facing the third train...
Now I am not familiar with this particular railways signalling regulations, so I will assume none were broken getting into this position. The 03 now reversed off towards Carrog, and then, to our surprise, ran back into our platform behind us. Now where I come from that move would certainly result in a visit from one of our signalmans inspectors asking some very awkward questions! I am guessing however that they must have instructions to allow the last move as described. With the platform clear for the 47 it was soon out of our way, allowing us to continue our journey though by now some 15 minutes late.
Once back at Llangollen (where it was now raining extremely hard) I decided that I'd had enough of the cold and wet weather and abandoned the rest of the day in favour of a nice warm car. Unfortunately the M6 got it's revenge and I took three hours to get home when it should have taken just over two.
So, marks out of 10 for this event?
| | | |
| --- | --- | --- |
| Weather | 2 | (cold and very, very wet) |
| Timetable | 7 | (perhaps just a little less time at Carrog?) |
| Loco Roster | 7 | (good use of available loco's) |
| D8142 | 7 | (no complaints here) |
| 25313 | 5 | (sounded a little unwell) |
| 26004 | 8 | (best type 2 thrash I've had for ages!) |
| 47449 | ? | (sorry, didn't sample this one) |
Quotes of the day;
overheard on the train at Carrog;
"I don't mind being cold, I don't mind getting wet....but I don't like getting cold AND wet"
colleague number three (B.G. from Crewe);
"The sun's going to come out this afternoon"
Verdict : Great day, but shame about the weather.