27th March 1999
MRC Spring Diesel Gala
The annual Midland Railway Centre's Spring Diesel Gala weekend was "beefed up" for 1999 with the planned visit of two Deltics and two locos from Direct Rail Services (a Class 20 and Class 37). In the event some last minute changes resulted in the following line up of motive power on the Saturday;
| Class | Number |
| --- | --- |
| 20 | D8001, 20306 & 20314 |
| 31 | 5580 |
| 50 | 50007 |
| 55 | D9009 & 55019 |
Leaving home plenty early gave me a chance to view Toton depot in passing - quite a few 37's (025, 074, 203, 372 & 677) on as well as some 47's, 56's, 60's and 66's represented by class members 004, 009 & 038 (all dud sights for me). Continuing northward on my journey and I arrived at Butterley around 9am.
I was a little surprised on presenting my Deltic Preservation Society (DPS) membership card to be informed by the booking office clerk that there were no ticket discounts available during the weekend. I was rather more surprised when he then suggested that it was the DPS that had been responsible for this decision. On catching up with a DPS director/committee member a little later, he said he knew nothing about it being a decision taken by the DPS and also that he too had been surprised when told the day ticket price was £9.95, without any membership discounts being available.
A quick look at the timetable confirmed the advance information I had seen - the first departure at 10.00 was a pair of choppers (D8001 plus DRS example) and D9009 "Alycidon" would head the second train from Butterley. Plenty of time to walk along the footpath to Swanwick Junction and a look round the shed. Deltic 9 was just leaving as I arrived, followed by D8001 & 20306. On shed 55019 "Royal Highland Fusilier" looked rather nice, now back in BR blue livery, as did 50007 in green and 44004, 45133 and 46045. 55015 "Tulyar" was also on display but still in undercoat. The remainder of the resident diesel fleet were also noted as was the other visiting DRS chopper, 20314. Walking back to Butterley I was just in time to see D9009 propelling the stock for the 10.35 departure towards Hammersmith. A long drawn-out shunt then finally got D8001 and 20306 on their train, the 10.00 departure, which left around 15 minutes late.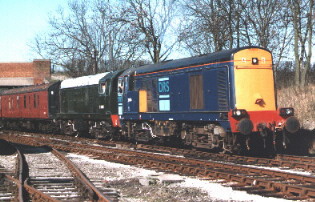 20306 & D8001 shunting stock for the 10.00 at Butterley
As soon as the 10.00 train had left, the familiar hum of a Deltic replaced the whistling of the choppers and Alycidon pulled in to the station. The run to Riddings was not so exciting (nothing unusual for this line) but the run back to Swanwick Junction was reasonable on the rising gradient. At the station we passed 55019 which was on the other train running (having replaced the choppers at Hammersmith).
The next few hours were spent travelling back and forth along the line. I stayed on the same train all day and, after the round trip with D9009, I then experienced round trips with D8001 + 20314, D8001 + 20306, 55019 and 50007 "Sir Edward Elgar". The only loco I missed out on was Class 31 No. 5580 - it should have double-headed the morning diagram with 20314 but for some reason D8001 was used instead. It did however work the later diagram with the DRS machine, though I did not travel on that particular service.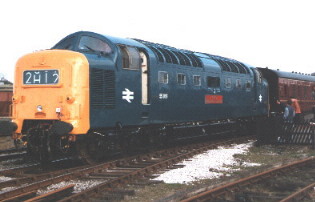 55019 back in BR blue at Swanwick Junction
The last round trip was, for me, the highlight as it employed both D9009 and 55019. The outward leg to Riddings was not so thrilling but the return leg as far as Swanwick Junction was memorable (if only for the vast amounts of white exhaust smoke produced by the two Deltics as they accelerated up to line speed). At Swanwick Junction D9009 was removed and 55019 continued alone back to Butterley via Hammersmith.
Verdict : Good day out, but shame about the removal of the ticket discounts for those who normaly qualify. Why, I wonder, did the MRC not advertise this change of policy in advance and then apparently "blame" it on the DPS? This situation will probably play a big part in my decision on whether or not to visit the MRC in the future, on galas or normal running days.
Most memorable aspect of the day?
The Deltic double-header powering away from Riddings.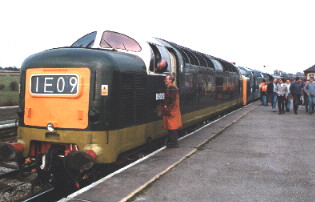 D9009 & 55019 at Swanwick Junction.
"Alycidon" is about to be uncoupled.


Back to "Diesel Galas"