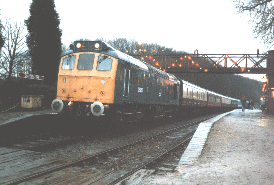 Advance publicity in the railway press suggested that this one day event would be using five of the railways available diesel fleet, namely;

Class
Number
Number
08
D3429
20
20048
25
25067
25265
31
D5518
and operating on seven return diagrams commencing at 9.30 in the morning.

Now as I needed the gronk (class 08) for haulage and a thrash behind classes 20 and 25 are also usually worthwhile, I decided to pay the railway a visit.

I arrived at Shackerstone a little before 9am to the sound of the "chopper" (20048) which was busily shunting stock about the station. No sooner had I got out of the car than I felt a few spots of rain. Pretty soon and the few drops turned into quite heavy rain. Being rather cold too didn't bode well for a comfortable day as none of the engines rostered had working train heating.

Day rover ticket purchased and I headed over the footbridge to the platform from where the train would depart. A right motley set of coaches was there already. Our train consisting of a BSK (brake half to engine), two TSO's, a buffet car, an SK and a BG. Closer investigation of the BG revealed that it was in fact "Santa's Grotto" left over from pre-Christmas running and was "locked out". Don't know about you, but I visit gala events to enjoy the traction, not be stuck one or two coaches away from the action due to the inclusion of "not for public use" carriages at one/both ends of the train. Later I also discovered that the coach next to Santa's Grotto, which had recently been repainted, had all it's compartment windows stuck firmly shut - with paint!

Anyway, I got a seat in the leading coach and, as hypothermia gradually set in, patiently waited as 9.30 came and went - the 20 was still busy shunting about. Chance however to quiz a passing member of staff about the days activities (see, there was no timetable or locomotive roster on offer when I bought my ticket). Train times he could not help me with, nor what engines were going to work each train, however the conversation did confirm that the 08 and 25265 were both rather poorly and not expected to work a train. Flat batteries being blamed in both cases.

A few minutes after we should have departed and the chopper finished it's shunt and was duly attached onto the front of our train. We set off shortly after and a reasonable run was made to Market Bosworth station. Leaving for Shenton was a little tricky as the chopper was slipping quite a bit on the wet, rusty rails, but we made it an were soon at Shenton. A quick run-round and we returned to Shackerstone.

Change of engine now and "rat" 25067 was attached. The run with this engine was somewhat disappointing as very little power was used. At one point when the 25 was opened up there was a even a cheer from the gricers in the front compartment! At this stage the cold was getting to me - and it was still throwing it down with rain. At least the buffet car was offering a cooked breakfast. By the time we got back to Shackerstone I was revitalised having consumed a large plate of bacon, egg, sausage and beans all washed down with a piping hot mug of tea. I also discovered why the rat was not being worked hard - apparently it was in imminent danger of expiring and unlikely to survive a good thrash!

Third run was using the class 31 (D5518). Probably the one I least liked of those engines on offer, but a very lively performance soon had me enjoying the journey to Shenton and back. For a bit of variation, the fourth return trip was made using the chopper and rat double-headed. I suspect however that it was the 20 doing most of the work and the rat was just along to add a bit of noise.

Back at Shackerstone and by now it was about 2.30pm (my, doesn't time go quick when you're enjoying yourself...) and for run number 5 we had to wait as all the locomotives were at the north end of the station. Soon the rat appeared again...but hang on...it was the other one, 25265! It ran up to the signalbox then everything just seemed to go in slow motion. 15 minutes later and it was still there, but by now a man with a large (actually very large) spanner had appeared and was doing whatever was required to get the errant rat moving again. Anyway, eventually (about half an hour behind time by now) we felt a gentle bump signifying that 265 was buffered up to our train. What a journey! Every time the driver applied the power 265 cut out and returned to a very lumpy idle. Now take it from me, at little more than walking speed, Shackerstone to Shenton and back is a very long journey....

By the time we got back to our starting point it was almost dark and I was reaching the "I'm getting bored of this" time of the day. It was still raining, by the way. As I watched the 31 being attached for the days final run I made my decision....time to go! I hope for the sake of those (if any) that stayed on for the final trip that it was worth it. By the time it was moving my car's heater was belting out some very warm air and I was just starting to thaw out.

So, marks out of 10 for this event?
| | | |
| --- | --- | --- |
| Weather | 1 | (Well, at least it wasn't frosty - none of the loco's would have started then) |
| Timetable | 1 | (what timetable?) |
| Loco Roster | 0 | (what roster, seemed non-existent) |
| 20048 | 4 | (OK, in the circumstances) |
| 25067 | 2 | (At least it got us there and back) |
| 25265 | 1 | (Why, oh why, did they bother?) |
| D5518 | 5 | (Best performance of the day) |
Most memorable aspect of the day?
The cooked breakfast on-board the train.
Verdict : Try harder next time!