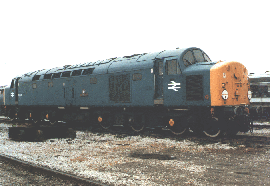 My first preserved railway diesel event visit of 1998 was on the Sunday of the Midland Railway Centre's Spring Diesel Gala weekend. Advertised motive power was;
| Class | Number |
| --- | --- |
| 20 | D8001 |
| 31 | 5580 |
| 40 | 40012 |
| 44 | D4 |
| 46 | 46045 |
| 50 | 50007 |
There was also the chance to ride in the cab of Class 11 shunter 12077 between Butterley and Hammersmith and, for £5, it was possible to drive 08590 along the Swanwick Colliery Branch. The timetable, with trains at 35 minute intervals, involved locomotive changes at Hammersmith. Bashing the two trains was difficult as the Hammersmith to Riddings trains do not stop at Swanwick and in the opposite direction trains do not call at Butterley so as a result some careful planning is required to combine a shed visit and ensure no loco's are missed for haulage.

I arrived at Butterley in plenty of time for the days first departure, the 1000 to Riddings. The information given with the timetable was excellent, with all locomotive diagrams clearly displayed. It was also made clear that 50007 had failed (fault with the radiator cooling fan) and as a result it's turns would be covered by the 31 and 44 respectively. Why can't other preserved railways give such clear information? A definite thumbs up here for the organisers of the weekend event.

The first departure was using D4 "Great Gable" however I chose to let this go in favour of the second departure (1002 ex-Hammersmith) with chopper D8001. At Swanwick we passed D4 on it's return leg as we headed off for Riddings. A glance across to the shed area revealed a number of locomotives including D1048, D1516, 5580, 40012, 46045 and 50007. The 40 was just coming off shed ready to run light engine to Hammersmith (after D4 with it's service train) to form the 1055 departure. At the platform 33201 was also in evidence and available for people to cab if they wanted.

As any regular visitor to the MRC will know, the best thrash on the line is the return leg from Riddings to Swanwick and D8001 duly performed. At Swanwick 40012 "Aureol" passed us and Class 31 No. 5580 was lined up ready to follow us to Hammersmith. A brief thrash out of the station and we soon passed through Butterley, crossed the causeway and arrived at Hammersmith. 5580 soon arrived behind us and we were rapidly heading back for Butterley. Leaving the train here (each service waits about 15 minutes) there was time to walk the footpath to Swanwick, with the opportunity to video 5580 leaving then 40012 thrashing out of Swanwick the other way.

Once at Swanwick there was an hour or so to explore. 31108, 45041 and Class 77 27000 "Electra" were duly photographed as was D9008, the Deltic cab which is mounted on a lorry trailer. In the shed it was also possible to view 55015 (Tulyar) which is undergoing a major overhaul. It was noticed that one nose end has had a coat of green paint applied, around what I assume will be a small yellow warning panel. A few minutes later and it was back on board behind 5580, as 46045 ran though bound for Riddings. So far 5580 had my vote for best thrash of the day, certainly it was the loudest!

Next we had a round trip with D4 then came what I hoped would be the days highlight - a round trip with 40012 "Aureol". I was not disappointed. The driver obliged with a good thrash away from each station between Hammersmith and Riddings. Once run around the thrash was repeated on the way back to Hammersmith. In my opinion the best departure was that from Swanwick on the return. The last move of the day was with 46045 though in my case I baled out at Butterley to allow me home about 75 minutes earlier than if I stayed on for the round trip. A number of others also abandoned the railway around this time as the mobile phones had been hot with gen about 58046 working the 1305 Poole to York as far as Birmingham. Those who departed at great speed for Birmingham were hoping the bone was going to work back south on a service train too!

So, marks out of 10 for this event?
| | | |
| --- | --- | --- |
| Weather | 5 | (Overcast, started to rain late afternoon) |
| Timetable | 5 | (Too long to wait at Butterley and Swanwick each time) |
| Loco Roster | 7 | (But shame the 50 didn't make it) |
| D8001 | 7 | (Looked and sounded good) |
| 5580 | 7 | (Superb thrash and very good external condition) |
| 40012 | 8 | (Hellfire machine!) |
| D4 | 6 | (Looks and sounds like a well used loco should) |
| 46045 | 6 | (Clean and sounded good too) |
Most memorable aspect of the day?
40012 on the afternoon round trip. 5580 came a close second though.
Verdict : Despite the long waits at the stations, an enjoyable day.