8th - 10th May 1987
Get Out & Push!
A tour & a gala - 1987 style....'Bista' describes...
The second weekend of May 1987 had a lot going on (as did most weekends back then) and there was a fair amount to be squeezed in.
Friday found the late evening 1F41 departure from Oxford in the hands of 50013 which for one reason or another departed late. No matter, this only added to the entertainment, as the chap up front seemed to invent an additional notch on the power handle. After the Reading stop 13 just flew, someone made a rough timing of 101 miles per, although mile posts and wrist watch are not the most accurate, it was there or there abouts. It's quite understandable really, driver was a London man, it was Friday night and remember what time the pubs used to close in those days!
A brief walk across from Paddington got Plug and myself to Waterloo for a quick spin on the Bournmouths. This was simply to fill some time as the on-going Plastic Pig program had seen increasing numbers of REPs withdrawn and EDs in their place. A quick spin down to Woking on 73104 brought a short wait for 73108 back. We decided to leave this at Clapham Junction and have a mooch to see what was about. Having met John Bridge, we were almost immediately confronted with 33204 arriving on a rake of stock, Waterloo bound (apparently) and as a few passengers alighted we got on. Almost as soon as it left the platform, the lights went out. AH! What's this then? The train crawled slowly through the gathering darkness. Pretty soon the guard arrived and was surprised to find three faces staring back into the light of his bardic.
"where are you going?
"er. Waterloo!"
Turns out this was 5O96 (ECS presumably of 1O96) that had just terminated at Clapham Junction. He expressed doubts it would be platformed at Waterloo (don't know how he worked that out) but soon after we arrived at Waterloo and pleased with a good scratch and headed off for a couple of beers. The arrival of 80s closing time left us with a long time to wait for anything in particular, so we decided to forego the 02 bizzar off Waterloo with a 50 and waste time wandering over to Victoria to view the post and parcels workings to Kent.

73136 and 73137 stand side by side with the post and papers at Victoria, 9th May
Looking at the time table, the Sittingbourne train looked the best bet. This could be done to Gillingham for a close connection onto a unit back to London as to go further would result in a cold, dark fester at Sittingbourne for the first train back in the morning. this turned out to be 73137 and while trying to take a few phots the second man (who was evidently a bit of a crank) stepped out for a chat. Departure time approached and we found ourselves a couple of seats in one of the Mk1 half brakes that made up the passenger portion and prepared for action. 137 shot off and gave one of those performances only EDs can do when on the juice and with ample pyrotechnics from the front we rattled off through the maze of SE London with a mixed crowd of cranks and late night revellers.
With some fitful doss between the bang and crash of post and papers going off, we were all too soon at Gillingham, LATE! While some cranks made the unit our pace found us half way over the bridge when the dam thing buggered off. OOPS! Despondent at the prospect of a cold number of hours at Gillingham we wandered back over to watch the paper goings on and view 137. At this point the second man appeared again and, in conversation, we explained what had happened. To our surprise it was suggested that we get back on and (discreetly) come and see him at Sittingbourne.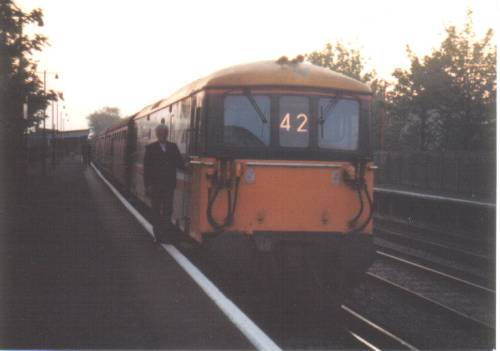 As dawn arrives 73137 prepares to depart. Sheerness, 9th May
Having done so, we found ourselves off in an odd direction as Sittingbourne was not the trains destination. After running round it continued, post and papers only, to Sheerness! En route the driver helpfully pointed out the window where a naked lady was often to be seen (no action that night unfortunately) before regaling us with the storey of a previous train which had failed to stop and demolished the booking office at Sheerness (along with an unfortunate passenger apparently)
With the vans finally emptied and run round complete it was off again, round the other side of the triangle this time, and on to Gillingham. Here we disembarked and with many thanks prepared to sit it out on the station until the first London train. No need as it happened, as set 7890 to form it was already in the back platform and nicely warmed up. Some comfortable doss soon occurred.
Returning from the land of nod, we found ourselves surrounded by lots of commuter types (on a Saturday??) and receiving a severe glaring. No doubt this was due to us being dossed out across "THEIR" seats. Back in London, with breakfast acquired and consumed, it was off to Liverpool Street for the purpose of the trip.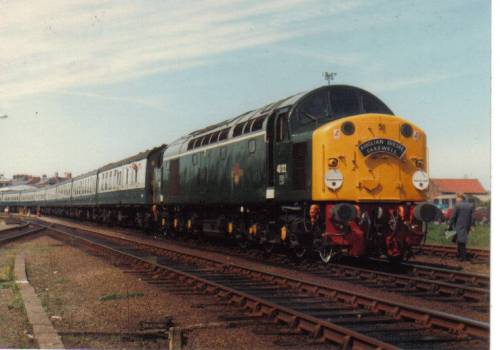 40122 waits to depart Kings Lynn after completing the first leg of the tour.
The Anglian Diesel Farewell has featured elsewhere on this site and I shall not bore you with it further here. Suffice to say, it was a cracking day out, slightly overshadowed by the "virtual" signal stop on the (quote) non-stop run back from Norwich. It certainly inspired me to jump off as we stopped at Liverpool Street, storm up front, thank the driver and shake his hand (much too his surprise).
Discussion now turned to what to do with Sunday. That weekend was also the first "proper" Diesel Gala at the Severn Valley and it was doable as I had my car (that's what I called it anyway) in position at Oxford. Rathbone from Bolton seemed to like the idea of it so, with his encouragement we nipped over to Paddington and starting heading that way. A rather lack lustre run on 50035 (but weren't most of 'em) got us back to Oxford where the party was duly introduced to the car. PUD110M was a 1972 Hillman Imp that I had kinda rebuilt, kinda re-sprayed and as a result was kinda reliable! It was also small but undaunted, the four of us squeezed aboard for a trip through the night, through the Cotswolds.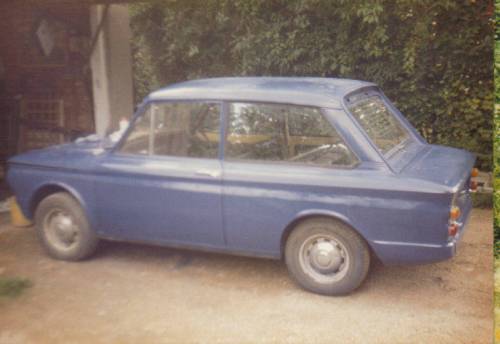 You always remember you first car. Think what it would fetch now if I'd kept it!
The run down the hill into Broadway (then in it's old, twistyer incarnation) brought on some peculiar braking effects and the smell of things getting hot. Equally, the later climb back onto the hills produced a near failure and the smell of different things getting hot. John peered out the back window into the dark, hoping to see the lights of the bankers catching up but announced there were none. As the option of "get out and push" was almost upon us, we finally staggered over the top and (relieved) sallied forth to Bewdley and some chilly doss in the car.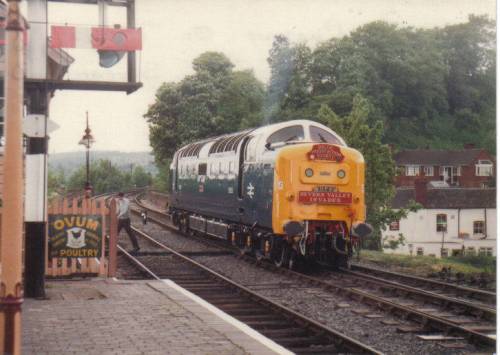 55015 Tulyar runs into Bewdley from Bridgnorth.
The next morning with tickets bought and renewed enthusiasm, we studied the mega-gen available. At first we thought we'd just start with the first run down to Kidderminster as this appeared to be 37426 and 55015. Plug quickly spotted however that there was an additional leap to be done out to Arley. A brief stare at this found it to be 1062, so off we went for what in years to come would be the traditional run over the bridge at Arley. Having run over however we found ourselves confronted by 150143, err yes, that's right. A Sprinter on loan from Midline for the weekend. BUGGER! back to Bewdley and onto our original move with the tractor and Tulyar down to Kiddi for the Deltic back out to Hampton Loade.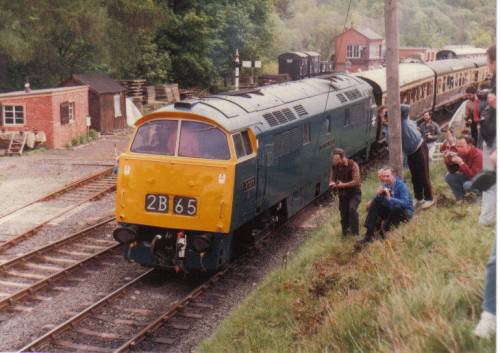 1013 awaits the arrival of a Southbound service at Arley,
Here the first of many runs over the crossing and back South on 1062 again to Kiddi where 1013 appeared for the run back out to... you've guessed, Hampton Lode. D4 provided the next run down the Valley to Kiddi once again at which point it became clear that having left the car at Bewdley was dumb idea. So as everyone else headed off on the Deltic again to Bridgnorth I was left to DOO the car ECS to Kiddi, worse still this left me on the bonneted D4 thing all the way to Bridgnorth!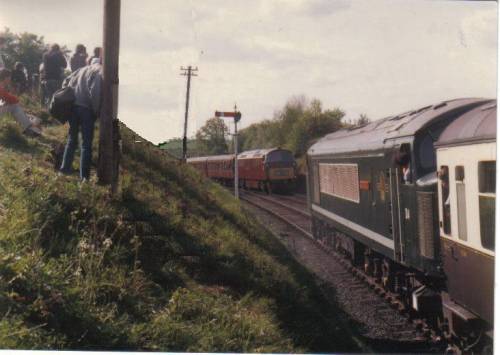 D4 waits to head North as 1062 arrives at Arley,
Arrival there gave time for a pint before the last train South with 37426. This produced a good "noise and smoke" run down to Kiddi where having fuelled ourselves and the car we headed off again to do battle with the Cotswolds. At least we had slightly more room as Rath had gone home directly although it didn't seem to help the cars hill climbing or braking abilities. Still, having dropped Plug and John off and made my way home, it still appeared to have been an entertaining weekend.
'Bista'