6th May 1967
R.C.T.S. (West Riding Branch)
North Eastern No 3 Rail Tour
| | |
| --- | --- |
| Locos Used | 45562 'Alberta' & D6778 |
| Stock Used | Mark 1 rake |
Route : 1Z06 throughout
| | |
| --- | --- |
| Loco | Route |
| 45562 | Bradford Exchange - Low Moor - Cleckheaton - Heckmondwike - Thornhill - Healey Mills - Horbury Jn - Wakefield Kirkgate - Crofton West Jn - Crofton East Jn - Featherstone - Tanshelf - Pontefract Monkhill - Ferrybridge - Burton Salmon - Church Fenton - Holgate Bridge Jn - (via York station avoiding line) - Skelton Jn - Northallerton - Snipe House Jn - Geneva Jn - Oak Tree Jn - Eaglescliffe - Bowesfield Jn - Middlesborough |
| D6778 | Middlesborough - Redcar - Saltburn West Jn - North Skelton Jn - Skinningrove |
| D6778 | Skinningrove - North Skelton Jn - Saltburn West Jn - Redcar - Middlesborough |
| D6778 | Middlesborough - Nunthorpe - Great Ayton - Battersby |
| D6778 | Battersby - Grosmont - Whitby |
| D6778 | Whitby - Grosmont - Battersby |
| D6778 | Battersby - Great Ayton - Nunthorpe - Middlesborough |
| 45562 | Middlesborough - Yarm - Picton - Northallerton - York - Church Fenton - Burton Salmon - Castleford - Altofts Jn - Normanton - Wakefield Kirkgate - Horbury Jn - Mirfield - Brighouse - Greetland - Halifax - Low Moor - Bradford Exchange |
Notes :
(1) This tour provided for some mainline running behind one of the few remaining Jubilees. Some hard running on the return leg provided for an early arrival back at Bradford. The 1 in 70 grades on the Skinningrove branch and the 1 in 44 grades on the Whitby line provided a healthy work out for the E.E. Type 3.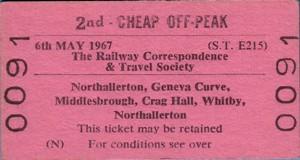 From Andrew Fairholm's ticket collection.
Sources : David Hills & David Wignall



Timings (Booked & Actual)
(from Terry Jackson & David Wignall)
Terry comments : I had booked for this tour but could not travel because of sickness. The timings shown are those that I received with my ticket.
| | | | |
| --- | --- | --- | --- |
| M.C | Location | Booked | Actual |
| 0.00 | Bradford Exchange | 09.18d | 09.18 |
| 2.76 | Low Moor | 09/25 | 09/27 |
| 5.36 | Cleckheaton | 09/30 | 09/31 |
| 7.51 | Heckmondwike | 09/35 | 09/34 |
| 10.13 | Thornhill Jn | 09/40 | ? |
| 11.22 | Midland Jn | 09/45 | 09/41 |
| 14.67 | Horbury Jn | 09/49 | 09/47 |
| 17.10 | Wakefield Kirkgate | 09.53a ~ 09.59d | 09.54 ~ 09.59 |
| 18.68 | Crofton West | 10/03 | 10/03 |
| 23.08 | Featherstone | 10/11 | 10/10 |
| 25.61 | Pontefract East | 10/16 | 10/18 |
| 27.41 | Ferrybridge | 10/21 | 10/20 |
| 30.05 | Burton Salmon | 10/26 | 10/23 |
| 36.00 | Church Fenton | 10/33 | 10/31 |
| 47.25 | York Yard South | 10/47 | 10/46 |
| 47.41 | York Yard North | 10/57 | 10/50 |
| 68.54 | Thirsk | 11/22½ | 11/20 |
| 76.34 | Northallerton | 11.31a ~ 11.32d | 11.29 ~ 11.32 |
| 89.61 | Croft Ground Frame | 11.50 ~ 12.00 | 11.50 ~ 12.00 |
| 90.28 | Geneva Signal Box | 12/05 | 12/05 |
| 98.24 | Eaglescliffe | 12/18 | 12/18 |
| 104.41 | Middlesbrough | 12.28a ~ 12.34d | 12.29 ~ 12.39 |
| 112.25 | Redcar Central | 12/46 | 12/54 |
| 116.49 | Saltburn West Jn | 12/56 | 13/01 |
| 123.28 | Crag Hall | 13.12a ~ 13.23d | 13.17 ~ 13.25 |
| 130.07 | Saltburn West Jn | 13/40 | 13/39 |
| 134.31 | Redcar Central | 13/48 | 13/48 |
| 142.15 | Middlesbrough | 14.00a ~ 14.07d | 14.03 ~ 14.11 |
| 146.63 | Nunthorpe | 14/21 | 14/25 |
| 153.20 | Battersby | 14.33a ~ 14.41d | 14.30 ~ 14.41 |
| 160.55 | Castleton Moor | 14/57 | ? |
| 167.67 | Glaisdale | 15/11 | 15/07 |
| 170.75 | Grosmont | 15/17 | 15/14 |
| 177.19 | Whitby | 15.36a ~ 16.43d | 15.27 ~ 16.45 |
| 183.43 | Grosmont | 16/59 | 17/01 |
| 186.51 | Glaisdale | 17/07 | 17/08 |
| 193.63 | Castleton Moor | 17.00a ~ 17.24d | 17.20 ~ 17.26 |
| 201.18 | Battersby | 17.39a ~ 17.49d | 17.40 ~ 17.51 |
| 207.55 | Nunthorpe | 18/01 | 18/02 |
| 212.23 | Middlesbrough | 18.13a ~ 18.19d | 18.10 ~ 18.18 |
| 218.40 | Eaglescliffe | 18/31 | 18/32 |
| 233.13 | Northallerton | 18.51a ~ 18.52d | 18/53 |
| 240.73 | Thirsk | 19/05 | ? |
| 253.30 | Tollerton | 19/25 | 19/15 |
| 263.09 | York | 19.38a ~ 19.41d | 19.27 ~ 19.42 |
| 273.68 | Church Fenton | 19/56 | 19/58 |
| 279.63 | Burton Salmon | 20/04 | 20/12 |
| 284.04 | Castleford Central | 20/11 | 20/17 |
| 286.59 | Altofts Jn | 20/18 | 20/21 |
| 287.48 | Normanton | 20/20 | 20/24 |
| 290.55 | Wakefield Kirkgate | 20.27a ~ 20.42d | 20.30 ~ 20.36 |
| 292.78 | Horbury Jn | 20/47 | 20/41 |
| 296.43 | Midland Jn | 20/52 | 20/46 |
| 300.04 | Mirfield | 20/58 | 20/53 |
| 304.10 | Brighouse | 21/05 | 20/59 |
| 307.38 | Greetland | 21/13 | 21/04 |
| 308.52 | Dryclough Jn | 21/17 | 21/08 |
| 309.39 | Halifax | 21.20a ~ 21.24d | 21.10 ~ 21.12 |
| 314.55 | Low Moor | 21/31 | 21/22 |
| 317.51 | Bradford Exchange | 21.37a | 21.27 |