TTB Day....and more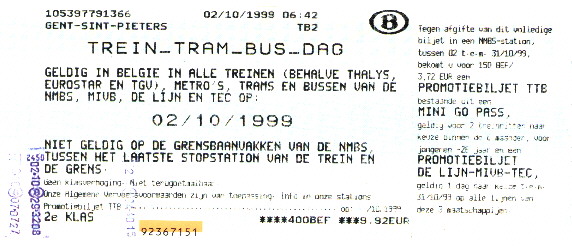 My second trip to Belgium in a couple of months - again based around a B-Tourrail rover ticket but also a day spent on a TTB-Day ticket. TTB Day is an annual event where the majority of Belgian transport companies get together to allow travel on Trains, Trams & Buses (hence TTB) all in one ticket costing 400BEF (about £8.00).
For those so inclined, click here for a complete list of all the haulages I made during my five days in Belgium (including travel to and from the UK).
Friday 1st October
Booked on my "usual" Eurostar train 9124 , the 10.27 Waterloo to Brussels, meant an early start from Northampton. The day almost got off to a bad start as, having purchased my return ticket to Waterloo, I discovered the services were all running late due to the failure of a Freightliner near Leighton Buzzard. I ended up on the 07.08 departure (which left about 07.40) but still had time to pay a visit to the Ian Allan book shop near Waterloo station before checking in for my Eurostar.
Set 3231/3232 (required) was my home for the next two and a half hours. Several cans of Kronenbourg and a bottle of Medoc wine later....
Brussels. Straight round to the travel centre (internal desks) to buy my B-Tourrail rover and exchange my voucher for the new timetable and I was all set to go bashing again. My only real plan for Friday was to travel over a fairly rare piece of track, the curve between Harenheide and Diagem Junctions. The only passenger train of the day (that I am aware of) that does this is P8349, the 16.07 Brussels Schuman to Hasselt. With this track duly "in the book" it was then a fast run to Gent in order to meet up with a colleague on the 19.16 service towards Eeklo. The "plug" unit (AM96) journey turned into an interesting one as the route was via Hofstade and Machelen, two more pieces of required track for me. Time to find and check in to my hotel in Gent (the Trianon) before wandering back to meet Simon on the 19.16 departure with 5124 at the head. Not long to chat as we both got off at Gent Dampoort - Simon was off to Rotterdam for the night in readiness for the Today's Railways "Dutch Discovery Weekend" railtours and I headed back to Gent Sint Pieters for the night. That said, I had a quick outing to Zottegem to pick up required 6256 which I'd seen earlier on heading for Geraardsbergen. With half an hour to wait at Zottegem it was a case of retiring to a local cafe to sample the local beer!
Saturday 2nd October
Early start for me - I was headed for the 08.19 Antwerpen to Neerpelt service which on TTB day runs as the "Teuten Express" and is extended to Weert in Holland over what is normally a freight only line. I'd arranged to meet a couple of friends (David & Brian) on this train - they were arriving on a special bus from England - but they were delayed en-route so I headed off to Weert on my own behind 6268. Not such an exciting run but at least I "claimed" the required track between Neerpelt & Weert. On the way back I carried on to Herentals where I had a half hour wait for another 62 back to Mol where our revised plans had David, Brian and myself meeting up. In the event I'd just got a beer in the cafe at Herentals when in walked David, Brian and another friend, Duncan! Time for a couple of beers before heading to Mol behind 6253 for 6299 to Hasselt.
An EMU then took us to Liege where we planned to head back to Brussels but en-route I found out about an additional service running from Gouvy to Hasselt using a preserved SNCB class 59 diesel. To good a chance to miss so we parted at Liege and I headed off to Gouvy behind required 5519 and CFL 3006 (my first Luxembourg Railways locomotive I've had for haulage). 5910 - actually running as 201.010 - looked and sounded superb, much better than the class 62's that I'd been experiencing all day. On the way to Liege we passed another service double-headed by 5528 and 5513. At Coo station just afterwards a load more enthusiasts got on the train (having run the length of the platform from a road bridge, the only shelter in the pouring rain!).
Back at Liege and I scored a good double on another additional service - 2711 banked by a class 55 diesel, 5525 - a "dot" too! I baled at Leuven as a fellow enthusiast suggested the following international service was hauled by 1608 - my last class 16 I needed for haulage. It wasn't and 1606 turned up on the following train. Never mind.... Back in Brussels and my hotel (Agenda Midi) was located just a few minutes walk from Midi station. In fact, my room overlooked the railway!
Sunday 3rd October
Another day of track bashing - I headed for Charleroi for a class 62 over the branch to Couvin. Once back at Charleroi it was then a convoluted route via Tournai, Mouscron and Kortrijk over more bits of required track.
I had arranged to meet Simon at Leuven for a drink and a bite to eat. He'd sent a text message to my mobile phone to confirm his route to Leuven and, with my required track out of the way, I headed up to Liege to meet up with him. I actually caught up with him (and another friend) at Bressoux, a shack a few km from Liege. At Leuven we walked to "Domus" a nice little restaurant for a meal and a drink (or three). A bit of careful planning allowed us to fall onto 2748 (required by all of us) on the 21.33 departure back to Brussels. We parted at Brussels Midi as my colleagues were staying in Gent.
Monday 4th October
Another chance to score some "peak hour" only bits of track. The run to Gembloux had me there in time for the last morning train to traverse the direct route to Jemeppe Sur Sambre. I then returned to Brussels (via a return trip up the Louvain La Neuve Universite branch) to travel over the various required "weekday only" bits of track around Halle, Delta and Brain L'Alleud. Whilst at Halle I got a SMS text message from Simon to tell me that he'd just seen 1608 (my last required 16 for haulage) heading out of Brussels and due back on train IC432 in the late afternoon. Superb - my own plans had me arriving at Brussels Noord just 18 minutes before the booked arrival of IC432 in the evening!
With a few more bits of required track put "in the book" during the afternoon I arrived at Noord station to wait the arrival (I hoped) of 1608. It was announced as 10 minutes late, then 20, then 30.... I watched various required electrics come and go but the wait was worthwhile as 1608 duly arrived. Owing to the late running I abandoned the thought of running through to Gent for the mileage instead opting for the short-leap to Midi station.
Tuesday 5th October
Some final track bashing in the morning - the Pannehuis Junction to Jette curve and the Poperinge branch. With having travelled over these pieces of track I have basically now travelled over the entire SNCB network (with the exception of a couple of cross-border links)! The afternoon was spent bashing required 62's around Gent before heading back to Brussels behind a class 22 electric via Mechelen. Another required Eurostar (3201 & 3202) was my transport home. A slow journey, taking over three hours and arriving into Waterloo over 20 minutes late at 7.05pm. The tube ride to Euston was sobering as everyone was reading their evening papers which were full of scenes of the mornings serious rail crash near Paddington. An almost deserted 321 unit got me back to Northampton and home for 9pm.
Verdict : Another enjoyable (and profitable) trip to Belgium. I scored all the track I'd planned to get (and more) and cleared my class 16's for haulage which I'd also been hoping to do. Picking up 5910 on the additional service was the "icing on the cake".