Bashing in your sleep!
(or "you jammy b*****d"!!)
Another tale of bashing on service trains - but in this case with EWS traction so a fair chance at some winners for me. Even better - I could do this bashing in my sleep!
A colleague, David Russell, made the original suggestion after hearing about a number of occasions over the winter when the northbound Caledonian Sleeper would be diverted to travel up the East Coast main Line instead of the more normal route up the West Coast. As an added attraction, on certain weekends the train would be diverted between Doncaster and York, requiring the use of a diesel over part of the route.
Our original intention to book a £99 return ticket to Fort William proved impossible as Scotrail were laying on a connecting service on the Monday and, as a result, the fare rose to £145 for the same journey. With £89 tickets to Edinburgh down to just three available it was crunch time and we agreed to have a run to the Scottish capital on the Sunday night sleeper (December 2nd) then spend the day over in Glasgow and return on the Monday night working. If, per chance, the connecting service to Fort Bill proved to be class 37 hauled then we would probably then ching out for a ticket to Helensburgh before heading for Glasgow.
Our move to London began on the Saturday when we both travelled on Past Time Rails "The Spinnin' State" railtour. David then kipped on my settee that night and we headed off to London on the Sunday morning clutching our Network Awaybreak return tickets at £11.80 each (pretty reasonable value). 321415 staggered us down to Euston - David being suitably withered that the 65 mile journey from Northampton is booked to take longer than the 156 mile journey from Doncaster to Kings Cross!
We both headed for Clapham Junction and I was pleased to score two of my last three Gat-ex units for sight within about half an hour of arriving. We then split up and I headed for Wimbledon and a session scratching off my remaining track on the Croydon Tramlink.
Once I cleared the track I needed I headed for central London and walked from London Bridge to Fenchurch Street to spot some 357's...but I got there to find it was closed because of engineering work (had my mobile phone been switched on I'd have known this as David had sussed this as he passed the line on DLR and had sent me an sms to warn me)! Carried on walking to Liverpool Street instead and scratched a couple of 357's for sight as well as two for haulage along with a couple of 321/3's.
Over then to Paddington to search out any of my three GW tram power cars but GW had gone belly up owing to a landslip near Didcot so not worth risking a run to Reading.
Ended up back at Euston an hour or two early but already the Caledonian Sleeper stock was in - I was well pleased to find 90035 at the buffer stops and 90034 on the other end of the 15 coach rake which formed 1S26 - both winners for me. An sms message also confirmed to me that we were due to get 67011 later on - another winner, I like this game!!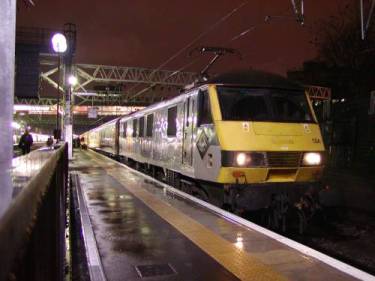 90034, loco for the first part of our journey northwards.
An exchange of calls then took place with another colleague (Selby) as 90035 was his last 90 required for haulage. I declined his financial offer to let him have my ticket to get on at Euston then I could meet the train at Finsbury Park where the train was booked a two minute stop where he'd bale and I'd get my sleeping berth...yeah, right!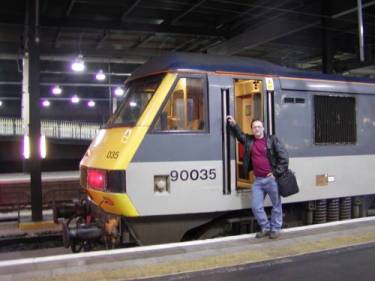 One to wither Selby - me and our main train loco, 90035.
Met David at 9pm for a beer or two in the Head of Steam. Bumped into a couple of people we knew in there and also got the gen that the connecting service to Fort Bill was likely to be hauled and 37405 was the quote - one of two /4's in service that I still need for haulage. Yep - I like days like this.
90034 only had a short nights work, leaving Euston at 22.30 it only took about 10 minutes before we pulled into the Kilburn Up & Down Goods Loop. Here 034 was uncoupled and 035 took over for the run northwards - but first southwards via the closed Primrose Hill station, North London Line before reaching the ECML. We shot through Finsbury Park station at about 50mph, so a good job I hadn't been tempted into a financial deal earlier that evening!! I sent an sms to Selby to tell him we'd just shot through at speed. Minutes later I got a reply "I know, I was on the platform!"
Managed some fitful sleep, stirring every so often to peer out to try to discover where we were. Recall seeing us into Doncaster but being 14th of the 15 coaches I didn't see 67011 being added. I also recall seeing Leeds passing by then we were into York. Again, never saw the 67 and next thing we were heading past Ferryhill.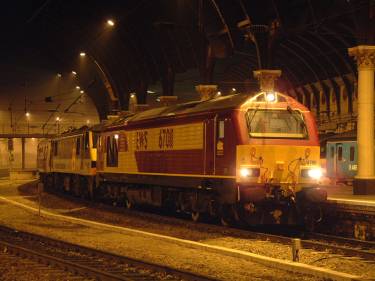 67011 & 90035 at York (photo : Richard Tuplin)
Wasn't very impressed with the breakfast when it arrived - advertised as "continental style" it actually consisted of a small coffee and two shortbread fingers!! Delivery wasn't exactly friendly either - a knock on the door, I opened it and a hand thrust through with a standard buffet paper bag which contained both mine and David's "continental style breakfast". Not a word said.
We finally staggered into Edinburgh Waverley station on time about 7.30am on Monday 3rd December. Mind you, myself and David were planning our days moves thinking we were still outside Waverley station, only when I opened the compartment door did I realise we'd arrived! Walking towards platform 21 we met another enthusiast going the other way and he confirmed that the Fort Bill was in fact a 156 DMU! Oh well...
We were even more withered shortly after as we'd seen 90037 turn up and couple to the stock ready to remove it once all the passengers were off (you can sleep on until 8am). Soon after we saw it again and it had moved from one end of the platform to the other, with passengers still on it - both myself and David needing 037 for haulage! We could always hope we met up with it again on the Monday night sleeper...
After a pig-out breakfast in BHS (less than £3 - excellent value) we caught the 09.45 turbocrap unit to Glasgow Queen Street. The morning was spent 303 and 320 bashing around Hyndland, Westerton and Dalmuir then we headed for Central station.
As soon as we walked on to Central's platforms from the low level part of the station I spotted 156458 heading out of the station - what luck, one of my last two 156's I needed for sight! A minute later and I'd have missed it. David mumbled something about jam and a bar steward but I didn't quite catch what he said so I assume he was just hungry and ready for a beer.
Spent an hour or so spinning to Paisley Gilmour Street and back on 334's - nice enough to look at from the outside but our impressions of the inside were disappointing. The unit back had badly leaking windows (it was raining) and the automatic station announcing system (with Scottish accent!) was chugging away saying "we are approaching xxx" and "we have arrived at xxx" even though we were nowhere near the stations being named and hadn't even left Paisley GS! Shortly after leaving the system gave up altogether, presuming (I suppose) that the train must already be at Central.
David then went off on one of his last two required 314 units for haulage and I hung about 334 spotting...and hoping for my last 156, 477, but no luck. We then met up with a local Glasgow based crank (Richard Morrison) for a pub crawl based on the Glasgow underground system (David requiring some of the track). Was amused to turn up for our second leg of the underground tour and find the same unit arrive as we had on the first leg!
Our plan to catch the 21.00 Glasgow to Edinburgh turbo failed and we walked on to QS at 21.15 to catch the 21.30 departure. As the late Mallaig/Oban service rolled in formed of two 156 units I joked to David that with my luck one of them would be 156477.....and the rear one was!! David repeated his comment about jam/bar steward but I was not caring - what a scratch, would've missed it had we caught our intended train back to Edinburgh! Another class cleared for sight :-)
Back into Edinburgh and we piled into the Scotrail lounge for a complimentary coffee and some snacks...only choice however being shortbread fingers!
Wandered over to the train just after 11pm - 90035 was at the east end having brought the stock in (so no chance for Selby to get it on the way south tonight) and an EWS example was at the other. 037? No, 030. David was happy as he needed this one, I didn't.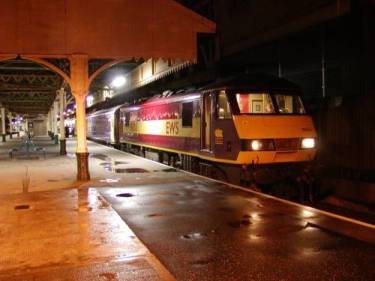 90030 at Edinburgh Waverley.
At 23.55 on the nose 90030 started out for Carstairs where we'd get shunted onto the rear of the Glasgow portion. As we rolled past it I was pleased to see it was indeed 90037 in charge, thus I'd scored three of the four 90's and a 67 for my £89 fare.
The journey south was spent asleep. I awoke to see Stafford shoot by then I realised we weren't going via the Trent Valley route - instead we were routed via Bescot, Stechford and Coventry. At 06.10 I awoke again and peered out just in time to see a large "Welcome to Northampton" sign sail past our window at about 20mph! No chance to get off, next booked stop Watford Junction!! At least breakfast this time consisted of a coffee and Danish Pastry. "Continental style"? Yes, I'd agree on this occasion. Same un-friendly delivery though....
We were a few minutes late into Watford Junction and even later out thanks to a series of Virgin trains being given priority over us. A stagger the remaining way to Euston saw a half hour late arrival.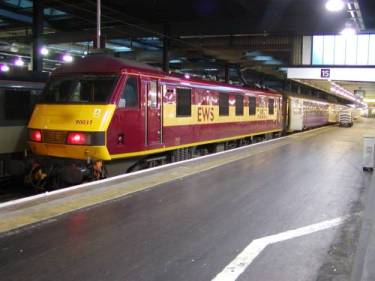 Back exactly where we started - Euston, but with 90037 this time.
Myself and David parted company here - he was off 357 spotting/bashing out of Fenchurch Street whilst I decided to pitch camp at Kings Cross for a while in search of my last 91 I need for haulage. No sign of 91025 so I then doubled back to St Pancras to spot any of my required 170 centre cars. MML was in chaos but an hour did get me three of my required-for-sight centre cars, so a profitable time.
Back to Euston for the 10.20 Sliverlink unit - we set off on time, crawled about six coach lengths and then stopped again. After a couple of minutes an announcement told us the 321 had just failed! Luck was however on my side and the 10.24 to Northampton was late departing as the stock hadn't arrived so I ran round and got on that to get me home.
Verdict ; a top couple of days out - helped in no small part by my success rate in spotting and haulages! Now what was that David was trying to tell me about fruit preserves and barmen...?
Gary Thornton.



Timings (Booked Only)
1S26 (02/12 - 03/12)
| | |
| --- | --- |
| Location | Booked |
| Euston | 22.35d |
| Camden South Jn | 22/38 |
| Camden Jn | 22/38 |
| Kilburn UDGL | 22.42a ~ 23.00d |
| Camden Jn | 23/04 |
| Camden Road | 23/07 |
| Camden Road East Jn | 23/09 |
| Freight Terminal Jn | 23/15 |
| Finsbury Park | 23.20a ~ 23.22d |
| Alexandra Palace | 23/31 |
| Potters Bar | 23/38 |
| Welwyn Garden City | 23/44 |
| Woolmer Green Jn | 23/46 |
| Stevenage | 23/49 |
| Hitchin | 23/52 |
| Sandy | 00/01 |
| Huntingdon | 00/12 |
| Holme LC | 00/20 |
| Peterborough | 00/25 |
| Tallington Jn | 00/32 |
| Stoke Tunnel | 00/48 |
| Grantham | 00/52 |
| Barkston South Jn | 00/55 |
| Newark North Gate | 01/03 |
| Retford | 01/17 |
| Loversall Carr Jn | 01/51 |
| Doncaster | 02.00a ~ 02.15d |
| Adwick | 02/18 |
| Adwick Jn | 02/18 |
| South Kirkby Jn | 02/22 |
| Hare Park Jn | 02/47 |
| Wakefield Westgate | 02/50 |
| Holbeck Jn | 03/09 |
| Whitehall Jn | 03/10 |
| Leeds West Jn | 03/10 |
| Leeds | 03/12 |
| Neville Hill West Jn | 03/17 |
| Cross Gates | 03/22 |
| Micklefield | 03/29 |
| Church Fenton | 03/32 |
| Colton Jn | 03/36 |
| York | 03.46a ~ 04.01d |
| Skelton Jn | 04/04 |
| Tollerton | 04/10 |
| Thirsk | 04/20 |
| Northallerton | 04/26 |
| Darlington | 04/42 |
| Ferryhill South Jn | 04/51 |
| Tursdale Jn | 04/53 |
| Durham | 04/59 |
| Birtley | 05/24 |
| King Edward Bridge South Jn | 05/27 |
| Newcastle | 05.34a ~ 05.36d |
| Heaton South Jn | 05/39 |
| Morpeth | 05/51 |
| Alnmouth | 06/05 |
| Belford | 06/18 |
| Berwick | 06/29 |
| Marshall Meadows | 06/33 |
| Reston | 06/41 |
| Grantshouse | 06/47 |
| Dunbar | 06/57 |
| Drem | 07/07 |
| Monktonhall Jn | 07/19 |
| Portobello Jn | 07/21 |
| Edinburgh Waverley | 07.26a ~ 07.46d |
| Haymarket | 07/49 |
| Slateford Jn | 07/51 |
| Midcalder Jn | 08/00 |
| Carstairs East Jn | 08/13 |
| Carstairs | 08.16a ~ 08.18d |
| Lanark Jn | 08/22 |
| Law Jn | 08/28 |
| Motherwell | 08.34a ~ 08.37d |
| Uddingston Jn | 08/41 |
| Newton | 08/43 |
| Rutherglen East Jn | 08/47 |
| Eglinton Jn | 08/51 |
| Glasgow Central | 08.54a |