21st April 2002
The Great Western Gronk
(An event organised by Selby Promotions)
The aim of today's event was to ride behind 08604 at the Didcot Railway Centre (DRC). The DRC aims to recreate the golden age of the Great Western Railway having being founded by the Great Western Society in 1961. The DRC is a fascinating museum in its own right, and in addition to the static displays they offer train rides on certain dates of the year. In keeping with the GWR theme, these train rides are formed by the diesel railcar or hauled by steam locomotives. 08604 has no booked use on passenger trains, thus the only way for us diesel enthusiasts to ride behind the locomotive was to arrange something with the DRC directly.
Sunday 21st of April 2002 was a lovely sunny day. When I arrived at the DRC 08604 was already heading out of the yard and onto the DRC mainline. After an ecs run to the far end of the line and back, the first passenger train was ready to depart at 10:15. I am pleased to say that there were 21 passengers on the first trip, and on each of the three subsequent trips that I did more and more familiar faces produced. The income generated by these passenger was in addition to what the DRC could normally expect, that is because, excellent as the DRC is, diesel enthusiasts would not normally visit due to its steam bias.
08604 was booked to make continuous trips up the 36 chain's long "mainline" from 10:00-14:00, unfortunately I had to leave at 11:30 because I was working nights and had not yet being to bed and was due back at work at 19:00. Before leaving though, my 4 year old daughter (Becky) and I had a walk round the site and visited the shop to buy some Thomas the Tank Engine stickers!
On the way back to the car I just had chance to view the stabling point at Didcot and amongst the many 66's there I noted 37203 (that is due to work at the NYMR diesel gala next weekend) 37248 and 58's 020/045/49.
My sincere thanks go to the kind staff at DRC, especially Jeanette Howse (Marketing Executive) for making today possible.
Ian Loveday (Selby)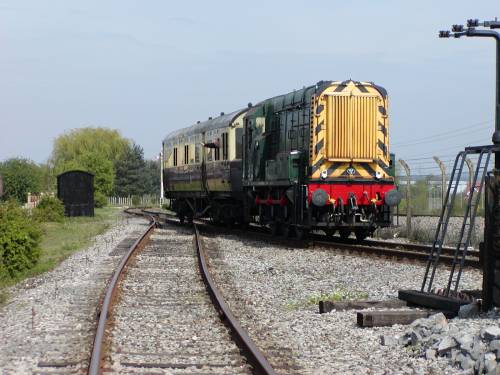 08604 propelling the train along the "mainline" track. (photo: Gary Thornton)
Pogo shows his pleasure in scratching another gronk by having a good bellow
out of one of the carriage windows!



Back to "PLEG index"