A Local Train for Local People
Steve Perryman describes....
One of the challenges of covering Preserved lines in Belgium is that all but one(CF3FV) seem to open for only 8 days a year these being every Sunday in July and August and I really wanted too cover two lines reasonably close to where we were staying in De Haan. As I was only in Belgium for one Sunday I was very pleased to discover that Thursday August the 15th was a Bank Holiday and so the service I really wanted to cover from Dendermonde to Puurs would be running throughout.
This service covers the section of Line 52 which closed from its junction with Line 53 into Dendermonde station 14 Km to the Junction with Line 54 at Puurs which it stops just short of at a pupose built platform. The line is operated in two parts from Dendermonde station to Baasrode Noord. The first part by a class 43 Railcar from Platform 1 at Dendermonde NMBS/SNCB station and from Baasrode a Vertical Boilered Le Fouquet tank (with diesel assistance). Even on high days and holidays the whole journey only takes place twice a day with only the departure at 14.15 allowing a full trip.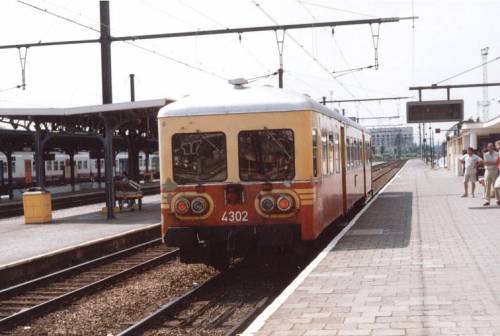 Single diesel railcar 4302.
Alan and I set off by train via Ghent and nearly got caught out because being a feestday the weekend timetable was operating, Unfortunately this also meant that instead of one of the regular push-pull sets on Line 53 it was unit 416. Arriving at Dendermonde we asked around but no-one seemed to know about this service and although we found a leaflet advertising the BVS the Stationmaster had to check his special notices to see when and if the train would run. As departure approached more and more local people arrived and sure enough at around 14.10 4302 trundled in.
We left Dendermonde heading towards Brussels until the junction only 1.5 km or so out where after a short delay we branched to the left. Then following a line largely overgrown we were lucky enough to be at the front to watch as we repeatedly had to stop for manually operated barriers over the numerous crossings in the area. After 25 minutes of stop start operation the train arrived at the south end of Baasrode-Noord's single Platform. At the North end where Deutz "Patricia" two 1890's wooded six wheel vehicles a coach and a baggage van then another Deutz behind which simmered the VBT. This was the refreshment shop and had a good shop but a very welcome Bar.
Setting of from Baasrode the VBT was propelling and we were enjoying the ride when my Phone rang, images of ,"I'm on the phone", in Flemish danced before my eyes. Prior to this their had been loads of chatter form the locals and Alan and I had kept quiet. I answered the phone (thanks Chris I hope it cost you an arm and a leg) and their was total silence. I don't think they get many foreigners on the BVS! However I have got to say that after this the train staff and passengers went out of their way to make us feel welcome.
The next event was at between Opuurs and Puurs where the line seems to climb a little. We ground to a halt and it seems as if the puff had run out of it. Now we knew what the diesels where on for as Patricia was started and took us forward to Puurs with the kettle visible following us light but dropping back all the time. Another type caned in!!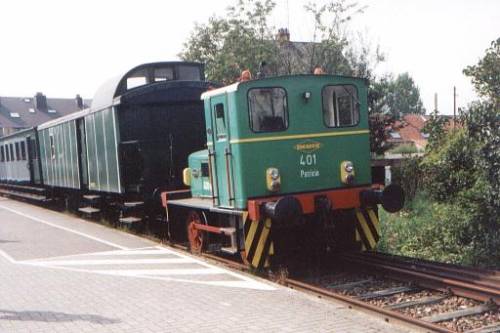 "Patricia" at Baasrode-Noord.
At Puurs BVS we bailed out and with everyone falling over themselves to give us directions easily found the way to Puurs SNCB then onto St Niklaas and back to Ghent.
A great little and weird, to UK eyes Railway. 14 km for 5 Euros. How can you go wrong?