23rd March 2003
The C.V.R. Diesel Day
Selby describes...
This gala was arranged by the CVR in conjunction with our group. A member of our group, Paul Cunday, had visited the railway approximately a year ago to have a ride behind 31255 and whilst there he made a contact, an event was consequently agreed, it was then promoted by myself, and here we are then: Sunday 23-March-03 stood on Castle Hedingham station in glorious sun shine....
The gala was arranged to provide haulage behind four ex-BR locomotives: 2x03 (D2041 & D2184) and 2x31 (31255 & 31270). Bubble car 55033 was also provide to interweave the loco hauled trains. Everything that was booked to work did work, however a vacuum fault on one of the 31's set the timetable back by 30mins, and then a fault on D2184 took that loco out of service about half way through the day. It was given another run at the end of the day to keep those that had arrived from the MNR diesel gala happy, so I am sure that those people are very grateful to the CVR for that! During the afternoon when problems were being experienced with D2184 the CVR commendably kicked the freight train out of the timetable and replaced it with the Bubble car and topped and tailed the two 31's to save time changing engines. This proved to be an excellent move and was well received by those present.
The normal mode of operation for the trains was:
Castle Hedingham - Nunnery headshunt (loco(s) detached from front, fresh loco(s) attached to rear) Rev - Castle Hedingham (Non-Stop) - Drawell GF (loco(s) run round) - Castle Hedingham
The day proved very popular with all the trains being well loaded, in fact a couple of the trains had no spare seats at all, the lovely weather no doubt helped out with this.
We are very grateful to the CVR for staging the event and especially to Paul Lemon. We are please to report that we still have a 100% record for everything that we say is going to work, has worked!
That brings me nicely onto the MNR...Credit is due to the MNR for welcoming diesel enthusiasts and staging a diesel weekend, however many people, including myself, got bowled out because the engines did not work as advertised. How annoying! This was not due to operational problems with the locos etc, it was due to a lack of organisation, and an inability to update their website with the correct information. I know of a group of people that travelled down from West Yorkshire on the Saturday for 47200 only to find out that it wasn't going to work any more trains that day, thus they had a 300 mile wasted trip. I know of another person that travelled from Nottingham on the Sunday for the 31 in the afternoon, and despite being on both of the 15:00 and 17:00 departures it was Dead in Tow! And then I travelled up for the last train of the day on the Sunday to have the 47's as advertised, only to find out on arrival that they were not now going to work!!! A hundred and fifty mile trip wasted for me!! I give credit where it is due, but that type of organisation is extremely frustrating, all the hard work that they must have done getting the locos ready etc and they let themselves and many other people down by not sticking to what they advertised, or alternatively making their new plans known. It is not only the MNR that have fallen foul of this, and it is something that can easily be stamped out, and it should be NOW!
Right, rant over, thanks again to the CVR for an excellent day.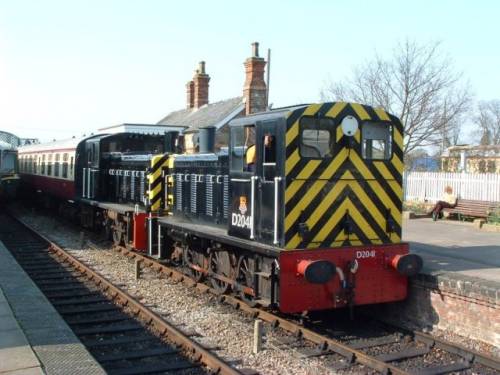 Simon Brown provided this photo of the 03's.
Please support the following events if you can:
IoW 'Rare Rods' event on 25-May-2003 (Details can be found by following the link on this websites front page)
The Mangapps Farm Diesel Day on 15-JUNE-2003
The Buckinghamshire Railway Centre Class 04 running days in AUGUST-2003
Ian Loveday ("Selby")