Another offering under the "other happenings" section describes a journey from Northampton to Munich and back, all of which was made by rail.


From time to time I make business trips abroad and generally this involves flying out of Birmingham or one of the London airports. When planning this trip to various customers in Germany I initially assumed that I would be flying - until that is one of my colleagues asked why I didn't consider doing the journey by rail! My initial reaction is not printable, however after a bit of thought and an enquiry to our local travel agents I realised that it was not actually such a bad idea. Alright it meant about an extra half day at each end of the trip, but at least I could be working on the train, aswell as enjoying the scenery - something you definitely can't do by air.
My journey began on Tuesday morning at Northampton station - thanks to Connex South Central it is now possible to get to London Waterloo without using the underground. The 0800 to Gatwick Airport got me as far as Clapham Junction where a very short wait saw me on a 455 unit and soon at Waterloo. I was booked on the 1027 Eurostar to Bruxelles Midi and the timing was about perfect - just time to change some money and an announcement was made that the train was boarding. Unit 3017 and 3018 would be my home for the next 2 hours and 40 minutes. A quick check revealed this was not one of my "required units" as I had travelled in it before. The run to Lille was quite rapid, although we were stopped on the approach to the Channel Tunnel due to the number of trains waiting to pass through. At least it gave a chance to "spot" several of the Eurotunnel maintenance locomotives - something not possible to do at speed as the numbers are so small. A short stop at Lille and we were on our way again - now of course via the recently opened high speed line to Bruxelles. Arrival was just a few minutes late at 1410 local time.
Not much time to look around as I was booked on train 427, the 1447 departure to Köln in Germany. Having bought the latest issue of "Today's Railways" at Waterloo, the excellent article on the Belgian Railways multi-voltage locomotives had already confirmed that this working was not a "Thalys" unit. Sure enough, in rolled 1605 on a rake of (quite) new SNCB air-conditioned stock. The run through Liège, Aachen and Düren sped by and just a little before 1745 I was deposited at Köln Hauptbahnhof. Only a brief wait here for train 28 "Prinz Eugen" to arrive which duly appeared behind 103 237-4. The coaches belonged to Austrian Railway's, but were very similar internally to German Railway ones. Twenty minutes later and I arrived in Düsseldorf Hbf, the end of my journey for the day.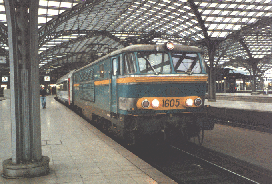 SNCB 1605 at Köln Hauptbahnhof.
Wednesday : After finishing a customer visit I was back at Düsseldorf Hbf and heading south for Nürnberg. As I no other appointments that day I chose to travel via Hannover in order to experience an ICE unit along the high-speed "Neubaustrecke" between Hannover and Würzburg. Now this actually caused the ticket clerk a problem as it was not the recognised route - being around 150 kilometers further and taking almost one hour longer. After some discussion she managed to issue me with two single tickets, one to Hannover and the other from Hannover to Nürnberg. The journey to Hannover (train ICE941 "Cilly Ausem") was made aboard an ICE2 unit whilst the fast run to Würzburg was on one of the original units. I will admit to being quite impressed with the ride, especially at speed. The wait at Würzburg was less than 10 minutes and 103 141-8 took me the final 102 km to my home for the next two nights, Nürnberg.
The customer visit completed in Nürnberg and it was on to München on another ICE unit, via Augsburg. The return was also made on an ICE unit, train ICE986 "Meistersinger" which only operated between München and Nürnberg. Not a very busy train, there were no other passengers in my coach for the whole journey!
Friday : Returning to England I started the day on the 0831 departure (train IC524 "Hanseat") which was to take me all the way to Köln, via Frankfurt, a journey of 449 km and taking just over four and a half hours. The leg to Frankfurt was behind another Class 103 and there it was swapped for a new Class 101 locomotive. By this time I had realised that I was very likely to complete the whole four day journey without having experienced any diesel traction! The stretch from Mainz to Bonn was the best one for scenery as the river Rhein is closely followed most of the way. As we were running a little late at this point the ride around the tight bends was somewhat lively as the driver did his best to regain lost time. Once at Köln it was a change back to SNCB stock and probably the highlight, traction wise, of the trip - four voltage Class 18 No. 1801 was at the head of the train. As we arrived at Aachen station I paid little attention to the DB Class 215 (or was it a 218, I struggle to tell the difference) diesel. As we left however I soon felt a few "bumps" which suggested that we had more than just 1801 providing traction. Sure enough, I looked back as we rounded a curve on the rising gradient to see the said DB diesel giving us a good shove. Hooray - at least I did manage some diesel "haulage", even though I didn't get it's number! Leaving Liège on the 1 in 30 gradient again meant banking assistance was required but on this occasion it was left to SNCB electric No. 2383 to do the honours.
Back in Bruxelles and it was time for Eurostar 3105/3106 to get me back to British soil. Curses, another Eurostar unit that I had travelled in before! Arrival in London was a few minutes behind schedule and a quick dash via the Northern line saw me at Euston in plenty of time for the 1924 service to Northampton. Complete with my Burger King "Whopper" meal I walked the length of unit 321446 to find that, with almost twenty minutes left before departure, there were already no seats left. Within five minutes and I had no chance to eat my meal as the train was absolutely wedged. Right, time for a change of plan! I hopped off and round to platform 13 where I got a seat on the 1935 Preston service which has it's first stop at Milton Keynes. having eaten my burger in relative comfort I hopped off at MK where I then, in theory, only had a five minute wait for the class 321 I had already abandoned in London. Wrong! Due to a lack of driver it was running 15 minutes late. During the next twenty minutes I heard the word "delayed" used in every train announcement made. On top of that a Glasgow to London service had been terminated at Preston due to a locomotive failure. Isn't rail travel in the UK fun? I arrived home at about 9pm, or put it another way, about 12.5 hours after leaving Nürnberg, tired, but glad I'd actually done this trip by rail!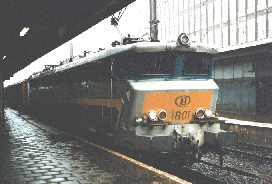 SNCB 1801 at Bruxelles Midi.
Just in case anyone is interested, the full detail of my journey is given below. All distances are approximate and to the nearest 0.5 km. Any help with accurate distances (specifically Bruxelles Midi to Aachen) would be appreciated.
Tuesday March 3rd;
| Train | From | To | Traction | Distance |
| --- | --- | --- | --- | --- |
| 08.00 | Northampton | Clapham Junction | 319005 | 107.0 km |
| ??.?? | Clapham Junction | Waterloo | 455727 | 6.0 km |
| 9124 | Waterlo Int. | Bruxelles Midi | 3017 + 3018 | 369.5 km |
| IC427 | Bruxelles Midi | Köln Hbf | SNCB 1605 | ? km |
| IC28 "Prinz Eugen" | Köln Hbf | Düsseldorf Hbf | 103 237-4 | 41.0 km |
Wednesday March 4th;
| Train | From | To | Traction | Distance |
| --- | --- | --- | --- | --- |
| ICE941 "Cilly Aussem" | Düsseldorf Hbf | Hannover Hbf | 402 015-2 + 402 017-8 | 286.0 km |
| ICE681 "?" | Hannover Hbf | Würzburg Hbf | 401 070-8 + 401 570-8 | 361.0 km |
| IC621 "Konsul" | Würzburg Hbf | Nürnberg Hbf | 103 141-8 | 102.0 km |
Thursday March 5th;
| Train | From | To | Traction | Distance |
| --- | --- | --- | --- | --- |
| ICE787 "Karl Adam" | Nürnberg Hbf | München Hbf | 401 069-0 + 401 569-9 | 199.0 km |
| ICE986 "Meistersinger" | München Hbf | Nürnberg Hbf | 402 013-7 + 402 014-5 | 199.0 km |
Thursday March 5th;
| Train | From | To | Traction | Distance |
| --- | --- | --- | --- | --- |
| IC524 "Hanseat" | Nürnberg Hbf | Frankfurt Hbf | 103 217-6 | 226.0 km |
| IC524 "Hanseat" | Frankfurt Hbf | Köln Hbf | 101 055-2 | 212.0 km |
| IC424 | Köln Hbf | Bruxelles Midi | SNCB 1801 | ??? km |
| 9149 | Bruxelles Midi | Waterlo Int. | 3105 + 3106 | 369.5 km |
| ??.?? | Waterloo | Euston | Tube 1067 | 3.5 km |
| 19.35 | Euston | Milton Keynes Central | 87004 | 80.0 km |
| 20.17 | Milton Keynes Central | Northampton | 321446 | 26.0 km |
Verdict : Great journey. Shame about the return leg out of Euston though!
Gary Thornton.