"Not The Savage Curtain"
Having already booked the time off work and obtained my air ticket, the cancellation of Mercia Charters "The Savage Curtain" railtour left me (and a few others) with the dilemma of whether to go ahead with the planned trip to Belgium or go somewhere else (or even cancel the holiday/time off work!). Having not managed a full 5 days on a B-Tourrail this year I chose to go over anyway - a decision shared by quite a few other people too judging by how many familiar faces I ended up seeing over the five days!!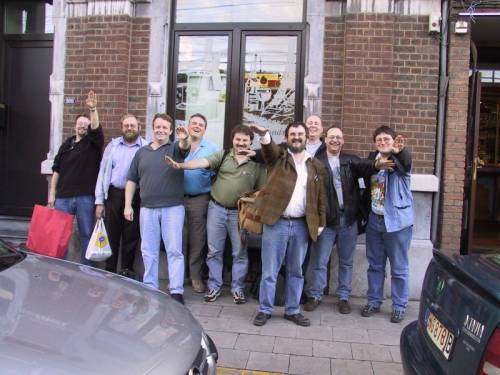 Group photo - Saturday evening. I'm second from the right. (Photo : Duncan Jennings)
My goals on this trip were quite simple - track down my last Merelbeke steam-heat class 62 for haulage - 6247, get some of those I needed that work out of Charleroi .... and avoid the new class 41 DMU's! Any old electrics would also be "fair game" and, once the weekend arrived, some of the new class 13's too. My target was 30 new loco haulages in the five days...
As per normal practice, I've shown my haulage scores underlined in red. For those interested, a full haulage list (including train identities) can be found here.
Wednesday 5th September - Day 1
A relatively late start for me as I'd booked on the 10.55 flight to Brussels, rather than the 06.45 flight I'd taken on several previous occasions (must be getting old, or lazy, or both...). 321436 got me from Northampton to Birmingham International and Sabena laid on OO-DJV (an Avro RJ85) to get me and 80-odd others over to Brussels - quite a few of them kilt-wearing Scotsmen heading over for that evenings football match against Belgium.
By 13.30 I was armed with my B-Tourrail and out "on the bash". "Break" unit 361 got me to Brussel Noord where I soon met up with a few others and got quite a bit of gen as to what was about. As a result of the gen I received I abandoned my plan to head blind to Antwerpen to cover the rush-hour trains there - as it seemed there were a few winners lurking in the Brussels area for me!
By the end of the main rush I'd covered 521, 2751, 749, 2221, 2712, 2217, 948, 2207, 2156 and 2230. All in all not quite what I'd intended but at least I'd scratched in a couple of 22's and three cans. I made my "normal" move to Gent on P8068 (2242) with a swift change at Melle onto L1888 (6322) for the last few km's. Time enough to check into my hotel (Trianon2 right next to the station) then out minus bag to cover the evening trains. No sign of 6247 and dud 5108 was on the Eeklo turn so I ended up covering the Antwerpen to Oostende services on a round trip to Brugge - 1351 out for 2146 back (surprised to see a can hauled turn - plus dead 2141 was on the other end, M4 stock too). Then took 450 out to Dampoort to cover 1354 back in (the advantage of knowing diagrams - let them go when first seen then plan the moves to reel 'em in later!).
So, end of day 1 and I'd scored 8 locos - 2 x 13, 2 x 21, 2 x 22, 2 x 27 - not a bad start.
Thursday 6th September - Day 2
My "booked" breakfast at 05.45 was ready so by just after 6am I was wandering over to the station all ready fed and watered to keep me going a few hours. No rush-hour moves this morning - I was headed for Namur where I'd heard that .5316 was out on the "Kayaks". 1602 to Brussels then a pleasant surprise - EC91 was sat ready to leave complete with 2012, my last class 20 for sight (and one of the five needed for haulage), at the helm. 2233 arrived however on a P train and this was done to Noord, then I hopped on to EC91 for 2012 to take me to Namur. ICT6945 was already in when I arrived - .5316 on the "south end" and 5205 (not required) on the "north" end - excellent! .5316 sounded well loud as it whisked me to Houyet. Just after 08.30 and already I'd scored three locos!! Shame about the weather though - absolutely chucking it down. The half hour fester at Houyet (the train goes back "empty stock" to Dinant) was killed watching .5217 with an overhead line train. An amusing half hour too - the train was drawn forward over the road crossing with those on board "laying" the first cable in the OHLM - but every time the train paused the cable sagged causing a flap before the crossing gates were quickly lowered to prevent any trucks coming through and dragging it away!
My return to Dinant was in 4505 - OK a single car DMU but, as anyone who knows them will I'm sure agree, a wicked journey as they "thrash" rather well. 327 back to Namur where the "+5" onto EC296 almost completely evaporated, resulting in a very fast sprint up the escalator and down the other side. I made it only to find the doors already closed and the guard having "given the tip", but with a red signal he was kind enough to step aside and let me in through his still open door. 2001 was my motive power back to Brussels. Spent the early afternoon spinning to Leuven and back - 1316 for 2134 for 1327 and finally 1350. Cue the start of another Brussels rush-hour!
Having received gen that 2218 (required) was on P8008 (Schaarbeek to Kortrijk) at the end of the rush-hour I planned my moves accordingly. A couple of hours later and I'd sampled 2217, 1338, 2242, 2140, 2731, 2108 and 2740. Hmmm, no oldies this time. 2218 however duly produced on P8008 and this got a couple of us out to Gent to see what was about there. Doing 1st class B-Tourrails it's always amusing to see the expressions on the businessmen as we sit down ("not 1st class passengers" is written all over their faces) and then the withered look they have when the gripper appears, checks our tickets, thanks us and moves on.
I ended up doing 2718 out to Dienze for 2104 back. Nothing else required about (6247 where are you!?!) so it was off back to the hotel for a beer and bed - with 10 more winners under my belt.
Friday 7th September - Day 3
My day to cover the Charleroi 62's. 1338 to Brussels for an hour covering the morning rush. A complete blow-out, I saw absolutely NOTHING I required for haulage! Had a spin on 2502 to Centraal and 2106 back before doing "plug" unit 472 out to Charleroi. Flapped a bit as we staggered most of the way, the 12 minute connection dwindling away to about 2-3 minutes by the stop before Charleroi. Thankfully however we made it and I then ran down to Philippville behind 6218. Killed the half-hour wait there by looking for a bar with another crank. We failed and ended up watching three Berts demolishing the station platform-shelter using a grinder and mini digger.
6234 back to Charleroi (I like this game - winner out for another back) then got bowled with 6288 down to Berzée for 6243 back. Three out of four - acceptable, taking my class 62 haulage total to 56 of the class of (originally) 136.
818 up to Brussels then my third afternoon "doing the rush-hour" produced 2136 (15.09 Fridays only to Arlon - so much for a decent oldie!) then 2212, 2214, 2011, 2721 & 2152. Then got the gen that 2302 was on P8722 (17.03 Vilvoorde to Chatelet) but I had no time to get north to have it back to Zuid station. Nothing for it then but to head off into the wilderness south of Zuid station behind 2302. Ended up at a shack called St. Genesuis Rode for a +16 onto a unit back (234), though a earlier arrival (unit 175) was also caned in part way. On the train back into Brussels I got chatting to a Belgian girl who was headed from Waterloo to Waterloo (the Belgian place, of battle fame, to the English one, of erm, no fame?). I'm not sure she really understood when I tried to explain what I was up to - I wouldn't have attempted to, but she did ask!!
Got back in time to see the Port Bou departure at 18.15 - brief excitement to see a class 26 at the helm but quickly turning to disappointment to see it was dud 2627. 2233 back to Gent on P8008 then the evening was spent again failing to find 6247. Made it to Lokeren and back (1333 out for 1341 back - the power of planning again!).
So, another 10 winners - 28 being my total so far.
Saturday 8th September - Day 4
And 28 it nearly stayed! Nothing around Gent first thing so wandered out to Oostende in search of any of my last 13's for sight (down to half a dozen out of sixty). No joy. 1606 was my chosen motive power back to Gent where I'd intended swapping for 1304 on the following Antwerpen service (5 minutes behind the Köln which I was on). That plan lasted as far as Brugge when 1304 came in on the adjacent platform....then left before us!
An announcement then, my Flemish isn't up to much, but I discerned the words "locomotive", "defective" "delay" and "replacement". Hmmm... Sadly the replacement was only 2757 but at least it meant I would now arrive in Brussels at about the right time to cover EC296. Met up with a few colleagues doing the same thing. 2008 was on EC296 (done Noord to Zuid) then 2711 out to Liege Guillemins - for two of us it was for the "hunt" for Liege banker 2250 which had been seen back out sharing duties with the more regular 2249.
...and produce it did. Three of us then headed back to Liege behind 2744 with 2250 providing the rear-end shove up the hill from Liege.
Time for a beer in Leuven before 1338 got us back to Liege then CFL 3009 was sampled for the short journey to Angleur. Here a total of ten of us ended up in La Vaudree for a meal and a beer or three. Two hours later CFL 3005 took us back to Liege then 1338 was my transport all the way back to Gent (banked by 2249 out of Liege).
Only three winners all day, but a nice sociable evening out anyway. Broke my target of 30 winners for the trip, so any more now would be a bonus.
Sunday 9th September - Day 5
Last day. Got off to a good start as 1339 rolled in on the Welkenraedt just after I turned up on Sint Pieters. Once in Brussels I hit it lucky again (with thanks to Simon for pointing me in the right direction) as 2365 was on AT1433 to Lourdes. Strictly this was not a service that could be caught using a B-Tourrail but a quick word with the gripper got me first a "non" then he relented and said OK. I got on to find three colleagues holed-up in a compo trying to avoid the gripper!!
On arrival back into Noord I got the gen (thanks Graeme!) that 6247 was in place to do the 11.14 Gent Sint Pieters to Geraardsbergen.
Aaargghh....Flap!!
A quick check of the timetable however revealed I could get there, get 6247 in...and still back to the airport in time to return home :-) A plug unit to Gent and I met Graeme on board, 6247 grumbling away on the front. Did it to Melle (late running, so the usual Gontrode leap was suspect) for 6311 back. Another plug back to Brussels and a Break unit to the airport where I checked in with time to spare. Another RJ85 winner, OO-DJR, had me back to Birmingham for mid-afternoon.
Verdict : Shame there wasn't a tour this weekend, but I scored 34 locos, including a Nohab and four 62's so I was very happy. Scoring two 23's was good news and I'd halved the number of 27's needed (10 down to 5 to clear). Oh, and I still haven't had a class 41 DMU yet either :-) A good social time was had too as there were quite a few others over "on the bash".