The "No We Are NOT Australian" USA Tour 2005
After the success of last years "Wot, No More Sam Adams?" bashing tour of the US it fell to a reduced group of cranks in 2005 to go and experience another week in the land of very loud diesels. This years plan saw the group (six strong) fly into Chicago, spend a few days bashing the Metra system then overnighting to Washington on Amtrak to get a few new locos in on VRE, MARC and Amtrak before heading home out of New York.
After last years bargain £200 return flight from Birmingham to New York (Newark Liberty) I was not expecting to match it but a £345 London Heathrow to Chicago, returning out of New York JFK was still pretty good. The down side was it was a pre-8am departure from Heathrow, though this in turn meant we would be in Chicago and on the bash before lunchtime, despite the flight being in excess of 8 hours. As it was holiday we decided against the desperate early morning start and booked the Ibis hotel at Heathrow (a bargain for the area at £49.95 for a twin room). I travelled down after work, scooping my first Desiro on a Silverlink service in the process - took that from Northampton to Watford Junction where I met Derek and we headed to Heathrow using the Virgin airport bus link. Arriving into Heathrow at about 8.30pm I went to get my dollars then we met Steve and Richard who had arrived a little earlier. After a pint in Weatherspoons it was off to the hotel and another pint before "party leader" Simon arrived. Our sixth group member, Tim, was staying in London and flying out using British Airways and had therefore planned to meet us in Chicago.
It was still an 04.xx start on day 1, but the check-in was amazingly fast and trouble-free - not even a queue! Our pre-reserved seats duly produced, security cleared in an instant and we even had to wait for one of the food shacks to open in T3 to get breakfast! Let the bash begin...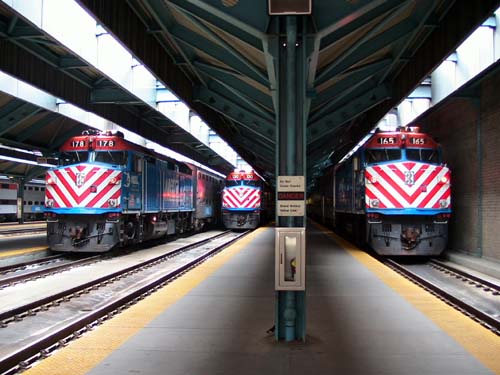 Metra F40PH's in Chicago - lot's more of this to come!
Day 1 : 22nd October
Day 2 : 23rd October
Day 3 : 24th October
Day 4 : 25th October
Day 5 : 26th October
Day 6 : 27th October
Day 7 : 28th October
Day 8 : 29th October
All winning traction is shown thus.
More information on the US can be found on the USA by Rail Website, maintained by Simon Bennett.
Conclusions & credit
Once again an absolutely top holiday - some say you can't really bash in the US...whilst that may be true in some areas it certainly wasn't where we were - I scooped 56 new locos for haulage in the week (only one dud was had from last years visit). Full credit is due to Simon Bennett for his meticulous planning, it all worked like clockwork. Thanks must also go to my fellow travellers, Derek Milby, Steve Bates, Richard Bishop, Tim Howlett & Bob Hannaford - a real good bunch to go travelling with! Trains & beer - can't beat it really!! A big thanks also must go to all the train crews we met - all of them were very interested in the "strange" group of railfans that turned up on their train and made some of the journeys an absolute delight with information about the route, trains etc.
Due to some adventurous plans I have for a bash next year (ALCo's at 15,000ft ASL - of which more in due course) I was not planning to do the US in 2006 - but after this week I've decided missing another trip there is simply not on...
Gary Thornton.



Please use your "back" button to return a Page