6th March 1999
Settle & Carlisle Diesel Gala
In recent years a day out on the Settle & Carlisle line between Carlisle and Leeds would be a day spent travelling about on Class 142 or 156 DMU's. Yawn! For four weekends in February and March this year however engineering work on the West Coast Main Line meant that services were being diverted over the scenic "S&C". An added attraction was the decision by Virgin to hire Deltic D9000 "Royal Scots Grey" to haul some of the diverted services.
With a business trip to Scotland finished on the Friday I decided to take advantage of this and stop off with a friend in Crewe on the Friday night rather than doing battle with the M6 motorway further south. For the Saturday we decided to spend the day along the most scenic part of the "S&C" getting photographs and video footage of some of the diverted trains. We set off from Crewe early on the Saturday (soon heading into a snowstorm as we headed north) in order to see train 1O38, the 07.38 Glasgow to Bournemouth which was booked for haulage by D9000.
We chose to catch the Deltic coming over Ribblehead Viaduct but when we arrived we found we were facing a very strong wind and it was doing its best to snow. Not much use setting a video camera up in the face of such adverse weather conditions. A quick change of plan and we headed down to Horton-in-Ribblesdale station where it was a bit more sheltered. As we waited for D9000 to appear (it was running a bit late) 1S46, the 06.55 Birmingham to Glasgow shot past in the other direction with Fragonset Railways' 47709 at the head. No time for a stills shot and only just time to grab the video camera and record it passing. Shortly after and we heard a droning sound confirming that D9000 was approaching. A bit more of a wait though before she appeared, running very slowly for some reason.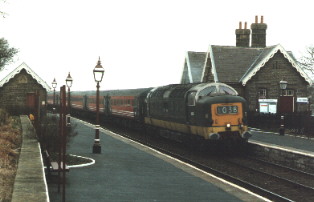 D9000 passes slowly through Horton-in-Ribblesdale station
Time for a change of scene and we drove along to Dent station where we parked up to catch 1M22, the 08.39 Glasgow to Euston which had 47745 "Royal London Society for the Blind" in charge. As we watched the train approach the snow was falling quite hard, although not much was lying on the ground.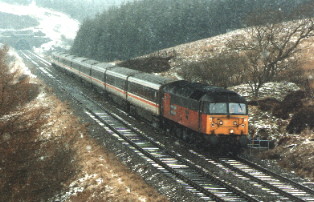 47745 between Rise Hill Tunnel and Dent station
Another change of scene and we headed over the single track road towards Garsdale Head. Soon the road disappeared under a layer of snow and we were in the clouds with minimal visibility. Getting up some of the hills on this road proved fun and it was a credit to my friends driving that we didn't end up either stuck or in a ditch! We began to question our sanity at this stage, choosing a day out over staying in a nice warm dry house. As we approached Garsdale station it was a case of "where has all the snow gone?". We carried on to just north of Ais Gill summit where we plonked ourselves in a nice boggy field to view several north and south-bound services coming past. The 09.10 Edinburgh to Brighton didn't turn up on time and the first diverted train we saw was 47739 "Resourceful" heading north on 1S11, the 07.25 Euston to Glasgow.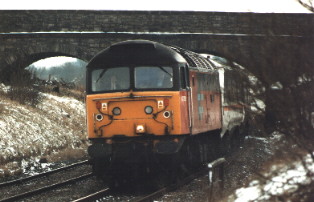 47739, coupled to the Driving Van, heads north near Ais Gill
As 47739 headed away northwards a class 156 "super-sprinter" passed heading south - obviously some problem had befallen the Brighton train. A bit of a wait ensued during which time the question was "which comes first, a train....or the onset of frostbite?". We then heard another train approach from the north - not the Brighton but 6E13, the Newbiggin to Sudforth Lane "Gypsum" freight working, running a bit early. It was a nice surprise to find it being worked by 60033 "Tees Steel Express", one of the two British Steel blue liveried 60's (complete with a headboard, though I did not see what it said).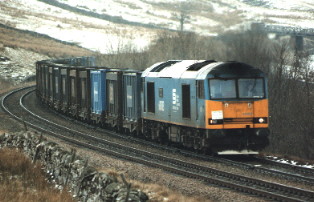 60033 on the last few yards to Ais Gill summit
A short drive south took us to Shotlock Hill Tunnel where a short wait saw the passing of 43195/43098 on 1V52, the 11.10 Glasgow to Plymouth.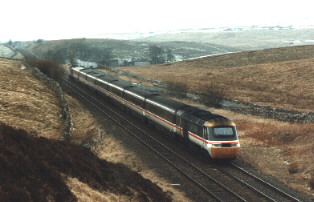 43195/43098 approach the north portal of Shotlock Hill Tunnel
Another move took us to Garsdale station where we witnessed the passing of 47854 "Women's Royal Voluntary Service" on the late running 09.10 Edinburgh to Brighton, D9000 heading north on 1S49 to Edinburgh and 60076 on 7Z39, 10.03 Hunterston to Milford. Not such a good location for stills photographs, all these were recorded on video.
Our final stop was back at Dent where 47745 was seen heading north on 1S57, the 10.30 Euston to Glasgow, again coupled to the Driving Van end of the train.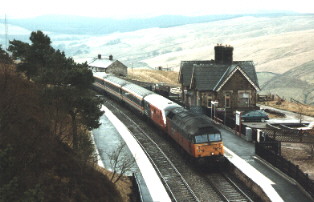 47745 passes through Dent station, the highest in England
With over an hour to wait for any more diverted services, and the light starting to fail, we decided it was time to call it quits and head back south. Although it was cold, wet and windy it was still an enjoyable day out and a pleasant change to see so many locomotive hauled services on this very scenic railway line. The diversions are being repeated on Saturday 13th and 20th of March, so catch them whilst you can!