"The Boys Are Back In Town" USA Tour 2006
For the third year I was US-bound for a beer and trains bash. Having caned in quite a number of locos in October 2005 on Metra (Chicago) and VRE (Washington) this years plan was to concentrate on both areas again as there were still plenty of winning locos to be had. Add on some NJT (New York) ands SEPTA (Philadelphia) and it was likely to be a case of letting as much go as we were scooping as we simply couldn't do everything. This years itinerary also saw us having two overnights on Amtrak - Pittsburgh to Chicago (the reverse of our overnight in 2005) and Chicago to Washington but via a different route to before.
So, sit back, read and enjoy...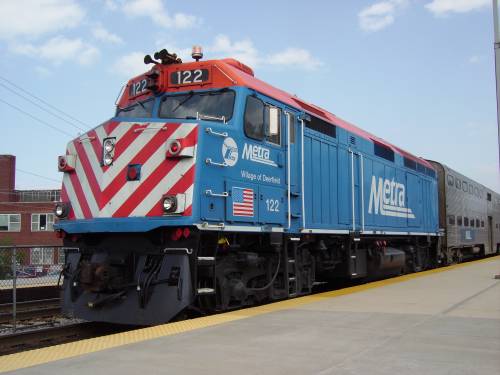 Always up for a few more Metra F40PH's - 1970's built and still going strong!
Day 1 : 29th April
Day 2 : 30th April
Day 3 : 1st May
Day 4 : 2nd May
Day 5 : 3rd May
Day 6 : 4th May
Day 7 : 5th May
Day 8 : 6th May
All winning traction is shown thus.
More information on the US can be found on the USA by Rail Website, maintained by Simon Bennett.
Conclusions & credit
For the third time I am all praise - I scooped 65 new locos for haulage in the week. Full credit as always is due to Simon Bennett for his meticulous planning, it pretty well all worked like clockwork. Thanks must also go to my fellow travellers: Steve Bates, Richard Bishop, Tim Howlett & Bob Hannaford - a real good bunch to go travelling with! The train crews we met also deserve a mention - almost without exception all took an interest in us and made the journeys much more interesting with their banter, information and stories.
Gary Thornton.



Please use your "back" button to return a Page