USA - October 2007
Pete Callaghan takes a trip Stateside...
This eagerly awaited bash was a toned down version of a trip I took in November 2006, on that occassion I had taken Amtrak from New York to Chicago and onward to Los Angeles and then back again, mixing in some New Jersey Transit, Metra, and Metrolink along the way. This time the plan was to do just New York to Chicago and back, but with stops in Cresson on the outward journey and Utica on the return. At this point I would like to extend my thanks to sixbellsjunction webmaster Gary Thornton for posting his reports, as these have provided a good guide with many idea's for this and my previous USA bash. On this occasion, like last time, I was joined by David Price.
DAY 1 - MONDAY 24th SEPTEMBER
After my long and tedious night shift, David's father was waiting with David outside my place of work (Llanwern steelworks in Newport) in his car to take us both to Bristol for our 10.30 flight to Newark with Continental. By the time we had got to Bristol the traffic was starting to pick up so we went via a back route where we were held up for a good 10 minutes or so by a rather large herd of cattle crossing the road, however we still arrived in plenty of time for the somewhat over the top check-in for our flight. We departed slightly behind schedule on the B757-200, and I wasn't overly impressed to find a plane with a tatty interior, shared entertainment screens and a tray table which was on the verge of falling from the back of the seat in front of me, this wasn't up to the standard of any trans-Atlantic flight I'd taken before, however I suppose we should be grateful that airlines such as Continental are prepared to fly us direct to the USA from regional airports such as Bristol.
I managed to stay awake long enough to be able to have the meal, although had I known how bad it was going to be I wouldn't have bothered, it was some sort of chicken and cheese in breadcrumbs which I presume had been deep fried to cook and then re-heated for serving on the plane, awful! Anyway, as soon as the food items had been cleaned away it was time for doss, and I slept quite well until shortly before landing, I was woken when snacks were being handed out, this time a warm cheese and ham sandwich, and very nice it was too, much better than the main meal. Landing was more or less on time, and I was impressed at how quickly we went through immigration, lots of desks open and no queuing, well done EWR airport, the best USA entry experience I've had. Once we were re-united with our bags we made our way to the railway station via the Airtrain, stopping briefly to collect our pre-booked Amtrak tickets from the Amtrak desk before catching a New Jersey Transit service to Secaucus Junction, as we had pre-booked the Holiday Inn at Secuacus for tonight, a hell of a lot cheaper than staying in Manhattan.
At Secaucus Junction I phoned the hotel to send the shuttle bus to collect us and it turned up quite quickly, the ride to the hotel takes about 10 minutes, the hotel seems to be a bit further from the station than their website would have you believe! After a well needed shower and a bit of a rest we took the hotel shuttle bus back to the station for a train to New York Penn, once we got off I went to the back to get the loco number only to find it was the same one that we had from Newark Airport earlier, Doh!! From the station we walked to the Empire State Building where we had to queue for about 40 minutes to get the elevator to the top, I managed to get some good photo's as the sun went down but found it was a struggle to get a good spot with so many people up there. Once we were back on ground level we had a beer in the Heartland Brewery place outside before walking to Times Square, after milling around for a bit we then had a meal before catching a NJT bus from the Port Authority Bus Terminal back to the hotel at 23.00, no point doing the train back from Penn station as the hotel shuttle bus at Secaucus stops at 21.00. I was glad to get to bed at the end of what had been a long day.
MOVES:
CONTINENTAL N13110, CO77, 1030 Bristol to Newark
NJT 4417, 3850, 14.28 Newark Airport to Secaucus Junction
NJT 4417, 3510, 17.38 Secaucus Junction to New York Penn.
DAY 2 - TUESDAY 25th SEPTEMBER
After a goods night sleep, we again took advantage of the hotel shuttle bus to take us to the station, where we spent a bit of time on the low level platforms watching the diesel turns going in and out of Hoboken before going up to the electrified high level platforms to take an electric to New York Penn. With our Amtrak train due to leave at 10.50, there was plenty of time for breakfast before boarding for what was due to be a journey of just over 6 hours to Altoona.
The Amtrak train wasn't too heavily loaded meaning myself and David both managed to keep two seats each to ourselves allowing us to stretch out a bit. The journey as far as Philadelphia was uneventful, I was pleased to get there as it gave a chance to get out and have a walk, I went to the back of the train to watch our first diesel of the trip backing on to what would now be the front, the loco sounded quite gruff as it ticked over, reminded me of a UK hydraulic type loco, its only a shame that the sealed stock compounds the enjoyment when on the move. We arrive at Harrisburg on time but get held up on our departure time, however there is a bit of freight activity to keep us amused, and we see a fair amount of passing freight on the remainder of the journey to Altoona.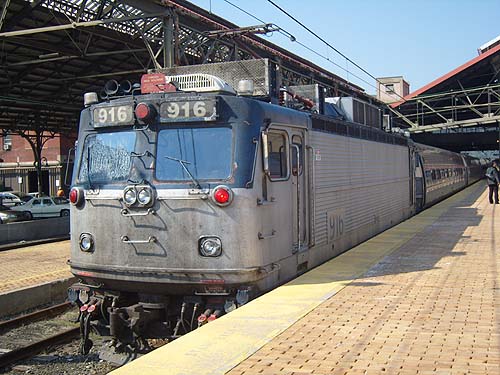 AMTK 916 at Harrisburg.
At Altoona we are met in the station building by Sandy Davis, wife of the proprietor of the "Station Inn" in Cresson, where we have 2 nights booked. Sandy had kindly agreed to pick us up when I phoned her a few days earlier to confirm our reservation. As we drive into Cresson we see the Amtrak we had recently got off passing by.
At the hotel we are soon booked in and introduced to Sandy's husband Tom, both of whom make us feel very welcome. The location of this place is second to none, there is a long porch along the front of the building from where the trains passing by just over the road can be viewed, and as an added bonus, our room was one that overlooked the railway. After settling in its started to get dark, although there was enough light to get pictures of a pair of Conrail liveried locos stabled opposite, in fact we go under the track through a handy underpass to get better pictures, and as an added bonus a red RJ Corman loco backs on top of them as we get there.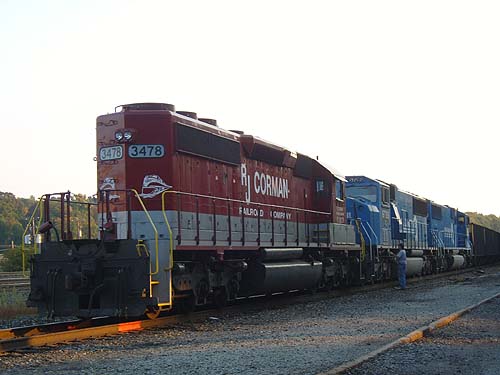 R J Coorman 3478 along with two Conrail-liveried locos at Cresson.
With the light now fading we settle down on the porch with a few other enthusiasts to watch the trains go by, and there is a lot of activity tonight, the best for a while I'm told. After a while and by now feeling hungry, we look for somewhere to eat and find a busy pizza place where an enjoyable pizza is had, before a few beers in a friendly bikers bar called "Magoo's". Back at the Inn we spend a little more time on the porch before hitting the sack. I think I had just got off to sleep when I was woken by a freight approaching, without getting out of bed I view 4 hard working NS locos pass by absolutely roaring, then the huge line of freight wagons, and another four locos thrashing along at the back of the train. Most people would complain about being woken by trains whilst in a hotel, but I was loving it, and it happened a few more times in the night as well, simply brilliant! If you want a luxury hotel and a good night's sleep, don't come here, this place is clean and comfortable and basic with no mod cons, and the passing trains are noisy, no good for your average punter but great for people who like railways. What a great find, many thanks Gary Thornton for mentioning the "Station Inn" on his website.
MOVES:
NJT 4428, 3930, 09.05 Secuacus Junction to New York Penn
AMTRAK 946, 43, 10.50 New York Penn to Philadelphia 30th Street
AMTRAK 64, 43, 12.42 Philadelphia 30th Street to Altoona
DAY 3 - WEDNESDAY 26th SEPTEMBER
I woke up feeling like I'd had a good night's sleep although the trains had disturbed me a few times. Before breakfast there was a chance to snap a couple of passing freights, and then we had breakfast which was hot muffins, fruit, cake and tea - all very nice. Tom joined us at breakfast showing us some maps and giving us some details on the local area. After breakfast it was time to go out on the porch again and photograph whatever came by, one of the first trains we saw was the return of the Amtrak we had been on yesterday with the same loco. Near to where we were staying is a small place called Gallitzin where good pictures can be obtained of the freights, in particular one can get decent pictures of the freights exiting a tunnel, there is also a small museum on the site as well. Sandy kindly agreed to drive us to Gallitzin early in the afternoon and when she dropped us off we agreed a time to be picked up again. We had a quick look around the museum when we got there which proved to be a good time to do this as no freight went by while we were inside, the lady in the museum insisted we have our photo taken with a Polaroid camera, this is because they like to put a picture of overseas visitors into the guest book.
Once back outside in the by now searing heat, we were rewarded with a fair amount of activity, getting some good pictures from a few vantage points including a road over-bridge, the embankments next to the tunnels, and from track level on a road which runs next to the track.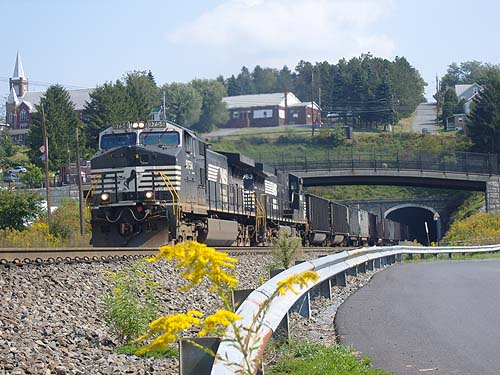 NS 9754 & 9063 are seen shortly after exiting the tunnel at Gallitzin.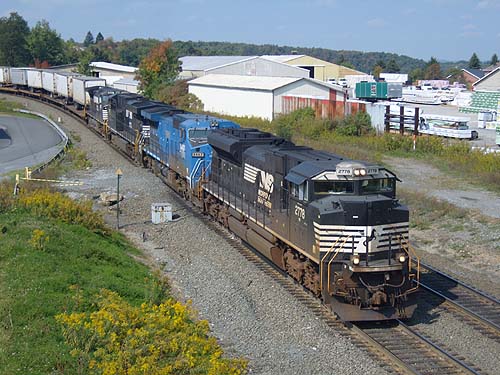 NS locos 2778, 8467 (in Conrail livery), 7577 and 9657 are photographed
from the road bridge at Gallitzin, just about to enter the tunnel.
After a while there was a bit of a lull which gave us opportunity to get some much needed ice cream from the gas station, and just before Sandy came to collect us again there was a flurry of activity to finish off what had been an interesting 3 hours. Back at the inn I was surprised to see exactly how the sun had got to me in the afternoon, my face was bright red, David too! We spent a while on the porch before heading to a restaurant near the traffic lights out of the hotel and turn left, most of the people staying in the inn were using this restaurant, maybe because the food was good or maybe because residents of the inn get a 10% discount, who knows? I enjoyed my meal anyway and the 10% discount was an added bonus. After another session on the porch with the light now totally faded it was time to go to Magoo's again, this time it was busier than last night and I got chatting to a few people who couldn't believe I'd chosen to stay in Cresson, they thought the place was a dump, I was quite happy to stay somewhere which had trains, decent accommodation, restaurants, pubs, and a supermarket, everything a rail enthusiast could need. Eventually I left about midnight after a few more beers than I probably should have had, might have been something to do with the fact the locals had insisted on paying for most of them, friendly people indeed!
MOVES: No trains today
DAY 4 - THURSDAY 27th SEPTEMBER
I had a good nights sleep and didn't seem to get woken as often by the trains as I had the previous night, maybe there was less activity, or maybe it was something to do with the amount I'd had to drink before going to bed. Breakfast was the same as yesterday, except muffins were replaced by eggs on toast, once again all very nice. There wasn't as much activity on the train front as the day before and me and David had a walk to a viewing platform which looks over the tracks a couple of blocks away from the inn, whilst there the only movement we saw was a pair of light engine NS locos (one in black NS livery and one still in blue Conrail livery). Opposite this platform is a small stabling point for NS locos so we followed the road under the tracks and found our way to the depot where the locos could be viewed from a road crossing. There were 2 pairs on hand when we were there but no good for pictures due to the position of the sun, although one pair soon came off the point over the crossing where we were stood therefore making it photographable, and then back onto the small shed. We continued our walk back to the inn getting back under the tracks by way of the underpass we had used on Tuesday.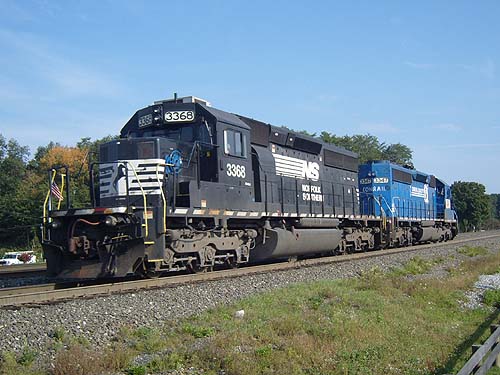 NS Locos 3368 & 3347 photographed from the viewing area near the Station Inn, Cresson.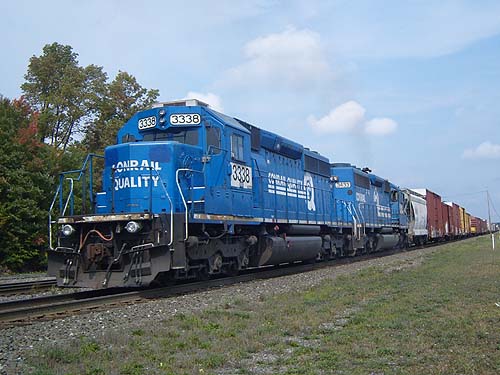 NS locos 3338 & 3433 in Conrail livery on the rear of a freight passing the Station Inn at Cresson.
Soon it was time to say goodbye to the other enthusiasts and to Tom, as Sandy had agreed to take us back to Altoona at 12.30, as we were catching the 17.06 Amtrak train to Pittsburgh (the train we had got off at Altoona on Tuesday) and wanted time to look around the railway museum. On the way back to Altoona I was talking to Sandy about my other hobby which is roller-coasters, and soon she pulled onto the hard shoulder of the freeway near an amusement park, giving me a great view of some white wooden beast, hellfire! At Altoona, Sandy dropped us by the Amtrak station and we thanked her for her hospitality, although we had to insist she take the money we offered her for running us around, she had driven a lot of miles for us and we didn't expect her to do it for nothing. At the Amtrak station the ticket clerk agreed to keep our bags in the office while we went to the museum, the museum was good but I was disappointed that there was only 1 loco amongst the exhibits, an ancient bizarre looking "GG1" electric. Once out of the museum we photted a couple of passing freights before heading to the station platform for our train, on the platform we took shelter from the heavy rain which had now began to fall, and then the lightning came with some very loud thunder. Our train arrived on time, I wasn't surprised to see the loco was 64 again, and we departed towards Pittsburgh, we hadn't got far however before we ground to a halt between the impressive Horseshoe Curve and Gallitzin, the reason explained as signal problems due to the weather. We got moving again after about an hour, soon passing by where we had been staying, in the darkness of what was now an unpleasant rainy evening. Arrival in Pittsburgh was about 90 minutes late at 21.35, still giving plenty of time before our train to Chicago at 23.55. We spent some time in a bar near the station having beers and food, and then back at the station we found out our train would not arrive until at least 00.30.
MOVES:
AMTRAK 64, 43, 1706 Altoona to Pittsburgh (arr 90' late)
DAY 5 - FRIDAY 28th SEPTEMBER
The estimated 00.30 arrival of our train went back and it arrived at 00.45 and departed at 01.05, 70 minutes late. Once again we were lucky enough to have 2 seats each and I had some very good sleep, waking about an hour out of Chicago where we arrived at 10.20, about 100 minutes behind schedule. We headed out of Union to Franklin Park where there is a good chance of freight activity, and chose a crossing just west of the station as our vantage point where we were rewarded with a reasonable amount of activity, freight and passenger. Once again the weather was very hot and on the way back to the station there was time to have a quick and well needed cold beer in a bar outside. Back at Chicago, we then headed off to Cicero where there is a freight yard adjacent to the platform, but the freight traffic was almost non existent, however there was plenty of Metra activity out of Chicago during what is a peak time, also an Amtrak as well. We headed back to Chicago once it was too dark for any reasonable pictures and got a taxi to the pre-booked Red Roof Inn where we would spend 3 nights. After booking in we decided we were simply too tired to go out to a bar and opted to get some supplies for our room. I got a large sandwich from a nearby Subway and 6 bottles of Sam Adams honey porter, and chilled out watching some TV before going to sleep.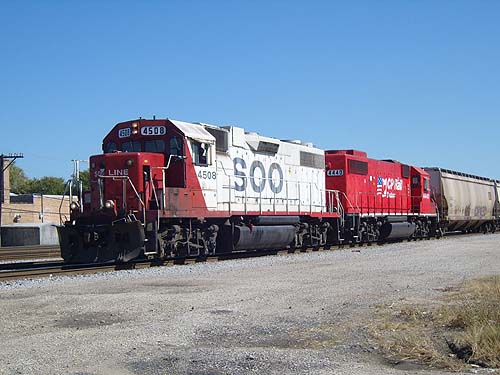 Taken at a road crossing to the west of Franklin Park, a freight
train lead by SOO liveried 4508 and CP liveried 4440.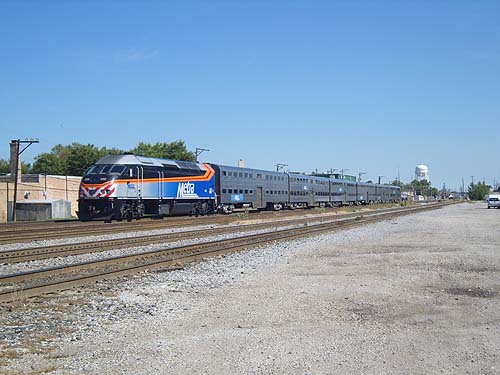 At the same vantage point METRA 423 is seen pushing a service towards Chicago.
MOVES:
AMTRAK 192 + 167, 29, 23.55 (Thu) Pittsburgh to Chicago Union (dep 70' late / arr 100' late)
METRA 423, 2215, 11.30 Chicago Union to Franklin Park
METRA 422, 2240, 15.10 Franklin Park to Chicago Union
METRA 192, 1247, 16.28 Chicago Union to Cicero
METRA 193, 1292, 19.18 Cicero to Chicago Union
DAY 6 - SATURDAY 29th SEPTEMBER
One of the best things about spending the weekend in Chicago is that Metra offer a weekend rover at the amazingly cheap price of $5. We headed off to Chicago Ogilvie Transportation Center (OTC for short) and soon obtained a rover each. With the flexibility of having a rover I'm going to try and score a few engines this weekend (without too many bus stop leaps) although the 3rd loco of the day turns out to be a dud, then I get a run of 6 new before a couple of repeats for the day, and another 2 locos also dud from a previous visit. Had a bit of a slight bowl out at the end of the day getting off 416 short of Elgin where it terminated, I had a feeling it would be the train back but knowing 107 was up there, and with 416 running late I had to get off early just in case, 107 would have been more preferred as well, however the fester at Bartlett was quite productive for obtaining drinks and ice cream. End result for the day for me 13 locos including 10 new, not bad, David didn't have as many locos as he had opted to spend part of the day photting around Franklin Park again. Once the bashing was over we headed to the Rock Bottom Brewery for food and beers, the oatmeal stout was very good and after a few beers we headed back to the hotel which was about a 5 minutes walk away.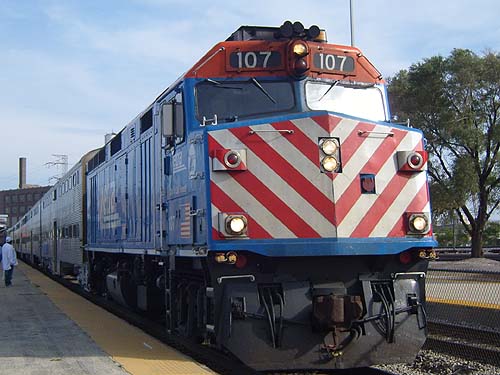 METRA 107 arriving at Western Avenue with a service to Elgin.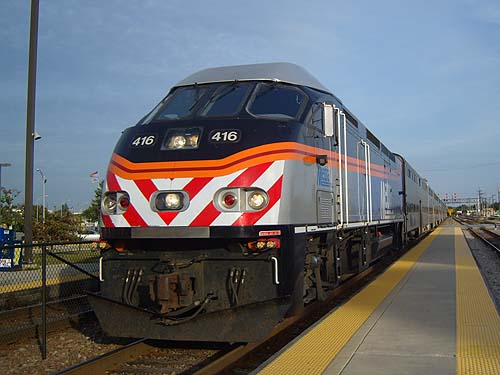 METRA 416 arrives at Franklin Park also heading towards Elgin.
MOVES:
METRA 131, 703, 08.30 Chicago OTC to Clybourn
METRA 165, 319, 08.43 Clybourn to Braeside
METRA 171, 806, 09.30 Braeside to Clybourn
METRA 151, 705, 10.38 Clybourn to Norwood Park
METRA 166, 712, 10.57 Norwood Park to Chicago OTC
METRA 415, 2709, 12.30 Chicago Union to Western Avenue
METRA 424, 2117, 12.44 Western Avenue to Lake Cook Road
METRA 413, 2136, 13.29 Lake Cook Road to Chicago Union
METRA 419, 2711, 14.30 Chicago Union to River Grove
METRA 415, 2716, 14.40 River Grove to Western Avenue (dep / arr 25' late)
METRA 107, 2713, 15.39 Western Avenue to Bensenville (dep / arr 10' late)
METRA 419, 2718, 16.31 Bensenville to Franklin Park (dep / arr 15' late)
METRA 416, 2715, 16.59 Franklin Park to Bartlett (dep 10' late / arr 15' late)
METRA 416, 2720, 18.05 Bartlett to Chicago Union (dep / arr 10' late)
METRA 160, 361, 19.35 Chicago OTC to Main Street, Evanston
METRA 136, 812, 20.02 Main Street, Evanston to Chicago OTC
DAY 7 - SUNDAY 30th SEPTEMBER
Day 2 of the weekend rover and for the start of the day I decided to go to LaSalle Street to cover the Joliet line via Beverly Hills having never done this route before, I am rewarded with a new loco out and back but a fair chunk of the day is used up. Back into Chicago and over to OTC I have a winner each way out and back to Arlington Park. Back at OTC I find the next 3 departures all dud, it seems whatever is out on the weekend seems to spend both days out while everything else stables at the various termini until the Monday morning rush, however I still decide to head towards Waukegan on dud 171, doing 136 out as far as Clybourn first so that I can photograph 171 arriving in the bright daylight. Heading to Waukegan on 171 should be a good move as I know I'm going to have a different loco back as 171 is going through to Kenosha, and at Waukegan there are 5 trains stabled in the station, locos are winners 130, 138, 149, and 163, and just one dud loco 132 - you'll guess which was my train back!! During the short layover at Waukegan I manage to get a couple of pictures of some locos stabled at the Union Pacific stabling area, and also a photo of the 5 Metra trains lined up together. Back in Chicago I cross over the road to Union and get a winner for a short mileage scratch to Western Avenue and then head back into the city on a dud, meeting David on the train as he had gone his own way again photting. Today's end result for locos was 8 had, 4 scored, not as many winners as I was hoping for but still a good day. Once again we spend the evening at the Rock Bottom Brewery.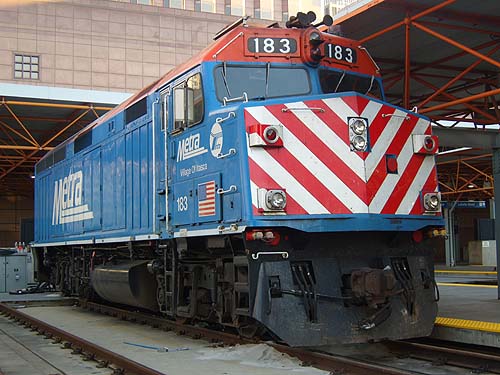 METRA 183 is seen stabled at Chicago LaSalle Street.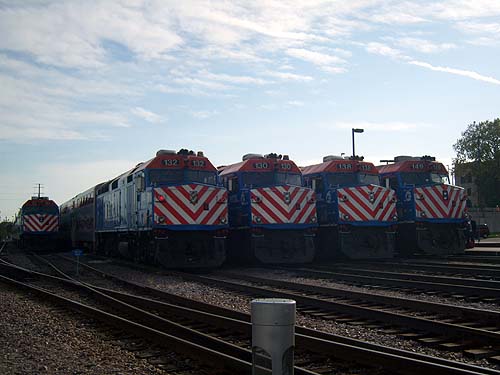 A nice line up of METRA trains are seen at Waukegan.
Loco's from left to right are 163, 132, 130, 138 and 149.
MOVES:
METRA 408, 203, 08.30 Chicago LaSalle Street to Joliet (via Beverly Hills)
METRA 408, 210, 10.24 Joliet to Chicago LaSalle Street (via Beverly Hills)
METRA 177, 617, 12.30 Chicago OTC to Arlington Park
METRA 152, 728, 13.29 Arlington Park to Chicago OTC
METRA 136, 711, 14.30 Chicago OTC to Clybourn
METRA 171, 805, 14.43 Clybourn to Waukegan
METRA 132, 808, 16.10 Waukegan to Chicago OTC
METRA 414, 2607, 18.35 Chicago Union to Western Avenue
METRA 423, 2720, 18.57 Western Avenue to Chicago Union
DAY 8 - MONDAY 1st OCTOBER
Having checked out of the hotel we have our heavy bags to lug around all day as our Amtrak train to Utica isn't until 2200. For our first move we opt to go to Antioch as its winning track (and only available Monday to Friday). After a short break in the wet at Antioch we do the same loco back as far as Belmont Avenue on the return and bail out for some photography, by the time we get off the train the rain had just stopped, and soon after our Metra service departed a pair of CN locos came through on a freight having been looped outside the station for the Metra to go by. After hanging around for a while with no other train movements seen, we decide to head off to Franklin Park, a few minutes walk away, and take up a position at the crossing on the east (Chicago) end of the station, still there is little happening apart from a Metra in each direction. With a distinct lack of freight we decide to give up for a while and go into the Irish pub by the crossing, typically as soon as we sit down a freight passes by in either direction, cheers then! After an enjoyable meal and some beers we head back out to the crossing and still with little happening decide to head for Cicero, and like the other day when we were there it is busy with the Metra rush hour trains heading out of the city, but this time there is some good freight activity as well. After approximately 2 hours at Cicero it gets too dark for any more photography and we head back into Chicago and pass a couple of hours in the big downstairs bar at Union station before heading into the Amtrak boarding area and going through the pantomime that is the boarding procedure. We end up in a coach near the back of the train but once again manage to keep 2 seats each for our overnight journey which will get us to Utica at dinner time the next day. Prior to departure I walk up the front to get the loco numbers but am stopped on the way by a sleeper attendant who says I can't go up that far, when I explain my reasons he says that somebody will have to escort me, finally he lets me go by myself after a bit more debate, only once I've promised that I'll view the numbers and come straight back, this had also been a common problem at OTC during the weekend as quite often Metra lock out some coaches on their trains and when walking past the last of the coaches available for travelling in somebody will challenge you as to where you are going, a complete pain in the backside having to explain it every time. Anyway, once we had departed from Chicago and the lights went out I was soon asleep, waking up only a couple of times when disturbed by people getting on or off at station stops.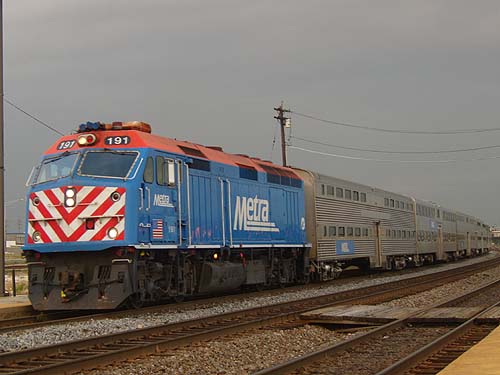 METRA 191 in the fading daylight at Cicero, heading an evening rush hour service out of Chicago.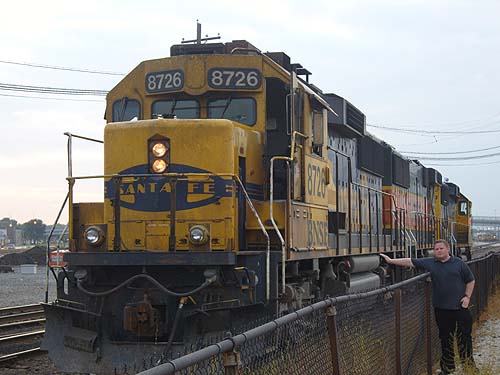 Pete Callaghan and a collection of BNSF power at in the yard at Cicero,
photo taken from the westbound platform. Note the cabless middle unit.
MOVES:
METRA 121, 103, 09.00 Chicago Union to Antioch
METRA 121, 114, 11.00 Antioch to Belmont Avenue (Franklin Park)
METRA 415, 2240, 15.10 Franklin Park to Chicago Union
METRA 190, 1245, 16.02 Chicago Union to Cicero
METRA 185, 1288, 18.20 Cicero to Chicago Union
AMTRAK 68 + 71, 48, 22.00 Chicago Union to Utica (arr 13.22 Tuesday, + 80' late)
DAY 9 - TUESDAY 2nd OCTOBER
After a reasonable nights sleep I found myself awake at about 8am, and the remainder of the journey to Utica was fairly uneventful, we eventually arrived just before 3pm about 80 minutes behind schedule. The reason we had chosen to stay in Utica was that when we had passed through last year we had noticed some classic "F" units in and around the station, and after some research back home I found out that Utica is the starting point of the Adirondack Scenic Railway, so with the possibility of getting an "F" unit for haulage I thought it had to be worth a try. The railway doesn't run everyday, today included, so when we arrived at Utica the train for the next days service was already in the station, and with a pair of F units already coupled to the front, back to back, I was more than pleased and hoping that they wouldn't be swapped or split for some reason between now and the morning. Tonight and the following night we were staying in the pre-booked Hotel Utica, and soon after leaving the station the 12 floor hotel became visible to us, and it took us about 7 or 8 minutes to get there, the hardest bits being crossing a series of busy roads. At the hotel we checked in and were given a huge corner room on the 4th floor, and it was very comfy as well. After sorting ourselves out we wandered back to the station to try to get tickets for the Adirondack train the following day but were told to come back in the morning, while we were there we also saw an Amtrak and a freight pass by in either direction.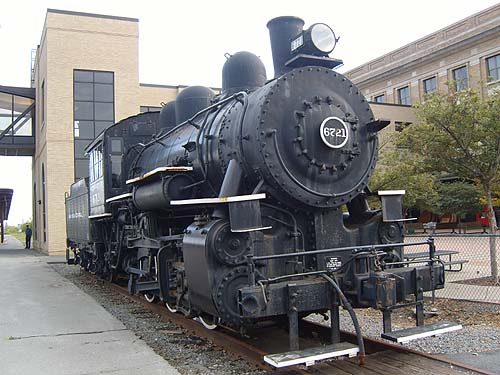 This plinthed steam loco is an exhibit at Utica station.
By this time it was starting to get dark so we called it a day for train watching, David went back to the hotel and I went off to find somewhere for a beer. Having done my homework before leaving the UK, I had found out about an area known as the brewery district, there are 2 breweries, Saranac and Utica, and near the breweries there are a couple of pubs which I tracked down. The first pub I went in was a bit of the locals bar, but the good looking young barmaid was friendly, and quite curious as to my reason for being in Utica, surely there are better places to stay she told me, but I explained that I like travelling and visiting different places, and we had quite a good chat. My question regarding if they were serving food was met with the answer that they did up until 2 weeks ago but the kitchen burned down. During the time I was in the pub I tried from Saranac brewery an Adirondack lager and a pomegranate wheat beer, and from Union brewery a club pilsner, none of which I thought were any good. After this I had a pizza in a place opposite and then went into another pub "the electric bar" where the same beers were available. This place was quite busy with an open stage where anybody wishing to perform could do so, a couple of bands played a short set each and were quite good. At about midnight I made my way back to the hotel.
MOVES: continuation of yesterdays Amtrak train 48
DAY 10 - WEDNESDAY 3rd OCTOBER
Before making our way to the station we had breakfast in the hotel as it was included in the room price, we got to the station just as the Adirondack Railway office was opening, and obtained our tickets for the round trip to Thendara for $34 each. Me and David were first to board the train and my request to sit towards the front was granted, we were in the second vehicle behind the locos (the same pair that were on the train last night) the first vehicle was a baggage coach with the doors removed and fences across the gaps. When we departed we found out that the baggage car would be available for travelling in once we were a bit further up the line, hellfire! In the meantime we had to make do with the climate controlled coach we had been directed to, the coaches were fitted with opening windows but with the request they were left closed to assist the climate control, what we in the UK call aircon. I found it amazing that we were travelling in a 54 year old coach with perfectly working aircon, whilst back at home any trip on a much younger train can quite often be unbearable in hot conditions because the aircon system doesn't work. Soon after departure a tannoy announcement told us about a small town we were passing through, Remsen, where welsh settlers had come to live many years ago, and I was bellowing when I saw a couple of welsh flags flying as we went by, almost bought a tear to my eye. After this the baggage van was opened up and soon filled with normals who wanted to take advantage of the open sides to photograph the scenery (the railway runs through a very scenic national park), but I was quite happy to stand at the gangway door by the locos as the door was split in two with the bottom closed and the top open, therefore making it a great vantage point to listen to the 2 throaty beasts working away at the front, I spent more time here than I did in my seat and it was very enjoyable, but it did have a downside as I later saw my face was covered in specks of oil. Once we arrived at Thendara, a journey of 58 miles, we got permission to photograph a switcher and an Alco that were parked by a small shed near the station, before watching the pair of locos off our train do a bit of shunting.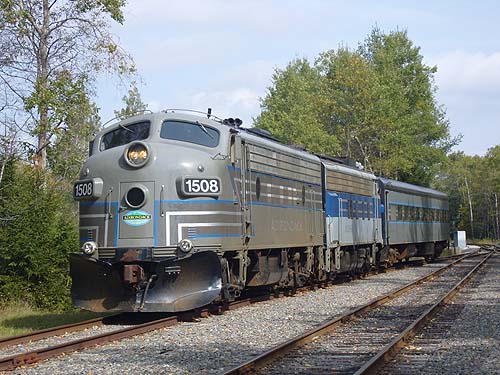 After arrival from Utica at Thendara, F units 1508 & 1502 of the Adirindack
Scenic Railroad are seen shunting some stock in the station.
The loco's later worked the return working to Utica.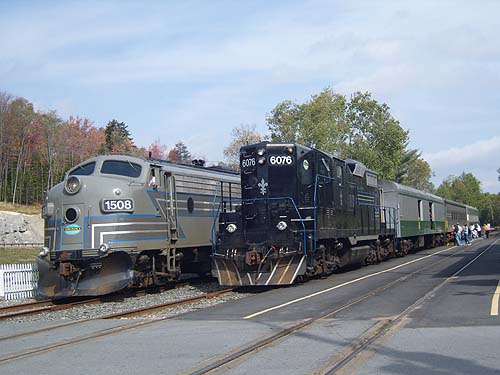 No apologies for a second picture showing one of the F units, in this picture
1508 is seen alongside loco 6076 which was working shuttle trains from
Thendara to Otter Lake and return.
Also in the station was another train loco hauled which was working out and back to a place called Otter Lake, so we obtained tickets for this which cost us $14 each for the 20 mile round trip. On the outward trip the leading coach again was a baggage car like we'd had on the train from Utica, so I spent the outward trip stood by the loco again before watching the run round from the end door (no platform at Otter Lake). Back in Thendara we could have done another round trip to Otter Lake with the same loco but decided not to bother, we spent the time in a place opposite the station which served food and beer, I had a rather large and tasty burger with a mountain of chips, washed down with bottles of Saranac's Pale Ale, Black Forest, and Black & Tan, all 3 of which I thought were very good and much better than what I had sampled last night. Before departure of our train to Utica with the same pair as this morning there was time for some seminars with the hellfire pair of F's, and also we were allowed a quick look around the cab of 1508 which was now leading. During the journey back I was talking to the conductor who was friendly and answering all my questions about the railway, including the possibility of getting more F units, he was very knowledgeable and obviously very passionate about the railway, and when I mentioned I was from Wales he said that he had recently been there on vacation in connection with the heritage of the town on the line, so we had a bit of a chat about that as well. Back in Utica we made our way back to the hotel and didn't bother going out tonight, apart from the 2 bars I'd been in last night there isn't much here anyway, I was happy enough to relax in the hotel room watching TV for a couple of hours before crashing out after what had been a very enjoyable day.
MOVES:
ADIRONDACK SCENIC RR 1502 & 1508, 09.15 Utica to Thendara
ADIRONDACK SCENIC RR 6076, 12.30 Thendara to Otter Lake & Rtn
ADIRONDACK SCENIC RR 1508 & 1502, 16.20 Thendara to Utica
Loco 1508 was new to Alaska railroad in 1953, 1502 was previously with Metro North RR in New York.
DAY 11 - THURSDAY 4th OCTOBER
After breakfast we checked out from the hotel and made our way to the station for our train to New York at 10.34, only to find out it was re-timed to the earlier time of 10.04, luckily we were at the station at 09.15 to watch the Adirondack train depart so it didn't cause a problem. While waiting for the Amtrak train, we were treated to a couple of freights passing by, before the Amtrak turned up even earlier than we expected at 09.55. After we had got on and found seats we set off 4 minutes early!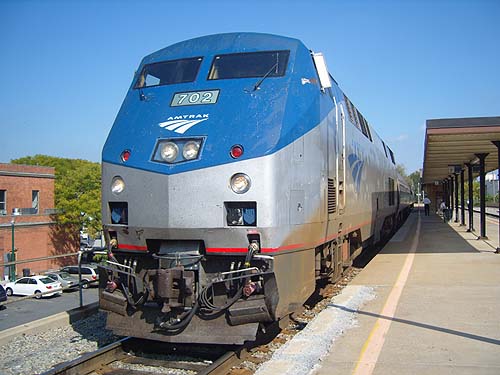 AMTK 702 at Schenectady en-route from Utica to New York.
The re-timing was due to engineering work of which plenty was in evidence, it didn't cause any problems to our time keeping though and we arrived at Albany 40 minutes early on the new timings meaning that we would stand there for an hour, during which time I obtained a rather large tub of the nicest chilli I have ever tasted from one of the outlets in the concourse, followed with some ice cream. Our journey from Albany to New York was a bit slower than scheduled and we lost a few minutes, the highlight of this part of the trip was seeing 3 Metro North RR F units on the depot at Croton-Harmon. Before leaving the UK I had checked if any of the MNRR F units had been out on passenger trains recently, and they had been making sporadic outings on the Danbury and Wassaic branches which can be covered by doing connecting trains from New York, so I decided that as we had time this would be worth a try upon arrival, and devised a move that would cover 2 trains on the Danbury branch. Upon arrival at New York Penn we didn't have much time to get to Grand Central so jumped in a cab, arriving at Grand Central with about 10 minutes to spare for the EMU to Stamford. Arriving at Stamford it was disappointing to see that a leased Amtrak Genesis was waiting to work the Danbury, although it looked like it had seen better days as it had a big dent in the front of it.
We bailed out at Merritt 7 not wanting to chance a cross platform leap at the next station, and soon the other Danbury shuttle arrived, also with a leased Amtrak Genesis, so for a lot of effort and money (about $24 each) and a lot of EMU mileage we hadn't really got anything special, well OK, we had got 2 new engines but I wouldn't had bothered had I known. Back at New York we made our way back to Penn station, this time on the Subway, and then got a NJT train to Secauacus where as usual I got on the phone to have the hotel shuttle bus sent, it turned up about 20 minutes later. After the usual formalities at the hotel we decided that we wouldn't bother going back into New York tonight so had a meal in a local restaurant and then went into a sports bar for the rest of the night, staying until 01.30 even though the standard of the karaoke almost had me thinking about leaving a few times.
MOVES:
AMTRAK 702, 286, 10.04 Utica to New York Penn
MNRR EMU, 1544, 16.12 New York GC to Stamford
AMTRAK 834, 1844, 17.16 Stamford to Merritt 7 (Loco leased to MNRR / CDOT)
AMTRAK 840, 1881, 17.52 Merritt 7 to South Norwalk (Loco leased to MNRR / CDOT)
MNRR EMU, xxxx, 18.16 South Norwalk to New York GC
NJT 4410, xxxx, 19.47 New York Penn to Secaucus Junction
DAY 12 - FRIDAY 5th OCTOBER
Final day of the visit, and after last nights late finish a bit of a lie in was the order of the day. We have plenty of time to kill as our flight isn't until tonight, so after taking the hotel shuttle to the station we head off on the short trip to Hoboken, I've not been here before but I'm impressed by the size of the place and the amount of locos around. For want of anything else to do we then head to Raritan, new track for us both and the journey from Hoboken requires 2 changes (Secuacus and Newark) meaning the possibility of 3 new locos from Hoboken to Raritan in total. On arrival at Raritan we find nothing of interest and fester for the next train back towards Newark, surprisingly a different train to the one we had up there. On route to Raritan I had noticed some guys photting the train at Bound Brook which appeared to have a freight line running alongside the NJT tracks, so when the conductor came round we purchased tickets only to there. On arrival at Bound Brook we found that there were 4 people out photting the trains and they were all friendly, only downside was that just one freight went by during the time we were there, along with a couple of NJT trains. Before long we had to start making our way back towards Newark to get to the airport in good time for our flight, although we spent a little time hanging around Newark Penn as there was quite a lot of activity from NJT and Amtrak going on, along with the PATH subway trains just for good measure.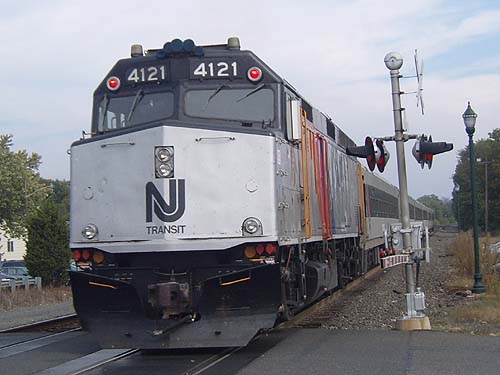 NJT 4121 shoving an ECS away from Raritan.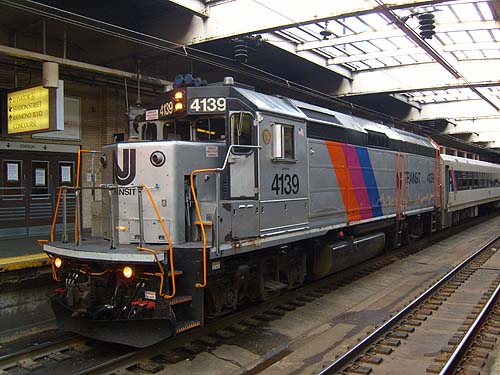 Last picture taken on the trip, NJT 4139 at Newark Penn station waiting to
form an evening train for the Raritan line.
At the airport he queue for check in was long and tedious and the security check was slow too, but there was still plenty of time airside to have a beer or two in the Brooklyn Brewery outlet at an extortionate $8 a time. The flight was on time leaving the gate and then staggered around the airfield in a queue for an hour before take off meaning a slightly late arrival in Bristol, at least the food was better on the return, and a stroke of good luck meant me and David had a row to ourselves thanks to the bloke who was sharing with us taking advantage of the fact that an empty row was in front of us which he claimed for himself and his wife. With some extra room to stretch out I had a good doss most of the way home.
MOVES:
NJT 4021, 1164, 10.55 Secaucus Junction to Hoboken
MNRR 4191, 1155, 11.35 Hoboken to Secaucus Junction (Loco operated by NJT on behalf of MNRR)
NJT 4403, 3841, 12.16 Secaucus Junction to Newark Penn
NJT 4126, 5425, 13.05 Newark Penn to Raritan
NJT 4129, 5440, 14.49 Raritan to Bound Brook
NJT 4216, 5444, 16.23 Bound Brook to Newark Penn
NJT 4624, 3509, 17.49 Newark Penn to Newark Airport
CONTINENTAL N12116, CO76, 20.55 Newark to Bristol
CONCLUSION.
Overall a very enjoyable trip, 42 locos scored for haulage and could have been lots more with some extra effort, but a good mix of long distance trains and local trains, combined with a preserved railway and a lot of freight photography was very enjoyable. Everything about the trip went as planned, and I was pleased at how good a location Cresson turned out to be with its "Station Inn". Once I get the new rosters from work I'll start thinking about the next USA trip which will most likely see me trying to mop up some of my required Amtrak routes. By the way, had I checked my e-mails whilst away I would have seen one from Amtrak about the re-timing of the train from Utica, and had I looked at the internet I could have found out that the passenger work for the MNRR F units had dried up just as we arrived in the USA.
Pete Callaghan, Newport, South Wales.
October 2007.



Back to "Bashing"