Steaming around the Balkans - Oct/Nov 2007
Pete Callaghan in action again...All photos are also taken by Pete Callaghan.
This bash had been planned for a while and early booking had got me a Luton to Zagreb return for £43 with Wizzair. For me it would be a first time visit to Bulgaria, Macedonia and Romania, also the first time I'd ever do a train in Greece having only been on family holidays many years ago. With me was Anthony Flynn who had covered all the countries before and therefore many thanks to him for his guidance and planning.
SATURDAY 27th OCTOBER
I arrived at Newport station just in time to see Anthony saying goodbye to his wife who was off to Nottingham for the weekend and with about 10 minutes to spare for our journey to Luton, which was uneventful apart from viewing Champion the Wonder Western passing us near Swindon. At Luton Airport there was no surprise at all to find that LZ-WZA, also known as ďThe Balkan BucketĒ was our plane for the Wizzair flight to Zagreb, dud for me but a scratch for Anthony.
We were on time into Zagreb and made our way to the station using the airport bus and then a tram from the bus station. At the station we made our way to the usual bar where we got reacquainted with our old mate Tom (Tomislav, a fine but very strong dark beer) before doing a move prior to our overnight. Dave Roberts had text us to say that 2043002 Top of the Pops (as in 43002 of BR fame) was on train 995, so we agreed that we would head to Zapresic to cover it and hope the gen was right as 995 is seldom anything other than a 2044. At Zapresic we could hear the train prior to it coming into sight and the engine noise confirmed it was indeed a 2043, which we took through to Koprivnica for an electric back to Zagreb where we obtained some food from the mall under the station. Back at the station the train which we were taking to Nis was already in and we managed to get a couchette for the journey at a cost of Ä10 each.
MOVES:
HZ 2044007 1904 Zagreb to Zapresic
HZ 2043002 1941 Zapresic to Koprivnica
HZ 1141389 2210 Koprivnica to Zagreb
SUNDAY 28th OCTOBER
Apart from being awake at Sid, had a good doss to Beograd with the added bonus of an extra hour due to the clocks going back. At Beograd I had to leap off to obtain my validity before the train departed, luckily the woman at the international ticket window was helpful and efficient and I got a 10 day Balkan Flexi pass with ease and re-boarded the train with 10 minutes to spare. At Beograd the train reversed and we departed on time, but in typical Serbian style we soon started to become late, and when we got to Lapovo we expected to see the Kraljevo train in the station but there was no sign of it, probably caped! We eventually arrived in Nis about 55 minutes late, meaning a wait in theory of about 30 minutes for our next move. During the wait we sampled some beer in the station bar where the local police were carrying out ID checks on people, they were happy enough with our quote of ďSofia, touristĒ and left us alone. Myself and Anthony had both tried to guess what the delay would be while we were waiting, I canít remember what we said but we were both wrong, the train eventually rolled in an hour late and after being re-engined with an ETH fitted 661 left about 50 minutes late. Despite the 661 being fitted with ETH we suffered a very cold stagger to Dimitrovgrad by which time we had now hit 100 minutes late, at least from Dimitrivgrad with the Bulgarian can it was warm but we didnít leave until the customs people had taken the train apart looking for contraband. We eventually arrived in a very wet Sofia about 110 minutes late meaning we had missed our planned overnight to Bucuresti by a couple of minutes, so plan B came into action Ė head to Macedonia via Greece.
During our 2 hour fester in Sofia we headed off for something to eat, Anthony directed the way to a restaurant he had used before, and we crossed a very busy road in the dark and wet conditions and then had to negotiate our way through a puddle the size of a lake to get there. Maybe we should have just used the subway, which leads from the station and emerges right outside the place but we simply hadnít sussed that out. After a pleasant meal we made our way back to the station (via the very convenient subway) and went in one of the bars outside the concourse. We were pleased that a dark beer was available and even more pleased when we noticed a game of rugby being shown on the TV, especially as it was a Wales match (Wales v New Zealand). The barman saw our obvious interest in the game and started talking to us, turned out he plays for the Bulgarian national side no less. When we left Anthony donated a DVD of the 3rd place play off from the recent real world cup. Back at the station we got a sleeper for Ä20 each on the overnight to Thessaloniki.
MOVES:
HZ 1142005 0015 Zagreb to Sid
JZ 461139 0440 Sid to Beograd
JZ 441042 0705 Beogard to Nis (arr 55 late)
JZ 661154 1311 Nis to Dimitrovgrad (dep 50 late, arr 100 late)
BDZ 45187 1525 Dimitrivgrad to Sofia (dep 105 late, arr 110 late)
BDZ 46234 2210 Sofia to Kulata
MONDAY 29th OCTOBER
At Kulata whilst awake for the passport hoss, we noticed the northbound equivalent of the train we were on arrive with an unknown MLW loco. We couldnít see what was backing onto our train but as we left the station and crossed the points under the floodlights we could see it was some Adtranz rubbish as booked. We arrived at Thessaloniki more or less on time with a couple of hours to kill before our departure to Macedonia, but the stock was already in the platform so we got on and dossed out in the SZ coach reasoning that it would probably be the cleanest coach on the train. A good sleep was had to the border at Gevgelija from where a MZ can took us forward to Skopje.
On arrival at Skopje we made our way to the youth hostel where we obtained a twin room for the night, en-suite as well so more like a hotel than a youth hostel, then we went for dinner in the restaurant next door, where the English translation of the menu rather amusingly listed ďkrapĒ as a choice under the fish heading. We didnít try it.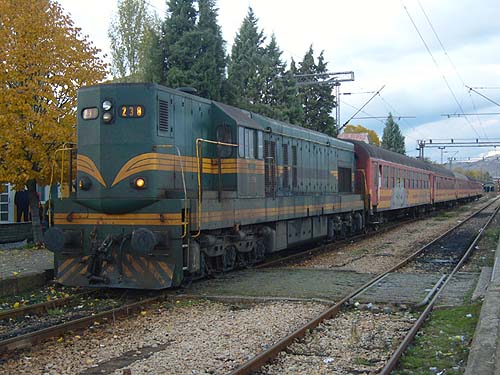 661238 at Veles on the 1430 Skopje to Bitola.
Back at the railway station we had a study of the departure and arrival sheets, and were disappointed to see an out and back to Bitola no longer running and also an out and back to Pristina gone as well, all trains which were part of our intended bash. We got on the steaming 661238 on the 1430 to Bitola which we were going to do out and back, but the 1820 return service was one of the trains which no longer runs meaning our revised move would be the crossing leap for the 1505 ex Bitola, however we lost an hour before Veles due to engineering work, and not knowing the geography of the line past Veles we decided to leap there and fester. A young lady overheard us talking in English and enquired what we were doing in Macedonia, I told her we were travelling around and asked if she could direct us to the town and she agreed, and even waited for us to finish videoing the train depart as well. By this time she had been joined by 2 friends and all 3 of them walked with us to the centre and directed us to a reasonable bar, sadly they didnít join us for a drink. We made our way back to the station in case the 1505 ex Bitola was on time but it turned up an hour late so we guessed it passed the 1430 at the booked station. During the wait we watched some old bloke racing up and down the platform on a clapped out old scooter. Boilered 661235 was our traction back to Skopje but the train was cold (boiler not in use) and wedged, we had to stand in the corridor all the way. At Skopje we just made steaming 661146 on the 1920 to Bitola which we did to some shack for an EMU back, and then back at Skopje we went to the Irish pub (The Saint Patrick, very original!) for some food and beer. From the station head towards the centre, you will see the Holiday Inn and the pub is behind there on the right.
MOVES:
OSE 220020 0240 Kulata to Thessaloniki
OSE 120011 0810 Thessaloniki to Gevgelija
MZ 441109 0930 Gevgelija to Skopje
MZ 661238 1430 Skopje to Veles (arr 60 late)
MZ 661235 1727 Veles to Skopje (dep 60 late, arr 55 late)
MZ 661146 1920 Skopje to Zelenikovo
MZ EMU 1956 Zelenikovo to Skopje
TUESDAY 30th OCTOBER
We got up really early to cover the train to Kicevo which departs just after 4, but we were soon back at the hostel, as we didnít fancy doing a unit there and back! After a little more doss we went back to the station for the 0625 Bitola which was steaming 661235 which we took to the crossing point of Bodomilla, we had a good run, in particular the departure from Veles is very good, a nice long climb and we wished we had carried on yesterday. At Bodomilla we had to wait a few minutes for steaming 661146 coming the other way, which we intended to take to Skopje, but MZ had other ideas. At Veles there was an unexpected clunk at the front and the 661 was cut off the train and then went away light towards Gevgelija. No heat 661220 was in the station and we were hoping to get that but after a while electric 442002 arrived on freight and was then swapped to our train which continued about 25 minutes late.
At Skopje we went back to the hostel to pay up and collect our bags, and then we paid a visit to the St Patrick for beer and dinner. Back at the station we watched 661238 depart on the 1430 Bitola and then spent some time in the internet cafť before doing the 1613 Pristina.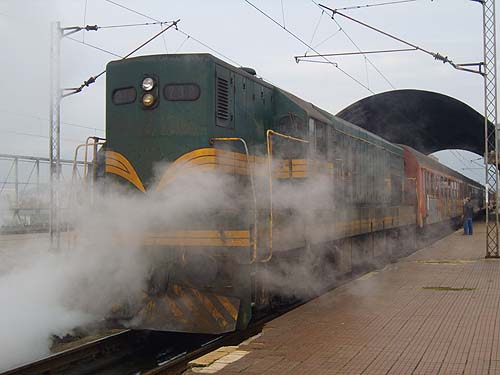 661238 at Skopje with the 1430 departure to Bitola.
Boilered 661223 arrived with the ECS with a coal wagon between it and the 2 coaches, and after it took the coal wagon away no heat 661410 which was in the station backed onto the stock, Anthony wasnít best pleased as it was dud and I was clawing back an NB whopper. We got as far as Skopje Sever where for the 2nd time today an unexpected loco change took place, 661410 was taken off and after a while 661223 arrived to take us forward about 35 minutes late.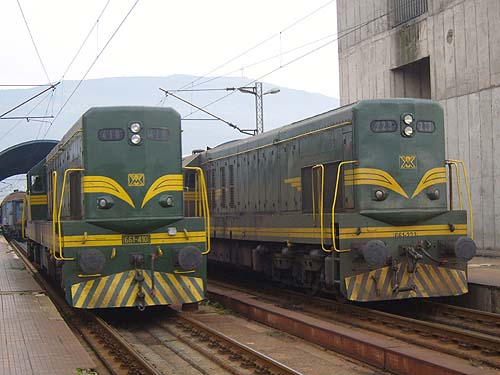 661410 and 661223 at Skopje.
The border formalities leaving Macedonia and entering Kosovo were fairly painless, and from General Jankovic to Kosovo Polje KR/UNMIK NoHab 005 was our traction. We passed NoHab 007 en route on the Lesak to General Jankovic stopper. At Kosovo Polje we checked into the Hotel Bali for 2 nights (Ä30 per room per night) and then went to dinner in the Avanio restaurant.
MOVES:
MZ 661235 0625 Skopje to Bodomilla
MZ 661146 0851 Bodomilla to Veles
MZ 442002 0951 Veles to Skopje (dep 25 late, arr 25 late)
MZ 661410 1613 Skopje to Skopje Sever
MZ 661223 1620 Skopje Sever to General Jankovic (dep 35 late, arr 35 late)
KR 005 1725 General Jankovic to Kosovo Polje (dep 40 late, arr 40 late)
WEDNESDAY 31st OCTOBER
We were at the station in time to see the IC arrival from Pec, a route that has just been re-instated by KR/UNMIK. The train arrived with a pair of ex Swedish single DMU power cars, so we werenít convinced that the stopper which was due to depart to Pec after the departure of the Lesak train would be hauled either (especially as there were also some ex FS DMUs seen on shed as well the previous night). We took NoHab 005 on the Lesak train all the way, the fare for this service still being Ä0.50 or 70 Serb Dinar regardless of distance travelled

KR 005 at Lesak.
On arrival at Lesak we expected to see the JZ connection for Kraljevo waiting but as usual the JZ train was late, although when it eventually arrived 70 minutes behind schedule the reason became apparent, the loco (661116) had a trailing load of 3 coaches and a long rake of loaded freight vehicles in tow as well. We had intended to go to Kraljevo on the return but thought that we would be wise not to as the afternoon Kraljevo to Lesak is only an 8 minute connection onto the evening train towards Kosovo Polje, and with our bags in Kosovo we could be bowled if the train didnít wait for some reason. With that move being given up it was back to Kosovo Polje on Nohab 005 for us, and when we arrived we were a bit annoyed as the Pristina train, our fill in move with NoHab 007 was just departing so we had to settle for a beer in the station bar instead. We were surprised to see an atmospheric picture on the wall of a train, taken at Toddington station. We took the afternoon train to General Jankovic with NoHab 007, we thought the return of the stopper from Pecs may have been a connection but we didnít see it so still donít know for sure what had worked it, we did however account for 9 out of 10 of the hauled coaches so we still think the Pecs would have been a unit.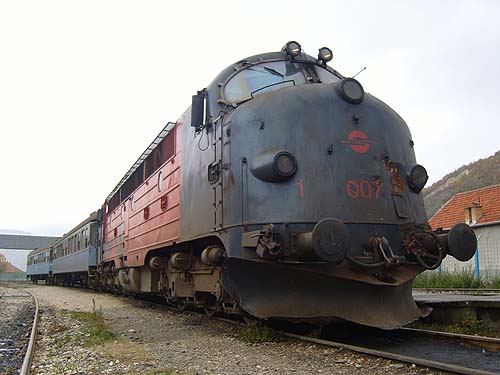 KR 007 at General Jankovic.
At the border town that is General Jankovic we got some pictures of the NoHab after it had run round, and then had to find something to do to pass 3 hours. The first 3 bars we went in didnít sell beer, but in the 3rd place we settled for soft drinks while the barman tried to find some music we liked, he couldnít find anything though as it turned out most of the stuff he offered was Justin Timberland or whatever that awful singer(?) is called. Eventually we found a bar with beer and had a bottle or 2 before going back to the station for the NoHab back north, we went through to Pristina as it was 8 kmís of new track for me and then back to Kosovo Polje. We think the train from Pristina may have been ECS as we were the only people on it and the guard looked surprised to see us and we didnít pay anything, and then we stopped short in the platform back at Polje where we were hurried off the train. Once again we ate in the Avanio.
MOVES:
KR 005 0735 Kosovo Polje to Lesak
KR 005 0955 Lesak to Kosovo Polje (dep 25 late, arr 20 late)
KR 007 1302 Kosovo Polje to General Jankovic
KR 007 1730 General Jankovic to Pristina
KR 007 1915 Pristina to Kosovo Polje (ECS??)
THURSDAY 1st NOVEMBER
Up early for the 0637 IC to Skopje which was NoHab 005 to the border for 661235 forward. The arrival in Skopje was on time meaning we had 5 hours to wait for the next diesel departure at 1430, so we went off to the St Pats for Irish breakfast, complete with side salad! We got back to the station to view 661238 on an arrival from Bitola and then had a look at a local service we hoped would give us an electric to Veles and back but it turned up with the booked EMU.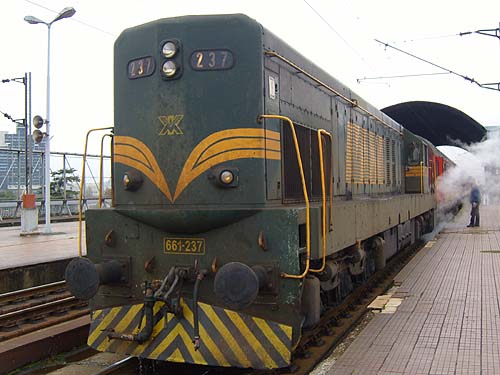 661237 at Skopje with the 1430 to Bitola.
With the internet cafť closed for repairs we ended up in the quite nice station bar playing cards to while away the time until we went up to the platform where 661237 came in and ran round the empties for our train. Again we were the first arrival at Bodomilla, by the time we got there it was dark and raining so we took shelter until 661223 arrived on our train back to Skopje. Back at Skopje we stocked up with a load of junk food (crisps chocolate and biscuits) along with some beer for our next move which was to be the 1920 throughout to Bitola with 661235. The loco was steaming away nicely, we were sat in the front coach but there was little heat though.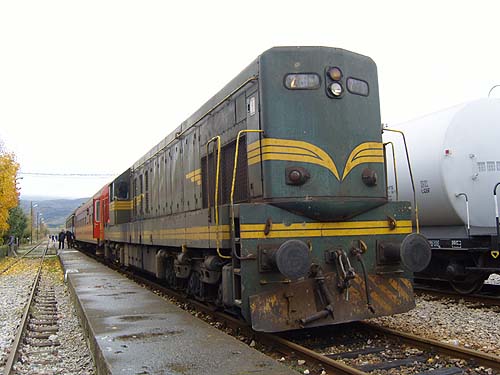 661235 at a station stop, en-route from General Jankovic to Skopje.
We arrived in Bitola on time and made our way to the centre in the rain which took about 15 minutes. We had been given the names of 2 hotels and found neither, although we did find the recently opened Hotel Millennium in which we booked a twin room for 2 nights at a cost of Ä66 per night. After checking in we went out for a couple of beers in a bar opposite the hotel before calling it a night.
MOVES:
KR 005 0637 Kosovo Polje to General Jankovic
MZ 661235 0810 General Jankovic to Skopje
MZ 661237 1430 Skopje to Bodomilla
MZ 661223 1643 Bodomilla to Skopje
MZ 661235 1920 Skopje to Bitola
FRIDAY 2nd NOVEMBER
We got up for 661235 on the 0700 to Skopje, collecting our pre-arranged packed lunch from the hotel reception on the way.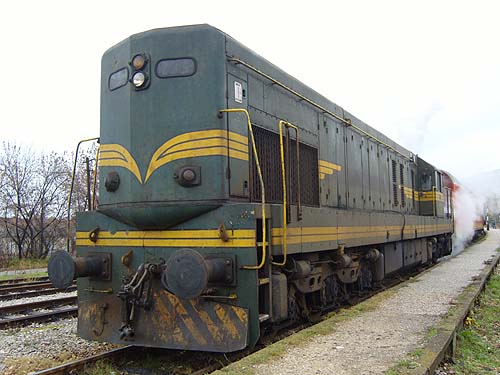 661235 at Bitola on the 0700 to Skopje.
Our plan today was simply to go to Skopje and back and then spend a night exploring Bitola as it appeared to be a nice place. Armed with breakfast, a warm compo, a pack of cards and a loud diesel we were hoping for a good run to Skopje but before long we ground to a halt after we think we had ran somebody over. Near to the rear of where we stopped a lot of commotion was going, with rail staff all round and various vehicles coming and going, including police and ambulance. We stayed put for over an hour and eventually arrived in Skopje 90 minutes late, where we headed to the Paddy Pub just for a change. 661237 was the traction back to Bitola, once again the loco was steaming well but our coach wasnít warm at all.
Back at Bitola we headed to the hotel to drop off our bags and refresh, before having a night out in the busy town. We found a pizzeria for some grub to start with and then tried out a few of the bars around the place. Despite being late in the evening the town was very busy, there appeared to be a lot of families walking around amongst those who were in town for a night out, the pedestrianised area was so busy it resembled a busy shopping street on a pre Christmas Saturday afternoon, I certainly wasnít expecting it to be so vibrant.
MOVES:
MZ 661235 0700 Bitola to Skopje (arr 90 late)
MZ 661237 1430 Skopje to Bitola
SATURDAY 3rd NOVEMBER
We got up again for the 0700 ex Bitola, once again collecting a pre-arranged lunch from the reception as we checked out.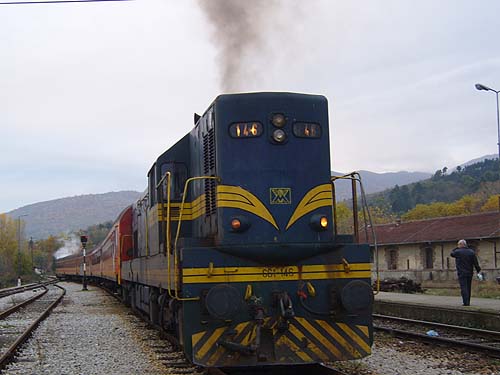 661146 at Bitola on the 0700 to Skopke, complete with boiler thrash.
Our intention today was to double back to Bitola and with this in mind we asked if we could leave our big bags at the hotel until later and they agreed we could. 661146 was the loco out of Bitola, steaming away nicely from its rather claggy boiler which was producing clouds of black smoke at regular intervals. At Bodomilla we were first to arrive but didnít have to wait too long for 661223 to arrive on the 0620 ex Skopje, thus giving us a 4th different 661 for Bitola.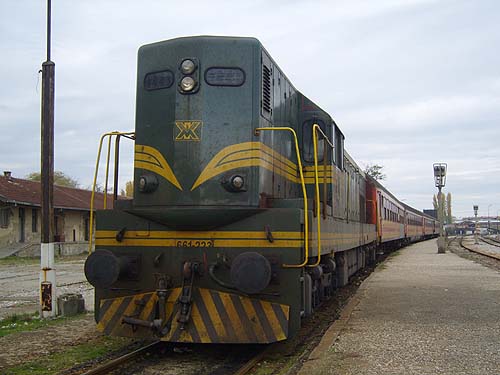 661223 at Bitola on the 0620 ex Skopje.
Our arrival at Bitola was on time meaning we had a few hours to kill prior to departing again at 1505, so again we explored some bars including some we hadnít done last night, one of which had a large selection of bottled beers and some draughts, including Slovenian dark beer Temno Lasko, excellent! Before leaving Bitola we had a hot meal in the restaurant just outside the station, but it wasnít brilliant. 661223 as expected took us back towards Skopje, our intention however was to get off at Veles to get on the train to Thessaloniki, which on paper was a minus 46, but we were confident that it would be sufficiently late that we would catch it, and even though we arrived at Veles 20 minutes late ourselves we made it with ease as it was a whopping 150í late, only problem now was that we couldnít afford to lose any more time as our plus onto the Bucaresti train at Thessaloniki was less than 3 hours. At one point we hit 3 hours late but luckily made up some time at the Greek passport check meaning we arrived at Thessaloniki at 2355, with less than 10 minutes to spare for the overnight.
MOVES:
MZ 661146 0700 Bitola to Bodomilla
MZ 661223 08xx Bodomilla to Bitola
MZ 661223 1505 Bitola to Veles (arr 20 late)
MZ 441755 1633 Veles to Gevgelija (dep 150 late, arr 180 late)
OSE 120023 1835 Gevgelija to Thessaloniki (dep 185 late, arr 160 late)
SUNDAY 4th NOVEMBER
We swiftly made our way to the train and secured a sleeper berth at a cost of Ä23 each. We spent the first part of the journey watching DVDs on Anthony's portable DVD player as we wanted to stay awake to see if we would get an engine change at Strymon where the train reverses, having viewed this train with an MLW earlier in the trip, and sure enough A468 backed on. Anthony quoted that this loco was one of the loudest in Europe, but the thrash was limited, we guessed the driver didn't want to wake up his sleeping passengers as he didn't open it up past notch 2 or 3 on the short run to Kulata where everybody got woken up anyway for the passport check to enter Bulgaria. After the passport check it was time for doss, I managed to get a few hours, eventually waking up at about midday. The run through Bulgaria was uneventful and the 07 diesel didn't impress. At the Romanian border the loco forward was a rebuilt Sulzer, now fitted with a GM power unit, and although it sounded like an IE 071, a class that I rate highly, the loco wasn't worked hard at all meaning that the run was pretty lack lustre.
Upon our arrival at Bucurest I had a couple of hours to kill before my overnight to Belgrade, where as Anthony was going to stay the night as he was flying home from here the next day. After Anthony had booked into a hotel we had a look around for a restaurant but couldn't find one, so we ended up back at the hotel restaurant before heading back to the station where we had a beer before parting company, although Anthony had arranged to meet up with some cranks from the Midlands who were due to arrive as I departed.
I made my way to the sleeper car at the front of the train and the attendant charged me Ä20 but put me in a berth with some bloke who absolutely stank, so I got an upgrade for an extra Ä5 meaning a berth to myself, which was handy as I wanted to be up and about for the loco changes and to have a listen to what should be a Sulzer later on in the journey. Having set my alarm for the appropriate time I soon settled down to sleep.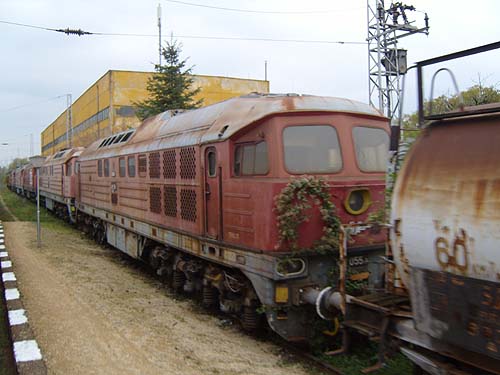 Withdrawn Bulgarian 07's dumped at unknown station.
MOVES:
OSE 220002 0004 Thessaloniki to Strymon
OSE A468 0146 Strymon to Kulata
BDZ 4xxxxx 0242 Kulata to Sofia
BDZ 45513 0821 Sofia to Ruse (arr 30 late)
BDZ 07126 1530 Ruse to Giurgiu Nord (dep 35 late, arr 35 late)
CFR 63-1133 1711 Giurgiu Nord to Bucuresti Nord
CFR 41-0121 2145 Bucuresti Nord to Timisoara
MONDAY 5th NOVEMBER
I awoke at Timisoara just before my alarm went off, I could hear a diesel backing onto the train and it sounded like a Sulzer, and sure enough it was an unrefurbished loco, 60-1156. Upon departure I opened the hopper window in my sleeping berth to listen to the loco, and whilst it sounded OK I was disappointed that we tottered along in about half power at maximum, so I was pleased enough to get a Sulzer but would have liked to hear it a full power.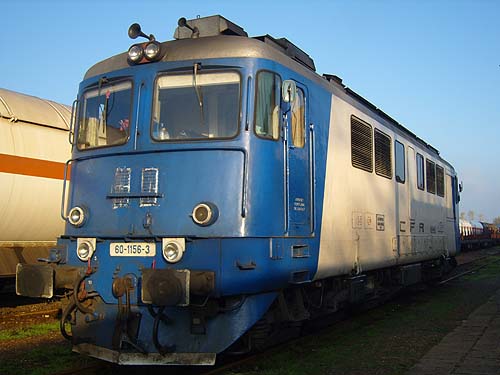 CFR 60-1156 at Vrsac after coming off the Bucuresti to Beogard overnight.
As the thrash was so limited I dozed a little more until next loco change at the Serbian border where JZ ETH fitted 661119 backed on. After the border formalities there was time to get off for photo's before we continued towards Beograd, again though the loco was hardly taxed and we staggered along at a slow pace. I kept my eye out for a DMU we were due to pass on a stopping service in case it was hauled, however no train was seen so therefore presumed cancelled, after all I was in Serbia. Despite having left the border on time we were 40 minutes late by the time we arrived at Beograd.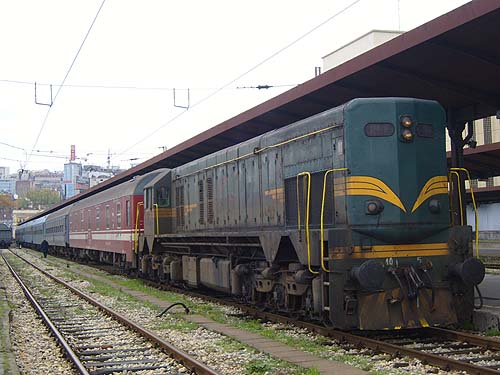 JZ 661119 at Beograd after arriving with overnght ex Bucuresti.
Once at Beogard I managed to get a shot of the 661 which had propelled the train into the station from about a half km out, before watching some sloppy fly shunting of some stock. I regretted having put my camera away as I could have got some good video footage, a coach was fly shunted into the road adjacent to where I was standing and came to a halt, moments later another coach was fly shunted down the same road, except a bit faster, in the meantime the first coach had now started rolling back towards it! Just before the collision I noticed a shunter jump off the second coach, the force at which it hit the first coach was enough to punt it a fair way up the track, luckily everything stayed on the road. A couple of staff emerged from a cabin upon hearing the bang, shrugged their shoulders and disappeared back inside. No wonder so many trains are caped here if this is how they treat their resources. After all the excitement I made my way to a hotel outside the station for a hot breakfast before getting back for the 1050 departure into Croatia.
The run to the Croatian border at Sid was slow and boring, and being on JZ metals we lost 30 minutes as well. Once over the border I went as far as Strizivojna Vrpoje arriving with 15 minutes to spare for the diesel hauled turn to Slavonski Samac on the Bosnian border. The train arrived a couple of minutes early and I got a picture as it pulled up, but when I lined my camera up for a second picture the driver stuck his head out and said no photo's. At Slavonski Samac with time to kill I found a bar where I had a couple of beers before going back to Strizi on a DMU. From here my plan was to take train B745 to Vukovar as this had only re-opened in September and was new track for me. The train was electric hauled to Vinkovci for a diesel forward for the last 18km. Just before arriving at Vukovar I got speaking to a lady who offered me a room at her house and a lift each way for 100 kuna which I accepted. The room was basic but clean, and after some beers in some nearby bars I had a good nights sleep after the last two nights on trains.
MOVES:
CFR 60-1156 0613 Timisoara to Vrsac
JZ 661119 0738 Vrsac to Beograd (arr 40 late)
JZ 444024 1050 Beograd to Sid (arr 30 late)
HZ 1142015 1332 Sid to Strizivojna Vrpolje (dep 45 late, arr 30 late)
HZ 2062018 1547 Strizivojna Vrpolje to Slavonski Samac
HZ DMU 1724 Slavonski Samac to Strizivojna Vrpolje
HZ 1142012 1755 Strizivojna Vrpolje to Vinkovci
HZ 2062017 18-- Vinkovci to Vukovar
TUESDAY 6th NOVEMBER
I was up early for my lift back to the station and was pleased to see very low mileage 2062016 on the train. At Vinkovci the diesel cut off the front off the train and a shunter dropped on the back and shunted us onto the rest of the stock forming the service to Zagreb. From Vinkovci I dossed out waking up near Zagreb where an on time arrival meant I made the 0934 up the Varazdin line with ease, opting for an out and back to Budinscina with a 2044 each way, no 2043s or 2062s out today.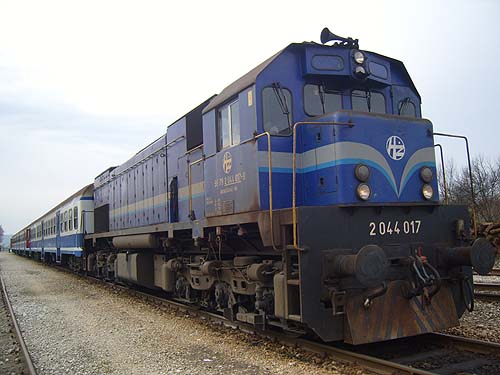 HZ 2044017 at Budinscina.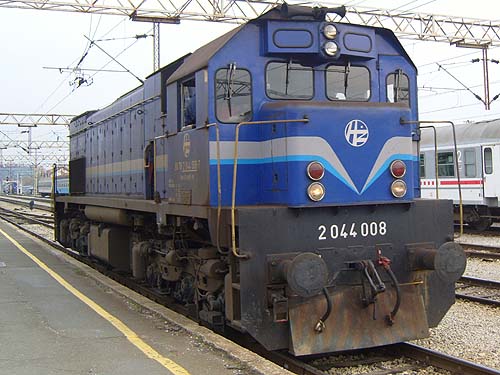 HZ 2044008 at Zagreb.
Back at Zagreb I had time for a beer or two before making my way back to the airport where my flight was on time and as usual "The Balkan Bucket" was the booked traction.
MOVES:
HZ 2062016 0517 Vukovar to Vinkovci
HZ 2132016 0555 Vinkovci shunt
HZ 1141233 0600 Vinkovci to Zagreb
HZ 2044017 0934 Zagreb to Budinscina
HZ 2044008 1130 Budinscina to Zagreb