Chasing Loud Locos in Czech
Pete Callaghan in action again...All photos are also taken by Pete Callaghan.
Some of the South West lot informed me they were off to Czech for a few days, so with a bit of fiddling round with my shifts at work, I was able to make plans to join them over there. My flights were duly booked for about £110 and so another visit to Czech was on. The main interest for the trip was to try and cane in a few km's behind the loud 749s, but with withdrawals, and some locos being silenced in recent years the amount of loud loco's is now down to about the dozen mark. Of course some loud 751 action would have been nice as well, but with all of the 751s (with a couple of special exceptions) being allocated to the newly formed cargo company this was unlikely to happen. New locos / aircraft are underlined.
Friday 14th March 2008
Having made my way from Newport to Bristol T.M. on a very wedged pacer, I had breakfast in the Wetherspoons outside the station, at 0850 I wasn't expecting many people to be in there but it was busy with race-goers heading for a day in Cheltenham. Just as I was leaving a group of lads came in all suited up and met with their mate who was in jeans and T-shirt, it transpired that he had been told to dress up but he thought it was a wind up and hadn't bothered, not a good move as apparently the tickets they had were for one of the posh enclosures, whoops!
After completing my journey to the airport by bus I was unimpressed to find a huge queue at the security area, but it moved quite quickly and I soon found myself in departures, where the departure screen showed my plane as delayed, cheers then.
Being a Friday I knew that there would be the possibility of some stag parties heading to Praha, and I wasn't wrong, after boarding the plane (about 20' late) I found myself a seat and soon became surrounded by a party of 25 of them who were very loud and very obnoxious for the whole flight, I was pleased to get off and away from them.
At Praha I swiftly made my way out of the airport and onwards to the main station (Hlavni Nadrazi) by way of the 119 bus and then the metro. Within minutes I managed to purchase a 7 day all line rover for 1224kc (about £40) and then killed some time doing some bus stop moves on some electrics before viewing the 1652 Praha Vrsovice to Cercany which is a booked 749 turn (Fridays only). The 1652 produced loud 749006, one of only 3 loud 749s at Praha, I wouldn't have minded going all the way to Cercany on it but the driver was a bit of a windbag and I wanted to get back to Praha to meet with Russ, Goody and Hammy who were on their way from Ceske Budejovice in the south of the country, so in the end I did it as far as Vrane for a DMU back. Back at Praha Vrsovice there was just time for me to scratch a boring 742 to Praha Hlavni for an electric back before the arrival of the others.
When the others arrived, 3 of us went for beers while Russ went off to meet a contact of his who gave him the gen for what was allocated for the weekend, when he came back he had good news that 749006 would be on the Cercany line all weekend, and the 2 other loud locos, 749039 and 749102, would each be doing a trip to Tanvald, one on Saturday (039) and the other on Sunday. With a good weekend in prospect it was decided that we would spend 3 nights in Praha and so we eventually booked in the Hotel Ronni, once the worlds thickest receptionist managed to grasp the concept that us leaving on Monday was 3 nights and not 4 which she tried to charge us for. After booking into the hotel we went off for some food and beer before calling it a night.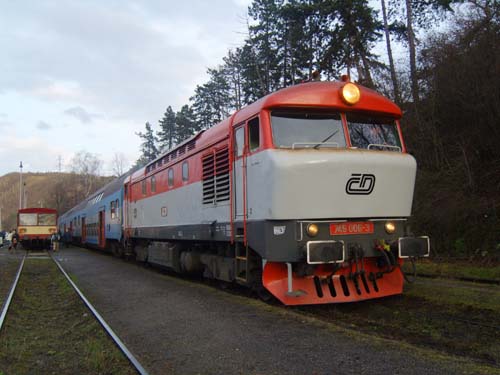 749006 at Vrane on 1652 Praha Vrsovice to Cercany.
MOVES:
G-EZIR EZ6127 1125 Bristol to Praha
163030 R654 1545 Praha Hl.n. to Praha Vrsovice 3km
162057 R872 1614 Praha Vrsovice to Praha Hl.n. 3km
162013 R623 1638 Praha Hl.n. to Praha Vrsovice 3km
749006 Os9021 1652 Praha Vrsovice to Vrane 20km
DMU Os9016 1730 Vrane to Praha Vrsovice 20km
742269 Os9546 1819 Praha Vrsovice to Praha Hl.n. 3km
150225 R621 1838 Praha Hl.n. to Praha Vrsovice 3km
Saturday 15th March 2008
After making our way to the station we were pleased to see 749039 already waiting with the 0706 to Tanvald. Before departure we were joined by another UK crank, Dave from Loughborough, who spent the rest of the day with us. The run from Praha was quite sedate, so when we arrived at Turnov Russ had a word with the driver to ask him if he would apply a bit more power when possible, and in fairness the rest of the run to Tanvald was better than it had been so far. At Tanvald with time to kill before the return run we all headed to Smrzovka where the station bar sells Konrad beers on tap, a beer that's quite hard to find.
After making our way back to Tanvald there was just time to stock up on beers including some take away draught from the station bar before the run back to Praha. Back at Praha Hlavni Russ once again had a word with the driver to ask if he could give us a final burst of thrash on the 3km run through the tunnel to Vrsovice, and he didn't disappoint with some very loud notch 8 action being the highlight of the run for us all, apart from Goody who some how managed to sleep through it. On arrival at Vrsovice the train terminated and we watched the ECS depart very loudly to the carriage sidings.
With 749006 in theory already heading towards Cercany via the diesel route, we all caught an electric hauled train south via the electric route in order to have it back. On arrival at Cercany we had an hour to kill, so naturally made our way to the bar outside the station (the actual station bar we used to use has recently been demolished) where we all stood outside to drink our beers as it was far too smoky inside. From where we were stood we soon noticed 006 arriving as expected, and after it had ran round we made our way back to the station and onto the train for the trip back to Praha, and very entertaining it was as well, plenty of thrash. Once back at Vrsovice we watched as the loco shunted the stock into one of the back roads, and once it had dropped the stock off we were surprised when the driver called us over to the loco and allowed all 5 of us to squeeze into the cab for a shunt move towards Hlavni and then back into the station.
After the cab ride in 006 Dave bode us farewell as he was off to do an overnight somewhere, the rest of us headed off for food and beer in the locality of Vrsovice again, always best to avoid the centre of Praha on the weekend as its full of stag party idiots giving the Brits a bad name. I imagined to myself that the group who had been on my flight the day before were probably all now locked up in a cell somewhere, wishful thinking! After a pleasant evening out, (especially pleasant for me when I found out Wales had won the rugby grand slam) we called it a day at about midnight.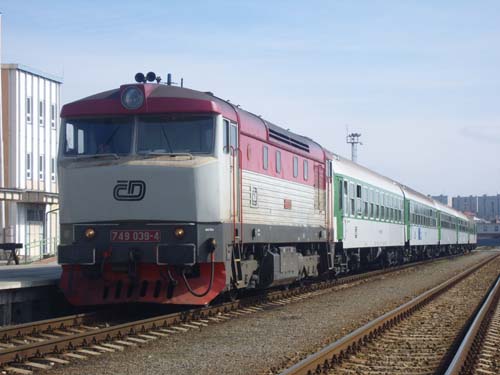 749039 at Turnov on 1145 Tanvald to Praha Vrsovice.
MOVES:
749039 R940 0706 Praha Vrsovice to Tanvald 136km
DMU Os16220 1022 Tanvald to Smrzovka 7km
DMU Os16215 1118 Smrzovka to Tanvald 7km
749039 R943 1145 Tanvald to Praha Vrsovice 136km
363057 R641 1516 Praha Vrsovice to Cercany (direct) 37km
749006 Os9018 1655 Cercany to Praha Vrsovice (via Vrane) 57km
749006 L/E Shunt at Praha Vrsovice (in cab) 1km
Sunday 16th March 2008
I opted for an early start to have 749006 to Cercany, leaving the others in bed with the intention of meeting them on the Tanvald later on at 1306. The run to Cercany was reasonable but not a classic, and upon arrival at Cercany I did an EMU forward to Benesov in order to catch the next electric hauled service back to Praha, there were 2 reasons for this, (1) the electric was non stop through Cercany, and (2) the return of 749006 wasn't due into Vrsovice until 8 minutes after the Tanvald had departed. At Besenov there was time for a quick beer in the station bar before the electric arrived.
Back at Vrsovice I had time for a meal in a bar near the station, before heading back up the station in time for the train to Tanvald. As I got onto the platform I could see a red and yellow loco coming in on stock so I knew straight away that 749102 had produced as expected so I got on and claimed a compo at the front where the others soon joined me.
The run to Tanvald was OK, but when we got to Tanvald the loco had to go onto the small depot area to take on water. As a fill in move today we did a trip to Harrachov and back on a DMU, this being the steepest line in Czech with the climb being as steep as 1 in 17 in places. Back in Tanvald we got back on the Praha train with 749102, but the front vehicle was an open coach and soon filled up with normals, so the prospects for having a bellow were not too good, we need not of worried however, as when we got to Turnov we heard the loco shut down and moments later felt a bump as something else was attached to the front, which turned out to be a boring 742, none other than 742269 which I had scratched for a short mileage leap on Friday. We were all glad to get to Praha Hlavni and get off the train, where a quick chat with the driver revealed that he had failed the loco due to high water temperature.
From Hlavni we walked to a quiet part of the city near Masarykovo station where we found a bar serving a selection of quite rare draught beers and a large selection of bottled beers from around the world, which we followed up with a pizza in a place close by before heading back to Hlavni for the 0021 train back to where we were staying. The 0021 should have been electric hauled but turned out to be an EMU, this was due to the fact that there was engineering along the route and the train was only running part way for a bus forward for another train from the other end of the block. I said my goodbyes to the others as they were flying home the next day and I would be leaving the hotel before they were awake.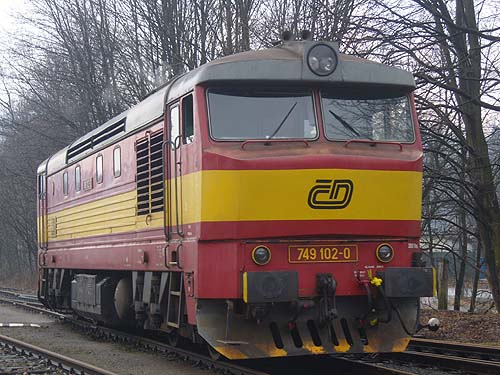 749102 running onto the small shed at Tanvald after arrival from Praha.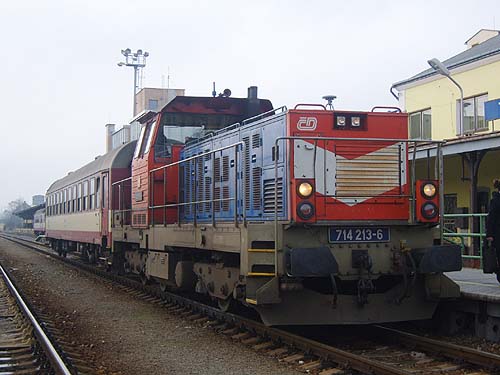 714213 at Turnov with a train formed of a single trailer car.
MOVES:
749006 Os9005 0825 Praha Vrsovice to Cercany (via Vrane) 57km
EMU Os9121 1014 Cercany to Benesov 9km
363084 R206 1056 Benesov to Praha Vrsovice 46km
749102 R944 1306 Praha Vrsovice to Tanvald 136km
DMU Os16229 1624 Tanvald to Harrachov 12km
DMU Os26216 1707 Harrachov to Tanvald 12km
749102 R949 1751 Tanvald to Turnov (loco failed) 31km
742269 R949 1843 Turnov to Praha Hl.n. (749102 DIT) 102km
EMU Sp1831 0021 Praha Hl.n. to Praha Vrsovice (vice class 363) 3km
Monday 17th March 2008
With no booked 749 turns around Praha today, I had to make a choice of heading south to Ceske Budejovice or east to Moravia for some 749 action. Under normal circumstances Ceske Budejovice would have been the better bet as it has a healthy loud to silent ratio of loco's, however, the line they operate on was undergoing engineering work with trains being curtailed on route, and with amended diagrams in operation I decided that I would give it a miss. There was also engineering work going on in Moravia, but it had the advantage that the booked 749s on the fast turns on the Jesenik line were getting swapped from diesel to electric traction and vice versa at Mohelnice rather than Zabreh na Morave, meaning an extra 12km with the diesel on each of the trains. Having made the decision to head to Moravia I hoped that there would be some loud action to make it worth while, but with just 3 loud locos at Sumperk (749107, 749250 and 749259) and one loud loco at Olomouc (749121) there was by no means anything guaranteed as they have more than enough silent loco's available to cover all the diagrams.
Upon my arrival at Zabreh, the first thing I saw was 749250 hauling a works bound EMU towards Sumperk, a bad start as this meant at least one of the loud loco's was already out of the equation, at least until the afternoon anyway. The first train I viewed heading towards Jesenik arrived with the silent 749264, but with an arrival from Jesenik due soon I waited around and was rewarded with a run to Mohelnice with 749107. At Mohelnice I asked the driver what was happening next with the loco and he told me it was going light to Sumperk, so I stayed on the train and headed to Olomouc to cover the two 749 turns that operate from there on weekdays. At Olomouc the two turns were both in the station, one having just arrived with silent 749261 and the other about to depart with silent 749263. With no loud loco's about for the time being and no other 749 diagrams to cover for a few hours I spent some time covering 3 diagrams with old class 141 electrics on the route to Prostejov and Nezamyslice. On paper there should have been 3 class 141 loco's out on the line but in reality there were just two, the third diagram was being covered by a flat iron class 110 loco. After covering the three diagrams I took a break for food, which I ate whilst waiting to cover the next fast train to Jesenik, luckily it was a couple of minutes late so it meant I could also view another Sumperk 749 diagram on the afternoon Olomouc to Sumperk (via Unicov) train, I need not of worried though as it was silent 749214 which seems to be the booked loco for this train these days. I boarded the Jesenik train which was booked to be a 749 forward from Mohelnice, I was hoping that Sumperk would kick out 749107 which by diagram should have been the loco having worked from Jesenik this morning but nearly always seems to get swapped at Sumperk for some reason, or else 749250 which I had seen heading towards Sumperk earlier, however when I got to Mohelnice silent 749248 was waiting to go forward so I bailed off the train and waited for an electric hauled stopper behind to take me to Zabreh, having seen the train at Olomouc at least I knew the loco was a scratch.
At Zabreh I was greeted by the sight of a pair of loud 751s in the yard on a freight, and as I was curious as to where they were going I shouted over to the driver to try and find out some gen but we found it hard to hear each over as I was shouting across from the platform, and he soon beckoned me over and into the cab. No sooner had I climbed into the cab the train moved off into the head shunt at the west end of the station with the yard shunter hauling us at the other end of the train. In the head shunt the pair of 751s cut off and then we went down another road and coupled up to another freight. Once coupled up the locos were shut down and locked up, apparently they were to work to Olomouc via Sumperk and Unicov but the driver said he didn't know when, but it wouldn't be for a few hours.
Faced with another spell of waiting for another 749 turn to cover I did a small move on yet more electrics before I found myself at Zabreh for the last of the fast trains from Jesenik, the loco for this train I hadn't seen yet as it would have worked out early in the morning, so when it rolled into Zabreh with the only loud Sumperk 749 I hadn't yet accounted for (749259) I was very pleased. On arrival at Mohelnice I presumed the loco would go back to Zabreh light loco before taking up the last part of its amended diagram, so I headed straight back to Zabreh on an electric where I arrived as the two loud 751s I had seen in the yard earlier were just departing in a very audible fashion. With time to kill I made my way to a bar outside the station for a beer, and when I got back 749259 was on the 1946 to Sumperk as booked.
My arrival in Sumperk on 749259 was just in time to see the pair of 751s from Zabreh departing on their onward journey towards Olomouc, once again very very loud and could be heard for a few minutes going off into the distance, they were working very hard even though a 742 had now been attached to the rear of the train and was powering away as well (albeit all clag and no noise). My next move was to try and get some gen regarding the loud 749s for the next day, so I wrote out a note in Czech and headed to the redcap's office hoping he would understand it and phone the depot for me, which he kindly did and gave me the good news that 749259 would be the 0610 from Sumperk (the same diagram I had just arrived with it on) and that 749107 would be taking up the second part of another diagram replacing silent 749264 (on the same diagram that silent 749248 had replaced 749107 on today). Armed with this good news I decided to spend two nights in Sumperk and made my way to the Grand Hotel where I was soon booked into recently refurbished room 404. I had this room in unrefurbished condition at Christmas time and it was OK, but in its new guise with new windows, carpet and furniture and with a nicely re-tiled and tidied up bathroom it was much nicer, although still very basic, but still for less than £10 per night, even with the current very poor exchange rate. Once I had sorted myself out I went into the centre for a meal and a few beers, as usual for Sumperk it was a good night out, with a plentiful choice of bars and restaurants. I eventually got back to the hotel at about 1 a.m.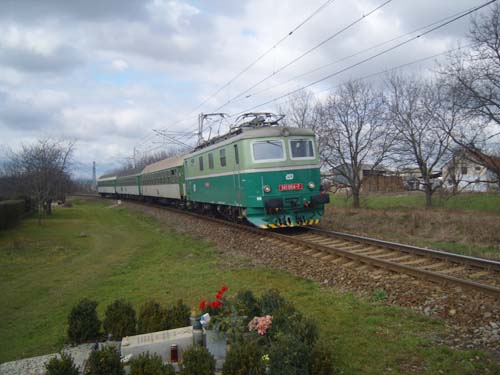 Smartly kept 141054 approaches Vrahovice with Os3813, a Nezamyslice to Olomouc stopping train.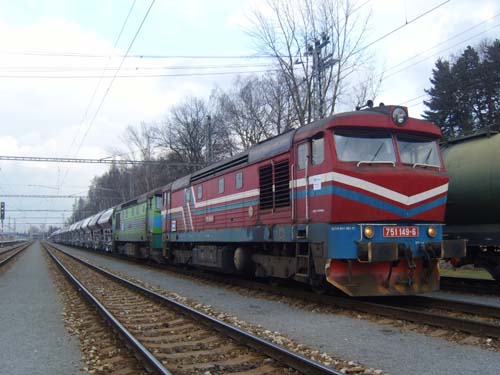 Both carrying unique liveries 751149 and 751335 are seen in the yard at Zabreh na Morave.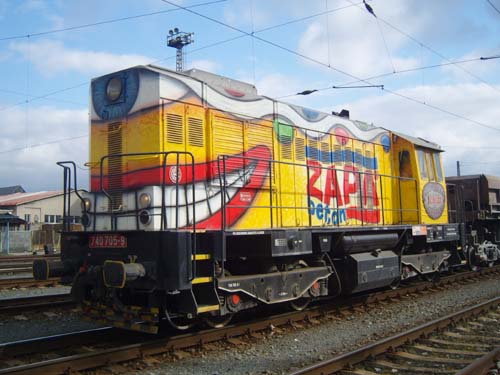 Not sure if this livery is unique to one locomotive, but its very eye catching.
Private owned 740705 is pictured at Olomouc.
MOVES:
150225 R705 0643 Praha Vrsovice to Zabreh na Morave 201km
749107 R904 1017 Zabreh na Morave to Mohelnice 12km
363001 R904 1040 Mohelnice to Olomouc 34km
141054 Os3810 1131 Olomouc to Vrahovice 18km
110052 Os3837 1202 Vrahovice to Olomouc 18km
141023 Os3812 1231 Olomouc to Vrahovice 18km
141054 Os3813 1303 Vrahovice to Olomouc 18km
363108 R905 1456 Olomouc to Mohelnice 34km
163066 Os31714 1536 Mohelnice to Zabreh na Morave 12km
731027 Shunt 1600 Zabreh Yard to head shunt (in cab of 751335 on rear of train)
751335 Shunt 1605 Head shunt to Zabreh Yard (in cab with 751149 DIT, light locos)
163022 Os31715 1717 Zabreh na Morave to Luchovice na Morave 6km
163068 Os31715 1742 Luchovice na Morave to Zabreh Na Morave 6km
749259 R908 1816 Zabreh na Morave to Mohelnice 12km
163072 Os31716 1845 Mohelnice to Zabreh na Morave 12km
749259 Os13048 1946 Zabreh na Morave to Sumperk 13km
Tuesday 18th March 2008
I struggled to get up early and thought about staying in bed a bit longer and picking up 749259 later in its diagram, however I made an effort and was happy to see it on the 0610 as allocated the night before. At Zabreh I was expecting that it would go light to Mohelnice to get onto the next part of the amended diagram, meaning I would have to take a DMU there to make it, but in the event it piloted the unit meaning a couple of bonus km's for me. I killed the time at Mohelnice on the platform taking photos, even though it was snowing a little the cold wasn't too bad and the Jesenik train seemed to arrive in no time at all. I was hoping to have a good run over the hills to Jesenik but the driver was a complete windbag who didn't seem interested in applying any power, in fact it was so bad we were about 30 minutes late at Jesenik. From Jesenik my move was to go back to Sumperk on a DMU, but as there were a couple of loco's stabled at Lipova Lazne I stopped off there on the way to get some photo's, and as luck would have it a freight arrived with loud 751041 which proceeded to do some entertaining shunting around the station as well. My DMU to Sumperk was a heritage 831 class, over 50 years old and still going strong, and much better than the more modern units. At Sumperk I had time for a meal in the fast food Asian place outside the station before going for the train that I had been quoted 749107 would be on.
Back at the station 749107 was just backing onto the train with Sumperk's finest and friendliest driver in the cab with another bloke who was a DMU only driver but being trained on 749s. Before departure I had a quick word, and it was confirmed to me (as I expected) that the loco would be going light from Zabreh to Mohelnice to take R905 forward to Jesenik. I was also told that it would be OK for me to travel on the light loco movement if I wanted, so at Zabreh I jumped in the cab and we soon set off to Mohelnice where all three of us had a good chat during the layover.
Once we had backed onto the Jesenik train I got into the stock to enjoy a good run up the mountainous line, and in comparison to this mornings run we actually made up time on route having been late from Mohelnice, with an on time arrival at Horni Lipova where I had a cross platform leap onto the already waiting 749259. Although the same bloke as this morning was driving he actually seemed to be making a bit of an effort now and the run back to Mohelnice wasn't too bad. At Mohelnice I proceeded to do the same move as the day before, electric to Zabreh, beers, then the 749 to Sumperk, meal and more beers. After a long day I went back to the hotel a little earlier than the night before, this time I got back at about midnight.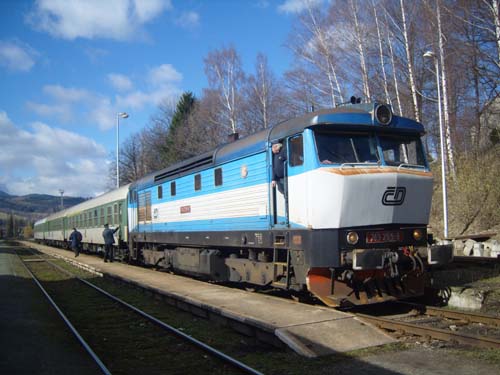 749259 at Jesenik after arriving on R903.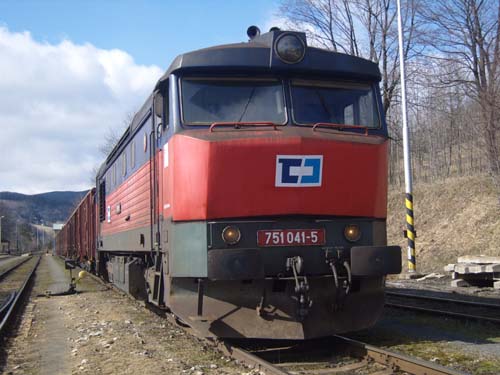 751041 at Lipova Lazne. The logo on the front of the loco is that of the recently created company
called "cargo" following the sectorisation of Czech Railways into passenger and freight.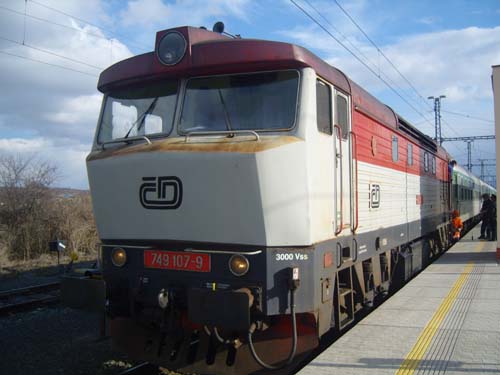 749107 at Mohelnice after repacing a class 363 electric on R905.
MOVES:
749259 Os13011 0610 Sumperk to Zabreh na Morave 13km
749259 Sp1700 0639 Zabreh na Morave to Mohelnice 12km
749259 R903 0726 Mohelnice to Jesenik 77km
DMU Os3608 0953 Jesenik to Lipova Lazne 4km
DMU Os3610 1118 Lipova Lazne to Sumperk 59km
749107 Os13029 1349 Sumperk to Zabreh na Morave 13km
749107 L/E 1415 Zabreh na Morave to Mohelnice (in cab) 12km
749107 R905 1520 Mohelnice to Horni Lipova 68km
749259 R908 1659 Horni Lipova to Mohelnice 68km
163070 Os31716 1845 Mohelnice to Zabreh na Morave 12km
749259 Os13048 1946 Zabreh na Morave to Sumperk 13km
Wednesday 19th March 2008
Even though I hadn't got the gen for today I guessed that 749259 would be a likely candidate for the diagram it had done the past two days, so I was up early again, so early in fact that I was at the station in time to view the 0539 to Olomouc (via Unicov) just in case that was something of interest – it wasn't, as silent 749214 was unsurprisingly the loco at the head of the train. Before long 749259 emerged from the depot for the 0610 so I opted to take it, rather than do a DMU towards Jesenik and intercept 749107. At Zabreh I was hoping for a repeat performance of yesterday when the 749 had piloted a DMU to Mohelnice, but it wasn't to be as the 749 wasn't in position to back onto the unit in time. With a bitterly cold wind blowing at Mohelnice I spent the time waiting in the drab ticket office, grateful that it was warm if nothing else. 749259s train eventually turned up about 15 minutes late and I took it to Zabreh where I got off rather than risk the cross platform leap for 749107 further up the line, something I wouldn't risk as I had a plane to catch later on. As it happened 749107 itself was about 15 minutes late so I guessed they crossed at the booked shack, but with a long loop it could well have departed before the other train had stopped.
Back at Mohelnice there was not much for me to do apart from start heading towards Praha for my flight home, so a stopping train was used to take me back to Zabreh for an IC service forward. With the IC being quite wedged I decided to sit in the restaurant car where I had a soup starter followed by ham and eggs, all washed down with three bottles of beer, for less than the equivalent of £7.
On arrival at Praha rather than take my usual route back to the airport I caught a train to Praha Smichov from where I got the metro and the bus, both of which were as efficient as always, what a shame we can't have integrated transport as good as this in the UK.
My on time flight back to the UK was nice and quiet compared to the outbound, and after getting off at Bristol I was pretty annoyed when myself and my fellow passengers had to wait for over 20 minutes in the walkway between the plane and the airport buildings due to "congestion" in the passport check area. Once we were allowed in it took another 20 minutes or more to get to the front of the queue, it was all too much for one old fella who fainted in the middle of it all.
Once I had eventually made it out of the airport I waited for about 40 minutes for the bus to Bristol TM, pretty poor considering the bus is supposed to be every 15 minutes, but not totally unexpected with First Group running the service. At the railway station I was lucky enough to fall into a train back to South Wales straight away, but just like the outbound I had to stand all the way, as the 158 was completely packed – welcome back to the UK and its crap public transport.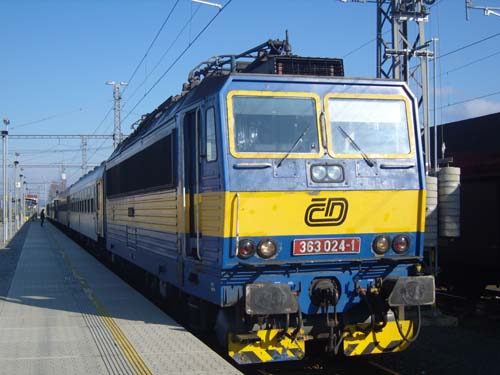 363024 at Mohelnice after replacing 749107 on R902.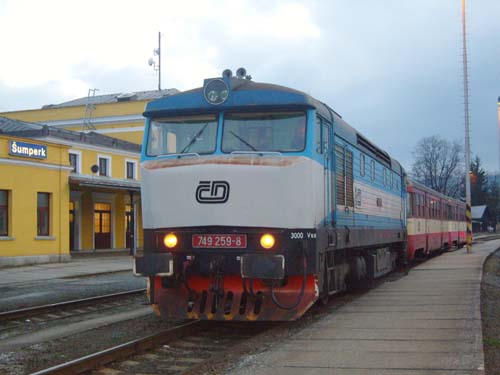 749259 at Sumperk with the 0610 to Zabreh na Morave.
MOVES:
749259 Os13011 0610 Sumperk to Zabreh na Morave 13km
DMU Sp1700 0639 Zabreh na Morave to Mohelnice 12km
749259 R903 0726 Mohelnice to Zabreh na Morave 12km
749107 R902 0816 Zabreh na Morave to Mohelnice 12km
163066 Os31706 0853 Mohelnice to Zabreh na Morave 12km
151020 IC540 0939 Zabreh na Morave to Praha Hl.n. 204km
363055 R758 1216 Praha Hl.n. to Praha Smichov 4km
G-EZIG EZ6128 1455 Praha to Bristol
CONCLUSION:
Another good visit to Czech with plenty of loud action and good company as well. Looking forward to the next visit in July which should feature some of the rarely used "special" 751s.