USA - April 08
Pete Callaghan in action once again...All photos are also taken by Pete Callaghan.
Following my last visit to America, two friends, Glyn and Andy, said they would like to try a similar trip so plans were made. Flights from London to Newark and return from JFK were booked at a reasonable £270 each with various hotel bookings completed not much later, along with the Amtrak tickets as well. Although much of this trip would be almost a carbon copy of my last American bash I looked forward to it with great anticipation, particularly as the one different element of this trip would be crossing the border into Niagara Falls Canada, a winning country for me. For Glyn this would be a first time visit to the USA and Canada, where as Andy had never been to the USA before but had visited Niagara Falls many years ago.
SATURDAY 19th April
After a night out in the city centre and having drunk more beers than I probably should have, I found myself in a taxi to my house for a quick change of clothes and to collect my baggage before the same taxi took me to the bus station for the 0155 coach to Heathrow. There was enough time to wander off and get a kebab before the coach, and when I got back to the bus station Andy and Glyn were there waiting. The coach was on time and some good doss was had to Heathrow, where we got dropped off at the central bus station and had to make our way to T4 by way of the Heathrow Express, which is free for such transfers. After checking in we made our way through to departures where we had plenty of time to kill having arrived so early, we could have caught the next coach from South Wales and it probably would have been OK, but we all decided it wasn't worth chancing. To pass the time we watched the activity on the airfield for a while (including my first sighting of an Airbus 380) before having breakfast in Wetherspoons. At the appointed time we boarded our BA aircraft to Newark, New Jersey, which was a B777-200 with a few spare seats on it, so when everybody was aboard I got into a row of my own in the centre, just across the aisle from Andy and Glyn who now had 3 seats between the 2 of them. The flight was uneventful apart from the couple in front of Andy and Glyn constantly complaining about a crying baby disturbing them and then becoming disgruntled because the cabin crew couldn't do anything about it (yes, maybe a bit annoying, but same for everybody), by the end of the flight they had decided that they had been badly treated and were apparently going to write a complaint saying the cabin crew had singled them out for poor treatment, even though the cabin crew had been patient with them listening to their every (frequent) complaint which, quite frankly were totally unjustified, a right pair of whiners. Despite the screaming nipper scenario I still managed to get some good doss.
Once at Newark we got through the immigration process quite quickly and after collecting our bags we made our way to the station to catch a New Jersey transit service to Newark Penn, having just missed a free shuttle bus that would have taken us to our hotel. We waited a little while for an electric hauled train to Newark Penn after flagging a couple of EMU's, from where we had a short walk to our pre-booked hotel (the Hilton has a covered walkway from the station) and we were lucky that they were able to let us have our rooms before the official check in time.
Once we had freshened up we decided to head into New York, but first we took a short move on the Raritan line to scoop a couple of diesels, before taking an electric into the city. Once in the city we spent some time around Times Square before having a meal and some beers in the nearby Hartland Brewery pub. Our electric back to Newark Penn was the same as we had from the airport, doh! Once back at the hotel, despite being very tired by now, I managed to stay up to watch "local boy" Joe Calzaghe fighting in a well publicized boxing match taking place in Las Vegas, I'm pleased to say the Welshman won despite a first round scare, a good nights sleep was then had.
MOVES:
BA G-VIIJ (BA0185) 0855 London Heathrow to Newark NJ
NJT 4602 (????) 13xx Newark International Airport to Newark Penn
NJT 4003 (2525) 1438 Newark Penn to Roselle Park
NJT 4125 (2522) 1459 Roselle Park to Newark Penn
NJT 4413 (7240) 1521 Newark Penn to New York Penn
NJT 4602 (7277) 2107 New York Penn to Newark Penn
SUNDAY 20th April
After a reasonable lie in I made my way to Glyn and Andy's room to find them watching a replay of last nights boxing, before we all left on what was to be a day of taking in some sights in New York. With a diesel service being available to take us to Hoboken we opted for that, as Newark to Hoboken via the direct route was required, although the loco wasn't as we'd had it yesterday. From Hoboken I was expecting to be able to get a boat from the station boat terminal to Manhattan, but all we found was a notice stating this service no longer runs on weekends and an alternative terminal was available 14 blocks away, cheers then! Once we had taken the walk to the other terminal we found that we couldn't pay cash, even on board, and whilst messing around trying to get tickets from the machine with plastic, the boat buggered off despite the bloke operating the gates on it saying he would wait for us. The boat soon came back and took us on the short journey to Manhattan, dropping us off about a 15 minute walk from Times Square where we made our way down into a subway station and purchased an all day ticket for $7 each.
Our first subway move was to head to 72nd street to visit the memorial for John Lennon in Central Park, mainly for the benefit of Glyn who is a big Beatles fan. The memorial was quickly found, along with the Dakota Building in which Mr. Lennon lived until he was assassinated outside it. Following this is was back on the subway to head to Lower Manhattan to catch the Staten Island Ferry, this being a free service, which conveniently passes near to the Statue of Liberty, and as such the well-loaded ferry was mostly being used by tourists. Once at Staten Island, the three of us did a quick leap onto the next departure back to Manhattan, once again passing the famous statue. Back at Manhattan we took another subway back to Penn Station stop in order to visit the Empire State Building where we visited the observation deck on the 88th floor before heading off for some food at a place on 57th Street that I used last year, calling in to have a look at Grand Central Station on the way. At the end of an interesting day we made our way back to our hotel at Newark, courtesy of a dud (for me) electric meaning no new engines for me today.
MOVES:
NJT 4125 (2514) 1115 Newark Penn to Hoboken (direct)
NJT 4429 (7277) 2107 New York Penn to Newark Penn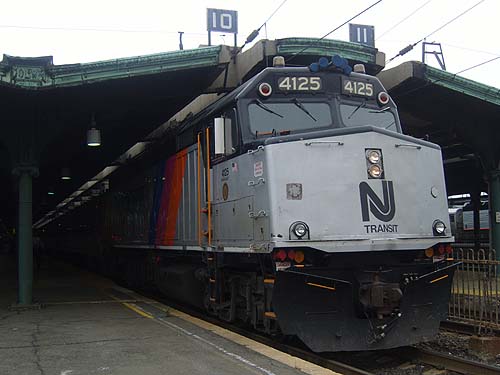 NJT 4125 pokes out from the canopy at Hoboken after arrival with a through service off the Raritan line.
MONDAY 21st April
Today had been reserved for a visit to the Six Flags theme park in Jackson, New Jersey, for my benefit more than the others as I am a bit of a roller coaster ned. We could have taken a NJT train service to Point Pleasant Beach for a 20+ mile taxi ride the rest of the way, but a direct bus was available from outside Newark Penn station and we opted for that. Tickets were purchased at the NJT ticket window at the railway station for $47, I was a bit surprised at first as I thought that was the bus fare, but it turned out to include admission as well so was therefore a bargain as normal admission to the park alone is $66. After enduring the 90 minute or so journey on the bus full of loud youths, we arrived at the park and first headed to Kingda Ka, the tallest and fastest roller coaster in the world where the queue was surprisingly not too long. Despite not being in the queue for the front seat, I managed to blag a front seat ride thanks to the train I was getting on having a single rider at the front – result! The ride did 0 to 128mph in less than 4 seconds and then climbed vertically to 456 feet, before dropping straight back down to earth and then over a camel hump before finishing. It was all over in a flash, very enjoyable I thought, although I wondered how my contact lenses had managed to stay in as during the acceleration I thought my eyes were going to get blown out!!! After the ride Glyn commented that he thought we were going on a cable car, obviously he hadn't properly heard what I had said.
Following Kingda Ka, we caned in El Toro, a big new wooden coaster that opened last year, and it turned out to be an absolute beast. Having scored these 2 coasters I wasn't too worried about any of the others as I'd done them all on a previous visit, although in the event we managed a ride on most of them during the day and a couple of other (non coaster) rides as well. A funny moment during the day was when we had done the "Runaway train" coaster and Glyn got stuck on it, me and Andy watched him trying to get off it, we thought he was going to pull it off the track as he tried to free his foot, hellfire.
At the appointed time we made our way to where the bus was due to pick us up and were surprised to see there were enough people waiting to fill at least four buses, however a NJT representative was on hand to arrange enough vehicles to take everybody. In the event we managed to get on the first bus, and despite it being the same service we had caught this morning, we found ourselves storming off straight into New York without stopping at Newark. Despite the longer distance journey, we found it took only an hour or so (including about 10 minutes driving around the Port Authority bus station) and it was a much more pleasant journey than in the morning as everybody was quiet, and we viewed a few trains between Newark and New York too.
Finding ourselves unexpectedly in New York, we decided to eat in the Hartland place at Times Square again, and before catching the train back to Newark we visited Stout NYC which has a large range of beers and stouts on sale and is conveniently close to Penn Station. Our loco to Newark was 4602 again, 3rd time for the trip! Back at the hotel in Newark it didn't take me long too get to sleep.
MOVES:
NJT 4602 (3293) 2107 New York Penn to Newark Penn
TUESDAY 22nd April
Our move today was to head to Altoona in Pennsylvania, and then onwards to Cresson where we had two nights booked at the Station Inn B&B which is adjacent to the railway line. With our Amtrak train not due to depart until after 11a.m. a bit of a lie in was in order, and even so we still had time for a breakfast before catching the train. The uneventful journey was electric hauled to Philadelphia for a diesel forward with a journey time of just over six hours, Altoona being reached more or less on time. Once at Altoona we had to find a way to get to Cresson, luckily we had the good fortune to find a taxi waiting outside the station to take us on the journey of about 17 miles. On route from Altoona to Cresson we did a little bit of parallel running with the Amtrak train we had just got off, and just as we were getting out of the taxi at Cresson the train passed by us again. The taxi fare was a very reasonable $29 on the meter, working out at about £15 between the three of us. Once we had booked into the railway themed B&B we spent some time on the front porch watching the trains going by before heading off for some food in one of the local restaurants, and then for beers in the local bar. At the bar we found the beer was extremely cheap at $1.75 a pint, just a shame it wasn't very good beer, but at that price who could complain? Whilst in the bar I was recognized by somebody who I had met there on my previous visit, not only did he recognize me but he also remembered my name. We eventually left the bar at about midnight.
MOVES:
AMTRAK 914 (43) 1103 Newark Penn to Philadelphia 30th Street
AMTRAK 141 (43) 1242 Philadelphia 30th Street to Altoona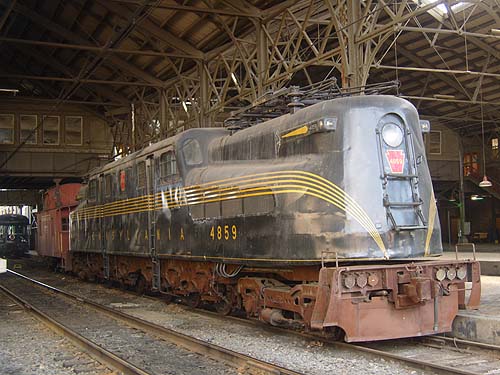 This vintage GG1 electric resides at Harrisburg station and is seen during a break whilst on train 43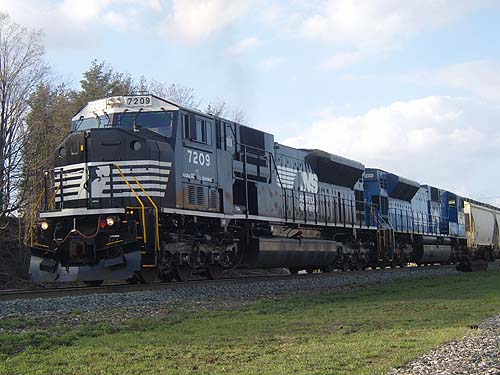 NS 7209 and 7211 (7211 in Conrail colours) pass though Cresson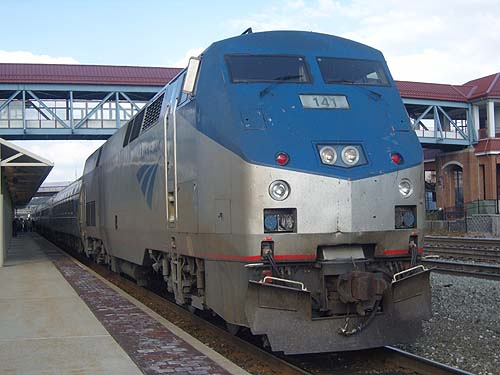 Amtrak 141 at Altoona with train 43
WEDNESDAY 23rd April
After breakfast we spent some time watching and photographing the trains from various vantage points around Cresson before Sandy from the B&B kindly gave us a lift to Horseshoe Curve near Altoona, arranging to pick us up a few hours later.
Admission to the Horseshoe Curve site cost $5, for this you then get access to a small museum and also a funicular railway, which takes you to track level. Up at track level there is an ex Conrail loco on display (albeit fenced off) and excellent views of the passing trains can be obtained from behind the trackside fence. Typically we arrived at a very quiet time and spent the best part of an hour or so without seeing a train, although there was plenty of activity after that. At the appointed time Sandy arrived to take us back to Cresson, although we did stop off at Gallitzin Tunnels for a short while on the way back. Once back in Cresson we again had a walk around the various vantage points, luckily for us we were at the town's small railway viewing area when the rain started meaning we could take advantage of its shelter. Once the rain had stopped we headed to the B&B to drop our things before eating in the local pizza place, which we followed by a visit to the pub where the beer was even cheaper than the previous night at $1.25 a pint, a good end to a good day, with plenty of decent pictures obtained.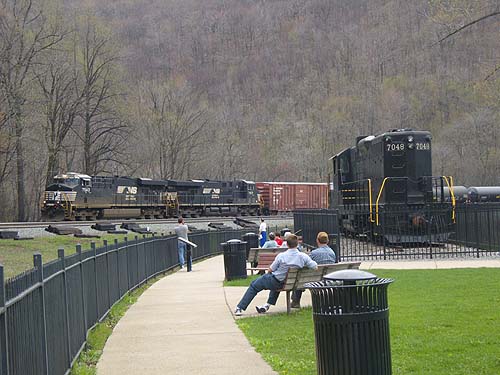 NS 7543 and 7517 at Horseshoe curve, with ex Conrail 7048 seen on display as well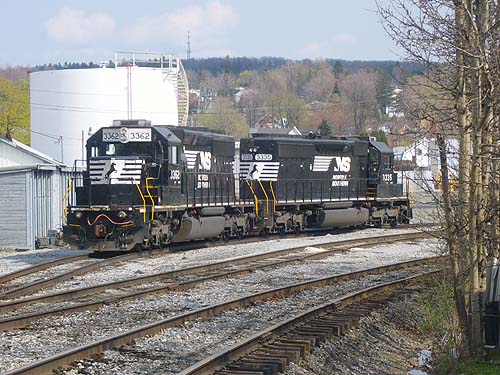 NS 3362 and 3335 seen at Cresson Engine House (taken from public road)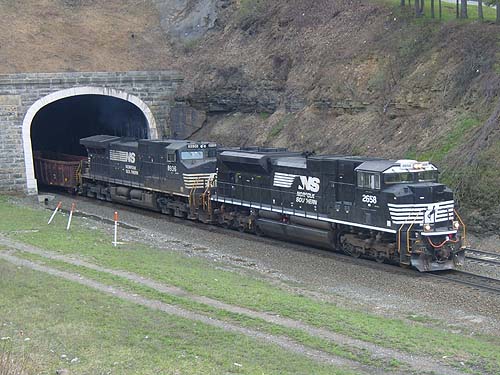 NS 2658 and 8936 emerge from the tunnel at Gallitzin
THURSDAY 24th April
Following breakfast we didn't do much apart from sit on the front porch watching trains for a while followed by another walk around, passing the time until we had lunch in a diner. Back at the B&B we said our farewells to Tom the owner, before getting a ride to Altoona with Sandy. We went to Altoona early as the intention was that Glyn and Andy would visit the railroad museum (I did it last year so wasn't too bothered) but in the event it was closed so we passed the time watching the trains from the footbridge and then the station platform. There was a reasonable amount of traffic about so the time passed quite quickly, the most unusual movement we saw was a convoy of 27 separate p.way devices pull into the station one behind the other and then head off in the opposite direction and into a siding.
Our Amtrak train (the same service we had got off 48 hours earlier) was more or less on time and after we had passed through the Horseshoe Curve, Gallitzin and Cresson I soon fell asleep, waking shortly before our arrival into Pittsburgh only to be greeted by some strange bloke banging on my armrest and bellowing "how are you" at me, bizarre!
At Pittsburgh with over three hours to kill we headed to a place near the station for food and beers, with the strange bloke off the train following us and even attempting to invade our table, prevented only by a nifty blocking move and then having to point out to the waitress that he wasn't with us. Luckily he went as soon has he had finished his meal, where as we stayed as long as possible as we didn't fancy hanging around at the station for our train to Chicago which was due off at 2355. Back at the station we found out that the train was delayed.
MOVES:
AMTRAK 153 (43) 1706 Altoona to Pittsburgh

NS 3346 & 3344 at Cresson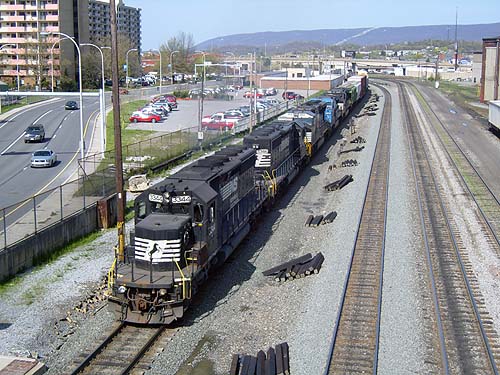 NS 3344, 3346, 2633, 8385 and 9520 pass through Altoona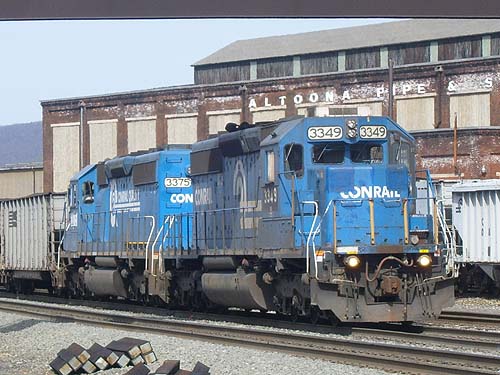 NS 3349 & 3375 both retain Conrail colours, seen at Altoona
FRIDAY 25th April
Our train eventually arrived at about 0030 and then got away at about 0045 making it 50 minutes late. On the front the booked pair P42's also had a F59PHI dead inside, as far as I know this loco normally works around Los Angeles so it was unusual to see one so far away from its home. The overnight wasn't the best I'd ever had as it was quite full, and sat in front of us were a group of six women who just wanted to talk and laugh loudly amongst each other, very antisocial, and not helped with the bloke behind us snoring at about a billion decibels too. Eventually I managed to get some sleep but Glyn and Andy didn't manage much. As we get closer to Chicago we began to get further delayed by freight congestion, eventually arriving at Chicago just shy of two hours behind schedule.
Upon our arrival at Chicago we decided to leave our bags in a locker and do some sightseeing, first of all taking a trip to the observation deck of the Sears Tower, where some good views were had of the Amtrak and Metra depots outside of Union Station, along with views of the OTC and LaSalle Street Metra stations as well. From Sears Tower we took a trip on the "loop" elevated subway system seen in many films, before paying a visit to Navy Pier which turned out to be a bit naff. After this we took a bus back to Union station for a Metra train on the Aurora line as we were staying just outside there at a hotel near Route 59 station, this being a much cheaper option than staying in Chicago where this time the hotels seemed to be much more expensive than in the past. We decided to do a train all the way to Aurora as it would put us in a position to try out the brewpub in the former roundhouse there, also when passing through Route 59 we would be able to check the position for getting a taxi to our hotel about 2 miles away, and when passing through Route 59 we saw a couple of taxi's there so hoped we'd be OK later on.
At Aurora we had a very pleasant meal in the brewpub along with some excellent beer, before heading back towards Chicago as far as Route 59, where we arrived just as a thunderstorm started complete with a downpour. Despite there being taxi's available when we had passed through earlier there were none now and we couldn't get the phone to work to order one either, luckily after about 15 minutes a taxi showed up and we made a run for it but still got soaked by the rain. After checking into the hotel we just spent the evening chilling out.
MOVES:
AMTRAK 135 & 132 (29) 2355 (Thur) Pittsburgh to Chicago Union (459 DIT)
METRA 194 (1243) 1558 Chicago Union to Aurora
METRA 196 (1292) 1820 Aurora to Route 59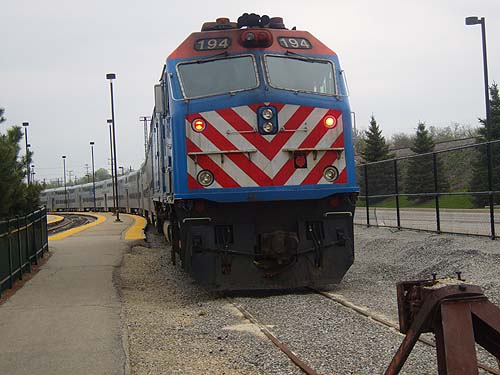 Metra 194 on the blocks at Aurora
SATURDAY 26th April
What with being in the vicinity of Chicago, and with it being a weekend, then the obvious thing to do was try to scratch as many Metra locos as possible with the incredible value $5 weekend rover they offer. We needed a taxi to get us to the station and this was easy as there were a few parked up outside the hotel, mostly with drivers asleep in them. I hadn't really planned any particular move but in the event the first few hours were spent on the Aurora line more or less covering everything that was out, although Glyn headed into Chicago before me and Andy as he wanted to do a bit of extra exploring of the city.
Once we had finished with the Aurora line, Andy and myself headed over to OTC station where we had lunch (and also where my jeans had lunch as well thanks to me somehow knocking a plastic tub of BBQ sauce from the table and onto my leg) before covering a few trains which turned out to be mostly dud locos for me. Glyn rejoined us as we headed back to Chicago on train 646, and on arrival at OTC we all headed back to Union Station where there was time for a couple of beers in the bar before finishing the days bash with a quick trip to Western Avenue and back, and then a few more moves on the Aurora line, where unsurprisingly the locos were all ones we had already caned in earlier.
Back at Route 59 we took a taxi to our hotel before heading to the nearby "Steak and Shake" for a meal. I was expecting it to be a steakhouse but in the event it was just a glorified burger joint. After this we went to the nearby bar for a couple of beers to finish off the day.
MOVES:
METRA 403 (1306) 0828 Route 59 to Claredon Hills
METRA 405 (1303) 0907 Claredon Hills to Lisle
METRA 401 & 201 (1326) 0931 Lisle to Downers Grove Main Street
METRA 186 (1308) 0945 Downers Grove Main Street to Cicero
METRA 187 (1305) 1041 Cicero to Brookfield
METRA 405 (1310) 1106 Brookfield to Chicago Union
METRA 166 (707) 1230 Chicago OTC to Clybourn
METRA 137 (325) 1243 Clybourn to Main Street Evanston
METRA 165 (338) 1302 Main Street Evanston to Clybourn
METRA 170 (709) 1338 Clybourn to Arlington Heights
METRA 178 (646) 1431 Arlington Heights to Chicago OTC
METRA 427 (2715) 1630 Chicago Union to Western Avenue
METRA 425 (2718) 1657 Western Avenue to Chicago Union
METRA 186 (1327) 1725 Chicago Union to Route 59
METRA 405 (1320) 1832 Route 59 to Westmont
METRA 403 (1319) 1910 Westmont to Route 59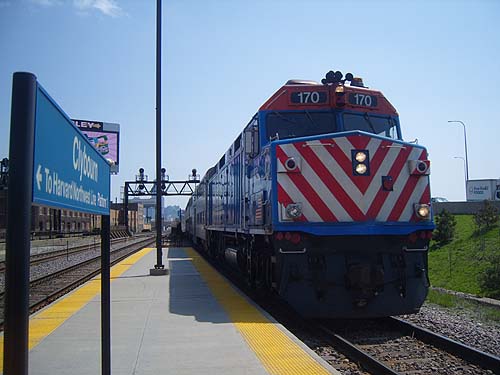 Metra 170 at Clybourn with train 709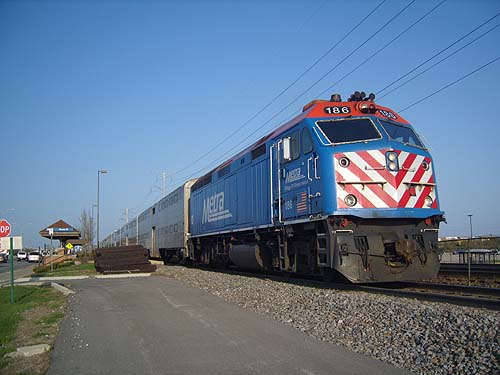 Metra 186 departs Route 59 with train 1327 to Aurora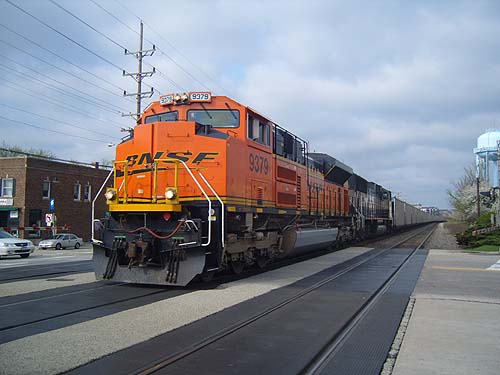 BNSF 9379 leads a freight through Clarendon Hills
SUNDAY 27th April
Second day of the Metra weekend rover, and once again my aim was to score as many loco's as possible. As with the day before there were taxi's waiting around the hotel so we had no hassle getting to the station for our first move of the day.
Upon arrival at Chicago Union we deposited our big bags in a locker as we didn't fancy carting them round all day before our Amtrak train at 2200 hours. From Union we walked to LaSalle Street station to cover the two diagrams that work from there on a Sunday, having only ever had one loco in and out of this station before I was hopeful that both would be winners but the loco I had last time was waiting to work our outbound train.
Once back in Chicago we walked back to Union to cover some trains around there but everything seemed to be modern MPI built MP36PH-3S loco's, I don't mind these loco's but prefer to travel behind the older stuff so with that in mind it was over the road to OTC with fingers crossed that there would be some winners working around here today, which there luckily was. After covering seven different turns on OTC side it was time to head to Union again with the plan being to have a couple of beers in the station bar before our Amtrak departure, in the event the bar and most of the other food and drink outlets were closed and we ended up in McD's, not an ideal way to finish the weekend. On the plus side we (well, me and Andy anyway) had managed to travel behind 25 different Metra loco's during our validity with the $5 rover working out at roughly 10 and a half pence per loco, surely the Metra weekend rover must rate as one of the best value cranking tickets in the world?
MOVES:
METRA 405 (1306) 0828 Route 59 to Chicago Union
METRA 408 (207) 1030 Chicago LaSalle Street to 119th Street
METRA 409 (210) 1111 119th Street to Chicago LaSalle Street
METRA 418 (2709) 1230 Chicago Union to Western Avenue
METRA 420 (2117) 1244 Western Avenue to Northbrook
METRA 424 (2136) 1332 Northbrook to Chicago Union
METRA 156 (711) 1430 Chicago OTC to Des Plaines
METRA 174 (648) 1544 Des Plaines to Chicago OTC
METRA 147 (507) 1640 Chicago OTC to Berkeley
METRA 161 (510) 1716 Berkeley to Chicago OTC
METRA 152 (719) 1830 Chicago OTC to Clybourn
METRA 129 (359) 1843 Clybourn to Braeside
METRA 163 (812) 1939 Braeside to Chicago OTC
AMTRAK 21 & 150 (48) 2200 Chicago Union to Buffalo Depew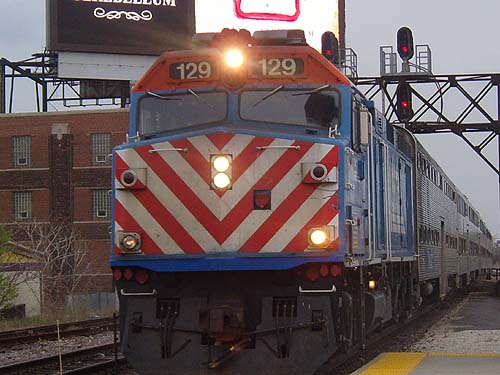 Metra 129 arrives at Clybourn with train 359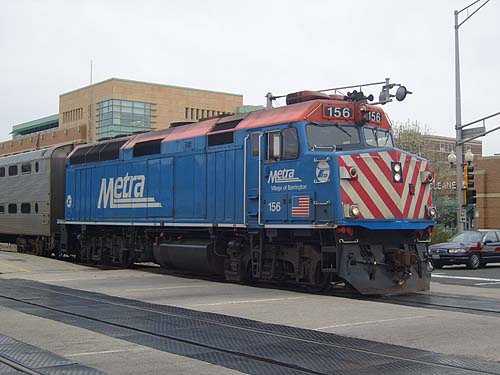 Metra 156 at Des Plaines with train 711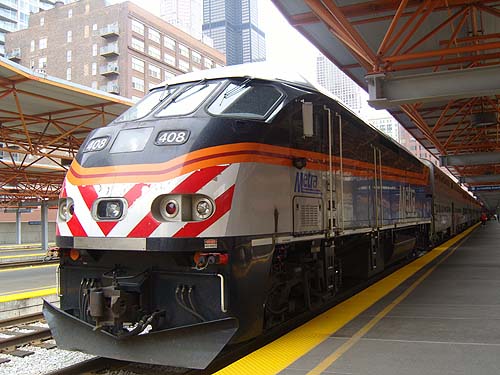 Metra 408 at Chicago LaSelle Street with train 207
MONDAY 28th April
Having bailed off our Amtrak train at Buffalo Depew we were faced with a lengthy 5 hour or so wait for our connection to Niagara Falls. We waited around for about an hour but there wasn't much happening, even if there had been any freight about the conditions were poor for photography as it was very overcast and drizzly.
With little near the station in the way of bars or restaurants, we decided to catch a bus to downtown Buffalo, the journey took about an hour and we passed through some very dodgy neighbourhoods, furthermore the condition of the roads was awful, full of large potholes which the bus ploughed through at a fair lick, I think I got the worst of it as I was sat above the back wheels. Once in downtown Buffalo the bus driver pointed out Buffalo Exchange Street station to us, so at least we knew where to head later on. After a few minutes of walking around we came across the Pearl Street Brewery, I had read about this place on the internet prior to leaving home but had forgotten to bring the directions, so it was a bonus to find it quite quickly. The beer and food were excellent and we stayed until close to the departure time of our train as we all agreed that Buffalo had little else to offer, the general consensus between the three of us was that Buffalo is a dump.
We walked to the Exchange Street station, which is nothing more than a waiting room with a ticket counter, where we were greeted by the news that out train was late, exactly how late though the attendant couldn't tell us so we just sat around twiddling our thumbs until the train rolled in about an hour late, during the time we waited though we didn't even get an update, would have been nice though as the trains un-announced arrival took us a bit by surprise.
On board the train we were given forms to fill in to enter Canada, the immigration stop on the USA side of the border was done quite quickly but upon our arrival at the Niagara Falls station in Ontario, Canada, we had to sit on the train for over an hour waiting for all the border formalities to be completed. Once off the train we took one of the waiting taxis to our hotel, the Sheraton Falls View.
We were hoping for a rather painless check in at the hotel where we had booked two falls view rooms with two beds in each, in the event though the bloke said the rooms we were allocated had just one bed each in, not what I had booked but apparently I was told that what you request on Expedia is just a request and not guaranteed. After a bit of a debate it was suggested that we may like to upgrade to a superior falls view room, but I said I wasn't prepared to pay anything extra and asked the bloke to look again which prompted him to call over his snooty manageress, I wasn't prepared to take anything less than three beds between the three of us. After another fruitless search through the computer I suggested that maybe a free upgrade might be the way to go, to which the manageress snapped at the guy "just give it to them", anybody would have thought we had been upgraded to a presidential room or something but the only difference between what we had booked and what we got was that we were on a higher floor, although our superior view of the falls was quite exceptional. After settling into our rooms we had a quick wander around including getting close to the falls before having a rather poor value meal at TGI Fridays after which we went back to the hotel.
MOVES:
AMTRAK 57 (63) 1509 Buffalo Exchange Street to Niagara Falls ON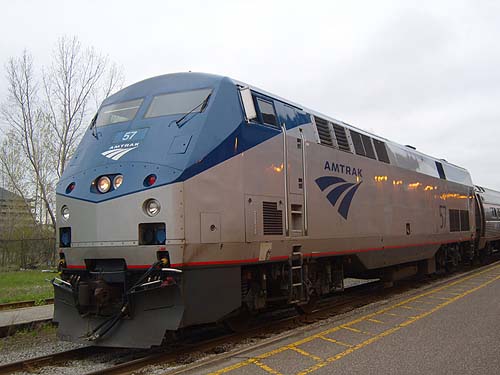 Amtrak 57 at Niagara Falls Ontario VIA rail station
TUESDAY 29th April
With no trains planned today we had a lie in before heading out to view the falls close up in day light and then doing the funicular railway back up the hill before visiting the casino for the all you can eat buffet at dinner time. In the afternoon we went up the big tower (viewing ex London bus RML2206 in the car park) for some panoramic views of Niagara and beyond before walking to the original part of the resort where various attractions can be found, including a lego display which caught our eye as it advertised up to 16 trains running on it. We paid to go in and found indeed that was plenty of train action, well worth going in for.
In the evening we took advantage of the all you can eat buffet at the casino once more, washed down with a very expensive beer from the bar on the vast gaming floor. My overall view having come to Niagara was that it had been well worth the visit although one full day was enough to see everything. Before heading to bed I took advantage of the hotels internet facility to book a hotel in or near New York for the following night as this was the only thing that hadn't been sorted out prior to leaving the UK. In the end I opted to book us into the Holiday Inn at Secaucus, a hotel I had used before, as this was the best available in the area but to keep the price reasonable I booked just one room with the request of a roll up bed for the third person.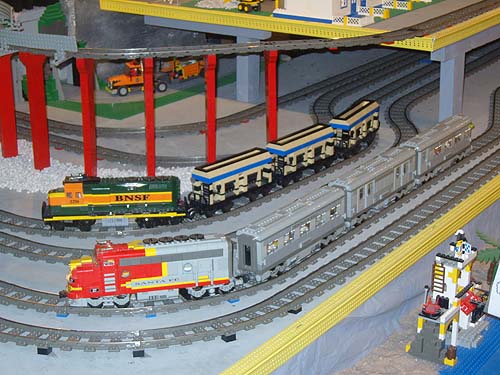 BNSF and SantaFe loco at Lego display
WEDNESDAY 30th April
With a long train journey in front of us we took a last visit to the casino buffet to fill up on the various breakfast items available, before collecting our bags from the hotel and getting a taxi to the railway station.
Our Amtrak train was on time and we took the short journey over the border to Niagara Falls NY station where we sat as booked for two hours for the customs formalities to be sorted, although there was time to get out and photograph the train once this had been done. Once we left we started losing time rapidly and by Syracuse, not far into the journey, we were already 110 minutes late and this remained fairly constant until our arrival at Albany where a loco change took place and we made up some time, departing there 85 minutes late. We eventually arrived in New York at 2310, luckily there was a 2321 train to get us to Secaucus. At Secaucus we jumped in the taxi at the head of the queue but the driver was a bit of a dimwit who asked where we were going and then quoted us $20 for the trip before asking again where we wanted to go and then for directions to get there. Obviously this guy didn't have a clue what he was doing so after having a bit of a rant at him we got in the taxi behind which took us swiftly to where we were going for $12 including tip.
Once at the hotel we checked in but the Bert seemed a bit cagey when I asked him about the roll up bed that had been requested, and indeed when questioned again his reply was "I think there is one in that room" which gave me the impression that there wasn't, and sure enough I was right. I had to go back to reception to tell him that there was no roll out bed (which I'm sure he already knew but couldn't be arsed to do anything about) at which point he sent me back to the room and said he would sort it out shortly. About ten minutes later he turned up looking a bit disgruntled with a roll away bed, sloppy service but in the event we didn't get charged the extra supplement that we should have paid for it.
MOVES:
AMTRAK 176 (64) 1030 Niagara Falls ON to Albany
AMTRAK 716 (64) 1915 Albany to New York Penn
NJT 4421 (6299) 2321 New York Penn to Secaucus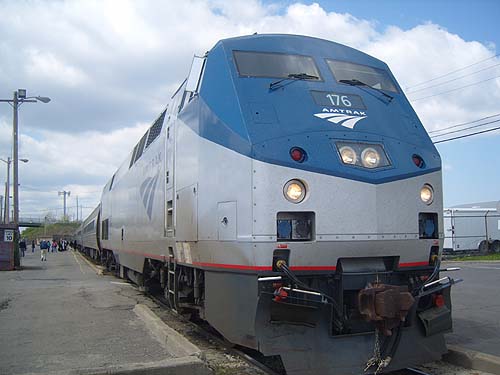 Amtrak 176 at Niagara Falls NY
THURSDAY 1st May
Our last day away, and with a late flight there was a time to do a few moves on NJT, we opted for a move to Suffern and then back to Secaucus and onto Hoboken, going out and back via a different route. Our outward journey was a bit problematic from the start when one of the passengers boarding the train fell over and cut her leg causing us a delay while she was patched up, and then further up the line we stopped between stations for a while due to a fault with the train. We eventually arrived at Suffern about 40 minutes late meaning we missed our intended train back towards Hoboken, which then put us an hour behind schedule, however it didn't cause a problem for us. Our journey back to Secaucus and onto Hoboken was uneventful, we then proceeded to make our way into New York where some last minute souvenir purchases took place before a meal and beers in the Hartland Brewery place at the foot of the Empire State Building. Once we were fed and watered we made our way to JFK airport using the Long Island Railroad to take us to Jamaica for the air train the rest of the way. Upon boarding the flight we were held up waiting to offload a passenger who had a nose bleed that wouldn't stop, and then more delays whilst we staggered around the airfield before eventually reaching the runway and taking off. The flight back to London was OK, with better entertainment than on the outward flight meaning I spent most of the flight watching TV instead of trying to sleep, which would have been a better option. After flying round and round in circles over London for what seemed like a lifetime we landed and moved to a remote stand where we waited ages for a set of steps to turn up, but with us being at the back of the plane and with one set of steps provided at the front you can imagine how long it took us to get off behind every other passenger on the full jumbo jet. Once through passport control we found no sign of our bags on the baggage reclaim, we were just about to go and report them missing when I noticed they had been dumped alongside the carousel at the other end from where we were standing, thanks then hopeless hopeless Heathrow. A dossed out journey along the M4 back to South Wales on National Express then drew an end to an enjoyable trip.
MOVES:
MNRR 4192 (45) 0957 Secaucus to Suffern (via Bergen County) (Loco operated by NJT on behalf of MNRR)
NJT 4120 (1110) 1154 Suffern to Hoboken (via Main Line)
NJT 4032 (49) 1310 Hoboken to Secaucus
NJT 4605 (3844) 1321 Secaucus to New York Penn
LIRR EMU (2056) 1515 New York Penn to Jamaica
BA G-CIVG (BA0176) 1930 New York JFK to London Heathrow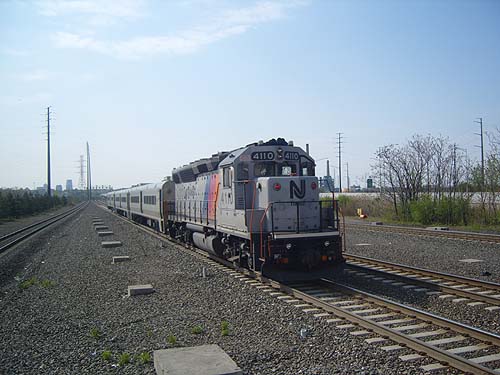 NJT 4110 shoving a train away from Secaucus towards Hoboken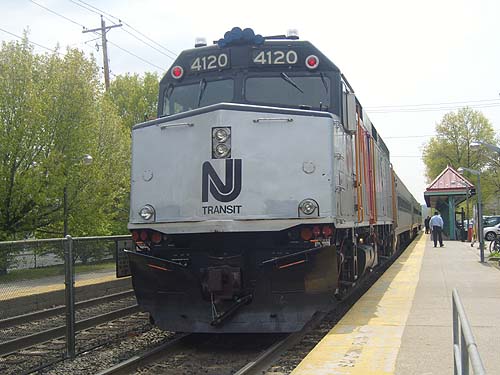 NJT 4120 at Suffern
CONCLUSION
A very good trip for all off us, Andy and Glyn enjoyed themselves which pleased me, and all the hotel and train bookings went as planned apart from a couple of minor niggles. Once again, from my own point of view, I thought it was a good mix of doing some long distance trains and local trains, as well as getting the chance to do some photography and sightseeing as well. Like last time, a particular highlight was staying at the Station Inn at Cresson which is a great base for a bit of railfanning, made all the better thanks to the hospitality shown by Tom and Sandy. Looking forward to next time...