The Great Summer Croatia & Czech Bash, 2008
More travels from Pete Callaghan...
One event that I was keen to take part in during the summer was Czech Railways using the early built class 751s on service trains during the Czech bank holiday weekend of July 5th & 6th. Luckily the dates fell bang in the middle of a rostered 18 day break from work making it ideal for me, however to spend the whole of the time in Czech would be a bit much, so a plan was devised to combine it with an overdue visit to Croatia from where I could get a direct train to Czech later on. Flights were booked from Bristol to Split outward and Praha to Bristol for the return. New locos/planes are underlined.
Saturday 28th June
An early start was needed to get to Bristol in time for the 0735 flight to Split, but with no public transport available to get me there that early my father was kind enough to drive me to the airport. Once checked in and into departures the inevitable late boarding of the plane that seems to happen to me on every easyJet flight took place, and once on board the even more inevitable announcement that we had missed our slot took place, new slot in 40 minutes but we are trying to get that bought forward, as usual slot didn't get moved forward. Just short of an hour behind schedule we started off for the uneventful flight of which I spent most of the time asleep.
Upon arrival at Split I was surprised to see how busy it was as we jostled to find a position to park the plane in. With the airport being so busy it was odds on that the baggage would be slow to come through, which was indeed the case, during the wait I managed to get involved in a bit of fracas with some ignorant German bloke who thought it was OK to push and shove people about at the baggage reclaim, after giving me one shove too many he was lucky that he didn't end up on it himself.
I made my way into Split using the airport bus, my attempts at getting a taxi to Kastel Stari from where I could get a diesel hauled train into Split were fruitless as the greedy taxi drivers were only interested in bigger fares. I got to Split station just as the train arrived with 2062001 and met up with a few British cranks who got off it. With a break in the service for the time being, some of us made our way to the beach where I elected to sit in an air conditioned bar while the others took a dip in the sea, the temperature was up in the 90s and too hot for me to want to sit out in.
Back at the station there was a choice of two trains, 2062001 again on the local service, but more importantly 2062025 was sat on the little advertised summer Saturday's only Beograd service. Green beast 2062025, a Vinkovci loco presumably on loan to the Split line for the summer season, looked and sounded great, all of us Brits (seven in total) sat in the front coach of the train which was a first class Serbian compo coach, indeed we were the only people in the coach with all the other passengers taking their places in the other three vehicles which were a combination of couchette and sleeper coaches. At Kastel Stari we were delayed for about 90 minutes waiting for an engineering block up the line to clear, but slack timings meant we arrived at Ogulin not far from right time.
At Ogulin the majority of the Brits elected to carry on towards Zagreb electric hauled, whilst I headed to the office on the platform to get the gen as to what was doing the two southbound overnights. The news was good, one of my last two 2062s in service, 2062042, was allocated for the first train, whilst 2062025 was allocated to go back south on the second. I passed on the news to the others and two of them joined me to do 2062042 which should have departed at 2320 but the train was late....
MOVES:
G - EZIS (EZ6205) 0735+55' Bristol to Split
2062 025 (13211) 1544 Split to Ogulin 326km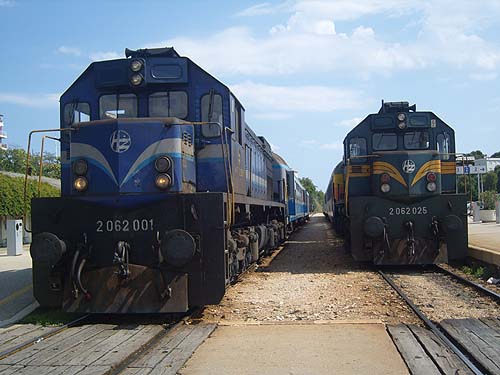 Seen at Split, 2062001 waits with the 1532 service to Perkovic
with 2062025 also in the station wth the 1544 service to Beograd.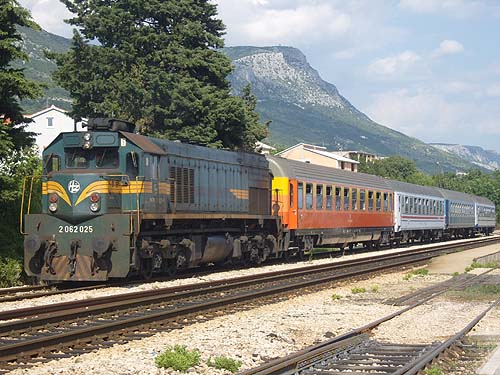 2062025 at Kastel Stari during a delay caused by engineering works up the line.
Sunday 29th June
The booked 2320 departure eventually went 90 minutes late, no doubt having been delayed at Zagreb for its portion from Praha which had been causing problems on a regular basis prior to my arrival in the country. With the news that 2062008 was the first northbound overnight and a refurb 2062/1 was doing the second northbound, the move was to get off for the "real" but with the late running it meant that we could only get as far as Vrhovine for it. At Vrhovine we arrived first and waited a few minutes for the arrival of 2062008, 2062042 then departed south and we waited for 2062025 to cross us on the second southbound as the late running of the first southbound meant it was virtually right behind. Obviously I would have liked to have done 2062042 all the way to Split but being a Sunday the local service is reduced and would therefore mean a lot of hanging around, apart from this my (by now) last 2062 was reported as being at Zagreb so it made sense to head that way just in case.
A good doss was had to Zagreb where the two I had done the overnight with headed off towards Osijek, during my wait I bumped into two more cranks taking the total for the trip so far upto a credible 9 people. Before long the loco for the 0720 departure to Budapest came off the shed and I couldn't believe my luck as it was 2062055, my last required 2062 in service. The stock for the train was still being shunted which gave the opportunity to cane in one of the station goats before the 2062 backed onto the completed consist of load 9, a heavy load by any standards which meant the loco would have to work hard, and in fairness it was an excellent run to Varazdin where I bailed off the train.
At Varazdin with a bit of time to kill before the 1042 departure I booked into a pension opposite the depot, thus giving me a bag free rest of day. The loco for the 1042 came off the shed as I looked through the window, I was hoping for a 2043 or 2062, but the last remaining 2044 in green livery was a more than reasonable third choice.
With nothing other than 2044s working on line 12, 2062055 having finished its one way diagram already, I elected to take 2044007 to Zagreb and then back north in order to get on low mileage 2044004 on a long circular journey along lines 12, 20 and 16 later in the day. I eventually ended up getting to bed at about 2300 getting a few hours sleep prior to an early wake up the next day.
MOVES:
2062 042 (B1823) 2320+90' Ogulin to Vrhovine 68km
2062 008 (B1822) 0242+20' Vrhovine to Ogulin 68km
1142 005 (B1822) 0408+20' Ogulin to Zagreb 109km
2132 305 (Shunt) 0700 Zagreb stock shunt
2062 055 (B205) 0720 Zagreb to Varazdin 104km
2044 007 (3011) 1042 Varazdin to Zagreb 104km
2044 007 (992) 1416 Zagreb to Donji Kraljavec 132km
2044 004 (995) 1709 Donji Kraljavec to Koprivnica (via Zagreb) 220km
2044 004 (3618) 2151 Koprivnica to Varazdin 42km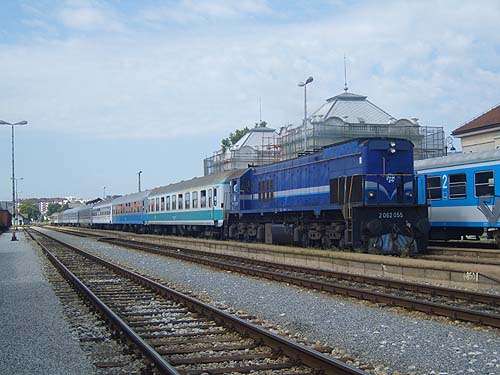 2062055 at Varazdin with the 0720 Zagreb to Budapest, which conveys
various other portions too.
Monday 30th June
I was up before 4a.m. to cover the hauled turn to Golubovec which started only at the beginning of the current timetable, the 0421 outbound and 0645 return being the only trains which get hauled along the branch. On board I met up with yet another two cranks over from the UK. At Golubovec I elected to come back on the DMU departure prior to the hauled train as I wanted to get over to Koprivnica for the first hauled train of the day to Osijek, thus arrving there in time to cover the Vinkovci 2062 turn to Beli Manastir.
At Koprivnica with time to kill I headed to the hotel outside the station and enquired about the possibility of having breakfast, and after about ten minutes I was led to the downstairs dining room where I found they had prepared for me a jug of squash, a mountain of lovely fresh bread, a yoghurt and a main course of an omelette all for less than £4.
Back a the station I noticed somebody photting the loco on the Osijek train, turned out to be yet another UK enthusiast so that made it a total of 12 for the trip. En route to Osijek the guard came round to inform us that we were being bussed between Slatina and Cacinci, a bit annoying and with no other move available there was no alternative but to carry on, hoping that the train waiting on the other side of the block would be hauled and not a unit. I've no doubt that HZ had requested some high quality buses with a high density luggage capacity, but as usual for Croatia the replacement buses were clapped out old bangers, myself and the other crank, Jeff, got on the emptiest of the three available but we soon got wedged out by some women and their tonnes of luggage who were a bit slow getting off the train. At Cacinci there was confusion with the luggage as I was twice challenged about walking away with my bag by the party of women who thought I had taken one of theirs. My disappointment at having lost some km's because of the bustitution turned into joy when I saw the train forward was hauled by the rare 2044028, a loco which I previously had only been hauled by on just one occasion and that was back in 2003. Once at Osijek I wasn't hungry enough to join Jeff for a meal so did a small leap out on 2044028 for a DMU back before heading to Beli Manastir on the 2062 turn.
The 2062 turned out be be high mileage 2062030, a winner for Beli Manastir though. Back at Osijek I got off the train whilst Jeff carried on, joined by the two cranks who I had been with on the overnight a couple of days earlier. I went for some food in the excellent Pizzeria Sandro, where as usual the owner recognised me despite me not having been there for over 9 months. After this I stuck on the Osijek line for the rest of the day, ending up on train 1984 as my move was to head overnight towards Rijeka to cover a turn which had been reported as a 2063 for the last few days.
MOVES:
2044 006 (3500) 0421 Varazdin to Golubovec 34km
DMU (3503) 0554 Golubovec to Varazdin 34km
DMU (3603) 0650 Varazdin to Koprivnica 42km
2044 026 (B783) 0821 Koprivnica to Slatina 94km
BUS (B783) 0953 Slatina to Cacinci
2044 028 (B783) 1021 Cacinci to Osijek 75km
2044 028 (B702) 1205 Osijek to Bizovac 20km
DMU (6015) 1225 Bizovac to Osijek 20km
2062 030 (B258) 1315 Osijek to Beli Manastir 28km
2062 030 (B259) 1422 Beli Manastir to Osijek 28km
2044 019 (B782) 1605 Osijek to Pitomaca 143km
2044 026 (IC581) 1857 Pitomaca to Durdenovac 84km
2044 011 (1984) 2103 Durdenoac to Koprivnica 128km
1141 226 (1984) 2340 Koprivnica to Moravice 227km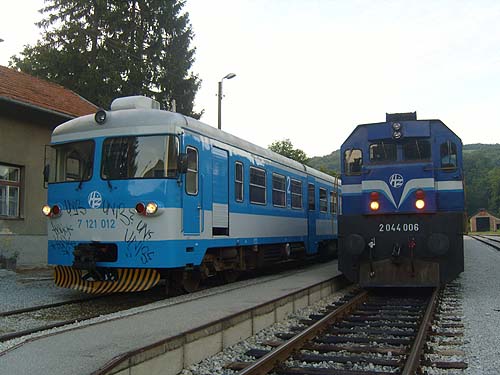 At Golubovec DMU 7121012 forms the 0554 to Varazdin with
2044006 alongside for the 0645 to Varazdin.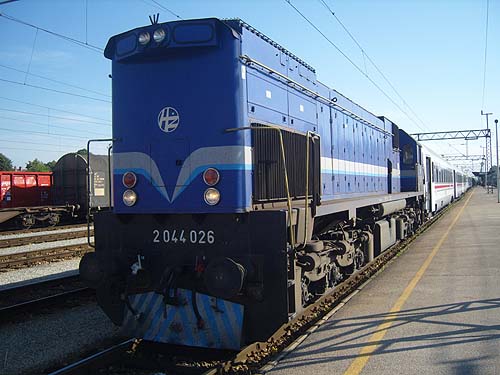 2044026 at Koprivnica with B783.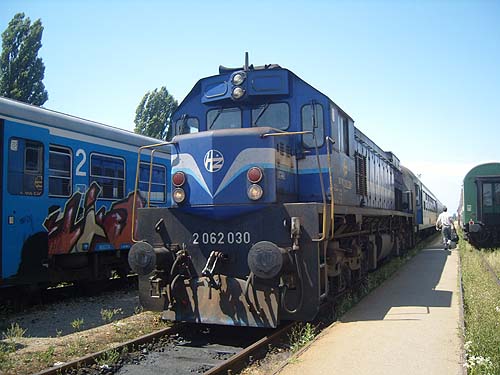 2062030 at Beli Manastir with B259, a Budapest to Sarejevo service.
Tuesday 1st July
The overnight turned into a very wedged affair, leaving Zagreb I found myself sharing the compo with 5 normals, with more people standing in the corridor. The train lost time meaning the +29 at Rijeka wasn't going to make, I risked going through as far as Susak Pecine just short of Rijeka where we crossed the train I was hoping would be a 2063, but HZ obviously knew I was about as it was a 1061 electric for the first time in days, thanks then! I just about managed to scramble aboard just before it pulled out, so that was a bonus as getting stuck down in the Rijeka area wasn't an option, at least I could cut my losses by heading back towards Zagreb and some diesels on line 12.
Once again line 12 was being covered by nothing other than 2044s, so I found myself spending the afternoon covering as many turns as possible just to have a bit of variety with the locos. I ended up in Zagreb on train 3019 as I wanted to do the first of the sleepers towards Split as doing this train offers more options, in the event the train was again delayed awaiting the portion from Praha. Eventually the train from Budapest arrived with its portion for the second sleeper, so I jumped on for the shunt and then got myself a compo in the rather empty coach that would detach at Perkovic for Sibenik. We departed on the second sleeper on time with the first sleeper remaining in the platform with still no sign of the arrival from Praha.
MOVES:
1061 007 (1984) 0333+30' Moravice to Susak Pecine 87km
1061 012 (B703) 0550 Susak Pecine to Moravice 87km
1141 378 (B703) 0740 Moravice to Zagreb 139km
2044 017 (3008) 1123 Zagreb to Hrascina Trgovisce 69km
2044 007 (3013) 1308 Hrascina Trgovisce to Zagreb 69km
2044 001 (B790) 1515 Zagreb to Konjscina 62km
2044 004 (3017) 1647 Konjscina to Gajnice 54km
2044 010 (3016) 1813 Gajnice to Spickovina 37km
2044 016 (3019) 1929 Spickovina to Zagreb 45km
2132 303 (Shunt) 2230 Portion B204 to B825
1141 105 (B825) 2255 Zagreb to Ogulin 109km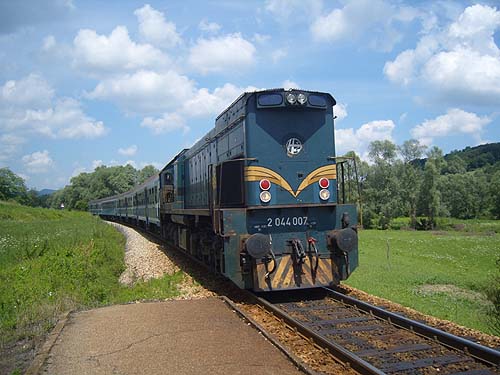 2044007, the last operational 2044 in green livery, pulls into Hrascina Trg with train 3013.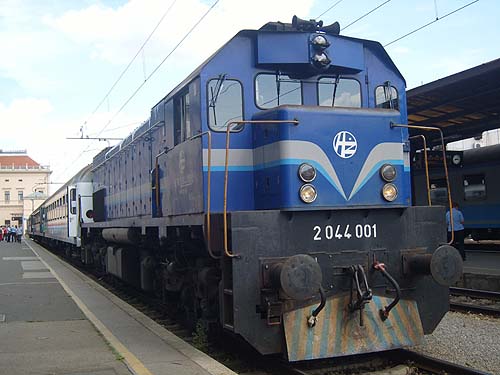 2044001 at Zagreb with train B790, the 1515 to Kotoriba.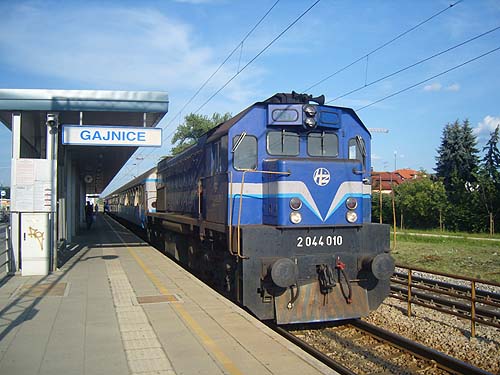 2044010 at Gajnice on the outskirts of Zagreb with train 3016.
Wednesday 2nd July
I woke up as we arrived at Ogulin but was too late to view the loco going forward and as I was now at the back of the train I didn't have time to risk leaping towards the front to find out. I had some good doss as far as Knin where I noticed that 2062026 (another green Vinkovci loco on loan) was waiting to work the Zadar portion off the first sleeper that was still behind, I would have liked to have gone to Zadar on it but it would have been so late into Zadar that it would have messed up the rest of the day. Whilst at knin I noticed from the back of the train that we were having a loco change, meaning that I would have to do a bit of investigating later on to find out what had worked from Ogulin. At Perkovic I wandered to the front of the train to find that it was 2062106 that had worked from Knin, and 2062116 was waiting to work the portion to Sibenik. Also in the station was 2062029 on load one vice unit meaning that if I elected to go to Sibenik I would be having a diesel back out as well.
I headed back to my compo in the coach that had now been left behind by the main train, as 2062116 backed on with another coach ready for the short run to Sibenik. At Sibenik I waited around the station for 2062029 to arrive and took that back to Perkovic where it connected with 2062001 on the local train to Split, which was late departing meaning upon arrival at Split by the time it had run round it departed again almost straight away with the Unesic service. At Unesic there was time for a much needed cold beer (temperature was in the 90s again) before heading to Split again for a 2 hour layover before the next service.
During the layover in Split I had some food before heading to an internet place to check out what loco had worked from Ogulin earlier, thanks to Tony Underwood's website. I managed to spend most of the other time hiding from the hot sun before heading back up the hill to Perkovic with 2062001 still sticking to the local service like glue. At Perkovic I visited the local pub, which is known to many of us bashing Croatia as "Happy Harry's laughter emporium". I was the only customer inside the pub, whilst the proprietor, Happy Harry himself, sat outside wearing his usual miserable expression.
Back on the station I decided that if the unit turn to Sibenik arrives from Knin with a diesel then I would do it, if not I would head back to Split on 2062001. The Sibenik turn was indeed hauled again with 2062029 still in charge, so I did it with the intention of getting a bus to Zadar and hoping 2062026 would work the train out of there later. The bus to Zadar cost about £4 for the journey of about 80 minutes, and upon pulling into Zadar I could see that the loco was a refurb which was a bit disappointing, but I was a little happier when I found out it was a winner for re-numbering, 2062113. The train was formed of two coaches, the front coach going as far as Knin and the second coach destined for Zagreb. I sat in the front coach and was the only person in there all the way to Knin where I swapped to the Zagreb coach which still had a couple of empty compartments. At Knin the station shunter dropped onto the Zagreb coach ready to shunt it onto the sleeper ex Split which arrived with 2062120. Once the 2062 had cut off the train we were shunted onto the front where 2062120 backed on again once the 2132 had cleared. I must admit that in the past 2062120 has been one of my least favourite 2062s, but being in the front coach of load 12 I had a bellow whilst the train climbed away from Knin and I was impressed, the loco sounded superb as it struggled to lift the train at little more than walking pace for quite a while. The gen came through that 2062026 was heading south on the first overnight so I decided to get off for that at the crossing point which would be Gospic.
MOVES:
2062 117 (B825) 0031+10' Ogulin to Knin 224km
2062 106 (B825) 0440+20' Knin to Perkovic 54km
2062 116 (5831) 0559+15' Perkovic to Sibenik 22km
2062 029 (5802) 0740 Sibenik to Perkovic 22km
2062 001 (5503) 0823+30' Perkovic to Split 48km
2062 001 (5504) 1003 Split to Unesic 60km
2062 001 (5505) 1214 Unesic to Split 60km
2062 001 (5506) 1532 Split to Perkovic 48km
2062 029 (5805) 1709+15' Perkovic to Sibenik 22km
BUS (xxxx) 1900 Sibenik to Zadar
2062 113 (1920) 2100 Zadar to Knin 95km
2132 040 (Shunt) 2320 Portion off 1920 to B1822
2062 120 (B1822) 2331+15' Knin to Gospic 108km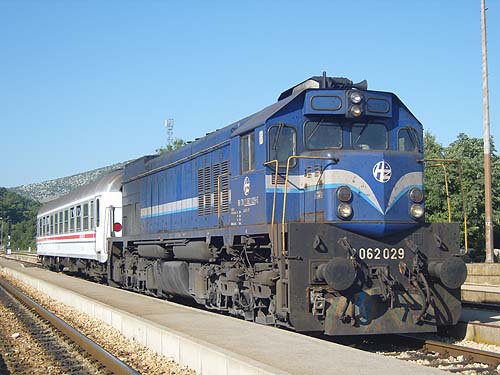 2062029 at Perkovic with train 5802, the 0740 Sibenik to Knin, usually worked by a single car DMU.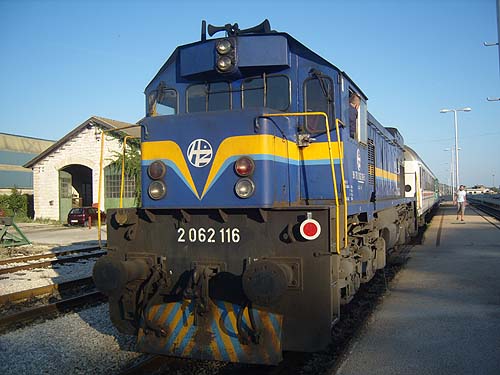 2062116 at Sibenik having arrived from Perkovic with train 5831.
Thursday 3rd July
I managed to get a compo to myself for the run from Gospic to Split which produced 2062026 as expected. At Split I found the same two cranks who had joined me on my first overnight of the visit were also on board and we proceeded to get on the local train which was still being worked by 2062001, which we stuck with all day with all the usual formalities taking place, i.e. beers at Unesic, beers and check e-mails at Split, beers at Happy Harry's, more beers and a meal in Split.
My move tonight was limited to having to stick with the first of the overnights out of Split as I was heading onwards into Czech and the first overnight conveys the portion for Praha. I secured a comfy compo in the Czech half brake which would be my home for the next 20 hours and managed a good nights doss to Zagreb. I was more than happy that 2062026 worked this train out of Split.
MOVES:
2062 026 (B1823) 0137+40' Gospic to Split 210km
2062 001 (5502) 0705 Split to Perkovic 48km
2062 001 (5503) 0823 Perkovic to Split 48km
2062 001 (5504) 1003 Split to Unesic 60km
2062 001 (5505) 1214 Unesic to Split 60km
2062 001 (5506) 1532 Split to Perkovic 48km
2062 001 (5507) 1720 Split to Perkovic 48km
2062 026 (B1822) 2100 Split to Ogulin 326km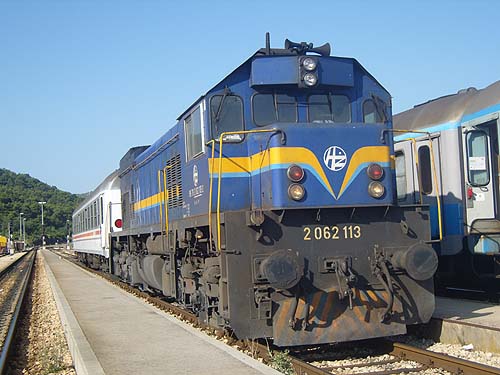 For the second day in a row train 5802 is diesel hauled vice unit. 2062113 is seen at Perkovic.
Friday 4th July
Upon arrival at Zagreb there was a short break so provisions for the rest of the long journey ahead were obtained. Upon arrival at Koprivnica I noticed a 2044 moving around the east end of the station and thought that it would be nice if it took the train forward. After about 5 minutes I was surprised to see the shadow of the electric hauling the train I was on move away, and indeed the 2044 was attached for the journey over the border into Hungary, very rare track for a diesel as far as I know.
Once over the border into Hungary at Gykenyes a MAV M41 was attached to work the train to the Slovakian border at Rajka, I didn't realise that we would be entirely diesel hauled through Hungary, but as it was a boring (and not even required) M41 I spent most of the time asleep.
From Rajka a Slovakian 240 took the train forward as far as Bratislava, where for the first time since leaving Split I found myself having to share the compartment which wedged out as soon as the train stopped, no doubt the carriages that were then attached to the front of the train remained empty. The bloke who sat next to me had a dog in a cage which he decided he would let sit on his lap, however the excited mutt started flapping its tail about in my face which I found unpleasant and the bloke put it away again after I motioned to him to get it away from me, although he wasn't happy about it, but sorry, I don't expect to have to put up with that sort of thing when taking a train journey. Within about an hour I had the compo to myself again for the final part of the journey into Czech, I stayed on the train as far as Zdar to intercept R681 as one of the UK road show had text me to say he was on it from Praha. From there it was back to Tisnov, where we had a hotel booked for three nights along with several others, but upon arrival at Tisnov we found 751004, one of the locos due to work over the weekend, was already out on a passenger service, a positioning move no doubt. A quick text to a couple of people resulted in several of the Brit road show showing up from some pub or another for this pre main event appetiser, we took the train to the Nedvedice where we nearly missed the last service of the day back to Tisnov, luckily Russ had been quick enough to prevent the redcap giving it the right away as most of us were still getting off 751004 at the time. In reality we should have bailed of at the station before Nedvedice but none of us were paying any attention - three or four taxi's back from Nedvedice could have proved a bit costly!!
Once back at Tisnov it was time to check into the hotel before some food and beers, and a good nights sleep before what should be an interesting weekend.
MOVES:
1142 005 (B1822) 0408 Oguln to Zagreb 109km
1141 029 (B783/1201) 0640 Zagreb to Koprivnica 88km
2044 026 (B1201) 0812 Koprivnica to Gyekenyes 15km
M41 2319 (B1201) 0845 Gyekenyes to Rajka 294km
240 133 (R1202) 1340+20' Rajka to Bratislava Hl.n. 35km
363 064 (R1202) 1444+25' Bratislava Hl.n. to Zdar 229km
363 109 (R681) 1829 Zdar to Tisnov (via main line) 56km
751 004 (Os14922) 1941 Tisnov to Nedvedice 16km
DMU (Os14925) 2009 Nedvedice to Tisnov 16km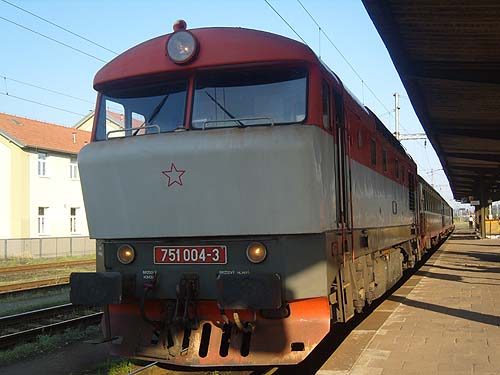 We didn't expect any 751 action today so 751004 on Os14922 was a bonus.
The train is seen at Tisnov waiting departure time.
Saturday 5th July
The first day of the Tisnov line specials. This weekend was to see the use of the early built "grumpies" on service trains over the Zdar to Tisnov route via line 251, with a couple of trains starting from or extending back to Brno. Locos that were due to be out were 751001, 751002, 751004 and 749006 (formerly 751006 prior to fitting of ETH equipment) and all produced as per the diagrams they had been quoted on. 751007 had also been quoted in the lead up to the event had it been ready in time but didn't make it. Also out on the line today were 2 large steam locos so there was a lot of interest all round.
I started my day by heading towards Brno for 751002, intercepting it just outside Brno at Kralovo Pole station. The rest of the day was spent on line 251 taking turns to ride on the various 751s that were shuttling back and forth. The whole day proved to be simply superb, with 751004 in particular being a star performer, with 001 and 002 also putting in some good runs as well. There were a significant amount of UK cranks about, I think about 40 in all turned up during the weekend. The amount of line side photographers around as well was quite high, in some of the popular locations there were sometimes 40 or 50 to be seen at any one time.
At the end of the day a large group of us took a meal together in Tisnov before a few beers, reflecting on what had been a great day out and looking forward to a similar day tomorrow.
MOVES:
362 173 (R671) 0658 Tisnov to Brno Kralovo Pole 21km
751 002 (Os14906) 0721 Brno Kralovo Pole to Olesna NM 65km
751 001 (Os14909) 0915 Olesna NM to Nedvedice 28km
751 004 (Os14908) 1008 Nedvedice to Nove Mesto NM 32km
751 002 (Os14911) 1109 Nove Mesto NM to Nedvedice 32km
751 001 (Os14910) 1208 Nedvedice to Nove Mesto NM 32km
751 004 (Os14913) 1309 Nove Mesto NM to Nedvedice 32km
751 002 (Os14912) 1408 Nedvedice to Nove Mesto NM 32km
751 001 (Os14917) 1509 Nove Mesto NM to Nedvedice 32km
751 004 (Os14916) 1608 Nedvedice to Zdar 46km
751 004 (Os14925) 1841 Zdar to Tisnov 62km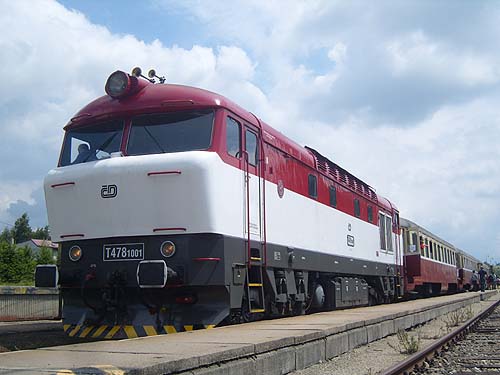 751001 at Nove Mesto NM.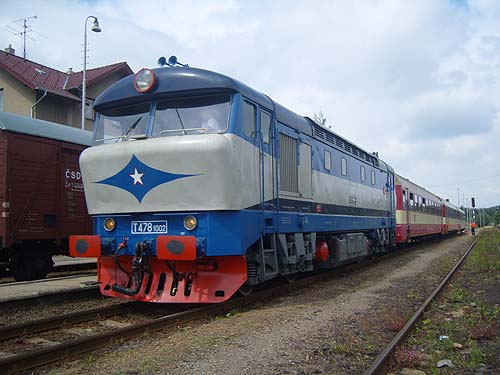 751002 at Nove Mesto NM.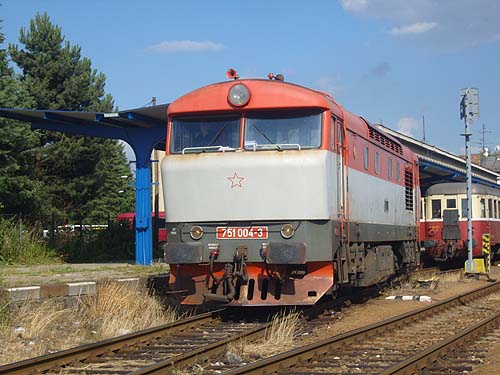 751004 at Zdar having arrived on Os14916.
Sunday 6th July
Time for more of the same, today I opted for a slightly earlier start as I wanted to head to Brno to have 749006 over the whole route, a change from having it on the various routes it usually works out of Praha. Once again it was an excellent day with all the locos working as per the quoted diagrams, and again 004 proved to be the best of the lot. During the day I even managed to get a cab ride for 10km's on 751001. I ended the day (with several other of the UK lot) by finishing with 751002 through to Brno, where many seminars were had before the train departed ECS. At one point we had wondered if it would get as far as Brno as it had shut down on the main line not long after leaving Tisnov. Most of the group staying in Tisnov headed back straight away whilst myself and Glyn stayed in Brno a while for some food and drink. Despite being the2nd city of the Czech Rep it was very quiet with little open. We ended up going back to Tisnov later on an EMU.
MOVES:
242 238 (Os4603) 0641 Tisnov to Brno Hl.n. 32km
749 006 (Sp1676) 0819 Brno Hl.n to Zdar (via JR251) 94km
751 002 (Os14911) 1041 Zdar to Nedvedice 46km
751 001 (Os14910) 1208 Nedvedice to Nove Mesto NM 32km
751 004 (Os14913) 1309 Nove Mesto NM to Nedvedice 32km
751 002 (Os14912) 1408 Nedvedice to Nove Mesto NM 32km
751 001 (Os14917) 1509 Nove Mesto NM to Nedvedice 32km
751 004 (Os14916) 1608 Nedvedice to Nove Mesto NM 32km
751 002 (Os14921) 1709 Nove Mesto NM to Brno Hl.n. 80km
EMU (Os4948) 2057 Brno Hl.n. to Tisnov 32km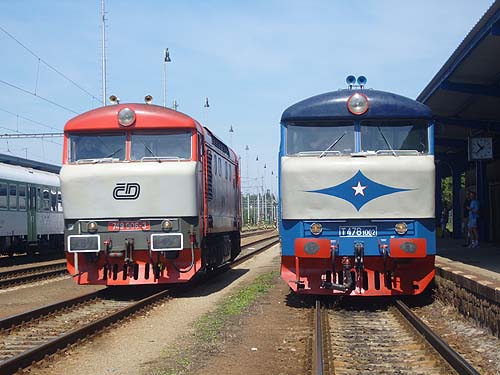 At Zdar 749006 runs round its train having arrived from Brno while 751002 waits to work the 1041 to Tisnov.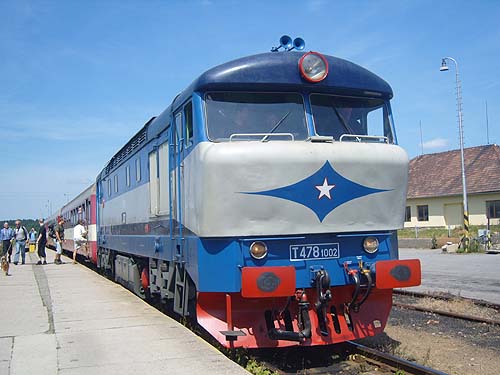 751002 at Bystrice.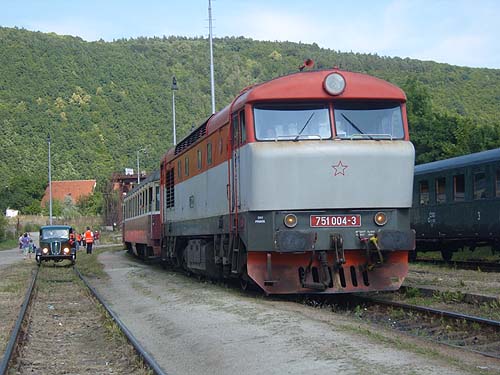 751004 arrives at Nedvedice with Os14916, whilst a car on rails gives rides alongside.
Monday 7th July
Another early start was required to head off and cover some 749 turns on the Jesenik line, with the hope that at least one of the three loud locos based at Sumperk (749107, 749250 and 749259) would be out and about. Upon arrival at Mohelnice where the electric gave way to a diesel we found that the silent 749254 was going forward, I had only had this loco for haulage on one previous occasion and that was back in 1998 when it was loud. Better news soon came as a text advised us that 749107 was heading our way from Jesenik so we bailed at Zabreh to have it to Mohelnice. At Mohelnice Russ had a word with the driver who said the loco was going back light to Zabreh to work a Sumperk service from there, however with that line in the process of being electrified the train would go only as far as Bludov but we still covered it anyway.
Upon arrival at Bludov the vast majority of the passengers carried on to Sumperk by bus, where as most of the UK cranks proceeded to get some photos during our half hour or so lay over, sadly the station bar looked like it had been out of business for quite a while. 749107 then proceeded to return us to Zabreh from where it went light back to Mohelnice to work a Jesenik train, we followed it to Mohelnice on a DMU, though we had food and drink at a place outside Zabreh station prior to this. The weather at Mohelnice was awful, cold and rainy, so we waited in the station building where seminar pictures were taken with the friendly station cat who found it all a bit bemusing. En route towards Jesenik we got the gen that 749250 was on R908 and when we passed 749259 at Ostruzna waiting to work a later service to Glucholazy just over the Polish border we couldn't believe our luck, a move was formulated meaning that we would have all three loud locos on the bounce, ending with a night in Jesenik. Ten of us ended our day having 749259 in and out of Poland before finishing in Jesenik where most of the accommodation was already full. In the end six of our party ended up in a dorm in a pension whilst the other four (myself included) stayed in the rather nice, if somewhat a little chingy Hotel Slovan. Once we had sorted out the beds for the night we all had a meal together in the excellent Laguna restaurant.
MOVES:
EMU (Os4925) 0621 Tisnov to Brno Hl.n. 32km
363 116 (R909) 0719 Brno Hl.n. to Mohelnice 134km
749 254 (R909) 0918 Mohelnice to Zabreh NM 12km
749 107 (R904) 1017 Zabreh NM to Mohelnice 12km
163 042 (Os3708) 1059 Mohelnice to Zabreh NM 12km
749 107 (Os13022) 1143 Zabreh NM to Bludov 8km
749 107 (Os13025) 1229 Bludov to Zabreh NM 8km
DMU (Sp1702) 1423 Zabreh NM to Mohelnice 12km
749 107 (R905) 1518 Mohelnice to Horni Lipova 68km
749 250 (R908) 1659 Horni Lipova to Ostruzna 8km
749 259 (Os3615/Sp1803) 1738 Ostruzna to Glucholazy 39km
749 259 (Sp1802) 1905 Glucholazy to Jesenik 22km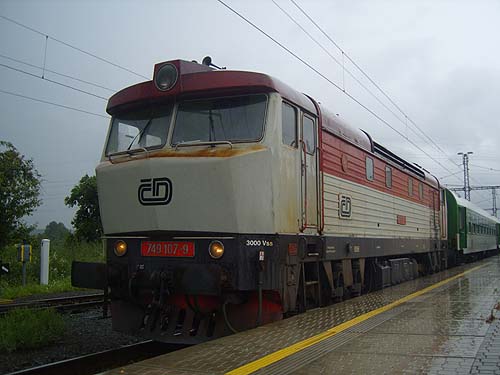 749107 waits to work R905 forward from a rather wet Mohelnice.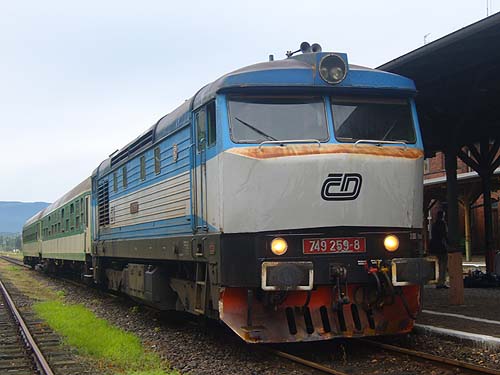 749259 is seen at Glucholazy having crossed the border from Czech into Poland.
Tuesday 8th July
It was another early start for most of us, getting up for R902 which by diagram should have been 749107 but ended up with equally acceptable (but higher mileage) 749259. Most of the party upon arrival at Mohelnice started making there way towards Ceske Budejovice via Praha where as I decided to take advantage of having a loud loco on the excellent Jesenik line by sticking around for the rest of the day. On R909 I was joined by Glyn who had done silent 749254 out of Jesenik on the train behind 749259 so that he could have an extra 2 hours in bed. Once back in Jesenik food and beers were taken during the long layover prior to departing on R906, which got as far as Lipova Lazne where silent 749265 was attached to the rear, luckily it didn't power so therefore no need to count it. We finished with 749259 later in the day at Zabreh, from where we took an electric into Praha, despite not showing in the timetable to stop at Vrsovice station the train we were on actually did, so we quickly leapt off and made our way to the Hotel Ronni where we had no problem securing a room for the night. More food and beers were taken before we turned in for the night.
MOVES:
749 259 (R902) 0633 Jesenik to Mohelnice 77km
749 259 (R909) 0918 Mohelnice to Jesenik 77km
749 259 (R906) 1438 Jesenik to Mohelnice 77km
749 259 (R907) 1718 Mohelnice to Zabreh NM 12km
150 215 (R706) 1846 Zabreh NM to Praha Vrsovice 201km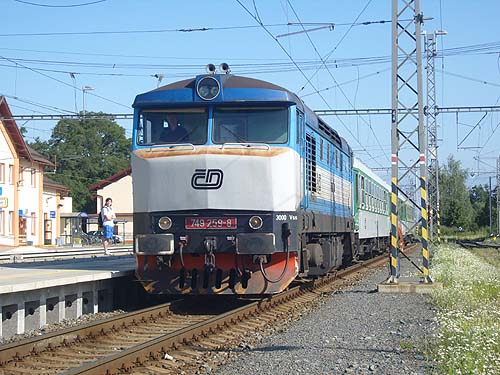 749259 about to be replaced by electric traction having arrived at Mohelnice on R902.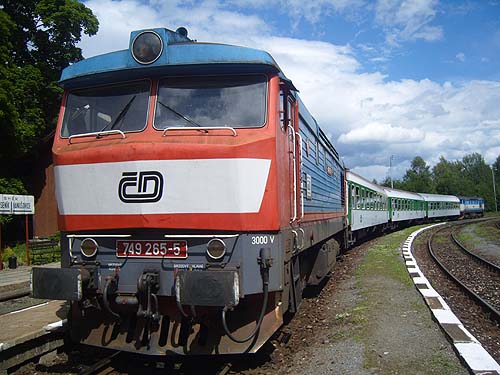 Silent 749265 on the rear of R906 at Horni Lipova, with train loco 749259 visible up front.
Wednesday 9th July
Oh joy, another early start to head towards Ceske Budejovice. We could have done an electric via the direct route, however we covered the 749 on the Praha Smichov to Susice train (train name "Otava") and were rewarded with loud 749102, although I was too tired to appreciate it as I slept for most of the journey. Once at Ceske Budejovice we booked a night in the excellent pension outside the station which opened up only at the end of last year. The afternoon was then spent on the line to Gmund, just over the Austrian border, with loud locos 749134 and very low mileage 749262 doing the honours. Sometime in 2009 diesel haulage along this route will be gone as electrification of the route is well underway During the evening we met up with the remainder of the UK group who had yet to go home, for the usual beers and food, so it was another late night, but enjoyable anyway.
MOVES:
151 016 (R200) 0641 Praha Vrsovice to Praha Smichov 3km
749 102 (R1590) 0729 Praha Smichov to Horazdoivce 180km
DMU (Os17573) 1040 Horazdovice to Horazdovice Predmesti 3km
242 266 (R665) 1052 Horazdovice Predmesti to Ceske Budejovice 77km
749 134 (Os8609) 1333 Ceske Budejovice to Gmund 52km
749 134 (Os8616) 1449 Gmund to Borovany 31km
749 262 (Os8611) 1530 Borovany to Ceske Velenice 29km
749 262 (R362) 1701 Ceske Velenice to Ceske Budejovice 50km
749 262 (R361) 1809 Ceske Budejovice to Gmund 52km
749 262 (Sp1760) 1917 Gmund to Ceske Budejovice 52km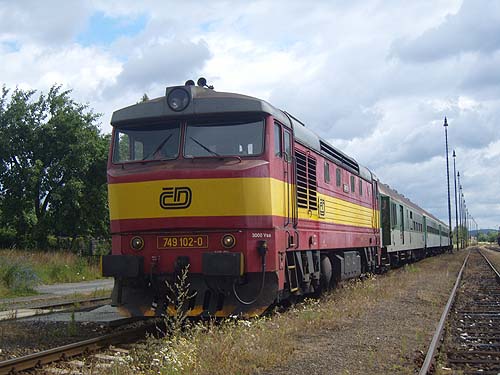 749102 at Horazdovice with R1590, the 0729 Praha Smichov to Susice.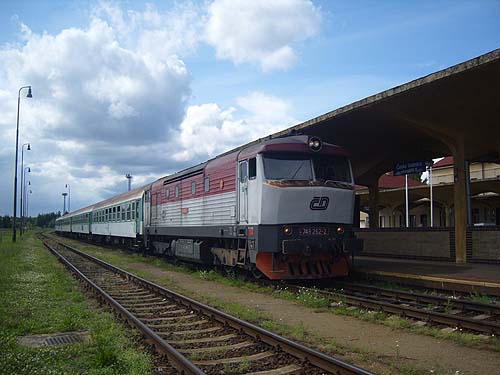 749262 at Ceske Velenice with Os8611.
Thursday 10th July
A late start compared to the last few days, my intention today was to get a bit more mileage off 749262 on the Gmund line which was how I started the day, after saying farewell to Glyn who was heading to Praha and his flight home. Upon departure from Ceske Budejovice silent 749247 was coming off the shed and I presumed would be doing the fast train along table194, not a problem as I wanted to stay on this route, table 199, all day anyway. The tight plus onto 749134 at Ceske Velenice made with a couple of minutes to spare, and once we set off I had a text to say that loud 749255 had done the fast train along table 194 and not the boring and silent 749247 as I expected. This now left me with a bit of a dilemma as I had never had 749255 anywhere along table 194 before, and to get to Volary for the return working would mean a long ride on an 810 "wheely bin" DMU, my mind however was made up on arrival at Ceske Budejovice when 749134 was replaced with 749247 meaning my moves along table 199 were now in bits anyway.
My trip to Volary to get onto 749255 yielded three new 242s and a sample of the local beers in the station bar at Protivin along the way. The unit I did from Cicenice to Volary was a slow affair taking 100 minutes to cover the 56 km's, luckily I had some company as one of the other Brits was doing the same move. We arrived in Volary at the same time as 749255 arrived from Ceske Budejovice (via Nove Udoli) meaning all of us who had not gone home yet were all together. We had food and beer in the usual place outside the station, I was impressed with the spicy chicken dish I had which had a bit of a kick to it, unusual for a meal in Czech. At the appointed time we took 749255 back to Ceske Budejovice via Nove Udoli but tiredness caught me up again and I slept for a long part of the ride. Once back in Ceske Budejovice it was food and beers again before I gate crashed a spare bed in a pension where a few of the others were staying.
MOVES:
749 262 (Sp1761) 0801 Ceske Budejovice to Ceske Velenice 50km
749 134 (R360) 0901 Ceske Velenice to Ceske Velenice 50km
242 283 (R360) 1002 Ceske Budejovice to Cicenice 30km
242 218 (Os8062/3) 1043 Cicenice to Protivin 7km
242 277 (R665) 1126 Protivin to Cicenice 7km
DMU (Os18006) 1145 Cicenice to Volary 56km
749 255 (Os13554) 1500 Volary to Nove Udoli 14km
749 255 (R1430/1) 1605 Nove Udoli to Ceske Budejovice 96km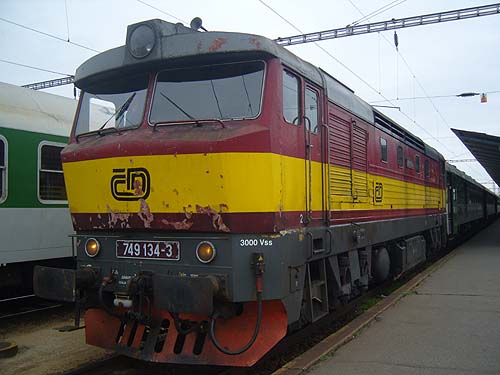 749134 at Ceske Budejovice having arrived with R360.
An electric loco would take the train forward from here and 749134 would head
to shed and be replaced in diagram by silent 749247.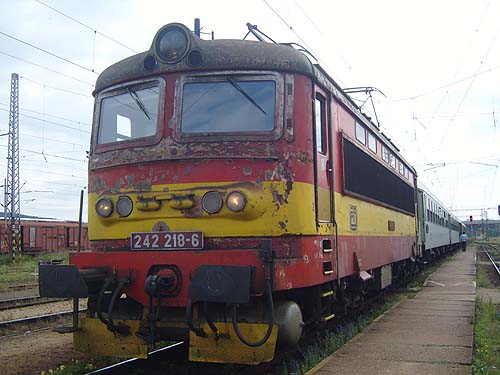 Work worn 242218 at Protivin.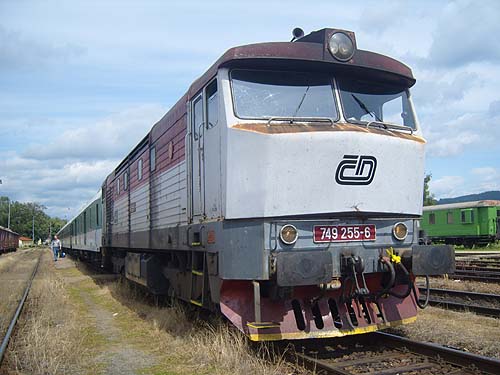 749255 at Volary with Os18554, the 1500 to Nove Udoli.
Friday 11th July
I made my way to the station for the stopping train to Cerny Kriz which produced the very hellfire 749018 with its shabby and battered body work. The last time this loco had a repaint was 14 years ago in 1994 when it was numbered 751018 and had a working boiler. The run to Cerny Kriz was quite good thrash wise, but the stock was a pair of rancid uncomfortable double deckers with a guards van also in the consist to accommodate the many cycles the were loaded and unloaded at various stations along the way. Once at Cerny Kriz there was time for a quick beer as the loco ran round for the trip back to Ceske Budejovice, once again reasonable thrash, but the highlight was the eight rateable bagletts in bikini's who sat by me from Borsov to Ceske Budejovice, made my day, shame it was only 8 km's they were on the train for though.
Once back at Ceske Budejovice I made my way to the new shopping centre near the station and had some grub before heading back to view "Bezdrev" the 1426 departure to Most. The gen had come through prior to leaving the UK that on this day the train would be hauled vice unit, and indeed 749255 and three coaches formed the train. By now the rest of the remaining UK contingent had shown up and we settled down for the long run to Most, some of us cursing that the loco was 255 as this used to be the regular loco for this train a few years ago when it was booked a diesel and coaches, oh well - could have been worse if silent 749247 or 749252 had been used instead, any of the other loud ones though would have been more desirable.
On arrival at Most we walked to the Hotel Murom which knackered me out, 25 minutes up hill with big bag not good for me as I'm a bit fat and lazy. At the hotel we discovered it was now called the Hotel Cascade with a lovely new reception area and new prices as well (its gone up a bit since I last stayed there in 2003) however once past reception and into the main part of the hotel nothing has changed, I recall the rooms here used to be basic and clean although a bit shabby, now they are still basic and clean but shabbier than they were before. The restuarant on the other hand has been done up and we had a good meal in there before retiring for the night.
MOVES:
749 018 (Os8143) 0742 Ceske Budejovice to Cerny Kriz 88km
749 018 (Os8146) 1052 Cerny Kriz to Ceske Budejovice 88km
749 255 (R893) 1426 Ceske Budejovice to Most 266km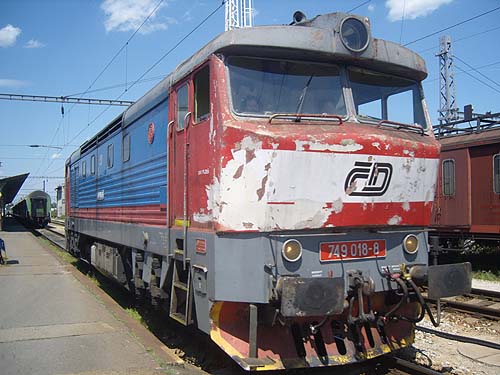 Tatty 749018 at Ceske Budejovice.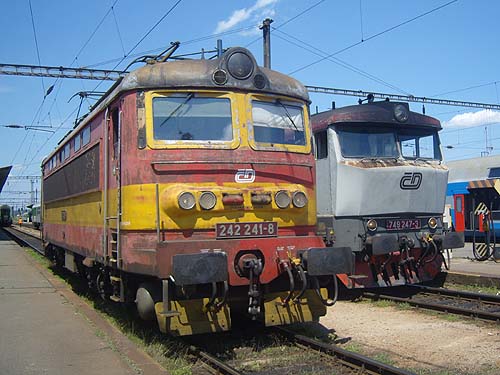 242241 and 749247 at Ceske Budejovice.
Saturday 12th July
My last day and its up early for the return working of 749255, although a taxi is used from the hotel to the station rather than walking. All of us bail off at Beroun, and everybody except me heads straight into Praha to cover the weekend 749 turns around there. I have a flight in the afternoon and as "museum" loco 720139 which is reported as loud is hanging round in the yard I decide to hold on and see if its going to do anything. After a while the crew of the little 720 get out and lock it up, obviously its going nowhere for the time being. Despite it still being early I decide to see if the brew pub near the station is open, and after wandering up to it in its unusual location (I can only describe it as being in a builders yard!) I find it is. A couple of beers and a meal are consumed before I head to the station for a fast train to Praha Smichov, where I hear loud music belting out from the station bar. I investigate and find they have a Dave Gilmour (of Pink Floyd) DVD playing at full volume so with a little time to spare I have a couple of beers whilst enjoying the entertainment. By the time I leave, the DVD is finished and a Motley Crew one goes on instead. Thanks to the excellent transport system in Praha I soon find myself at the airport with the minimum of fuss and its time to scratch another easyJet airbus back to the UK.
MOVES:
749 255 (R892) 0606 Most to Beroun 117km
363 079 (R855) 1208 Beroun to Praha Smichov 39km
G - EZDA (EZ6268) 1620 Praha to Bristol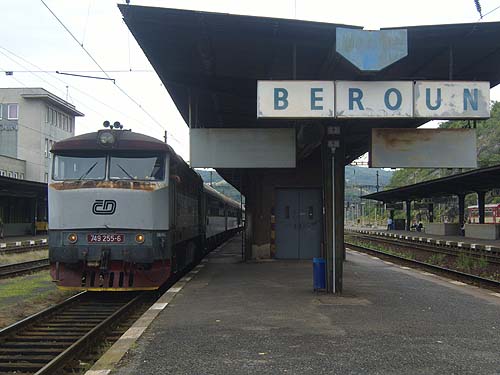 749255 at Beroun with R892.
SUMMARY:
An excellent two weeks made all the better by bumping into so many people along the way. Croatia was excellent with plenty of 2062/0 action on the Split line and nice to get some long runs behind a couple of Vinkovci based machines as well. Czech turned out to be one of the best visits I've ever had, the 751s did everything they were quoted to do (and more) and there was plenty of loud 749 action to be had after the Tisnov weekend. It was good to see a lot of Brits turn up for Tisnov, apart from railtours surely must have been the most bashers together in Europe at any one time. Thanks are extended to Russell Sedgewick who posted the Tisnov gen and diagrams prior to the event, cheers fella!