The Big USA Bash, November 2008
Pete Callaghan describes and has supplied all photos in this review....
This trip was planned with the main intention of scratching my last two out of the four main routes that lead from Chicago towards the west coast of America, these being the two most northerly routes, i.e., one route along the Canadian border via Wisconsin, Minnesota, North Dakota, Montana, Washington and Oregon into California, and then back along the other route through Nevada, Utah, Colorado, Nebraska and Iowa. A few other bits and pieces were thrown in for good measure.
Flights were booked with Virgin Atlantic for a bit more than I would have liked to have paid, I had to pay a bit more than usual though to get the times I wanted. The Amtrak 15 day pass and hotels were paid for when the exchange rate was £1 = $1.81 and money was exchanged at £1 = $1.705, by the time I left the UK the exchange rate was around the £1 = $1.50 mark so money was saved there.
All new planes / loco's are underlined.
Thursday 13th November 2008
After finishing a night shift it was a case of getting home to collect my bags before starting my journey to the USA. Booking advance tickets from Newport to Heathrow Airport would have cost in the region of £30 each way, however Newport to West Drayton worked out at £10 each way so this is what had been purchased. At West Drayton a frequent bus service operates to Heathrow and costs £2 for the 20 minute journey - a very cost effective way of getting to the airport.
Once through check in and into departures there was time for a quick beer before boarding the Airbus 340-600, a winning type of plane for me. Departure was on time and the journey was spent mostly sleeping. The captain announced an early arrival at Newark was likely, in the end though we ended up a little late due to congestion at the airport forcing us to fly round in circles for a while.
After getting off the plane and heading to the passport control it was found that all the staff were going off duty, so everybody had to wait for them to log off from their computers and disappear, then wait for the new staff to turn up and start up their computers before the queue started moving again, not ideal. Once my baggage was collected I made my way to Days Hotel at the airport using their courtesy bus, and after booking in it didn't take me long to get to sleep, even with the Airtrain light rail whizzing back and forth outside my window.
MOVES:
VIRGIN G-VRED (VS001) 1600 London Heathrow to Newark Liberty
Friday 14th November 2008
An early start was required to pick up the pre-booked Amtrak pass and associated tickets prior to the 0705 departure from Newark Penn. A taxi was taken to the station at 0530, I wanted to be there in plenty of time in case there was a problem collecting the tickets, this turned out to be a wise move as the ticket Ada had some trouble getting them printed - took about 20 minutes in total, but all done with a smile despite her being under pressure. Once the transaction was completed I was waved off with a cheery "goodbye, enjoy yourself" before heading to one of the food places on the concourse for an omelette breakfast.
The first train journey of the trip would take me to Chicago via Washington DC, all new track for me after Philadelphia. Washington was arrived at with an hour to go before departure, the loco changed from electric to diesel traction but apart from that there was little else to see as we were not in the main part of the station, arrivals into and departures from that part of the station could be viewed in the distance. I was disappointed that just one loco was attached for the forward journey, but not surprised as the train was quite a short load. The train was well loaded leaving Washington, the passengers included a nutty woman with a helper dog called 'organ', at least that's what it said on its brightly coloured jigsaw puzzle themed coat, turned out the mutt was actually named Morgan but the "M" had fallen off. On arrival at Charlottesville there was time for a photo or two of the loco but apart from that the journey into the night was uneventful and I fell asleep quite early.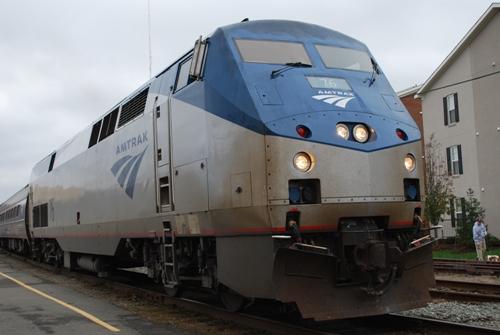 Amtrak 76 at Charlottesville with train 51.
MOVES:
AMTRAK 657 (51) 0705 Newark Penn to Washington DC
AMTRAK 76 (51) 1110 Washington DC to Chicago Union (arrival Saturday morning)
Saturday 15th November 2008
I woke up about two hours out of Chicago where arrival was about 30 minutes late, despite being timed for 2.5 hours for the last 29 miles. Once at Chicago Union my big bag was deposited into a locker so it didn't have to be carried around all day. There was a gap in departures for METRA services as on the weekends everything tends to depart within a few minutes of each other then there is a gap between the next wave of departures (usually 6 diesel hauled departures between two stations). A quick look around the station found a desirable pair of winners waiting on stock but it would be a case of wait and see as to what they would work. Some food was obtained at the other station, OTC, before heading back to Union where the winning pair were now shown as being the 1230 to Elgin - result! A $5 weekend rover was obtained and the pair was taken throughout and back again, I thought it was worthwhile as one of the loco's (118) was one of the batch built in 1977 and soon to be rebuilt. Once back at Union another of the old batch (112) was waiting with another departure, this was taken to Northbrook where an hours break was taken in a bar near the station, before one of METRA's most modern loco's took me back to the city. This time on arrival at Union I had just 12 minutes to collect my bag before heading out to Route 59 on the Aurora line to my hotel, but there was a problem with the locker as it asked me for my fingerprint before releasing the door, most strange as I hadn't given my fingerprint to deposit the bag. A member of staff soon sorted out the locker problem and I managed to get aboard my train to Route 59 with seconds to spare. Once at Route 59 a waiting taxi took me to the pre booked Red Roof Inn a couple of miles away, and after getting some food from one of the nearby outlets it was time for bed.
MOVES:
AMTRAK 76 (51) continuation of FRI 14th
METRA 118 & 212 (2709) 1230 Chicago Union to Elgin
METRA 212 & 118 (2716) 1355 Elgin to Chicago Union
METRA 112 (2613) 1545 Chicago Union to Northbrook
METRA 411 (2616) 1732 Northbrook to Chicago Union
METRA 401 (1319) 1830 Chicago Union to Route 59
Sunday 16th November 2008
For some reason the local taxi drivers seem to choose the car park of the Red Roof Inn as a place to park up and sleep, so it was easy enough to find a taxi to take me back to the station. There would be time for a few METRA moves before an afternoon departure from Chicago on Amtrak across to the west coast. The loco into the city was dud, and when in Chicago Union a look at what was working the next three departures revealed the loco I arrived on was going back towards Aurora and the other two departures were both dud as well. Over at OTC the three departures there were all duds too, but a move was taken in the hope of a winner back - but to no avail. On arrival back at Chicago I could have risked another short leap out on METRA but decided not to risk it as missing my Amtrak train was not an option. A couple of beers in the station bar however was an option and was duly taken up.
After beers I made my way to the Amtrak train "The Empire Builder" which would be my home for more than 50 hours. The rear two coaches of the train were a couple of privately owned heritage things, both looked quite hellfire and I wished I could have jumped into one of them for my journey. I had taken an Amrak train to Milwaukee on a previous visit which meant I wouldn't be getting any new track until 86 miles into the journey, however not long after leaving Milwaukee it started to become dark so I didn't get to see much of the route anyway. Arrival at St Paul Minneapolis found a few red loco's belonging to Minnesota Commercial around and about in the station, one of the loco's was used to detatch the private coaches from the rear of the train and shunt it into a siding, maybe I should have tried my luck and asked if I could have done the shunt. After departure from St Paul at 2315 I soon dossed out.
MOVES:
METRA 403 (1306) 0828 Route 59 to Chicago Union
METRA 163 (705) 1030 Chicago OTC to Clybourn
METRA 157 (321) 1043 Clybourn to Braeside
METRA 174 (808) 1139 Braeside to Chicago OTC
AMTRAK 195 & 105 (7) Chicago Union to Spokane (arrival Tue morning)
Monday 17th November 2008
I awoke at about 0700 at Rugby, North Dakota, where there was a fair amount of snow on the ground. As the train continued westbound the snow was thinning out a bit, but there was still some about at Minot which was a 30 minute service stop, and once the road tanker that was used to fuel the loco's had gone I managed a couple of shots of the loco's. Back on the train I spent some time in the lounge car with its large panoramic windows, soon the snow on the ground was all gone as we travelled further west through miles and miles of wilderness. There was plenty of freight activity along the line, in every one of the many loops a freight was passed, usually with automotive traffic as the consist. When lunch was announced I made my way to the diner car and had a Thai curry with rice which was quite nice, the next highlight being the arrival at Havre, Montana, where there is a large BNSF depot and plenty of loco's were seen. Once darkness fell I nodded off after setting my alarm to be awake at Spokane in the early hours of Tuesday.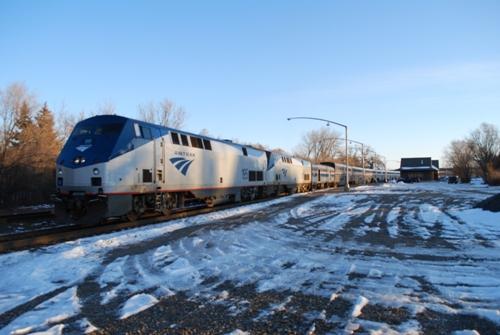 Amtrak 195 and 95 have just been refuelled during a service stop at Minot, North Dakota.
MOVES:
AMTRAK 195 & 105 (7) continuation of SUN 16th
Tuesday 18th November 2008
I awoke without the aid of my alarm as the train pulled into Spokane 30 minutes early at 0110 (not surprising as given 2 hours to do last 70 miles) and got off to watch the proceedings. The main portion of the train was due to continue at 0215 to Seattle, where as the portion I was in was due to carry on to Portland at 0245. I wasn't sure if the loco's would split and take a portion each or if something different would be provided for one of the portions. It soon became apparent that the loco's from Chicago would carry on with the Seattle portion, the only other Amtrak loco's around were a P42 Genesis paired with a P32, so I guessed they would be the power for the Portland coaches. During the wait at the station I stood on the platform as it was surprisingly mild, watching several big freights pass through. At 0215 the Seattle portion was on its way, and before long the P42/P32 pair backed onto the remaining coaches. As far as I know Amtrak P32's are quite rare on passenger trains, apart from a couple that are part of the Amtrak California fleet, so having one on the front of the train pleased me no end. After departure I had a few more hours sleep waking up again at about 0700. At the stop of Wishram there was opportunity to photograph the loco's before the train carried onto Portland where it arrived 15 minutes early, once again some generous timings made this possible as the train was given a whopping 75 minutes to cover the last 18 miles.
Once at Portland some more phots of the loco's were taken, and with 4 hours to kill before my next train I was hoping that I could stay on the station and phot anything else that may pass through. Before long I saw a security officer coming towards me and knew what was coming next, I was politely asked to leave the platform. Whilst I was being escorted away I managed to obtain some information regarding locations for photography from the security guy, and being moved on wasn't a bad thing as I ended up leaving the station and crossing a bridge to the other side of the river where I managed to get some snaps of a couple of freights and one of Amtraks "Cascade" trains with its Talgo stock. Prior to going back to the station I ate some food in a restaurant before going to catch the southbound "Coast Starlight" which arrived late, I couldn't believe my eyes as it pulled in as it was another P42/P32 combo - excellent, although the P42 wasn't a required one. The train eventually departed 50 minutes behind schedule and soon passed its northbound equivalent, another P42/P32 pairing, maybe the P32s are not as rare on passenger as I thought!
I spent some time in the lounge car as the train headed south towards California, there were some right treats aboard including a lad with pink hair who insisted on sitting by me and showing me his art work. All I saw was a load of pages with scribbles all over them, rubbish! Looked like a 2 year old had been let loose with a biro. Also in the lounge was a guy with knee high socks, one red and one blue, both with big white spots on, yeah lovely. Finally there was a bloke playing a DVD rather loudly, pretty annoying and made even worse as there was plenty of strong language, not good as a couple of families were about, however he soon got told off by one of the Amtrak attendants for playing "inappropriate material" and soon went away.
As darkness fell I made my way back to my coach seat, but not before stopping off in the arcade on the lower level of the coach next to mine. I never thought I would find myself playing Pacman and Space Invaders on a full size arcade machine whilst on a train, a bit strange trying to play these whilst the train lurched about. Once back in my seat a goods night doss was had.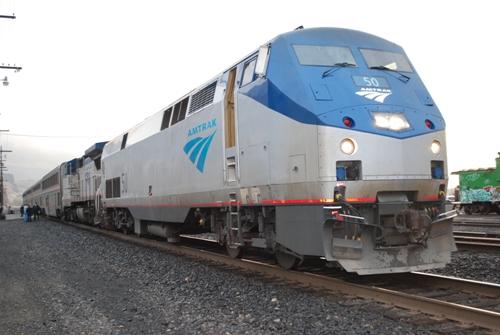 Amtrak P42/P32 combo pause at Wishram with the Portland portion of the "Empire Builder".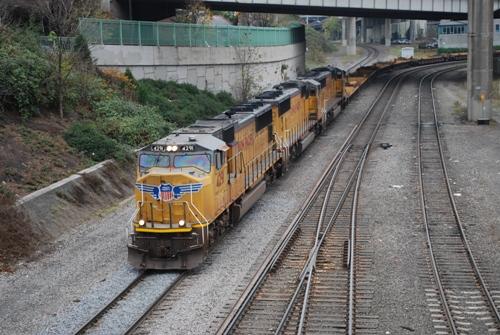 Union Pacific freight with loco's 4291, 4197 and 4000 head through Portland.
MOVES:
AMTRAK 195 & 105 (7) continuation of SUN 16th
AMTRAK 50 & 507 (27) 0245 Spokane to Portland
AMTRAK 98 & 503 (11) 1425 Portland to San Jose
Wednesday 19th November 2008
I woke from my slumber as passengers got on and off at Sacramento from where our departure was 30 minutes late. I made my way to the diner for breakfast whilst the train carried on heading south losing more time, by the time it arrived at my destination of San Jose the train was just over an hour late. At San Jose the Amtrak staff were happy to let me leave my bag with them whilst I caned in a few Caltrain loco's, a 3 zone rover was obtained for $11.50 for this. It was a pleasant day with blue skies and temperatures up in the 70's, not bad for November, and pretty good for photography too. I had to finish with Caltrain at about 1600 as I had to head back to Sacramento and my pre booked hotel there, a "Capitol Corridor" train operated by Amtrak California doing the honours to get me there - sadly though not with one of the two P32's they operate. Once in Sacramento I made my way to the hotel and then checked out the old town, a tourist area, but there wasn't much going on at this time at night. I also had a look downtown but felt a bit uneasy there as there were a few suspicious people about. Back at the hotel I was pleased to be sleeping in a proper bed for the first time in a few days and an excellent sleep was had.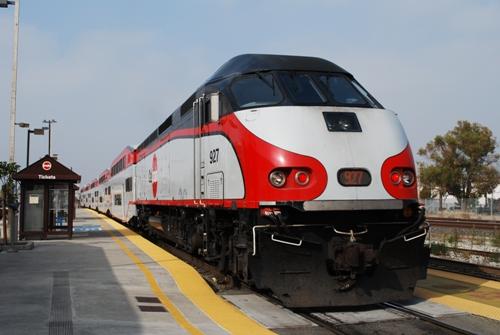 Caltrain 927 departs Santa Clara with train 245. The MPI loco's have a
digital display on the front, some display the loco number while some show
the train number.

Caltrain 913 'Belmont', at Belmont.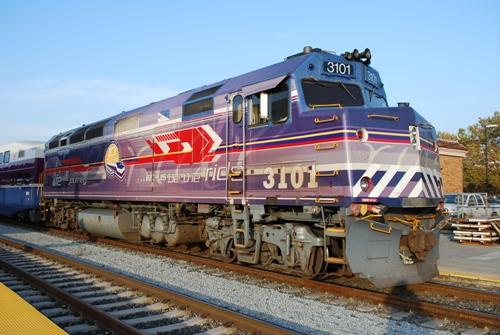 As well as Amtrak and Caltrain services using San Jose station, ACE
(Altamont Commuter Express) also provide services. This loco, 3101, is
painted in a special 10th anniversary livery.
MOVES:
AMTRAK 98 & 503 (11) continuation of TUE 18th
CALTRAIN 927 (245) 1140 San Jose to Santa Clara
CALTRAIN 919 (240) 1151 Santa Clara to San Jose
CALTRAIN 904 (147) 1210 San Jose to Redwood City
CALTRAIN 906 (146) 1255 Redwood City to Mountain View
CALTRAIN 913 (151) 1329 Mountain View to Belmont
CALTRAIN 922 (252) 1409 Belmont to San Carlos
CALTRAIN 924 (253) 1423 San Carlos to San Mateo
CALTRAIN 927 (154) 1438 San Mateo to San Jose
AMT.CAL 2005 (542) 1620 San Jose to Sacramento
Thursday 20th November 2008
After getting up I went round to the Old Town again and took some pictures before going into the railway museum which opened at 10. The museum is very good with some steam loco's and a diesel on display, and many other things as well, I was glad I made the effort to go there. Next on the agenda was a trip to Oakland to get some pictures of the street running that occurs there. The loco on my train was from the normal Amtrak loco pool and not part of the California fleet, but still new for me anyway. Before leaving Sacramento one of the P32's arrived with a train from San Jose, I cursed my luck but realised soon after that if the loco did what I thought it would do then it could end up in Oakland for me to have back later on. The run to Oakland was good, there was some freight activity at Martinez and a large UP freight yard is passed just after departing Emeryville. A few BART trains (light rail which runs to San Francisco) were also seen along the way.
At Oakland the train runs through the street before arriving at the station. I walked back along the street to get some pictures but activity was few and far between and the only trains which came through were all Amtrak California, I had been hoping for a freight or two. Typically, once back at the station a freight showed up, I should have waited up the road a little longer. On a happier note the train I was hoping would be the P32 showed up and indeed was the P32, and formed my service back to Sacramento. The train became busy with commuters from San Francisco joining at Emeryville off a connecting bus, and Berkeley off the BART. After a day in work I thought they might like a sleep on the train, but instead they wanted to play cards, drink beer, talk as loudly as possible and chuck rubbish all over the floor. I'm not saying they were all like this, but to my dismay the large group who sat by me were.
Back in Sacramento I met up with a guy by the name of Mike Tisdale. I had arranged to meet him after he sent me a few e.mails with some local information, and he was waiting on the station for me as arranged. Mike took me to a place in the Old Town where we had beers and burgers and spent a couple of hours talking trains. I had an enjoyable evening, so Mike, many thanks and hope to catch you again sometime. It was a good way to end the day.
MOVES:
AMTRAK 80 (537) 1210 Sacramento to Oakland (Jack London Square)
AMT.CAL 2051 (540) 1650 Oakland (Jack London Square) to Sacramento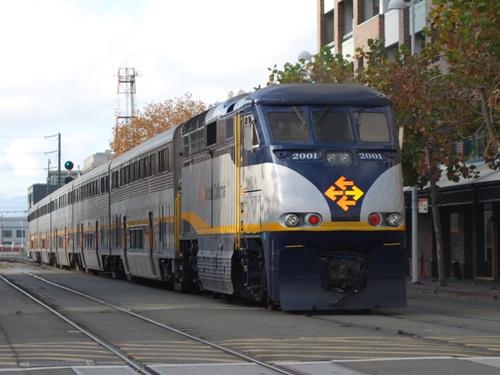 Amtrak Califonia 2001 runs through the street at Oakland heading for Jack
London Square station a couple of blocks away.
Friday 21st November 2008
This morning would see the start of another big train journey, departure from Sacramento at 1056 and arrival at Chicago sometime Sunday afternoon. I got to the station early and eventually a short freight train with a pair of UP loco's passed through just before my train "The California Zephyr" arrived. Once on board and underway there was some wonderful scenery to be seen, although the train is a very slow affair, for example from Sacramento to Reno over the scenic Donner Pass, a distance of 151 miles, the train takes just under 5 hours. At Reno the train pulls into the station below street level, I stayed in Reno a few years ago and the trains used to run at street level but recently a big "trench" was dug for the trains to pass through the casino city without interfering with road traffic. I remember a few years ago on a "normal" holiday playing the slots in a casino and watching the trains rumble by outside, this is now a thing of the past, and I regret not getting any photo's on that visit. The trench was built at a cost of $280 million. After Reno it soon became dark and nothing else of note comes to mind.
MOVES:
AMTRAK 69 & 156 (6) 1056 Sacramento to Naperville (arrival Sunday afternoon)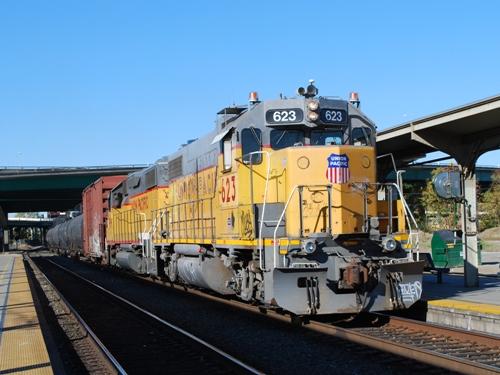 UP 623 heads a short freight through Sacramento.
Saturday 22nd November 2008
I woke up quite early and made my way to the diner for breakfast before settling back down in my seat to watch the rocky wilderness of Utah and Colorado pass by. There was time for a leg stretch and photo's at both Grand Junction and Glenwood Springs, the former with a shop on the station which did plenty of business when the train pulled in. Later in the day I made way to the lounge car where I made friends with a group of people heading to some sporting event in Denver. Even though drinking alcohol not purchased on the train isn't allowed they had bought plenty with them and were happy to share some with me. As the train approached Denver in the dark, the lights of the vast city could be seen from miles away and made an impressive sight. The last mile or two into Denver is a reversing move and was done quite slowly, even so our arrival was a bit early meaning an hours layover. I said farewell to my new friends as we pulled in, and hoped that there would be a bar nearby for me to have a quick drink in. As the train drew to a halt I could see opposite the station a big lit up sign reading "Wynkoop Brewing Co" - just what the doctor ordered. I rushed over even though the route from the station wasn't very direct, and dodged the queue and claimed an empty stool by the busy bar. The service was good and I was confident enough to order food although I didn't have long. About 45 minutes after arriving in the pub I left having had an excellent burger with spicy fries, and 3 excellent beers, silverback porter, sagebrush stout, and railyard ale. Once the train got underway again I soon nodded off to sleep.
MOVES:
AMTRAK 69 & 156 (6) continuation of FRI 21st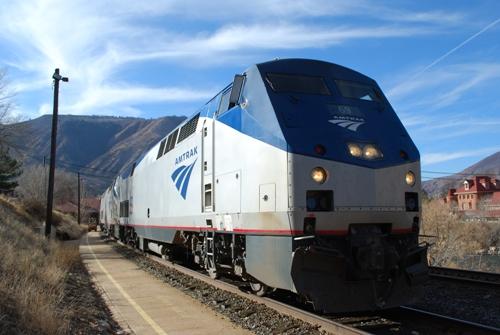 Amtrak 69 & 156 at Glenwood Springs, Colorado with the eastbound "Zephyr".
Sunday 23rd November 2008
Even though I had gone to sleep soon after leaving Denver I was awake again quite soon and couldn't settle down, I even got off for a leg stretch at Lincoln, Nebraska, at 0440 in the freezing cold, joining a couple of smokers on the platform. When I got back aboard I managed some proper sleep and dossed out till about 11 o clock, meaning I missed breakfast in the diner. Despite having been on time last time I looked we were now nearly 2 hours late, even so there was still time for a smoke stop to be called at Ottumwa in Iowa, in other words a photo stop. The reason for the slightly extended stop was that a change of drivers was taking place as I found out when I walked up to the front, by the time I got my picture though the train was ready to go and I had to quickly get back on in one of the sleeping cars and walk through as I wouldn't have made it back to my coach in time. The rest of the trip was uneventful but a little time was made up along the way. Rather than heading all the way into Chicago, I elected to get off at Naperville as it is on METRAs Aurora line and I was staying at Route 59 again, carrying onto Chicago would have given a lengthy wait for a train to Route 59, by getting off at Naperville I could head south on a METRA and pick up the next northbound to Route 59 somewhere along the way, the Amtrak wouldn't have got to Chicago in time for it though. The METRA trains were ungripped meaning a free journey for me, problem was no taxi's at Route 59 which was a bit of a pain and I was going to start walking, luckily a taxi showed up then just at the right time and I was soon booked in the Red Roof Inn. Some food was obtained from a place nearby as well as 6 bottles of Goose Island Christmas Ale which tasted very strong but showed no ABV on the label. As usual, a proper bed was welcome after a couple of train overnights.
MOVES:
AMTRAK 69 & 156 (6) continuation of FRI 21st
METRA 404 (1318) 1633 Naperville to Westmont
METRA 403 (1315) 1710 Westmont to Route 59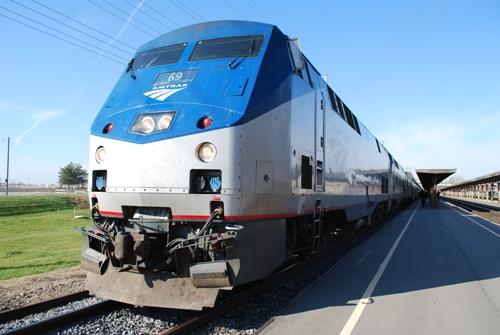 Amtrak 69 and 156 pause at Ottumwa, Iowa, for a final crew change on the
2400 mile journey of the "Zephyr" heading to Chicago.
Monday 24th November 2008
With plenty of time to kill before the next Amtrak journey a day around Chicago photting freight and whipping in some METRA loco's for haulage was in order. I made my way to the station to catch train 1260 to Cicero to get some freight photo's but ended up being at the station in time for train 1370 in front of it. The train appeared with a pair visable on the rear pushing, so I leapt on to do it to the next stop of Naperville as from there it was non stop to Chicago. Once at Naperville I found out that both the loco's were dud, never mind. From Naperville another dud loco took me as far as Cicero where there was plenty of activity to keep me happy, I was pleased enough to leave though as the temperature was below zero and I couldn't have endured much more. At Chicago my plan was to cover train 815 which is a good bet for a pair of loco's and even better gets some of the old F40s, I was well pleased that it produced 103 & 106, a pair of winners. I did the train out to its destination of Orland Park and back, but the run was a bit marred though as we got stuck for 25 minutes on the outward journey as some power lines had fallen onto the track. Back at Chicago a few leaps to and from Western Avenue produced a few more of the older F40s, including one paired up with loco 424 on train 2237, another service which is a good bet for a pair of loco's. I wouldn't mind spending some time at Western Avenue during rush hour some time in the future as the amount of METRA trains running in service and the associated ECS movements is incredible, however due to the time of year it was dark early and the scope for photography was limited.
Once finished with METRA some beers were had at Union Station before boarding the Amtrak service to Washington which I would take as far as Pittsburgh. To my surprise I walked to the front of the train to get the loco numbers and found not two but three loco's in charge, a nice bonus and all winners as well. Departure was on time but for once I was hoping that some time would be lost on route as I wasn't looking forward to the two hour fester at Pittsburgh in the morning.
MOVES:
METRA 186 & 192 (1370) 0816 Route 59 to Naperville
METRA 187 (1260) 0833 Naperville to Cicero
METRA 188 (1262) 1118 Cicero to Chicago Union
METRA 103 & 106 (815) 1235 Chicago Union to Orland Park 179th Street
METRA 106 & 103 (830) 1358 Orland Park 179th Street to Chicago Union
METRA 418 (2123) 1537 Chicago Union to Western Avenue
METRA 114 (2140) 1606 Western Avenue to Chicago Union
METRA 115 (2129) 1640 Chicago Union to Western Avenue
METRA 414 (2142) 1657 Western Avenue to Chicago Union
METRA 424 & 125 (2237) 1717 Chicago Union to Western Avenue
METRA 121 (2244) 1724 Western Avenue to Chicago Union
AMTRAK 75 & 18 & 206 (30) 1905 Chicago Union to Pittsburgh (arrival Tue morning)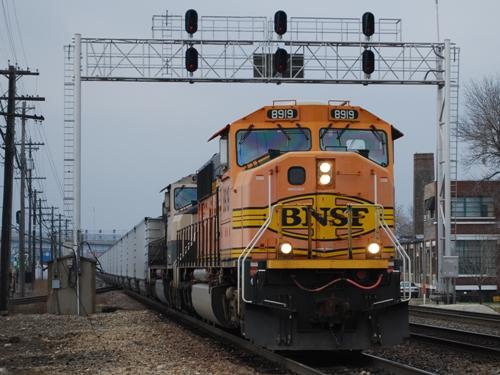 BNSF 8919 heads a train of coal wagons through Cicero.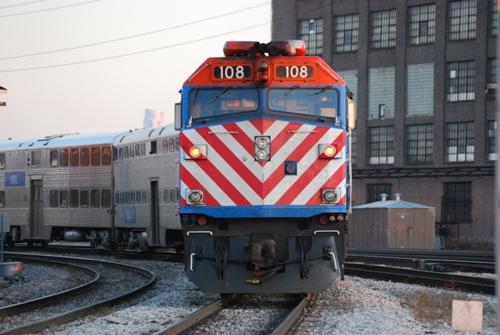 METRA 108 pushes an ECS away from Western Avenue towards Chicago
Union to form an evening rush hour service.

METRA 115 at Chicago Union (or is it Birmingham New Street?) waits
departure time of 1640 with train 2129.
Tuesday 25th November 2008
Typically, arrival in Pittsburgh was a little early at 0450, not much to do or see at that time of day so I just waited at the station until boarding of my next train which was due to depart at 0720. The train boarded quite early and departed on time but only got as far as the end of the platform before stopping for an unknown reason, which was lucky for one late passenger who had run after the train and got the attention of the conductor in my coach to let him on. As the train headed east so the snow started to come, and upon reaching my destination of Altoona there was a bit of snow on the ground. I had a bit of time to kill before my pre-arranged lift turned up and spent some time on the pedestrian footbridge over the station getting some pictures.
At midday, Sandy who works at the Station Inn at Cresson arrived to pick me up as arranged and we made our way to the inn. With nobody else in attendance I was shown my room and given my keys and then left there by myself as Sandy had things to do at home and Tom the owner wasn't about. After settling into my room overlooking the railway I had a bit of a walk about and wandered up to the raised platform a few blocks away which allows for taking pictures at track level. Before long blizzard conditions set in and as it was getting dark and very cold I made my way back to the inn stopping off for a beer or two in the local pub on the way. Once back at the inn Tom was now around and we had a bit of a chat during which Tom offered to take me out in his car the next day to a few vantage points to get some pictures.
MOVES:
AMTRAK 75 & 18 & 206 (30) continuation of MON 24th
AMTRAK 45 (42) 0720 Pittsburgh to Altoona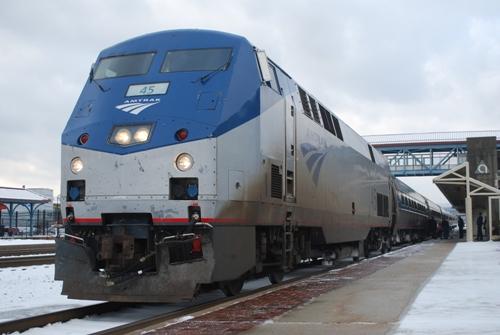 Amtrak 45 pauses at Altoona.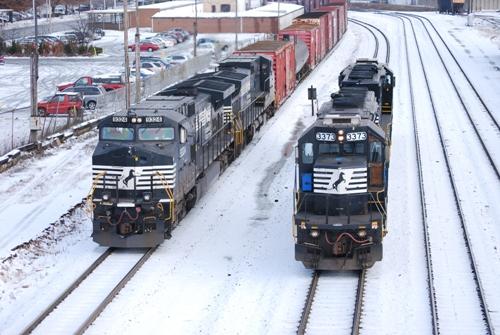 NS 9324 leads a freight through Altoona whilst helpers 3373 & 3375 wait
for their next assignment.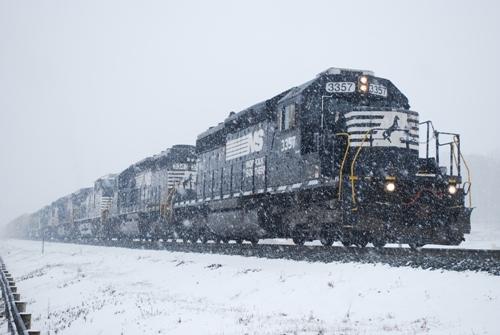 NS 3357 with 3343, 9923, 9638, 8827, 7051 and 3270 during a blizzard in Cresson.
Wednesday 26th November 2008
I awoke to find that more snow had fallen through the night and wondered if Tom would still be willing to take his car out in the icy conditions. As the inn was quiet Tom was sorting out breakfast today as he had given Sandy the day off, once breakfast was finished though Tom said he still wanted to go out in his car as he wanted to get some snow pictures himself. Whilst I waited for Tom to get ready I stood outside in the cold photographing whatever came by, including the eastbound Amtrak with loco 123 at the head. Once Tom was ready we went out in his car, we went to a few places trying to chase a some trains of which we heard the engineers and despatchers talking to each other on the radio, but on two or three occasions we got to the vantage point that Tom had chosen just a little too late to catch them.
Before long our luck changed and we managed to shoot a couple of freights at Lilly, but not before we had got the car stuck in the snow at a couple of places off road. At one point I had to help out and give the car a push which resulted in me ending up on my arse after I slipped over, in another place the car got stuck while we were on NS property, a guy turned up in a company 4x4 and I thought we may have been in for a bit of a telling off for trespassing but he said nothing and offered to tow the car out if needed. We finished by chasing a pick up freight to Gallitzin and then back to Cresson and I was pleased to get some good shots during the day.
After drying out I had some food in a nearby diner and then back at the inn I spent the evening with Tom watching some DVDs and showing him some of my pictures taken around Europe.
MOVES: None today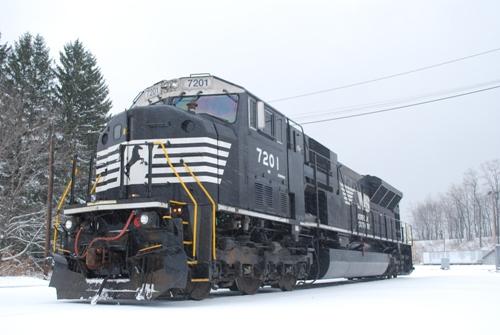 NS 7201 waits for work at Cresson Engine House (taken with permission).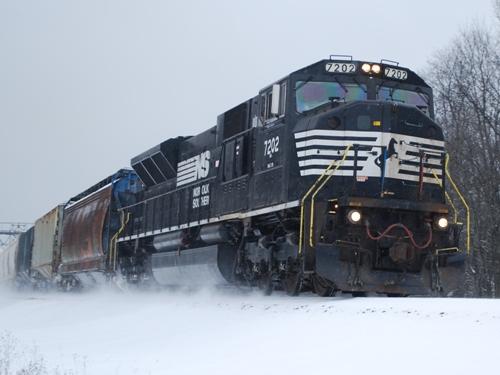 NS 7202 leads a pick up freight through Lilly. 7203 is out of sight on the rear.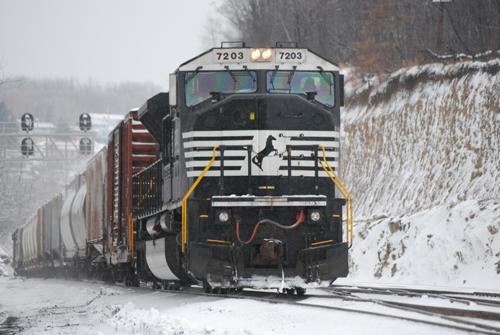 NS 7203 at the other end of the pick up freight is seen near Gallitzin.
Thursday 27th November 2008
After a slightly earlier than usual breakfast I got a lift to Altoona with Sandy for an uneventful trip to Newark. After checking into the Hilton hotel outside the station I killed some time by taking an evening trip to New York where for want of anything better to do I spent some time around the extremely busy Times Square before having a quick beer or two and then heading back to Newark.
MOVES:
AMTRAK 45 (42) 0940 Altoona to Philadelphia
AMTRAK 936 (42) 1525 Philadelphia to Newark Penn
NJT 4609 (7848) 1709 Newark Penn to New York Penn
NJT 4421 (7273) 2007 New York Penn to Newark Penn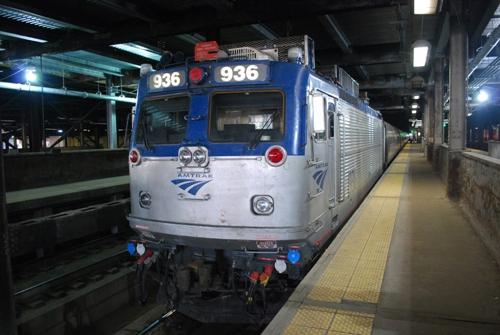 Amtrak 936 at Philadelphia 30th Street.
Friday 28th November 2008
The last day of the trip and with the flight not being until the evening I decided to try my luck with the Danbury branch which had seen some F unit activity prior to my visit. Once at South Norwalk where the connection to Danbury is taken it was disappointing to see the branch shuttle turn up with leased Amtrak power, I was hoping if no F units were about then at least I would be able to sample one of the new BL20-GH locos which are being phased in.
Once at Danbury a very quick visit to the adjacent railway museum was taken, I was able to leave my bag in an office at the front desk before zipping around the yard to photograph the exhibits. Back at the front desk to pick up my bag, the museum guy commented that I had probably set a record for the quickest ever visit, I would have liked to have stayed longer but I needed to be on the 1343 train to get to my plane. Once back in New York there was time for a quick beer at Penn station before catching a LIRR train to Jamaica, thanks to doing some home work I had worked out a couple are loco hauled and I aimed for one of them which happened to be top and tailed. Once at the airport nothing on any note happened, the 747 operated flight was on time and thanks to light loading I had a row to myself.
MOVES:
NJT 4606 (????) 08xx Newark Penn to New York Penn
MNRR EMU (????) 1007 New York Grand Central to South Norwalk
AMTRAK 841 (6822) 1211 South Norwalk to Danbury
AMTRAK 841 (6837) 1343 Danbury to South Norwalk
MNRR EMU (????) 14xx South Norwalk to New York Grand Central
LIRR 516 & 502 (????) 1619 New York Penn to Jamaica (Loco's Top & Tail)
VIRGIN G-VWOW (VS046) 1945 New York JFK to London Heathrow
Arrival in Heathrow was on time and I made my way back to South Wales using the same route as I had outbound, Reading station was busy with people heading to Twickenham and Cardiff for rugby internationals and also race goers heading to Ascot so it was a bit chaotic, but it didn't cause me any problems and I was soon home.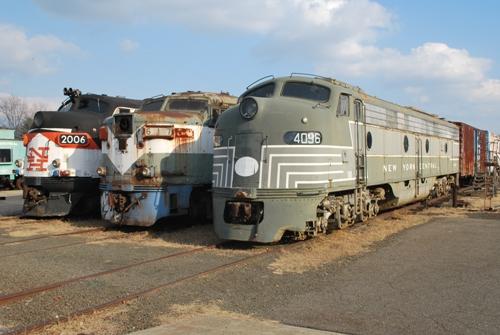 A selection of the exhibits at Danbury Railroad Museum.
REFLECTIONS
Another excellent visit to the States, loads of new track scored and as usual a friendly welcome at the Station Inn in Cresson (my 3rd time there). It was a pleasure also to meet Mike Tisdale who had helped me with a few things via e-mail before the trip. All the trains and hotels went to plan which was a relief, and as usual for my visits to America there was a bit of everything important - namely loco haulage, photography and beers. The one thing that is a let down in America is that all the journeys are in sealed stock (i.e. no open windows) but apart from that everything else is good, big loco's, massive goods trains, rateable beers, nice scenery and friendly people. Can't wait for next time..........
Pete Callaghan
Newport, South Wales
May 2009



Back to "Bashing"