8th & 9th August 1998
Another Desperate Weekend
This weekend was looking to be a good one for "preserved" diesels on the mainline - as well as D9000 on the Virgin Trains service from Birmingham to Ramsgate and back, Saturday offered Class 46, D172 "Ixion", on a railtour. Sunday then saw the use of 50031 "Hood" on a relief train around the Welsh Valleys.
My plan was simple - to chase "Ixion" on the Saturday and then travel behind "Hood" on the Sunday. Thanks to a business visit to Scotland, I found myself heading south on the M6 motorway on Friday afternoon and an earlier e-mail to a friend in Crewe had secured the use of his settee for the night, saving me about 250 miles of driving.
Saturday
We set off from Crewe about 9am in bright sunshine and headed up the M6 to junction 37 where we turned off in the direction of Sedburgh and the Settle & Carlisle line. Unfortunately about this time we ran into cloud and rain and by the time we reached Ais Gill (our first intended spot to take photographs) we were in a very thick fog! A change of plan and we continued north, leaving the gloom near Kirkby Stephen so we ended up near Waitby where D172 "Ixion" looked superb as it ran north for Appleby where the train (Pathfinders' "The Pennine Excursioner") would terminate before heading south again. We drove on to Appleby and got some more photos during the run-round move before we drove south again. Thanks to a photo-stop at Ribblehead station, we were able to capture D172 twice on the southbound journey. Once we got our final photos at Horton-in-Ribblesdale station, it was time to drive back to Crewe to drop off my colleague then still further south to Northampton and, after several days away, my own bed.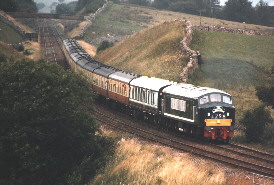 "Ixion" powers up the gradient at Birkett Common on the return working.
Sunday
05.40 : bleep-bleep, bleep-bleep, groan! my alarm clock says "time to get up"...
Follow this link for more details of our day out behind 50031 "Hood".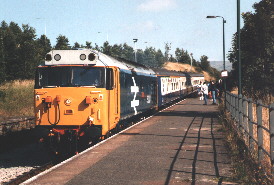 50031 "Hood" draws the stock into Rhymney station at the start of the day.
Gary Thornton.



Back to "Bashing"