10th April 1999
Peds on the Marston Vale Line
Another in the occasional series following the exploits of "preserved" traction on service trains. Silverlink have experienced many difficulties keeping a reliable service on the "Marston Vale" line between Bletchley and Bedford using first generation DMU's, often resorting to using busses in place of trains. As a stopgap to the introduction of "Sprinters", Silverlink have decided to re-introduce loco hauled trains to the line. The two coach trains employ a Fragonset railways Class 31 loco on each end of the train (to save the need to run round at Bedford or Bletchley). At the time of writing only one train of the two train diagram was in the hands of the 31's but it is planned to use peds on both trains once there is another loco available.


After a call from a friend on the Friday evening we decided to meet up at Bletchley and have a run to Bedford and back. Gen on the loco hauled services over the line was still somewhat lacking so we decided just to turn up and see what "produced". I arranged to meet Tony in time for the 10.50 departure but as I only had to travel down from Northampton, I chose to arrive in time to view the 09.50 in case that was the loco hauled diagram.
A leisurely walk to Northampton station saw me arrive in plenty of time for the 09.08 departure and gave me a chance to view 321420 in the sidings adjacent to the station. This unit, a victim of an accident at Watford in 1996, has only recently returned to service. It is rumoured that all four coaches in this unit have brand new bodyshells so, for me at least, this made it a "required sight". The 09.08 Northampton to Euston service was already in Platform 3 and was formed of units 321429/407, neither of which I required for haulage. Just before we left 86417 rolled in with Hertfordshire Railtours' "The Grand National" which was bound for Liverpool. Just time for one photo before we departed.
On the way to Bletchley we passed another northbound railtour, probably also Liverpool bound (today being the day of the "Grand National" horse race). In Bletchley yard 86424 was noted on a rake of mark 1 stock. Arriving at Bletchley and 117704 (51383/51341) was stood in Platform 5 forming the 09.50 to Bedford.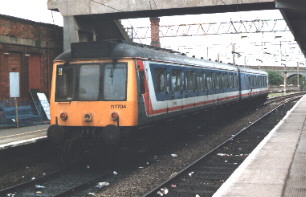 117704 on the 09.50 Bletchley to Bedford
Another railtour passed by (86430 hauling) and shortly after 90148 rumbled through on a southbound freightliner working. For the next half-hour a constant stream of Virgin (86's, 87's and 90's) and Silverlink services (all 321's) passed through. The only other interesting move was 60084 "Cross Fell" which reversed a freight train off the Bedford line and away to the north. At around 10.30 a Class 31 was spied coming into the station - 31601 (named Bletchley Park 'Station X') at the head of 2 mark 1 coaches with 31468 on the rear. Good, my £7.80 "cheap (?) day return" from Northampton to Bedford would score me a required loco haulage (31601).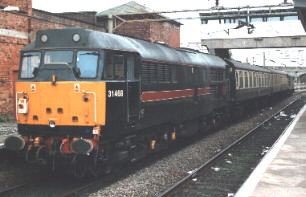 That's more like it....31468 & 31601 on the 10.50 departure.
Seats were claimed in the leading coach behind 31468 and departure was bang on time at 10.50, 31468 clagging well on departure. Passing Bletchley depot another Fragonset 31 was seen (31452 I assume) and a lot of very tatty looking DMU's.
The run to Bedford (takes about 40 minutes) is a real step back in time. The line is still manually signalled and there are many level crossings, most of which have hand operated gates. With 10 intermediate stations, the journey is very much a case of thrash, brake, stop, thrash, brake, stop etc. All too soon however we rounded the curve into the "new" Bedford St. Johns station (the old station, on the long abandoned line to Sandy, was closed in 1984 when services were re-routed into Midland station). As we left St. Johns we came right back up-to-date as 66072 was waiting access to the single line with a "binliner" train for the landfill site at Stewartby.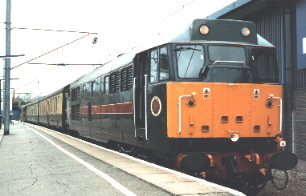 31601 waits time at Bedford Midland.
Loads of Thameslink 319's at Bedford (no surprise there) and, which was a bit of a surprise, a new platform was being built on the station avoiding line - presumably for MML services to save them having to slot in with the Thameslink services into the station. Just 14 minutes at Bedford and we were off again, this time with 31601 providing the power. An uneventful return journey (66072 noted again at Forders Sidings) soon had us back at Bletchley.
We decided to see the peds leaving at 12.50 and the 20 minute wait turned out to be quite eventful. First a Class 150 "Sprinter" turned up from the south (presumably driver training or route learning) and headed for the depot. Hot on its heels came "bubble-car" 55029 which also looked like it was being used on training or route learning.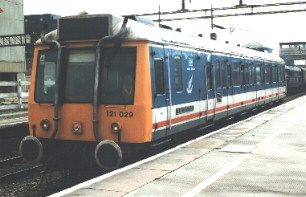 121029 (55029) "Marston Vale" at Bletchley.
As 55029 headed round the corner to the depot 37891 appeared from the north on an overhead line maintenance train. As it ran through the station 31468 powered out heading for Bedford, still clagging well. A walk to the other end of the station and we watched 37891 backing the OHLM train into the tracks "behind" the station.
An offer of a lift home had me abandoning Silverlink in favour of a Ford Escort. On the way back we called in at the Northampton & Lamport Railway where the motive power on view included Shunter 97651, Class 25's D7629 & 25035, 26010, Class 27 D5401, 45118 and various DMU cars including 54495 and "bubble-car" 975023. There is also a Class 25 cab at the back of their yard, painted green and bearing the number D7597.
Verdict : The run from Bletchley to Bedford is a real step back in time and well worth doing, either behind the 31's or on a first generation DMU.