A Quiet Day In....
(Saturday 13th January 2001)
My plan for this particular Saturday was to be a passenger aboard Past Time Rails' "Pennine Way" however this was scuppered by a "clerical error" at Railtrack - someone apparently failed to notice the Copy Pit route (over which we were due to travel) was closed for maintenance! The tour was thus postponed until 20th January, leaving me an unexpected spare Saturday.
So, I decided to have a quiet day at home instead.....
......Well, this idea lasted all of about 10 minutes after I got up. I'd just knocked up some breakfast and was waiting for my mug of coffee to cool a bit when my mobile phone bleeped with an sms message (from a friend as neither Genie nor Unimobil seem capable of providing a service for Railgen messages). So much for my "quiet day in" plans - the gen was that 37606 was due to power the 09.06 from Birmingham New Street to Brighton as far as Reading. Quick time check and I realised I could make Coventry before the train was due there (09.27).
Did it easy - I arrived with about 10 minutes to spare, noted the screens had it as "on time" and went to purchase my tickets. I chose to get a day return to Leamington Spa plus a "Daytripper" - might as well go in search for my last Virgin 47 (844) as I was now out and about.
The 09.27 to Brighton then went up as 10 late, 15 late......and an announcement was made to say the delay was "due to waiting a replacement locomotive at Birmingham". Replacement? For what.....not 37606 I hoped!
The train eventually rolled in on the approaches to 10am and the "nose" of a 37 was immediately obvious. yes, indeed it was 37606, and it was towing 47734 "Crewe Diesel Depot" in addition to the passenger coaches. The 47 was ticking over to provide electricity to power the heating and lighting.
Met up with a friend on board and he confirmed there was nothing wrong with 47734, the use of 37606 was simply to get it back towards home after it had worked a northbound train on Friday night - this was the first available Virgin driver who was passed on 37's. Funny enough, I scored 37605 for haulage in a similar move about two years ago.
I baled at Leamington Spa and got to the other platform to snatch a quick photo before the train departed.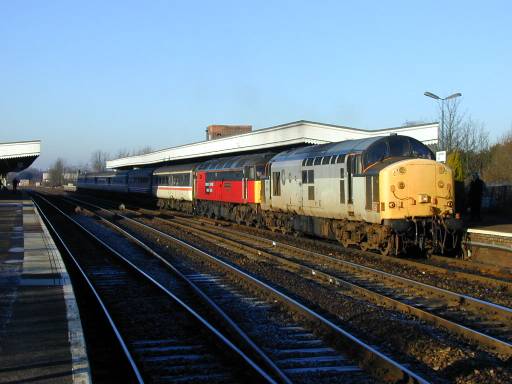 37606 and 47734 at Leamington Spa.
The late arrival meant I had about half an hour to wait for a train back to Coventry. The time went fairly quickly and 57002 was viewed coming through on a southbound Freightliner working before 47818 "Strathclyde" duly appeared on the 10.45 departure. I took this right through to Birmingham New Street - for two reasons....
(1) I'd been told the 12.07 Birmingham New St to Holyhead service was to be hauled by 37415 (so much for the end of 37's on these services on 30th December 2000!)
.....and....
(2) 47844 was reported to be working the 11.17 Manchester Piccadilly to Birmingham International.
A quick check of the timetable confirmed I had a superb move to New Street (47818) for 37415 to Wolverhampton for a 19 minute wait for the arrival of the 11.17 from Manchester! Was I smiling or what!!
37415 duly "produced" on the 12.07 but it only arrived at about 12.05 and was routed back north via Bescot - this would take longer than timetabled....could I still get to Wolverhampton in time...? I still went for it as there was a "fall back" move as the loco working the 11.17 from Manchester returns on the 15.16 from Birmingham International. If I missed it I'd only had to wait a couple of hours until it left Birmingham International heading back north.
We made it to Wolverhampton with a few minutes to spare but I needn't have worried as the 12.45 departure (11.17 ex-Manchester) was on the screen as "expected 12.57". Time then to get a photo of 37415.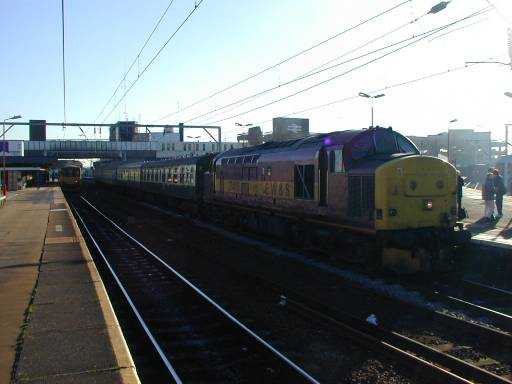 37415 departing Wolverhampton.
(Digital cameras have just the same problems coping with shots taken straight into the sun as a 35mm camera!)
After what seemed like a long time a 47 appeared around the curve at the north end of the station - immediate disappointment for me though as it was in the older InterCity livery - 47844 is in Virgin colours. Motive power was 47810 "Porterbrook" and I took this to Birmingham New Street despite it being "dud".
I festered at New Street for a while - I decided to "do" the 14.06 departure (to Bournemouth) to get back to Coventry and, unless any information about 47844 was obtained, head for home. The 14.06 was quite late and didn't appear until well after 14.30 and had EWS 47741 in charge (albeit in Virgin colours). Not one I required but at least it was relatively unusual. I took it to Coventry as planned. In theory I had a short wait to view the 15.17 departure from Coventry but it was up as 15 minutes late. Somewhere behind 47741 was the PREVIOUS train for Bournemouth - the 13.06 off New Street. It was up as not due until 15.27 (some two hours late) so I gave up at this point and headed for home. It had been a short, but enjoyable, day out.