15th - 29th July 1983
The Big 'Un
These days I get bored spending any more than a couple of days on the rails in the UK - it's probably got something to do with the distinct lack of interesting loco-hauled services on offer, and lack of required track too. Imagine then, back in 1983, contemplating spending a whole fortnight track & loco bashing?
I had a simple plan - to clear all my required track in Scotland. To do this would take over a week so I decided to purchase a "Gold Freedom of Scotland" railrover - 14 days unlimited travel in Scotland, a snip at just £44. I purchased an all-line timetable and spent quite a while planning routes to ensure I could succeed in my task - I settled on a plan, with alternatives, for each day but didn't "link" each day together so, if anything went wrong, I could get a second (or even third) stab at the track I wanted without loosing another stretch. Although the track was my prime aim, wherever possible I was also wanting to use loco hauled services.
Throughout this review I will show required haulages thus.
Friday 15th July : Day "0"
I had pre-purchased my railrover from Northampton station with a start date of 16th July. At the same time I bought an open return ticket to Carlisle (£23 on my Student Railcard). So, £65 spent and I now had the freedom to roam wherever I wanted north of Carlisle and Berwick!
For day 1 of the railrover I had opted to go for the line from Carlisle through Dumfries, Kilmarnock and Ayr to Stranraer Harbour. The move was simple - local service to Rugby for the overnight train all the way to Stranraer Harbour. If anything went wrong I had the "fall back" move as the train split at Carlisle with the other portion heading for Fort William via Glasgow.
Being the pessimist I am I caught the train before the one I had to - giving me just over an hour in Rugby rather than just a few minutes. 310066 formed the train from Northampton. Approaching Rugby we stopped at a red signal. After a few minutes I heard the driver getting down to the signal phone. Though I couldn't hear his conversation, looking out the window I could see it wasn't just us that was stopped - on the adjacent fast lines the trains were stationary, signal to signal. Looking forward (you could do that from the leading coach in a 310 in those days) I could just see the station and the platforms too were all occupied. As the driver climbed back aboard I asked what the problem was. "Complete power failure at Coventry" he said. Seems this was the back of the queue!
We sat for over an hour - At least none of the other trains moved either, so my connection was still safe. Eventually things started to move and we soon got let into the station. This was sometime after I should have left of course on the overnight service to Stranraer.
Saturday 16th July : Day 1
My next train rolled in sometime after midnight, about two hours late - my railrover was now valid and I was still less than 20 miles from home! 86038 was at the head. Although I only had about an hours connection at Stranraer I got into the Stranraer portion and found a seat, hoping there would be some reasonable recovery time en-route. Our passage northwards was swift but, at Crewe, more time was lost during the station stop. Time to admit defeat and put "plan B" into effect. I changed to the other portion of the train and found a seat with three others in a first class compartment (the train was advertised as second class only). Plan B....OK, time to decide what it was going to be!
Having a timetable was useful and I was soon acting as advisor to my travelling companions as they all had onward connections from Glasgow. This broke the ice and, by Carlisle we had pooled our available food and drink to make a reasonable breakfast (it was gone 4am by this point). My "plan B" was to leave the train at Glasgow Queen Street and do one of the "Glasgow based" days I had pre-planned.
At Mossend Yard we swapped our "sparkie" for 47405. This took us towards the Glasgow suburbs by way of Coatbridge Central and Stepps. At Cowlairs we took the curve between West and North Junctions as anticipated. Here another loco should have been attached to the rear to drag us into Glasgow Queen Street station. The 47 was however uncoupled and replaced by 37017 and we continued on our way towards Fort William. Oh dear, what I hadn't realised was that, when this portion of the overnight was running so late, it by-passed Queen Street altogether and made straight for Fort William!
Plan C.... Dumbarton Central, first stop. Baled here and caught a local (303009) back to Queen Street Low Level. Time to stock up on supplies then I took 47709 "The Lord Provost" to Edinburgh Waverley. A short pause here before Sc51567 took me to North Berwick and back to "scratch in" the branch from Drem Junction. As I'd already come into Scotland along the East Coast Main Line I didn't need to travel to Berwick, thus the track from Drem Jn to Berwick would be the only passenger piece I wouldn't cover in the two weeks. Back into Waverley and 47712 "Lady Diana Spencer" was my motive power back to Glasgow Queen Street. Foot power to Central for Sc52031 back to Edinburgh Waverley - but via the Shotts line.
As Sundays in those days were somewhat quiet in Scotland (i.e. very few train services) my next moves were to get me in position for the overnight Inverness to Edinburgh Waverley service. 47569 got me to Dundee for 47469 "Glasgow Chamber of Commerce" to Aberdeen and finally 47118 to Inverness.
Sunday 17th July : Day 2
The overnight service was hauled on this particular night by 47404 "Hadrian". Although this was my second night on the rails I still wasn't tired enough to get any decent amount of sleep. At least this enabled me to work out the moves on this train which splits at Stirling with portions to Edinburgh and Glasgow. The second loco came on at Perth (47460) and the pair double-headed to Stirling where the split duly took place.
I had chosen Edinbugh as my destination as there was a particular train I wanted to travel on. It was the Sundays-only "additional" to Oban, formed of mark 3 push-pull stock. Some of you may remember this train ran in 1981 and used a Deltic on at least one occasion. No such motive power this year - we were to be hauled by a class 37. Train power was provided by one of the new "ETHEL" units (a conversion from a class 25) as ETH-fitted class 37's were still a couple of years away. Although an additional service, it was advertised in the public timetable and was therefore valid on my railrover - so long as there were spare seats. Checking with the train staff there was just one bay of four seats free....and five enthusiasts who wished to do the train. The train staff conveniently overlooked the extra body as we were in the leading coach and could use the front vestibule to spread out into.
37081 "Loch Long" was our loco for the day. 97250 "ETHEL1" (ex-25310) provided train power. Shame it wasn't also providing traction. Oh, in case anyone is wondering - ETHEL stood for "Electric Train Heat Ex-Locomotive.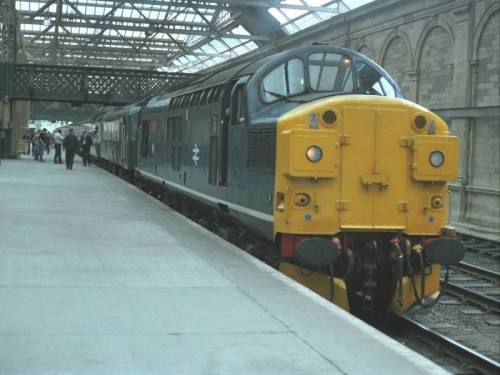 37081 & 97250 at Edinburgh Waverley at the start of the day.
It was a pleasant day aboard the train. En-route there were various sops made to give the passengers opportunities to view and photograph the scenery. A brochure was also given out to all on board describing the journey and there was a running commentary on the PA system. The break in Oban was a chance to photograph 37081 and ETHEL1 whilst the complicated run-round was achieved - the ETHEL having to be marshalled between the train loco and stock both ways. Our return to Edinburgh Waverley was in the early evening.
Time enough for a round trip to Glasgow (47709 both ways though) then I was onto the overnight to Inverness. A busy train as it was Sunday night, so no chance to spread out over a couple of seats unfortunately. I'd also managed to find a seat in the smoking section so it was a somewhat polluted journey I had to suffer.
Monday 18th July : Day 3
47470 "University of Edinburgh" took us all the way to Inverness, thus I learnt that it was better to be on the Glasgow portion as it would gain the extra loco haulage going north. Some rare extra track was claimed as the train took the Rose Street curve to then be reversed into the station. This was quite a common move to allow easy release of the loco and the passengers could be left to sleep on the stock a little longer.
My whole day was spent on the Far North Line. 37035 took me to Georgemas Junction here 37114 took over for the short run to Wick. Time for a beer in a local hotel bar before 37114 took me south as far as Helmsdale. The crossing point is actually Brora, the next station south, but Helmsdale looked nice and I fancied a bit of a walk.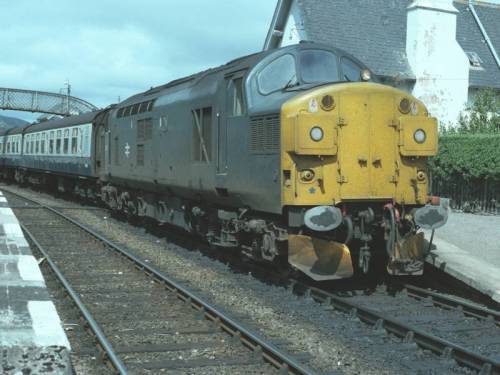 37114 waiting to leave Helmsdale for Inverness.
37025 duly appeared heading northwards and this got me back to Georgemas Junction where 37035 took our portion to Thurso.
A meal was taken in a nearby cafe along with another enthusiast - from Milton Keynes! 37035 returned us to Georgemas Junction where we were shunted onto the Wick portion with 37025. The latter loco then brought us al the way back to Inverness (via the Rose Street curve and a propelling move back into the station) where we arrived shortly before the overnight train south was due to depart.
Tuesday 19th July : Day 4
47432 was my traction to Glasgow Queen Street - unfortunately I was too far gone to wake up en-route so I didn't get which 47 was added between Perth & Stirling (in the week the 47 works southbound throughout to Glasgow it seemed). As I was still quite tired I opted to spend the Tuesday also on some longer distance journeys. 37108 took me all the way to Mallaig and back again as far as Fort William. Here 37037 took over for the run back to Queen Street. With time to kill before the overnight northwards I had a run out to Airdrie and back (314209 both ways) then sampled 47712 to Waverley and 47708 "Waverley" back to Queen Street. 47460 was on the overnight and this was sampled as far as Perth....
Wednesday 20th July : Day 5
....where we joined up with the Edinburgh portion and 47416 (which was to be our loco forward). The same shunt at Inverness and I slumbered on before catching the morning service to Kyle of Lochalsh. Due to clearance problems with some station platforms, class 37's were still banned from the line, so 26044 was in charge of the train. To me this was more like it - a type 2 spluttering along these lines, much more "authentic" than a class 37!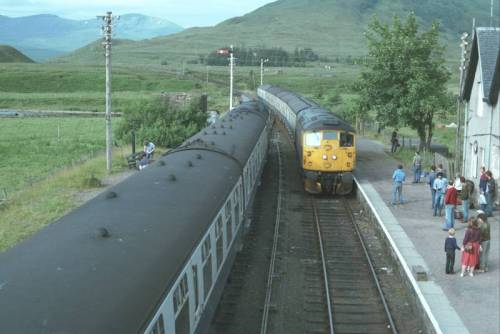 Class 26's pass at Achnasheen, I trusted I'd get back on my train quicker
than the signalman could despatch it after the arrival of the other one!
At Kyle I had a mission - to buy a comb. I had come away from home without one and by this time it was beginning to show!! Comb duly purchased I headed back to Inverness behind 26044.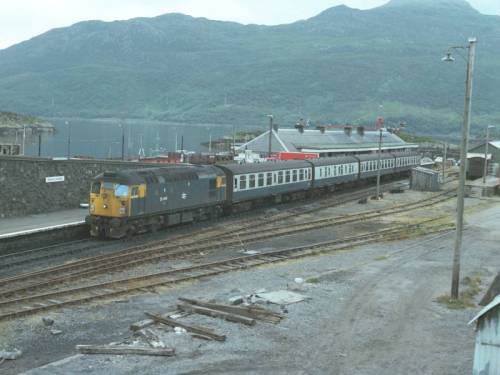 26044 waiting to leave Kyle of Lochalsh.
No point to stay this far north so I made my first journey in daylight down to Glasgow. Unfortunately 47460 was again my motive power. The late afternoon and evening was spent track-bashing around Glasgow;
303027 : Queen St (Low Level) - High Street
303026 : High St - Bellgrove
303073 : Bellgrove - Springburn
303073 : Springburn - Milngavie
303073 : Milngavie - Hyndland
314204 : Hyndland - Hamilton Central - Motherwell
314204 : Motherwell - Bellshill - Glasgow Central (Low Level)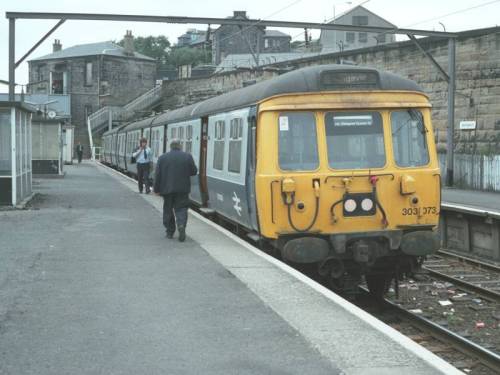 303073 at Springburn.
This put me nicely in position for a southbound working via Dumries to Carlisle, with 47541 "The Queen Mother" in charge. This was to make my second attempt at getting the line to Stranraer after my first attempt went so wrong.
Thursday 21st July : Day 6
No sleep tonight! An early hours fester at Carlisle saw 47436 get me to Stranraer Harbour successfully. Time for a bit of a wander before 47149 was taken to Glasgow Central in time for breakfast.
Bit more suburban track bashing then;
303070 : Glasgow Central - Newton
311095 : Newton - Mount Florida
311109 : Mount Florida - Neilston
311098 : Neilston - Glasgow Central
Time then to head off in search of more relatively rare track - the short branch to Ardrossan Harbour, served by only a small number of services and (if I remember right) under threat of closure at the time. 51987 duly got me from Central to Ardrossan Harbour and, after a wander around, 52021 got me back.
With no track now required around Inverness, the remainder of the day was spent getting there in order to do the overnight southwards. 47521 took me from Glasgow Queen Street to Aberdeen for 47210 to Inverness.
Friday 22nd July : Day 7
A different 47 on the overnight - 47528 - got me to Perth where, yawn, 47460 was added as far as Stirling. Back to 47528 on it's own for the remainder of the journey to Glasgow Queen Street. I had decided to have a run to Oban as I'd enjoyed the previous Sundays outing, but as the first train is relatively late some time killing was required. This was achieved by catching the Mallaig service (37026 "Loch Awe") as far as Dumbarton Central then 303051 to Helensburgh Central and back to Queen Street (Low Level). 37022 was then waiting to take me the 100-odd miles to Oban and back.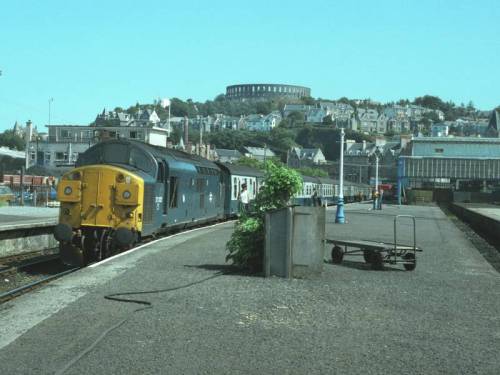 Nice weather in Oban sees 37022 waiting departure time.
Time for a bit more required track. This was achieved by way of 47711 "Greyfriars Bobby" to Haymarket, 51455 to Stirling and 47570 to Perth. From here 47422 took me over the required stretch from Hilton Junction to Ladybank, thence on to Edinbugh Waverley.
47711 was then sampled for the second time in the same day for 47521 to Perth on the overnight. As I left Edinburgh behind 47711 I reflected on the fact that I'd now been travelling for seven solid days! In case you're wondering, there were shower facilities at the major stations, so I was still quite "safe" to get close to!!
Saturday 23rd July : Day 8
47422 took me from Perth to Inverness, but not the normal shunt this time, just straight into the station. Breakfast was obtained from the buffet on the morning Wick/Thurso (37183) which I took as far as Dingwall.Short leap now with 26041 to Achnasheen for 26035 back to Inverness.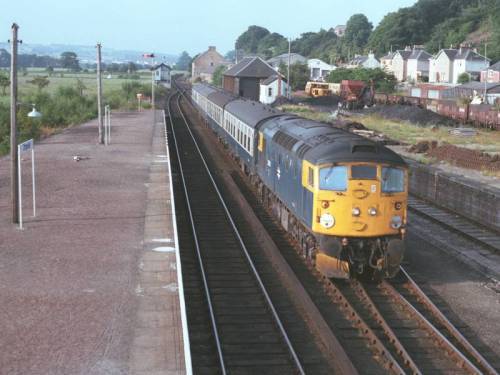 26041 pulls into Dingwall, bound for Kyle of Lochalsh, though I only caught
the train as far as Achansheen to swap onto 26035 going the other way.
Having arranged to stay with relatives near Dundee on the Sunday (get the clothes washed and a couple of nights in a bed!) I then caught the train to Stirling (47570) for another to Dundee (47578) and finally Sc53290 to Monifieth and a well earned rest.
Monday 25th July : Day 9
My second week was to be quite a bit shorter than the first - staying in Scotland through until Friday morning before heading home during the day. Sc51243 was taken to Dundee where I stopped to go and look at the remains of 06005 & 06006 which were being cut-up close to the station. A sad sight, especially as I once got to drive 06006 in Dundee depot. The depot too is now but a memory!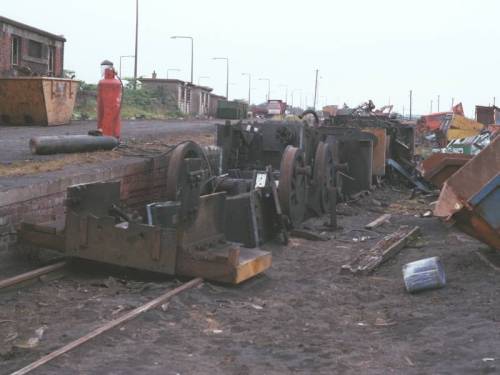 The end of a pair of class 06's - this location is now a Tesco supermarket!
47711 "Greyfriars Bobby" appeared and took me to Glasgow Queen Street. Sc53242 was then my home for the journey from Central station to East Kilbride and back. The long run then to Inverness - 47707 "Holyrood" to Edinburgh Waverley, 47519 to Dundee, 47578 to Aberdeen and finally 47209 to Inverness.
Tuesday 26th July : Day 10
47470, with an unidentified 47 supporting (Perth to Stirling), and I was again in Glasgow Queen Street. 37178 to Dumbarton Central for 303004 back (via Yoker) to the Low Level platforms, then a repeat move with 37026 and 303044.
Now came the rarest piece of track of the whole trip - 303033 from Queen Street (Low Level) to Balloch Pier - at the end of the summer timetable in 1983 the stretch of line from Balloch to Balloch Pier closed for good. With the track "bagged" 303033 took me back to Partick here I swapped to 303037 for a run to Lanark and back to Glasgow Central.
That time of the day again - 47710 "Sir Walter Scott" to Edinburgh for 47711 (again!) back as a time-killing exercise (plus needed 710 for haulage) then 47415 from Queen Street to Aberdeen for 47118 forward to Inverness.
Wednesday 27th July : Day 11
What haulage for the overnight tonight? Oh....47460 :-(
I slumbered on all the way southwards, only wakening when we approached Queen Street. I got off the train to realise that something was different - there was a distinctive whistling sound in the air. Walking to the front I was most surprised to find a class 40 (40170) on the front of our train!!!!!!!!!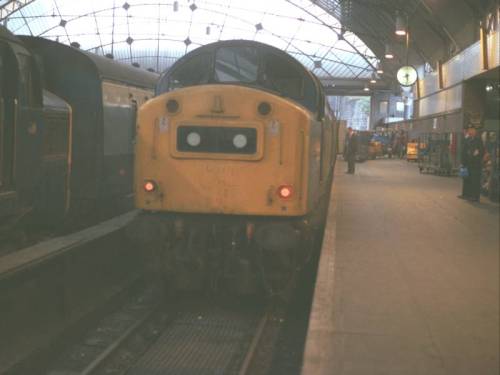 A rather pleasant surprise this morning - a 40 on the front of the overnight!
Where had the 40 been added and why? This remained a mystery for me until mid- 2000 when an exchange of e-mails with Rob Lorton of the CFPS confirmed 40170 had double-headed with 47460 from Perth to Stirling but then taken over our portion of the train. The reason however is still a mystery, not that I'm complaining though as 40's on passenger workings were by then quite rare. A case of me being in the right place at the right time!
Day 11 was to be my last big track-bashing day and consisted of;
303079 : Glasgow Central - Weymss Bay
303079 : Weymss Bay -Bishopton
311095 : Bishopton - Gourock
311095 : Gourock - Paisley Gilmour Street
52011 : Paisley Gilmour Street - Largs
52013 : Largs - Glasgow Central
Time now to move on to my last required piece of passenger track in Scotland......I returned to Queen Street station to find 37014 at the head of the Aberdeen service - very unusual. Things became even more unusual soon after departure - after leaving Queen Street tunnel we took the line towards Dumbarton then halted just after Cowlairs North Junction. Here 47469 was attached to the rear of the train, 37014 detached, and we continued our journey via the North to East curve. The reverse move was presumably arranged on the inbound journey to release the 47 for fuel or attention at nearby Eastfield depot. I baled at Dundee for 47408 to Edinburgh Waverley.
Now to the new piece of track. Another required 47 (47423) to Inverkeithing for Sc51235 via Dunfermline to Cardenden, then the end of the passenger line. Sc53144 returned me to Edinburgh Waverley. So, what now? Two days to go and no more track left to claim north of the border. Time enough to make one more trip to the far North and make the return journey south from Thurso all the way to Northampton by rail.
47711 (yet again) to Queen Street for 47469 (again too!) to Perth on the overnight.
Thursday 28th July : Day 12
Required 47434 took us onwards from Perth to Inverness, so the northbound move was a good one to make. Even better was the discovery that two of the three 37's on the Far North line were required too!
37262 : Inverness - Wick
37262 : Wick - Helmsdale
37260 : Helmsdale - Georgemas Junction
37035 : Georgemas Junction - Thurso

37262 at Wick on a rather wet summers day.
Back to the same cafe as before for a meal then the "epic" journey began - Thurso to Northampton. 37035 returned me to Georgemas Junction for 37260 forward to Inverness (via the Rose Street curve).
Thursday 29th July : Day 13
47578 from Inverness to Glasgow Queen Street. In order to make the entire journey home by rail I then got to Glasgow Central by way of 37178 (Queen St - Dumbarton Central), 303016 (Dumbarton Central - Partick) and 303020 (Partick -Central Low Level platforms). Took several times longer than simply walking it!
Southwards from Glasgow was on "The Royal Scot" with 87016 "Sir Francis Drake" at the helm. I did this as far as Carlisle where my rover ticket ended. From here I had decided to come home via some more required track - the Settle & Carlisle route via Leeds. Was this "via any reasonable route" as my ticket permitted? Northampton station staff couldn't decide when I asked so I thought I might as well try it!
I was well pleased to find the Leeds service with 40057 in charge - OK, it was dud for haulage, but decent traction nonetheless.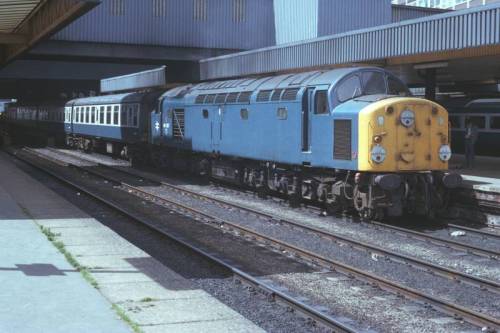 40057 at Leeds, my transport over the S&C from Carlisle.
The 40 got me all the way to Leeds for E51499 forward to Sheffield. The guard on this train was a little unhappy about my Carlisle to Northampton ticket (the only one who was on all the trains south) but I managed to convince him it was valid (!). At Sheffield I had a short wait for 45131 on a cross-country service and this was taken to Birmingham New Street. Timing was perfect as this dropped me on to the one loco hauled commuter service from Birmingham to Northampton - 86210 "City of Edinburgh" in charge. I finally got home about 24 hours after leaving Thurso.
Thoughts & comments:
Boy would I like to be able to repeat something like this again!! I travelled just a fraction under 8,000 miles for a ticket price of just £65. I'd been on the move for about 300 hours, giving an average speed over the holiday of about 27mph!
I only mentioned the haulages, nothing about what I was spotting during the trip. Well, try this for size;
loco classes : 06, 08, 20, 25, 26, 27, 31, 33, 37, 40, 45, 46, 47, 81, 86 & 87.
DMU's : all "first generation".
EMU's : 303, 304, 310, 311, 314 & 920 (prototype at RTC, Derby)
Nope - there certainly aren't rover ticket travels like this any more!