Thorntons Last Big UK Bash....
(or, another exercise in self control...)
Although I was once (correctly) quoted as saying "I don't really do locos", over the past 20 years or so I have gradually built up a fair list of haulages. As always seems to happen however, there are always annoying gaps to fill - like my one required class 87 haulage, one Virgin Cross-Country 47 etc etc.
Then, a couple of weeks ago I was looking at my work schedule and realised I was struggling to find a whole week I could take off as holiday (I hate doing a week off as mid-week to mid-week). That prompted me to book off as holiday the only week I could see "spare" in July or August - 17th to 22nd. So, with the holiday now booked, what would I do with it? First thought was a railrover in Belgium, but then I realised I plan to be there again in mid-September and have been three times already this year! Maybe it would be overkill to make yet another trip.
Then I looked over my UK haulage records. It was interesting to realise just how many, or should I say few, "passenger" locos I actually need before I can regard the UK as "cleared". The figure? Just 27 (n.b. I am excluding "freight" locos on short-term hires to the passenger operators). I also need just 11 HST power cars to clear them all for haulage (sorry - never have regarded them as locomotives - they were built as DMU's and that they will always be in my eyes).
The numbers :
| | | |
| --- | --- | --- |
| Class | No. | Required |
| HST (43) | 11 | 43009, 023, 037, 093, 138, 139, 144, 146, 147, 167 & 191 |
| 47 | 5 | 47811, 816, 830, 844 & 846 |
| 73 | 4 | 73201, 202, 210 & 235 |
| 86 | 1 | 86235 |
| 87 | 1 | 87007 |
| 90 | 7 | 90003, 004, 007, 008, 009, 013 & 015 |
| 91 | 9 | 91001, 004, 010, 014, 016, 020, 022, 025 & 028 |
| Total : | 38 | |
So, over a few evenings I began to think towards the possibility of just buying an all-line railrover (a snip at just £300!) and going off in search of the locos I needed. So, cutting out the boring bit of a few evenings spent pouring over the current "bible" (all line timetable), 16th July found me up very early and raring (!) to go....
(Required haulages will be shown thus :- 91028).
Day 1 : Sunday 16th July
"freedom to roam - but where do I go...?"
The 06.20 departure from my local station, Northampton was my first train on this seven day bash. Dud 321422 took me to Euston. A walk to Kings Cross in time to view the departures from 08.00, looking for any of my required 91's. The 08.00 was dud 91026, the 08.40 was dud 43105/112 and the 09.00 was dud 91015 - what a start! The 09.10 however was a different matter - Eurostar 3311+3312 awaited. Having not ridden on any of the NoL (North of London) Eurostar sets on hire to GNER, whichever set was on the 09.10 was going to be a score.
Baled at Peterborough - well impressed with the ride on the ECML - definitely better than in a mark 4 coach! Didn't have too long to wait at Peterborough before 91028 appeared on the 10.44 northbound departure.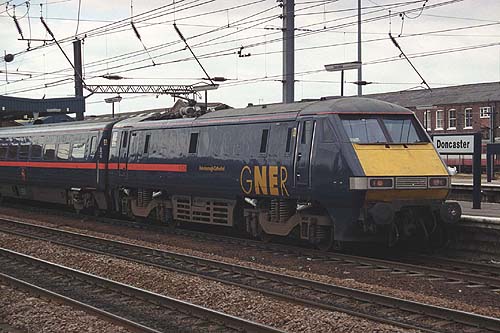 91028 on arrival at Doncaster.
Next stop Doncaster. Even shorter wait here for 91014 back south on the 11.44 - hello again Peterborough! A few more dud 91's before the second Eurostar diagram appeared - 3303+3304 which I took, but only as far as Grantham where a fast leap had me heading south again to Peterborough on 170516.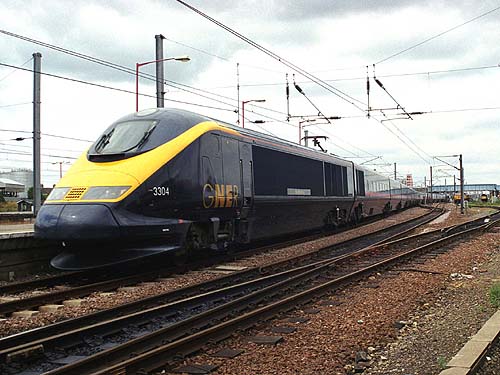 3304 leads this Eurostar set into Peterborough (later in the day than I had it)
3311 leads another Eurostar set northwards (later in the day than I had it)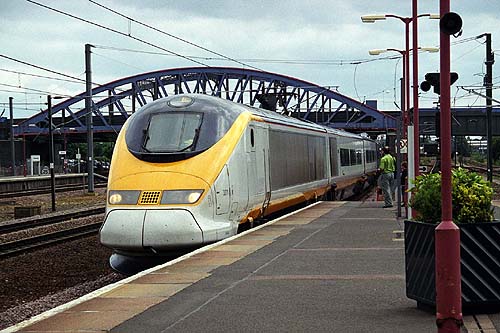 Bit of a fester now with everything being dud. Then I got a railgen message to say that EWS 90040 was booked power for the 17.33 Euston departure to Blackpool North. Required! A quick view of the bible confirmed the 16.07 south to Kings Cross should get me to Euston in time. Well pleased when 91016 turned up on said departure! Swift walk to Euston and 90040 was "in the book". Took this as far as Tamworth then 87020 to Rugby and 321421 home.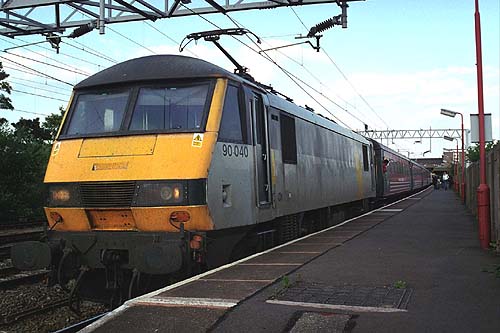 90040 at Tamworth - time to head home now!
Sight scores for the day were : 66136, 67011, 170632 & 170634
Day 2 : Monday 17th July
"lucky score to start, downhill from there"
Decided to spend some of the day at Reading after fGW 47's and HST power cars. Rather than face London in the rush hour (plenty of time for that the rest of the week) I decided to get there via the 06.14 off Northampton (321435) to Birmingham International then the 07.16 departure as far as Reading. In rolled 43100 + 43093 - the latter my last Virgin Cross-Country pc required for haulage!! Lucky or what?!?
Quarter of an hour at Reading and 43018 + 43146 was taken to Paddington. Not long to wait before 43191 + 43124 got me back to Reading. As I wanted to view the 12.03 fGW departure from Paddington (47 hauled) I ended up on 166213 back to Padd as all the trams were dud. Annoyed to see the loco that brought in the stock for the 12.03 was required 47830. 12.03 was dud 47815 so with all the trams in Padd at the time also dud, what next? Decided to nip over to Euston & Kings Cross but nothing required there either. Back to Padd and things improved as the 14.03 was 47846 (with 830 being shunter again!). Back to Reading again. A chance conversation with an enthusiast (sorry - didn't get your name - but thanks for the gen you gave me anyway) confirmed where another of my tram pc's was - heading from Padd towards Reading :-) 43147+43149 was soon sampled to the trains next stop - Chippenham. To get back to civilisation involved a Wales & West sprinter stagger (150236) to Swindon. Loads of freight to photograph (including 47787/789 on the Serco test train) whilst a few dud trams wandered through. 43185+43133 got me back to Reading in time to view the 47 on the 18.11 to Padd - dud 47813 :-( I flagged this as following 166215 would get me to Paddington quicker!
Long fester at Euston - only one Virgin 90 appeared, dud 90011. Could've had required 90021 on the Caledonian sleeper but didn't fancy the 05.45 arrival into Perth. Bumped into Andy Flowers who was out testing his new GPS and increasing his Class 87 mileage on an evening round trip from Coventry. Ended up on 321433 home.
Sight scores for the day were : 66110, 66188 & 66243
Day 3 : Tuesday 18th July
"last van - and little else! Good for sight scores though"
Late start today - well, 06.28 anyway. 321418 to Milton Keynes. Hoping for a 90 but nothing except 87's appeared. Then in rolled 87007 "City of Manchester" on the 07.09 to Glasgow - my last one :-) Just did it one stop (to Rugby) where I spied a 90 arriving, heading south. Quick leap (+2 connection) but dud 90006 "High Sheriff" was all that greeted me. Did it to Euston anyway to see what Skodas were there.
None! all vans :-(
Swift walk to Kings Cross and the 09.10 produced 91022 "Double Trigger" which was taken as far as Peterborough. Determined to get some more fGW twanks I returned to London with 91018 "Bradford Film Festival". Getting really grumpy now - 47830 at the stops at Padd again and dud 47846 at the head of the 12.03 departure. Was 830 actually going to work a train?!? Good news though was that 43135+43137 were on the 11.45 - off to Reading again then. Back (43150+43040) for the 14.03 but it was 47815, so flagged it - guess what brought the stock in...yep, required 830 again! Tubed it now to Liverpool Street looking for my last 86/2 - no joy (but scored a couple of turbostars for sight, so not a totally wasted journey), On to Kings Cross - nothing. Euston - also nothing really beginning to wonder where all the Virgin Skodas have gone!! Planned to catch the 16.03 departure regardless of loco (87032) as it would get me to Crewe in time for required RES 47747 (gen from railgen earlier in the day) on the 14.40 Edinburgh to Birmingham New Street. Railgen also coughed up that required RES 47742 was on the 19.15 off Manchester Picc which I could spin back on to. Two required "freight" 47's in an hour or so, that'll do for me :-)
The plan started to unravel just 2 minutes out of Euston when we ground to a halt - signal failure at Willesden!! This cost half an hour so I had to settle for baling a Stafford for an hour or so fester. Profitable though as I scored a 66/5, 67 and 175 for sight.
47747 turned up about 20 minutes down - in a fresh coat of Virgin paint! Obviously the hire period to Virgin was not so short-term. Did 47747 to Wolverhampton for 86234 back to Stafford and a wait for 47742. Profitable again as I scored another 66 for sight!
47742 duly rolled in and this was taken as far as Coventry. Half an hours wait then for the 21.58 dusty-bin home (321414).
Sight scores for the day were : 66073, 66229, 66239, 66508, 67003, 67006, 170203, 170207 & 175005
Day 4 : Wednesday 19th July
"Security scares etc"
05.57 off Northampton to Euston (321433) in order to go stealth bomber and Eurostar bashing again. 07.30 off KX was 91017 but was pleased to find EWS hire-in 90022 on the 07.50 Bradford service on its own (had been dead-in-tow behind 89001 earlier in the week). Just did the short leap to Stevenage (next stop Wakefield otherwise!) for a pleasant sit in the early morning sun.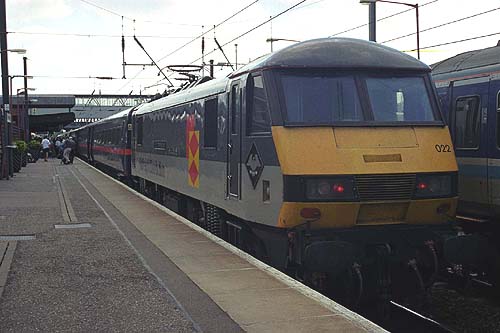 90022 - seen at Peterborough, returning to London, later in the day.
91009 "The Samaritans" (no, haven't yet felt the need on this ticket to call them!) then got me to Doncaster where I decided to sit it out for something required.
Something required came in the shape of Eurostar 3301+3302. Did it as far as Newark Northgate then baled to see what was on the following service. Dud 91024 - but done to Peterborough anyway. About now Railgen kicked in that Paddington and Victoria had been closed because of security scares. Places to avoid then! Bit of a wait at Peterborough before 91020 appeared heading south. Took it to Kings Cross.
Over to Euston to wait out a required 90. Only stood for a short while at the end of platform 4/5 before a security guard approached me. Strange conversation took place in which he basically told me I was not allowed to stand on the platform, even with a valid ticket! As I was about ready to head for home I didn't argue (guess I should've done - I think he was well out of order, despite the security scares). 86259 to Milton Keynes, a fester there produced nothing so 321420 took me home.
Sight scores for the day were : 66130, 66139, 66143 & 170510
Day 5 : Thursday 20th July
"..at last - a required Virgin Skoda!"
05.57 off Northampton again (321412) to Watford Junction, then 319006 to Clapham Junction. First thing I saw when I arrived was required 73210 heading to Gatwick! Experienced a Tokyo subway type jam on 3529 into Victoria. After a wait one of my other Gat-Ex 73's appeared (73235) so it was off to Gatwick Airport. Soon realised that there were no new units out on the Gat-Ex's - all 73's. So much for the press launch a few days earlier! At G.A. I had a short wait before 73210 appeared and it took me back to Victoria.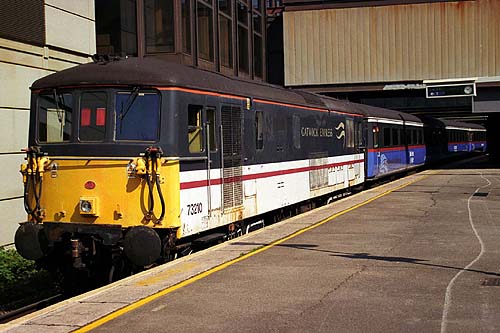 73210 at Gatwick Airport.
All the other 73's out were dud so Paddington next...
47815 on the 12.03, but 815 had brought the stock in - where was 830 then I wonder... Headed for Reading with 43152 + 43151 and after only a short wait in rolled 43017+43138 - so it was back to Paddington for me! Arrived at Paddington to see 47830 at the head of the 14.03 departure - hooray! it had produced at last :-) Train was absolutely wedged but not fussed as I only did the short leap to Reading. Bumped into the same enthusiast as earlier in the week - no gen on where my required pc's were but then in rolled 43012+43144. No time for further chatting - Paddington here I come!
Over to Euston again - come on, time to get a Virgin Skoda, surely!?!
After almost two hours (no sign of Railtrack security tonight!) in rolled required 90009 "The Economist". After a short wait I found out it was forming the 18.33 to Glasgow - ooh err, first stop Crewe! That would mean a stagger back home about midnight - and I was getting a bit knackered by this time! Checked the bible though and found that it had a booked pick-up only stop at Watford Junction. Good! 90009 was therefore only done as far as WJ where a station Ada gave me a hard stare as I baled off. 321408 back to Euston, no more required Skodas so 87034 to MKC and 321429 home.
Sight scores for the day were : 66149, 67005, 67012, 67021 & 67026
Day 6 : Friday 21st July
"meet Timmy the hamster..."
05.57 from Northampton again (I'm becoming a commuter!), 321409 to Euston. Over to Kings Cross and I was surprised to see a 91 (029) on the 07.50 to Bradford, the usual 89 or 90 turn. The 08.00 however produced 91010 which was done to Peterborough. As we arrived we passed 3309+3310 - the last of the four Eurostar sets on hire to GNER that I required. 3309+3310 was duly done to Doncaster where I saw 43167 - one of my required HST power cars - being dragged out of the Wabtec works. Bound for Neville Hill no doubt. Unlikely to see it out for the remainder of my rover ticket :-(
A 30 minute fester at Donny and I dropped me on to another good score for the week - EWS 90025 - on the 10.05 Leeds to KX. Three required locos in three moves (and one of them a "freight" one) - jammy or what!?!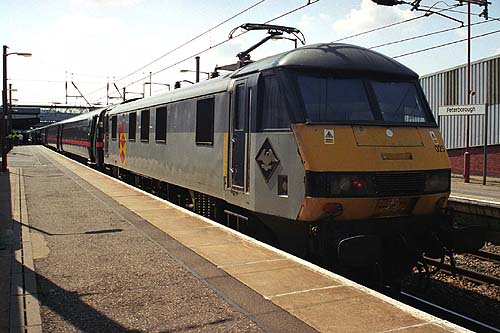 90025 on the rear of the 10.05 Leeds to Kings Cross at Peterborough.
Back at Peterborough and things got even more interesting. Just behind the Leeds is a non-stop Doncaster to Kings Cross - it whizzed through with required 91004 at the rear. Then two minutes later, the 11.45 to Glasgow appeared with 91001 at the helm (getting 91001 meant just two 91's now were now required - 91004 and 91025). Being non-stop to York gave me time to contemplate how to get back to fall on 91004 - not as simple as it might sound without knowing the return diagram! At York I decided it as time to cheat a bit - I called into the GNER station management office and managed to get someone to look up the KX departures on the TRUST computer - this confirmed that 91004 was on the 13.30 off KX, so I arranged my move back to Doncaster (91022) to fall on 91004 (which I only stayed on back to York as it was wedged).
On this particular day I had arranged to stay with a friend who lived at Starbeck near Harrogate. With time to kill until he'd be home I then did 158903 to Leeds for 321903 to Doncaster. Yes - there comes time on every railrover where the sanity finally goes...
91026 took me back to York (another Tokyo subway special) then 142071 vibrated and shook me all the way to Starbeck. Met David at the station where we had a beer and picked up a Chinese (takeaway) and headed back to his place.
Walking in to his living room there was a small commotion in the corner of the room. "Oh" said David, "meet Timmy the hamster"! A feisty little critter - only had one eye but when let out of its cage it belted round his living room with great gusto. Managed not to stand on him - and he managed to survive a sniff of my trainers (despite daily changes of socks, all the walking up and down platforms over the last six days had taken its toll!).
Sight scores for the day were : 66162, 66163, 66227, 67022 & 170419
Day 7 : Saturday 22nd July
"a chopper and a Skoda - is that all to finish on?"
A relatively late start for me - and a 40 minute trip in Davids car to the Keighley & Worth Valley Railway for their diesel gala. A short affair for me - DRS 20904+20906 on the 09.00 Oxenhope to Keighley (for which I was relieved of £3 for a single ticket) then I was back on my all-liner! 308145 to Leeds for 158772 to Manchester Piccadilly.
This was to be another day after my Virgin Skodas!!
87031 to Stafford for a fester. No 90's about (again!!!) so did 175006 to Crewe just to see what they were like (not too bad actually!). Long fester at Crewe - only dud 90001 and 90014 viewed. Tempted to get on behind 37426 for a thrash along the North Wales Coast when it appeared... No, that won't get me a Skoda - so back to Stafford again (87019). Still no Skoda's, so it was then 87004 southwards. With diversions on the route (Trent Valley shut) the journey would be via Bescot (scored 4 sheds), Stechford & Coventry to Rugby. An additional stop was made at Birmingham International. We'd been sat several minutes when in rolled REQUIRED 90013 "The Law Society" going north. Aarrgghh!!! Grabbing my bag I made a very heroic attempt to get off the train (rear but one carriage), down the platform, up the stairs, down the other side and onto 90013's train.....
.....and failed by about 5 seconds :-(
As I watched it departing however I saw the window sticker - it was on a Birmingham diagram :-) Time to get to BNS then and score it back out then. 323219 did the honours and I arrived into BNS to the sight of 47722 on the 17.06 departure and 47750 alongside (the later also in fresh new Virgin livery). Both were dud so I settled back onto 90013 (with a big smile on my face I dare say).
Farce then ensued as the doors on the 17.06 flew open (it was about 17.10) and loads of passengers baled and onto our train. The departure board now showed the 17.06 train as NOT calling at Birmingham International or Coventry, first stop Leamington Spa. Hmm, strange...a problem on the Coventry route perhaps...
17.15 came and went. Was I to be denied my haulage behind 90013 after all..? Nope, a few minutes later and we set off - 90013 duly scored. Don't care what happens now I thought.....
We ground to a halt just outside Birmingham International. After a northbound train passed we were routed into platform 2 - 87023 sat in P5 and a 323 in P4. Shortly after and 57008 rolled into P1 heading south. Right, all southbound platforms full - so, with all trains being diverted through here, the WCML was now stuffed good and proper.
Turned out a freight train had failed at Berkswell. Eventually we set off at walking pace. By Coventry (about an hour late) we passed 92024 - I presume the errant loco - on a freightliner service, dumped in platform 4. Stayed onboard with 90013 as far as Milton Keynes Central. Baled there - as expected, all southbound services showing severe delays. Being mid-evening I decided to escape home before Euston ran out of trains to send north. Finished on a dud 'un - 319010 - to Northampton.
Sight scores for the day were : 66210, 66237, 66238, 66249, 175006 & 175009
Thoughts :
Was it good value for £300? Yes, I think it was. OK I didn't exactly go far and I would like to have been more successful on getting those Virgin 90's. I could have tried the "blanket bombing" approach (just diving on and off trains irrespective of motive power) but suspect I'd have scored less required locos that way. Whatever the case, it was an enjoyable week and as a result I'm now down to needing;
| | | |
| --- | --- | --- |
| Class | No. | Required |
| HST (43) | 4 | 43009, 023, 139& 167 |
| 47 | 3 | 47811, 816 & 844 |
| 73 | 2 | 73201 & 202 |
| 86 | 1 | 86235 |
| 90 | 5 | 90003, 004, 007, 008, & 015 |
| 91 | 1 | 91025 |
| Total : | 16 | (was 38) |
To clear my UK "passenger" locos for haulage.
Mustn't forget the bonus 5 "freight" locos I also scored this week - 47742, 47747, 90022, 90025 & 90040.
Doubt I'll spent another week like this (in the UK at any rate) - hence the Page title.
Gary Thornton.
(still wondering what happened to all the Virgin Skoda's....)



Back to "Railrovers"