************** End Of Message ***************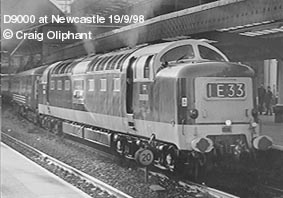 I arrived at New Street by train, and as I was disembarking from the coach, I could already hear that distinctive Napier sound. D9000 was just arriving around 13:20 from the Oxley direction, and she passed though the station on the adjacent platform (perfect timing!).
At around 13:35 1E33 (10:00 Paignton to Newcastle) arrived behind a FragonWagon Class 47, and the Virgin shunter indicated to the driver using sign language, that the loco was 'coming off'. At the same instant, Deltic 22's twin Napiers burst into life on a nearby road, as the task of changing loco commenced.
Train was wedged on leaving Birminghan, not because of excessive bashers on board, but because the previous Newcastle train had been cancelled. Virgin were having a bad day. Deltic was delayed departing Birmingham by 12 minutes, as various passengers argued with the two guards, and other station staff about the train being wedged. I (naturally) stood in a coach vestibule next to a drop-light window. In the same vestibule were a party who had reservations in the first class, but of the cancelled train. For some reason, they were all drinking from big bottles of champagne, and arguing with the guards at every opportunity. The first class was full, so even the directors of D9000 locomotives Ltd had to 'slum it' with the rest of us.
Once under way, I was pleased to see that a fair number of photographers were lining the route, so the gen grape vine had obviously worked well. Why are the line speeds on the former LM region so poor north of Birmingham. Track is straight for miles, yet the line speed is a pathetic 90mph. Worse are the totally unnecessary permanent restrictions, such as the 50mph through Burton-on-Trent. Pathetic.
Running was good as far as Doncaster, with D9000 gaining odd minutes on the Duff schedule. However, we were seriously overtime at Derby, Chesterfield and Sheffield due to an excessive amount of passengers, each with an excessive amount of luggage etc. We arrived 15 minutes late at Doncaster, where GNER held the Aberdeen train to allow a cross platform connection.
I was happy to be late, as 1E33 is booked to take the slow lines north of York, to allow the Aberdeen (14:00 ex-KX) to overtake on the fast lines. As the Aberdeen was now already in front, this meant that we had a good chance of using the fast lines on the famous 'racing stretch' north of York. As an aside, us 'oldies' still think of the ECML as it used to be when Deltics ruled the roost. Fact is that all of the ECML is now a racing stretch for 100mph locomotives. Even the 'slow' sections north of Darlington as now fast. We were also treated to ECML signallers who seemed to ensure that our path was clear for most of the journey (unlike those WR panelmen at Reading).
At Doncaster, a passenger joined and sat in the seat opposite. Despite being dressed smartly in a suit, he turned out to be a lapsed railway enthusiast (a GW man), and was gob-smacked when his train arrived with a Deltic on the front. I had to explain to him, some of the history of D9000, and also how lucky he was to turn up at Doncaster, and get Deltic haulage, when D9000 should have been somewhere near Banbury on the return Ramsgate by then !
We took 23 minutes 14 seconds from Doncaster to York. This is almost certainly a Deltic record, as such a time would not be possible on the old road via Selby (diversion was completed just after the Deltics were all withdrawn). As we had a slow start from Doncaster, I suspect that a sub 23 minute time might well be achieved next time.
As this was the first proper ECML Deltic hauled service train since 1981, the Leeds drivers were out to make the most of their day. At least one of the drivers was an ex-Doncaster man, who'd driven Deltics before, in a previous life. We had an excellent run York to Darlington in 30 minutes and 2 seconds (personal best by far) as D9000 had no trouble running at 100mph with just 7 Mk 2's in tow. The departure from York is now much quicker that it used to be in the old days. Braking at Darlington appeared to be very well judged. On these short start to stop dashes, you need an excellent start from rest, and then at the destination, a judicious application of the brakes to give you a good time. We arrived at Darlington 'right time', having departed York 12 minutes late (after more station overtime).
At Newcastle we were stopped briefly outside the station on the King Edward bridge, where D9000 made a fine sight, glistening in the strong sunlight (it was a nice warm day in Geordieland). During the 36 minute layover, Deltic 22's power units were left running, which gave the whole of Newcastle Central that 'magic' Deltic throbbing sound. Indeed I remember thinking that the North Eastern must have build their stations with Deltics in mind, as York, Darlington and Newcastle all share the same acoustic ambiance. If there's a Deltic somewhere in those stations, you can hear it for miles around.
Departure from Newcastle was via the High Level Bridge, and then past the former Deltic shed of Gateshead. Whilst FP has completely disappeared, and ED razed, Gateshead remains almost completely intact, except for the lack of staff and locomotives, and all the rails being weed-strewn and rusty. Like a ghostly film set.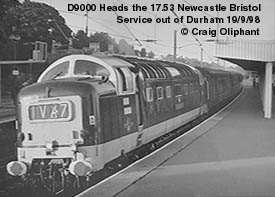 On the return we again picked up all the passengers who'd intended travelling on the previous VXC train, which had also been cancelled (same diagram as cancelled outward train). However, nothing like as busy as we'd been leaving Birmingham. Unfortunately many of the passengers were football yobbos, some the worst for drink. Bring back ticket barriers and stop them travelling on public trains I say. Some of the yobs were covered in blood, after fights earlier in the day. Some groups were violent, abusive and very threatening. I often wonder where all the British Transport police go, especially on a Saturday evening ?
We had a storming departure from Darlington station, and the driver pulled back the power handle to full power, almost at once. We then had an excellent run on the fast lines on the racing stretch, and arrived at York in 29 minutes and 44 seconds start to stop. As far as I can determine this is a Deltic record, giving an average exceeding 89mph !
Another Deltic record from York to Doncaster was spoilt by signals approaching Donny. After Doncaster, the running was pedestrian once again. Even though it was now dark, there were quite a few photographers appearing at some of the station stops to take photos.
Driver eased off before Saltley, just so that he could open up both engines as he passed the depot. All the signalmen were cheering and waving into the night, as we passed Saltley power box. Arrival in Brum was 2 minutes late for some reason, just in time to miss the last train to Leicester (which is why I drove earlier in the day, to Birmingham International).
At New Street, the Deltic's fuel gauge showed that she still had about 370 gallons of fuel. She then departed away into the night, after the power box had spent a couple of minutes trying to get the double-slip at the west end of platform 11 to set the correct route. This slip further delayed the Duff waiting to take over the train to Bristol.
Verdict of the first Deltic hauled ECML service train since 1981 - one of my best ever Deltic runs. Probably D9000's best run since preservation.
Ralph Barrett