24th April-1st May 1999
A 7-Day Portugese Railrover
Not the usual sort of write-up to be found on my Website, but I hope you will find it just as interesting!
For several years I have been thinking of venturing to Portugal to sample some of the diesel traction on offer, but never quite got round to putting my plans into action. Then, several months ago, a friend suggested a holiday out there, using a 7-day "Bilhete Turistico" (1st class all-line railrover) as the basis for getting around. Cutting a long story short, on 24th April David Russell, his brother Brian and myself set-off on an exploration of the Portugese railway system...
The plan was quite simple - fly to Faro on the Algarve on Saturday afternoon (24th April), buy our railrover ticket to commence on the Sunday and use the overnight service to Barreiro (opposite side of the Tagus river from Lisboa). During the week we would work our way around the country using a selection of hotels and "B&B's", with the odd night spent on overnight trains too. We would return to Faro on the Friday night overnight with our flight home being on Saturday 1st May.
At least, that was the plan....


Day 0 : 24th April
We were booked on the 15.30 Manchester to Faro Air2000 flight. My route to get to Manchester Airport was by way of Connex (319010 Northampton to Rugby), Virgin (tram 43092/43166 to Crewe) and Central Trains (156407 to Manchester Airport). On the way I was pleased to scratch a new 66 for sight (085) and also clear my 323's by seeing my last one, 225, at Crewe. Not a bad start to a holiday!
The flight to Faro with Air2000 gave me my first chance to travel on a Boeing 757 (G-OOOX). In Brians case it was the first time he'd ever flown! He enjoyed the experience (including the in-flight meal....) and we had a roughly on-time arrival into Faro at about half-past six. A taxi to Faro station and we soon purchased our 7-day 1st class all-line railrovers (great value at 18,000$00 - about £62 at the prevailing exchange rate of 290$00 = £1 !). We also had to buy a single to Tunes (350$00 or £1.20) as the overnight left Faro before midnight and Tunes at 00.02, 2 minutes into the validity of our ticket. Good timing or what!
Our first haulage, to Tunes, was behind 1212 - we'd been told these locos were rather rancid and sound found ourselves in agreement as the performance was somewhat pathetic. They didn't sound to brilliant either. With a couple of hours to kill in Tunes we retired to the bar opposite the station for a few glasses of Portugese beer ("Super Bock") at the equivalent of less than £1 a pint :-) We think the regulars in the bar were a bit unsure what to make of us! As the bar also doubled as a corner shop we took the opportunity to stock up with supplies for the nights journey.
We wandered back to the station to view the arrival of the two portions that make the overnight train to Barreiro in the north - one half from Lagos (1201 class in charge) and the other from Vila Real that had a 1931 class at the helm (1935). Now we were expecting the 1931 class to be a bit boring (i.e. no thrash from the diesel engine) as they are 1980's built locos based very much on French Railways design. We soon found that this was not the case as 1935 set about shunting the stock very noisily. We later were told that, when first built, CP experienced problems with the silencer units. As a solution, CP simply removed the silencers!
We piled into a first class compartment towards the front of the train and settled back to enjoy the performance of 1935. We were not disappointed.
Day 1 : 25th April
On this particular evening a 1401 (1416) was shunted between 1935 and the stock, presumably to get it back to Barreiro works for attention. The first coach on our train was a brake van and we were in the next. Despite this, we had trouble getting to sleep for the constant thrash coming from 1935 as we headed north! Route was via Beja to Barreiro, arriving just after 05.30 on Sunday morning (yawn...).
To get to the stations in Lisboa still involves a taking a ferry across the river. The 06.00 departure (on ferry "Trás-os-Montes") was amazingly busy - particularly as it was both a Sunday and a public holiday all rolled into one. The trip to Lisboa takes 30 minutes. We had a bit of a wander (again, surprised at the amount of others up and about at such an early hour) before arriving at Cais-do-Sodre station (all EMU's) where we took a ride out to Cascais. We were on the lookout for some particular EMU's on this line - built and exported by Cravens of Sheffield in 1950. We were pleased to see some and also have a ride on a couple. A change of scene next and we headed off for Rossio station. Unfortunately we got a bit lost but as a result found a really amazing street-car line that ran down an extremely steep hill.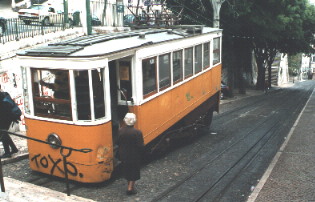 A streetcar/tram with a difference in Lisboa!
We viewed a couple of the trams (?) before re-tracing our steps and finding Rossio station. From here we ran out to Sintra on another EMU. We returned towards Lisboa, diving off at some shack for a bite to eat. By early afternoon we found ourselves at Cacém station in readiness for a return to diesel-hauled traction.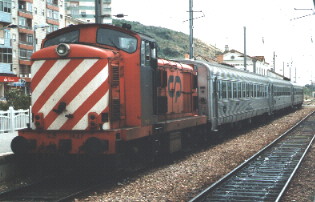 1427 at Cacém prior to departure.
Our afternoon was spent on a run up the coast to Figueira da Foz behind our first 1401 class loco. 1427 soon proved that this class did indeed sound very much like our old class 20 locomotives with a very distinctive whistle. Indeed, the first 10 of the class were built in England by English Electric, the same company as built the 20's. A short wait at our destination and it was an EMU for the journey to Coimbra-B and another change. A good chance here to view some of the single car DMU's that are used on many rural services. The plan to catch the fast train to Porto was scuppered after we were directed to a following local service (EMU again). We arrived in Porto (Campanhã station) around 9.00pm and had the short ride "down the hill" on an EMU to São Bento station.
Our hotel (the Peninsular) was but a minutes walk from the station. For just 4,500$00 a night including breakfast (£15.50) this was very good value. It was a good clean room with bath/shower and WC. The whole style of the hotel was 1920's and it had what must be the oldest working lift in Europe! The 3 person capacity lift was duly sampled before we retired to the bar for a few Super Bocks and then to bed for some much needed sleep.
Day 2 : 26th April
An early start was required for the planned journey along the Douro Valley (07.44 train from São Bento station) and as breakfast did not start until 07.30 a swift in-and-out of the breakfast room was definitely required. Unfortunately approaching 07.30 and there was no sign of life (door locked and lights off) so it was off to the station buffet for some food - as it seemed everywhere in Portugal - cheese, ham, or cheese and ham seem to be the only choices on offer. Armed with a couple of cheese and ham rolls we settled in the front coach of the 07.44 departure to Pocinho with UK built 1407 at the head. The run along the Douro valley is quite scenic (more so the further up the branch you get). At Régua we noted a number of redundant steam locos still dumped on the depot turntable.
We left 1407 at Tua where we transferred to another train for the journey to Mirandela. This line is unusual in being metre gauge (compared to the more usual "broad gauge" 5' 6" of most of Portugals rail system). It is also extremely spectacular as the train clings to the side of a river valley most of the way. In places there was nothing between us and the river a long way below. The diesel loco was quite rateable too and had to work hard as it was uphill most of the way! At Mirandela we viewed the new light-rail system (single car DMU's) before finding a café for a meal. This was a bit of a challenge as the staff spoke no English and we eventually had to resort to viewing the meal being eaten by a local couple sat behind us and then agreeing to have the same! The return run to Tua was good for the scenery but quiet as it was downhill most of the way. A couple of heavy rain showers also dampened things a bit. From Tua we killed an hour by riding back one station towards Porto then picking up 1414 for the run to Pocinho.
We were re-united with 1407 at Pocinho for the run back to Porto on the last train of the day (19.05 departure). Chance for a snooze during the almost 5 hour journey. We got back to the hotel just on midnight - no Super Bocks tonight.
Day 3 : 27th April
We had decided to have a quiet day looking around. Prior to breakfast though we did a run to Campanhã station and back just to get another couple 1401's "in the book". Breakfast was taken in the hotel about 9am then we split up to explore Porto for a couple of hours. David and myself had already decided to take an afternoon run up to Braga (about an hour north of Porto) as one particular train was a booked 1401 working. A nice run was had and we were back in Porto in plenty of time to spend the late afternoon zooming about after as many 1401's as we could find on the rush-hour trains. We had a successful time with 8 more being sampled. On one train we also had the rare experience of being "banked" out of São Bento station by 2514, the electric loco which had brought the stock down from the depot. We were back to the hotel by 9pm and made good use of the bar until bedtime.
Day 4 : 28th April
Time to move south and after a leisurely breakfast we booked out of the hotel and wandered over to the station for the 08.21 "chopper" hauled service (1404) up to Campanhã station. A half hour here for our first electric loco haulage (2627) on the 09.05 departure to Lisboa St. Apolonia - a journey of approaching 4 hours for 340km (and that was an express!). Once in Lisboa it was another ferry crossing ("Minho") to Barreiro so we could spend the late afternoon/early evening bashing the local services. Our hope was to sample two specific loco classes - the 1501 (ALCO) and 1801. The former are 50 year old imports from the US and the latter are "famous" to UK cranks as they are closely based on our class 50 locomotives.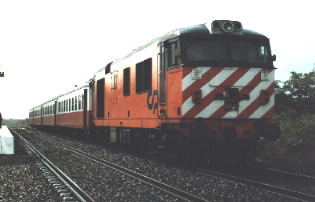 1802 at Penteado station.
In the event we were delighted as 1802 appeared on the 1640 departure out of Barreiro and 1510 on a later service. The trip behind 1802 was superb and we even spent some of the journey in the leading vestibule with both doors wide open listening to 1802 being heavily thrashed away from each station. Magic! 1510 was just as much fun, especially as the early 1501's have ships air horns fitted. With the numerous crossings en-route much use was made of the extremely loud horn on 1510. Quite a thrash from the engine too.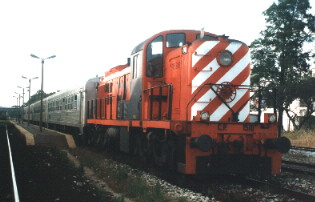 1510 at Palmela station.
We arranged our travels such that we eventually fell onto the 19.35 ex-Barreiro service which headed south to the Algarve. Our plan was to take this to Tunes for a 40 minute wait (into the bar again) for the 00.02 overnight departure back. 1935 appeared (dud!) and off we set southward (enjoying again the extremely loud thrash - and we were in the rear coach!). We noticed a booked crossing with a northbound service at one particular station was not made, but didn't give it another thought as timekeeping of CP trains sometimes leaves a bit (OK, a lot) to be desired. At the next station (Grandola) however we had a couple of passengers motion to us that the train was going no further. We baled to discover several buses sat on the station forecourt. Hmm.... It turned out that a freight train derailment a day or two earlier had closed the line whilst the damage was repaired. Although I am not into buses, the one we boarded was pretty hellfire in having 3 + 2 seating! Half an hour on the bus had us down to Ermidas-Sado where 1936 was waiting to take us on south. Despite the unexpected bus journey, we only departed a few minutes down on the train schedule so our +40 connection at Tunes was still safe.
....or at least it was until we arrived at Funcheira where we festered for about half an hour waiting for a connecting DMU off the Beja line. With our time at Tunes now reduced to only a few minutes we had to prepare ourselves to bale at the shack before to ensure we didn't get stranded overnight. In the event the driver of 1938 was obviously keen to get home and the run to Tunes was...erm....exciting to say the least. There are a lot of tight curves on this route and in the rear coach we were thrown about all over the place as the stock objected to the speed being maintained through the curves. Away from each station stop 1936 was even louder than we were by then used to. We arrived in Tunes with about 10 minutes to spare so no time for a beer, but our "bed" for the night was safe.
As we rolled in the triple headlights of the loco on the northbound overnight were blazing preventing easy identification, but as we got closer to it I realised it was not a 1931 but an ALCO :-) 1525 (repainted in older silver/green livery) would be our motive power for the next 5 or 6 hours.
Day 5 : 29th April
Not as loud as a 1931, but with our compartment window open a touch we drifted off to sleep to the strains of 1525 powering us northwards. Arrival into Barreiro was a little behind schedule just before 6am. No chance to photograph 1525 (too dark) but a bit later and we viewed/photographed 1802 which was rostered for the 06.25 local departure. Over to Lisboa by ferry again ("Algarve" this time) and we took breakfast (pastry containing cheese and ham) in the buffet at Lisboa St Apolonia station.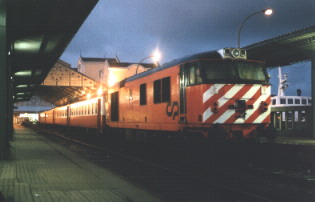 Another passenger working for 1802.
Today's plan was an all day circuit via Covilhã and Guarda which we were told was very spectacular, particularly between Covilhã and Guarda. With time to spare we opted for the 08.xx departure with electric 5604 in charge. This took us as far as Entroncamento where in the hours wait we had time to arrange our overnight accommodation in the "Carlos Lopez" café/residencial which was right by the station (a bargain at 3,500$00 - £12 - for a single room en-suite). As we waited for our train to Covilhã I spotted a new poster stuck on the wall of the station building. Although it was all in Portugese, I noted the word "greve" at the top. Having previously read someonelses write-up of a trip to Portugal I knew that this was the Portugese word for strike. The date of this action according to the poster - 30th April and it also said 24 horas, 24 hours....
We managed to find a member of rail staff who confirmed that there was indeed a strike planned for the Friday but he suggested it would only be a "small" one. As a result we decided to continue with our planned day to Guarda and back. On the train (2604 in charge) we decided to revise our Friday plan to make getting back to Faro the priority as there are not so many trains south from Barreiro. The day ones also were "reservation only" so we would need to get ourselves booked onto at least one of them.
At Abrantes we swapped 2604 for 1943 which would take us the rest of the way to Covilhã. And what an eventful journey that turned into....
A few stops down the line and the brakes started making a very strange grating noise every time they were applied. Soon the noise was accompanied by the smell of hot brakes/metal. A look out from out compartment window revealed that the bogie under us was shedding sparks and smoke each time the brakes went on. The other coaches were also smoking badly on braking! As the train was about 20 minutes late the usual CP practice of "thrash and brake" was being used to claw back vital minutes too. I had visions of the train being caped at some shack in the middle of nowhere but that was obviously not on CP's agenda. At the last couple of stops before Covilhã the train was completely enveloped in clouds of smoke from the brakes as we stopped! Despite the obvious brake problem we made it to our destination and at least three very relieved British tourists baled from the train.
With about 15 minutes here before the train to Guarda we tackled the ticket office clerk for our reservations on the Friday train south. No go. With the usual language barrier we couldn't confirm why he couldn't give us the reservations we wanted. Never mind, plenty of other stations to try at.
The train to Guarda was a single car DMU. The journey was indeed very spectacular with us clinging to a steep valley side most of the way. Unfortunately our minds were now on our potential predicament of getting back to Faro so our enjoyment of the view was not all it could have been. At Guarda a further attempt was made to get reserved seats. Again no go and this time the word "greve" was used by the ticket clerk. On the train back to Entroncamento (via Coimbra-B) much discussion took place about our situation. After some debate we decided to stick with our booked accommodation but to enquire about the possibility of getting a taxi for the 4-odd hour journey south to Faro.
Over a meal and a beer in the Carlos Lopez café we did indeed manage to arrange for a taxi - and even got introduced to the taxi driver who would take us (and he spoke some English which was a bonus). The fare was agreed at 30,000$00 (about £105) which split 3 ways was not so bad. We suspect that the taxi driver was over the moon with this too! With our plans sorted we enjoyed a few more beers before retiring for the night.
Day 6 : 30th April
Another leisurely start and we were sitting back in a (very fast) Mercedes taxi by a little before 9am. The journey to Faro was about as exiting as some of our train journeys. Only once did our driver back out of an overtaking move when he was obviously running out of road with another car approaching fast. On the other occasions it was close but we made it, even round the odd blind bend! A number of heavy rainstorms made for a bit of added interest too. We arrived into Faro just after 1pm and booked into the "Residential Avenida" just a couple of minutes from the station. We wandered back to the station to find trains were actually running here, so had the afternoon to take in the Faro to Vila Real and Tunes to Lagos "branches". Our only disappointment being to have the train to Vila Real terminated at the first of the towns two stations, thus we missed the last kilometre of track. Could have been to do with the strike we guess but we never actually found out. The run from Vila Real to Tunes was our last with a 1931 (1938, dud as we'd had it out of Barreiro on the Wednesday evening). One last chance to enjoy the loud thrash anyway. From Tunes to Lagos and back to Faro we were hauled by 1201's (1205 & 1201 respectively)...boring!
A couple of beers in the café next to our hotel and we watched a 1931 arrive and shunt stock. Time to reflect on an interesting weeks holiday!
Day 7 : 1st May
No real time for any train travel, just a taxi to Faro airport for our flight home aboard another of Air2000's Boeing 757's (G-OOOS). My trip home from Manchester was pretty smart - landing a bit after 3pm I still made the 15.31 train (156402) for a couple of minutes at Crewe (during which time I copped 66048) for 43098/153 to Rugby. Unfortunately a delay at Crewe whilst the British Transport Police removed some fare dodgers from the train meant I missed the connection to Northampton at Rugby by a couple of minutes (but copped 66053 for sight whilst there). Thankfully these days there are usually several trains an hour between Rugby and Northampton so I only had a 20 minute wait for 321428. With a taxi home I walked through my front door just after 6pm.
Verdict : A brilliant week away. We were a bit surprised by the lack of English spoken in Portugal but to be fair this didn't really pose such a big problem (other than when we were trying to understand the extent of the rail strike on the Friday). We also found it a cheap holiday and I even ended up bringing back about half the money I took with me. We also found the Portugese approach to rail travel interesting - they joined and left trains by the most convenient route, regardless of at which side of the train the platform was (mind you, so did we a few times in order to get quick photos!).
I have no hesitation recommending a rail-based holiday in Portugal. Indeed, I am already planning my next outing!
Gary Thornton.
The Full Haulage List
(new haulages shown in red)
Day 0 : 24th April
| | | | |
| --- | --- | --- | --- |
| Traction | From - To | km | Notes |
| 319010 (77309) | Northampton - Rugby | | |
| 43092/43166 | Rugby - Crewe | | |
| 156406 (57406) | Crewe - Manchester Airport | | |
| G-OOOX | Manchester Airport - Faro Airport | | Air2000 Boeing 757 |
| 1212 | Faro - Tunes | 39 | |
| 1935 | -- | 0.25 | shunt at Tunes |
Day 1 : 25th April
| | | | |
| --- | --- | --- | --- |
| Traction | From - To | km | Notes |
| 1935 | Tunes - Barreiro | 303 | via Beja |
| Trás-os-Montes | Barreiro - Terriero Do Paco | (10) | Ferry |
| AC1207 | Lisboa Cais-Do-Sodre - Oeiras | 17 | |
| BM107 | Oeiras - Cascais | 9 | |
| AC1206 | Cascais - Lisboa Cais-Do-Sodre | 26 | |
| ABC101 | Lisboa Cais-Do-Sodre - Alcantra | 3 | |
| BM106 | Alcantra - Lisboa Cais-Do-Sodre | 3 | |
| 222 308-8 | Lisboa Rossio - Sintra | ?? | |
| 222 371-6 | Sintra - Amadora | ?? | |
| 992 363-9 | Amadora - Cacém | ?? | |
| 1427 | Cacém - Figueira Da Foz | 200 | |
| 992 090-8 | Figueira Da Foz - Coimbra-B | 49 | |
| 172 215-5 | Coimbra-B - Porto São Bento | 122 | |
Day 2 : 26th April
| | | | |
| --- | --- | --- | --- |
| Traction | From - To | km | Notes |
| 1407 | Porto São Bento - Tua | 143 | |
| 9030 | Tua - Mirandela | 54 | |
| 9030 | Mirandela - Tua | 54 | |
| 030 615-2 | Tua - Pinhua | 13 | |
| 1414 | Pinhua - Pocinho | 32 | |
| 1407 | Pocinho - Porto São Bento | 175 | |
Day 3 : 27th April
| | | | |
| --- | --- | --- | --- |
| Traction | From - To | km | Notes |
| 1407 | Porto São Bento - Porto Campanhã | 3 | |
| 1409 | Porto Campanhã - Porto São Bento | 3 | |
| 1404 | Porto São Bento - Porto Campanhã | 3 | |
| ??? 620-2 | Porto Campanhã - Porto São Bento | 3 | |
| 1410 | Porto São Bento - Porto Campanhã | 3 | |
| 1406 | Porto Campanhã - Braga | 54 | |
| 000 407-0 | Braga - Nine | 15 | |
| 1404 | Nine - Porto Campanhã | 39 | |
| 000 405-8 | Porto Campanhã - Porto São Bento | 3 | |
| 1413 | Porto São Bento - Porto Campanhã | 3 | |
| 172 120-7 | Porto Campanhã - Porto São Bento | 3 | |
| 1411 | Porto São Bento - Porto Campanhã | 3 | |
| 030 615-2 | Porto Campanhã - Porto São Bento | 3 | |
| 1414 c/w 2514 | Porto São Bento - Porto Campanhã | 3 | |
| 1412 | Porto Campanhã - Porto São Bento | 3 | |
| 1424 | Porto São Bento - Porto Campanhã | 3 | |
| 1408 | Porto Campanhã - Contumil | 2 | |
| 1438 | Contumil - Rio Tinto | 3 | |
| 1402 | Rio Tinto - Ermisinde | 4 | |
| 030 616-0 | Ermisinde - Porto São Bento | 12 | |
Day 4 : 28th April
| | | | |
| --- | --- | --- | --- |
| Traction | From - To | km | Notes |
| 1404 | Porto São Bento - Porto Campanhã | 3 | |
| 2627 | Porto Campanhã - Lisboa St. Apolonia | 340 | |
| Minho | Terriero Do Paco - Barreiro | (10) | Ferry |
| 1416 | Barreiro - Lavradio | 4 | |
| 1201 | Lavradio - Barreiro | 4 | |
| 1938 | Barreiro - Pinhal Novo | 16 | |
| 1421 | Pinhal Novo - Barreiro | 16 | |
| 1802 | Barreiro - Penteado | 12 | |
| 990 626-1 | Penteado - Alhos Vedros | 5 | |
| 1417 | Alhos Vedros - Penteado | 5 | |
| 1201 | Penteado - Barreiro | 12 | |
| 1510 | Barreiro - Palmela | 24 | |
| 1418 | Palmelo - Pinhal Novo | 8 | |
| 1935 | Pinhal Novo - Grandola | 87 | Via Setúbal |
| ???? | Grandola - Ermidas-Sado | ?? | Bus! |
| 1936 | Ermidas-Sado - Tunes | 119 | |
Day 5 : 29th April
| | | | |
| --- | --- | --- | --- |
| Traction | From - To | km | Notes |
| 1525 | Tunes - Barreiro | 303 | via Beja |
| Algarve | Barreiro - Terriero Do Paco | (10) | Ferry |
| 5604 | Lisboa St. Apolonia - Entroncamento | 107 | |
| 2604 | Entroncamento - Abrantes | 28 | |
| 1943 | Abrantes - Covilha | 166 | |
| 030 317-3 | Colilha - Guarda | 46 | |
| 2612 | Guarda - Entroncamento | 280 | |
Day 6 : 30th April
| | | | |
| --- | --- | --- | --- |
| Traction | From - To | km | Notes |
| ???? | Entroncamento - Faro | ??? | fast taxi ! |
| 1425 | Faro - Vila Real De St. Antonio | 56 | |
| 1938 | Vila Real De St. Antonio - Tunes | 95 | |
| 1205 | Tunes - Lagos | 46 | |
| 1201 | Lagos - Faro | 85 | |
Day 7 : 1st May
| | | | |
| --- | --- | --- | --- |
| Traction | From - To | km | Notes |
| G-OOOS | Faro Airport - Manchester Airport | ??? | Air2000 Boeing 757 |
| 156402 (57402) | Manchester Airport - Crewe | | |
| 43098/43153 | Crewe - Rugby | | |
| 321428 (71976) | Rugby - Northampton | | |