At 23.30 on December 31st 1981, 55019 arrived at York station with the 16.30 from Aberdeen. Apart from the farewell tour, this was (we thought) the end of Deltics in mainline service. At the beginning of 1982 none of us would have believed that we would ever again see a Deltic hauling a regular scheduled passenger service. Then, in early 1998 it was revealed that Virgin Trains had reached agreement to use D9000 "Royal Scots Grey" every Saturday over the summer, on a scheduled passenger service from Birmingham to Ramsgate and back!
The impossible it seems, can sometimes happen...

Although I had seen and photographed D9000 on "the Ramsgate" several times since the service commenced at the end of May, I had not had a chance to travel on it until this particular Saturday. A quick check through my records revealed that this would be my first Deltic-hauled service train since August 17th 1981 when I travelled from Aberdeen to Dundee behind my favourite Deltic, 55013 "The Black Watch".
A rather early 06.58 start from Birmingham New Street meant a very early alarm call for me and I was on my way before 6am, having arranged to meet two colleagues at Birmingham International station. I arrived about 6.45 and one friend (Bruce) arrived shortly after. We got our tickets (cringing slightly at the £45.50 fare) and wandered down to the platform to wait the train's arrival. A few minutes behind schedule and D9000 rolled in on "1O99", the 06.58 Birmingham to Ramsgate. Our other colleague (Tony) had not appeared so we set off without him. No sooner had the train begun to move when Bruce realised that he'd left his sandwiches and drink on the counter at the ticket office. Now I found this extremely funny, but Bruce didn't seem to share my amusement!
A few minutes later and we stopped at Coventry to pick up more passengers and then it was a thrash along the WCML as far as Willesden depot where we turned off and headed for Kensington Olympia, our next station stop. The timings along the WCML are not too tight and we arrived at Kenny O early enough to allow a few photographs before we set off again. After a wander through the south London Suburbs (and a stop at Bromley South) we were soon flying again as we passed Swanley and Gillingham before slowing for the next stop at Chatham. Other stops were made at Faversham and Margate then soon and we were running through Dumpton Park station on the final approach to Ramsgate, the terminating station for the train.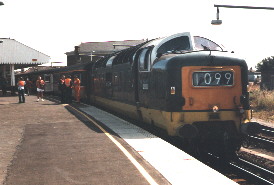 Half the day done, D9000 about to run round the stock at Ramsgate.
D9000 and the stock is only here for about 40 minutes - not exactly long to go for a paddle or build a sand castle on the beach - before setting off again as "1S87", the 11.26 Ramsgate to Edinburgh. The run-round took quite a while as D9000 had to wait for a path in between departing SR electric units. Just before we left I took a call on my mobile phone from our missing colleague to say he'd be joining us at Kenny O (blaming the early start for him missing the train in the morning). We retraced our outward route as far as Bromley South (the blast up the gradient between Dumpton Park to Broadstairs was simply superb). We were then routed via Catford, Nunhead and Denmark Hill before reaching the fiddly bit near Clapham Junction and a short thrash to Kensington Olympia (where we were joined by Tony). After this stop the route changes dramatically as we head for the WCML but then curve off to join the GW mainline and head for Reading, Oxford and Banbury. The run to Reading was a real disappointment as we were routed on the slow lines (and behind a stopping unit I suspect). We ran nearly all the way under single or double ambers and so got little thrash out of D9000.
At Reading the train filled up quite well - not with enthusiasts but with "normal" passengers who obviously had no idea as to why most of us were armed with camera's. Despite the stagger along the GW, we departed Reading about on time. The run to Oxford was reasonable (we were on the fast to Didcot) and we arrived at Oxford with some 15 minutes to spare before our scheduled departure time. At least it gave us a chance to dive off and get some photo's (again, leaving the "normals" to wonder as to what all the fuss was about!). With the stops at Banbury and Leamington Spa behind us, we soon found ourselves at Coventry where we picked up quite a few bashers who were on local rover tickets. After a short (but nonetheless fast) thrash, we arrived back at Birmingham International station. Chance for a couple more photo's and we watched as D9000 headed off to New Street where it was scheduled to be removed in favour of a buzz-box for the remainder of the journey to Edinburgh.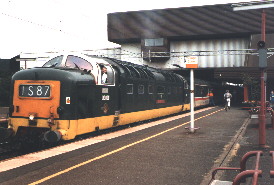 Journey's end (for me). D9000 waits to leave Birmingham International.
As we walked past the ticket office on our way out of the station, we noticed that Bruce's sandwiches and drink were still sat on the ticket counter where he'd left them some 9 hours earlier!
Verdict : A superb day that brought back many happy memories of Deltic-hauled service trains. Just a shame it wasn't an early 1980's ticket price!
Gary Thornton.