The Gwili Gronk
An event organised by Selby Promotions.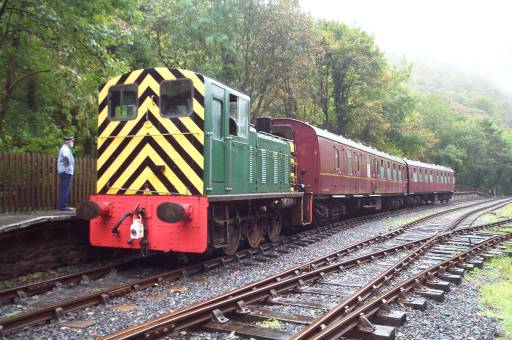 D2178 at Llwyfan on the 11.40 Danycoed to Bronwydd Arms service
(photo : Ian Loveday)
The aim of today's trip was to ride behind class 03 number D2178. D2178 is based a Gwili Railway in scenic South West Wales.
The Gwili Railway staff were most helpful in arranging the use of the 03 today, but unfortunately due to a communication breakdown (a couple of e-mails got lost in the ether) final confirmation that D2178 was booked to work did not arrive until 7 days ago, thus not leaving enough time for the event to be promoted effectively. That said, 5-10 people made the av.500 mile round trip in fairly heavy rain.
The staff at the railway were very pleasant, especially the jolly driver that seemed personally disappointed if you didn't ask to 'cab' the 03! With all the passengers out of the cab and safely back on board the carriages the driver 'opened up' the gronk and we departed up the 1 in 60 gradient at 11:15, bang on time.
If the weather was disappointing, the scenery definitely was not; It was spectacular. A full route description is given on the Gwili's web-site (http://www.gwili-railway.co.uk/), please take a look.
After the 50-minute round trip that covered just over 4 miles, an on time arrival was observed back at Bronwydd Arms station.
Photographs were then taken before we left, leaving the remaining passengers to ride behind the booked steam engine on the next trip. (A return ticket gives freedom of the line for the day.)
My thanks go to Chris King of the Gwili Railway, and I look forward to a return trip when the Class 11 returns to service!