A description by Ralph Barrett of another ground-breaking run for Deltic D9000, with timings and photographs by Gary Thornton.

In order to generate some extra income, and also to generate some good publicity, Anglia Railways decided to hire Deltic D9000 to work 1G22, a special 10:55 Liverpool Street to Great Yarmouth. Return from Yarmouth to London was at 15:10, with 1G55 headcode. Special train was advertised as a non-stop working, with the additional attraction of using the little-used Wensum curve, to avoid reversal at Norwich station. Fares for the trip, were the 'normal' fares from the National Fares Manual, so they represented very good value for money, compared to many enthusiast railtours these days.
This was the very first visit of a Deltic to Great Yarmouth, and Anglia's intention was to create a new record, for the time taken to get from Yarmouth to Liverpool Street by train. In reality, this was not too difficult, as there has not been a direct non-stop service for many years. Indeed, historically most holiday services to/from Yarmouth used to travel via the (now mostly singled) East-Suffolk line, which was then much slower, than the GE main line is today.
The 'special' had originally been intended only for enthusiasts, and advertised as such. However in the event, there were some normal passengers on the train, who looked slightly bemused at being surrounded by Deltic enthusiasts !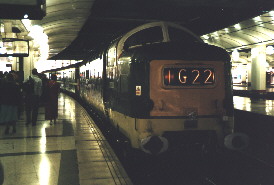 D9000 waits departure time at Liverpool Street.
In order to get maximum publicity from the train, the stock was a complete set of the new liveried Anglia vehicles, all looking very smart in the new Anglia Railways livery. The use of the stock with the new livery was no accident, as Anglia had obviously planned to gain the maximum publicity from the occasion, as we can expect to see several photos of the trip in the enthusiast press. Another notable first, was that the train formation contained a Mk3 catering vehicle - the first time a Deltic has ever hauled an RFM on a passenger train (not sure how it coped with the Deltic's 'variable' ETH supply). Load was 10 vehicles, a mixture of a Mk3, and Mk2e's/Mk2f's.
As this was a bank holiday, and a sunny one at that, there were plenty of photographers out to line the route. The closer to Yarmouth we got, the more lineside photographers we encountered. Many of the overbridges were 'standing room only', especially as we crossed the Broads.
As this was the very first Deltic train for Anglia Railways, it was also the first real opportunity for Anglia's Deltic trained drivers to put their theory to practise on the Great Eastern main-line. The Anglia crew were therefore very cautious with their new steed, and most of the running was quite 'restrained' compared to some of the recent Virgin Cross Country crews on the Ramsgate services. That said, they still had to run at the line speed of 100mph, if they were to maintain the schedule, and have a chance of breaking the record, from Great Yarmouth to Liverpool St.
Unfortunately events conspired against improving on the published schedule, as both the outward and return run were marred by out of course signal stops. On the outward run we were halted just after Diss, due to a track circuit failure on the down line. On the return, a lineside observer (signalman?) had the train halted at Kelvedon, as (s)he believed to have seen smoke coming from the last coach, the DBSO (incidentally a Deltic pulled a DBSO in BR days, on the two specials to Oban). Apparently no fault was found with the DBSO, as the train was train restarted after a mere two minute stop. There was plenty of smoke coming from the locomotive, but that's normal for a Deltic !
Just before we arrived in Great Yarmouth, an Anglia 'big cheese' announced on the tannoy that they'd even put the 'Thumper' on a Norwich to Yarmouth diagram, thus enabling bashers to do a spot of Thumper bashing during the Deltic's two hour layover in Yarmouth. However, many of the bashers forsook the Thumper for some of Yarmouth's excellent pubs.
Despite the disappointment of not getting the planned non-stop runs in either direction, this was an enjoyable day out. Especially so, as tour started late, and finished at a sensible time. Time in Yarmouth was just sufficient to decide that the sea-front was best avoided, and that Yarmouth has some interesting buildings and history, plus some good pubs...
Anglia have said that they may run further tours using D9000 Locomotives Ltd's fleet, depending upon the successful outcome of this tour.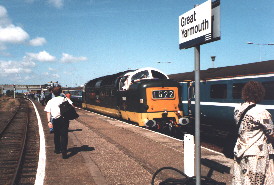 D9000 runs round the stock in the sunshine at Great Yarmouth.
Ralph Barrett



Route and Timing's (Booked and Actual)
(from Gary Thornton/Nigel Rollings/Alan Sheppard)
Train Operator : Anglia Railways
Train reporting numbers;
1G22 Liverpool Street - Great Yarmouth
1G55 Great Yarmouth - Liverpool Street
D9000 "Royal Scots Grey" throughout
Stock : Anglia Railways rake (all in new Anglia Railways livery);
9709+6827+6800+6152+5922+6036+5973+10247+3399+3368
Notes from letter handed out on train:
The first ever visit of a Deltic to Great Yarmouth. The trip is notable for a number of other reasons:
(a) It is the first time we, (Anglia Railways), have hired what used to be called a "preserved locomotive"
to encourage enthusiasts to use our trains.
(b) We have arranged a non-stop run in both directions which should enable some high speed running.
(c) We are also running via the Wensum Curve at Norwich which avoids Norwich Thorpe station and is very rarely used by passenger trains.
(d) The train utilises the first refurbished Anglia Railways set, featuring new interiors and the smart new Anglia Railways livery.
Location
Booked
Actual
Booked
Actual
Liverpool Street [P8] / [P10]
10.57d
10.57
17.16a
17.20
Bethnal Green
11/00
11/00
17/13
17/16
Bow Jn
11/02
11/02
17/11
17/13
Stratford
11/03
11/04
17/08
17/13
Forest Gate Jn
11/04½
11/04
17/03
17/11
Ilford
11/08
11/08
17/01
17/10
Gidea Park
11/13
?
16/56
17/05
Shenfield
11/20
11/18
16/51
17/00
Chelmsford
11/27
11/26
16/41
16/53
Witham
11/33
11/32
16/36
16/46
Marks Tey
11/38
11/37
16/31
16/35
Colchester
11/43½
11/41
16/27
16/32
Manningtree
11/48½
11/47
16/20
16/25
Ipswich [P3] / [through line]
11/56
11/55
16/12
16/15
Haughley Junction
12/06
12/05
16/02
16/05
Diss
12/13½
12/16
15/54
15/57
Trowse Junction
12/27½
12/37
15/42
15/43
Whitlingham Junction
12/35
12/43
15/33
15/37
Reedham
12/47
12/55
Acle
15/20
15/23
Great Yarmouth [P2]
13.03a
13.06
15.10d
15.11
There were two signal stops (one each way) spoiling the non-stop runs:
(i) Track circuit failure near Diss 12.18 ~ 12.20
(ii) Kelvedon 16.40 ~ 16.42