9th June 1976 - 9th June 2001
25 Solid Years of Trains!
Part 1 : 1976 to 1979
On 9th June 1976, at the impressionable age of 12, a group of school friends invited me to join in their evening cricket match. Little did I realise at the time where it would lead me.....
The venue, on a piece of waste ground alongside the West Coast Main Line just south of Roade cutting, seemed at first a little strange until I realised the cricket match was just a means to an end - this group of friends were combining two hobbies, cricket and trains. Every couple of minutes play would stop as a train hurtled past on the mainline and it's number was noted! Not to be the odd one out I decided to make a note of what went past and the list that evening read as follows;
84004,
85001, 85015
86038, 86101, 86205, 86207, 86216, 86221, 86229, 86235, 86242, 86243, 86247, 86254
87007, 87009, 87025, 87033, 87034
310068, 310072, 310075, 310080
For the record, 87009 was the first number I recorded on that evening.
For the next few weeks I spent almost every evening playing cricket and scratching off most of the ac electric fleet! Once the school holidays arrived I had a treat courtesy of my Father - a day out round the London stations. My days spots included 31's, 45's, 47's, 50's, Deltics & 73's as we worked our way round between Euston, St Pancras, Kings Cross, Liverpool Street, Victoria and Paddington. I have to admit to actually feeling quite disappointed that day - despite two hours at Paddington station I did not see a single class 52 "Western" - something I regret to this day!
August 1976 and it was a usual trip up to stay with relatives near Carnoustie in Scotland, unusually that year my parents decided to send me up alone to the relatives and it was an exciting journey as I flew from Heathrow to Edinburgh. A few misspent days with my cousin at Carnoustie station bagged me quite a few 20's, 24's, 25's, 26's, 27's, 37's, 40's and 47's - though I don't think she's ever forgiven me for dragging her along!
Whilst I was away my family moved house (yes, really!) but at least they were good enough to come and collect me upon my return south! We had moved to a house a few miles outside Northampton and a long way from a railway line. It was a quiet, relatively rail-free winter, though some evenings we'd go and meet my father off his train from London - I soon got to know some of the station staff and a cab ride in one of the resident 08 shunters was an occasional treat whilst waiting for him to arrive.
Most of 1977 was spent spotting in the Roade area - the push-bike coming in useful for that and trips a bit further afield to such exotic locations as Irchester where Peaks and 47's could be viewed on St Pancras to Derby, Nottingham and Sheffield services. Summer '77 found me back in Scotland but this time it was by train there and back - my first long-distance rail travel since engaging in the hobby "proper". For the record, my first recorded loco haulage was 87003 on 3rd August 1977. The return leg was interesting with 40048, 47427 and 87018 being put "in the book" between Arbroath and Coventry.
My first trip to the railway museum in York came in October that year, though once we had noted what was on display it was in to the car park and a bit of Deltic spotting! Towards the end of the year and the small group of us in our village who were "spotters" were trusted to catch the Cambridge bus, which came through our village, to St Neots...and yet more Deltic spotting!
1978 was a year when we spread our wings a little - Bletchley and Rugby by train were quite regular trips for us as was the odd (escorted) one to London. St Neots also became a regular Saturday out.
19th February 1978 was a big date for me - my first ever railtour! And what a way to start - a Deltic out of Paddington!! 55018 "Ballymoss" in charge of the "Deltic Ranger Railtour" - what a day! Bad weather unfortunately cut short the trip and we only made it as far as Bristol Temple Meads before heading back to Paddington and an arrival back about 7 hours early! This was long before the days of mobile phones and our lift home was somewhere in London so we had to sit it out and wait his arrival. Not a great hardship as several class 50's were cabbed and we even managed a couple of cab rides from platform to platform.
My second railtour, a re-run of my first, was just two weeks later on March 5th. 55003 "Meld" had the honours on that day as far as Paignton. A mini-trip to Par and back from Newton Abbot had 46003 at the helm - a rare haulage indeed as this particular Peak was withdrawn soon afterwards after sustaining fire damage.
My third railtour was on 29th April and featured a pair of Cromptons from Paddington to Paignton. Once there we had Westerns D1013 & D1062 for haulage on the Paignton & Dartmouth railway, my first 52's for haulage. We missed out on our Cromptons back however as BR nicked them to rescue a passenger train that had failed nearby - 47540 was our prime mover home! Rumours of a pair of 50's coming on from Bristol turned out to be unfounded.
The late May Bank Holiday in May saw me exploring another new area - Manchester - though from a holiday home base in Buxton. A day trip to Guide Bridge was very useful for copping a load of 76's as well as quite a number of 25's and 40's. In one day I managed to clear all the Manchester to Hadfield class 506 EMU's for sight too!
10th of June was yet another day out on the bus to St Neots - and it turned out to be the day I cleared my Deltics for sight with 55014 "The Duke of Wellingtons Regiment" being the last one.
Summer 1978 saw a few car trips courtesy of friends parents and places such as Banbury, Offord Cluney and Ely were sampled. At Ely we saw "toffee-apple" 31008 on a freight working and a load of ex-Glasgow to Edinburgh DMU's (all numbered in the 79xxx series) which were dumped in the yard, bound for RA Kings scrapyard at Snailwell.
August 5th and it was up to Derby for the loco works open day - brand new 56045 was seen and cabbed, the first of the class for me. Other sights included 44005, Clayton D8598 and 968007 (ex-24061) - the latter pair being seen at the Railway Technical Centre. The first APT coaches were also on display at the open day.
In September '78 myself and two friends began working on Sundays at the Northamptonshire Ironstone Railway Trust near Northampton - in those days it was located in the fields, nowadays it's surrounded by housing! The same month also saw my first visit to the Severn Valley Railway, somewhere I'd end up putting in a lot of my spare time in the 1990's.
Late 1978 and into 1979 saw me spending time north of Northampton station by Spencer Bridge Yard where freights often changed from diesel to electric traction. 20's and 44's were sometimes seen on trains coming off the Market Harborough line. One day I was sat on a cold pile of wooden sleepers near Northampton No.4 Signalbox when I got invited in by the Signalman to get warm. Thus began my interest in railway signalling - many a happy hour was spent pulling the levers on behalf of the signalman concerned! Alas No.4 box has long since been demolished.
My next works visit was on 11th February 1979 when we went to Crewe works - and we got there and back on a railtour too. Eight locos were used on the tour - 25277, 25282, 31208, 31256, 31326, 40113, 40144 & 50001. Spots in the works included 47601 (under conversion to 47901) and 47701-705 inclusive, the first conversions for use on the Edinburgh to Glasgow push-pull services.
March 18th and Swindon works was visited thanks to a trip organised by our local bus company. The works was interesting, but most of us were really only interested in visiting the works scrapline - numbers noted there included Westerns D1012, D1028, D1056, D1058 & D1070! I was pleased to see D1028 (ex-Western Hussar) as this loco was commissioned on the day I was born! The turntable was also interesting to us with Warships D818, D821 & Hymek D7029 on display. Also around the site were D1015 and D1041 - Westerns with a future as they were being preserved.
Mid year and another 9th June features - 9th June 1979 being the Toton depot open day. Loco classes present were 08, 20, 25, 31, 44, 45, 46, 47 & 56. 56036 received a lot of attention, being the first in "large logo" livery.
The remainder of 1979 was spent mostly local but with several "LNER Society" railtours to destinations such as Towyn and York to break the monotony. The school holidays proved profitable too as I managed to do two 7 day railrovers - 17th to 23rd July on a "Midland Railtourer" and 4th to 10th August on an "East Midland Rover".
Over the 14 days my haulages were as follows (winners underlined and in red);
| | |
| --- | --- |
| Date | Locos |
| 17/07 | 45045, 45135, 47056, 47418, 47431, 50035, 86219, 86233 |
| 18/07 | 45120, 45125, 47431, 47459, 47534, 86216, 86227, 86245, 86257 |
| 19/07 | 31194, 45115, 46006, 81008, 83011, 86209, 86221, 87010 |
| 20/07 | 47047, 47109, 47235, 47513, 47535, 86019, 86029, 86033, 86236 |
| 21/07 | 20153, 20165, 45024, 45142, 47335, 47435, 86222 |
| 22/07 | 40015, 40093, 86226, 86240, 87025, 87035 |
| 23/07 | 45007, 45125, 45148, 47287, 47294, 47486, 85032, 86211, 86237 |
| 04/08 | 25321, 25325, 40155, 45137, 45138, 45144, 47274, 86250 |
| 05/08 | 45113, 47201 |
| 06/08 | 45129, 47420, 47426, 55013, 55017 |
| 07/08 | 47409, 47430, 55003, 55013, 55021 |
| 08/08 | 47418, 55006, 55008, 55009, 55018 |
| 09/08 | 47420, 55005, 55006, 55015 |
| 10/08 | 45115, 45133, 47524, 55009 |
Oh to be able to re-live some days like that!!
The annual holiday to Scotland started off with a bit of an adventure - a derailment north of Wolverhampton the day before meant a diversion via Shrewsbury to Crewe - 47035 piloting 86257! We finally arrived into Arbroath behind 40173 about three hours late.
Day trips to Dundee and Perth scored me a few locos for haulage on this holiday;
| | |
| --- | --- |
| Date | Locos |
| 16/08 | 26010, 27011, 40034, 40109, 40184 |
| 20/08 | 26012, 26033, 27012, 27107, 40065, 47701, 47705 |
| 27/08 | 47262, 47703 |
47031 & 86009 (both "winners") got me home from that holiday.
My first recorded class 24 haulage came on 1st September - preserved D5032 on the North Yorkshire Moors Railway.
The remainder of 1979 was spent fairly local to the Northampton area, though 47421 & 55007 were scratched-in on a day trip between St Neots and Peterborough on December 1st.
Footnote :
With June 9th 2001 falling on a Saturday I had to find some suitable way to celebrate my being "into" railways for the past 25 years. After much deliberation I finally settled on the only really appropriate way I could think of - a spotting trip back on that piece of waste ground at Roade where it all started for me!
So, at a little before 9am I was at Roade to spend half an hour or so to see what was about. By some sort of spooky coincidence the first loco to happen along was.....87009....the very first one I recorded in my "spotters" book exactly 25 years ago!! What were the chances of that I wonder??
The full list of what I saw was as follows;
66149
86247
87005, 87008, 87009, 87022, 87025, 87032
319004
321417, 321422, 321435
...of which 86247, 87009 & 87025 were also seen on 9th June 1976 !
To complete my day I had one other thing to do - put a few more Deltic miles under my belt! This I could achieve as 55019 "Royal Highland Fusilier" was working on the Nene Valley Railway.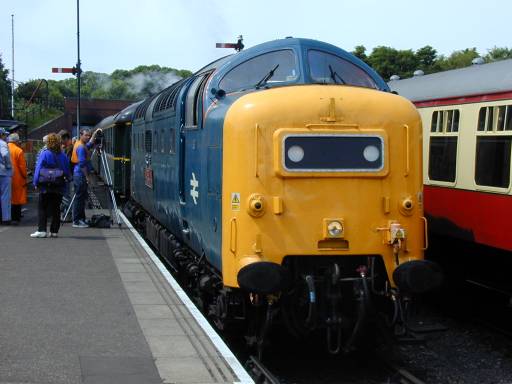 55019 passes non-stop through Wansford on the 11.30 to Peterborough. I then enjoyed two round trips of the line behind her.
So, all in all, one quite reasonable way to "celebrate" 25 years of my involvement in railways.
To come, sometime in the future....
Part 2 : The 1980's
Part 3 : The 1990's