9th June 1976 - 9th June 2001
25 Solid Years of Trains!
Part 2 : 1980 to 1989
(please note : This Page will take a couple of minutes to download - but please stick with it, I hope you'll agree it's worth the wait. All photographs were taken by myself except where credited otherwise).
Where were we? Ah yes, recounting my memories from 25 years of being interested in trains. This Page, part 2, covers the 1980's - a decade in which I left school, went through college and started full time work. It was also a time of big change for the railway system in the UK......
My first outing of the decade was over the second weekend of January - a couple of nights away with a friend at his Grandmothers in Grantham. 45127 got us from Wellingborough to Leicester, 31291 then to Peterborough and the afternoon was spent on the ECML sampling 47417, 55014, 55017 & 55019. Sightings that day included 44004 at Peterborough on a freight working. The following day (Saturday) we headed off to London on the Saturday version of the "Hull Executive" which was non-stop from Grantham to Kings Cross. We were delighted when it turned up with 55004 "Queens Own Highlander" in charge as we both needed it for haulage. Our day in London was however very short-lived as we arrived to find 55016 "Gordon Highlander" lined up on the 10.05 departure - another required haulage! Back to Peterborough for an afternoons spotting instead then. My records show it was quite profitable as we saw, amongst others, 40007, 40078, 46007 & 46055. 55009 "Alycidon" took us back to Grantham. Sunday and we returned home via Peterborough (55005) then Grantham again (55014) as the line via Leicester was shut for engineering work. A DMU to Nottingham for 45115 to Leicester and 45149 onwards to Wellingborough.
The next few months of 1980 were quiet ones for me as I was sitting my O-levels that summer. Another long weekend to Grantham was however fitted in which included 45101, 45117, 45124, 55002, 55005, 55007, 55008, 55011, 55013, 55017 & 55018 for haulage! Our only frustration was to see ex-works 40033 arrive and terminate on a commuter service from London.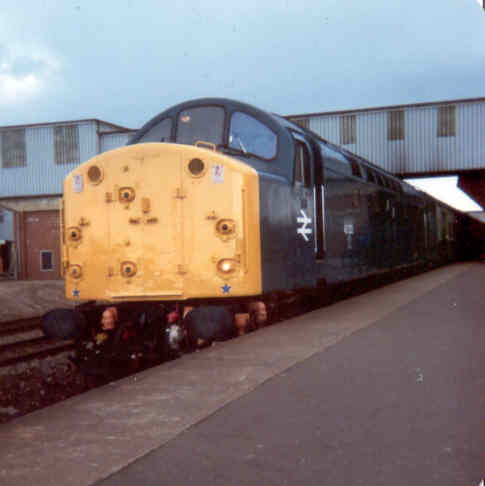 40033 at Peterborough.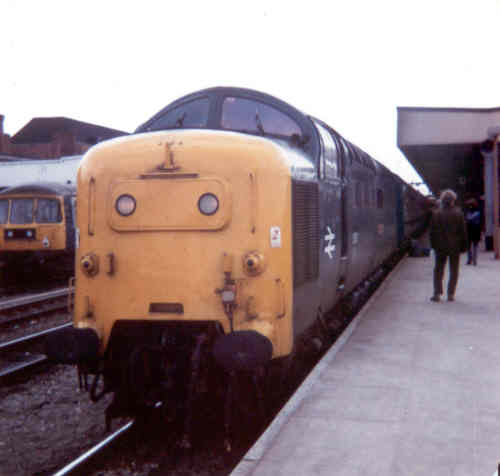 55013 "The Black Watch" - my favourite Deltic, at Doncaster.
(note the "Trans-Pennine" DMU in the background too).
June 15th saw the Tinsley depot open day - a group of us from school went to it thanks to one of our teachers (also an enthusiast) who got the school minibus for the day. En-route we took in Barrow Hill, Westhouses and Toton too! Best "cops" for me that day were 13001 and 13002, two-thirds of the entire class of "hump-shunters" based at Tinsley.
The day after I sat my last O-level I celebrated with a day trip from Northampton to Peterborough - 310's to and from Euston for 55021, 47502, 55014 & 55010. Sight cops that day included 25095, 46042 & 56071, plus loads of 312 & 313 EMU's.
Over the summer I was working for a large credit card company based in Northampton (for the grand sum of £45 a week) so not many chances to get out - though the office I was based in overlooked the station and the mainline was being diverted via the town most days, so plenty to see whilst working! I finished working early in August and the rest of the month was put aside for an East Midlands railrover plus a couple of weeks in Scotland. To this day I look on the haulage tally with some pride (winners are underlined and in red).....
| | |
| --- | --- |
| Date | Haulages |
| 11th August | 31309, 45125, 45128, 45135, 55012, 55018 & 55019 |
| 13th August | 20070, 20077, 45110, 47421, 55005, 55006, 55012, 55016 & 55022 |
| 14th August | 55007, 55010, 55013, 55016, 55017, 55018 & 55021 |
| 15th August | 47211, 47488, 55004, 55007, 55009, 55010, 55013, 55014 & 55015 |
| 16th August | 20081, 20139, 31230, 40093, 55013, 55017, 55019 & 55021 |
| 17th August | 55005, 55009 & 55019 |
13th August was a milestone for me - my 20th Deltic for haulage in the shape of 55022 "Royal Scots Grey". As it turned out I never made it to the full class for haulage - 55001 & 55020 having already been taken out of service. The August 14th trip with 55021 was quite different - we had it from Newark to Cleethorpes and back! Interesting to note too that we had no other locos that day for haulage (in fact no other trains) other than Deltics!! Having taken 20081 + 20139 to Skegness on the 16th August we were stunned to see 40093 waiting on a train for Sheffield and beyond - it was done to Retford (low level) even though I didn't need it for haulage. We then did an overnight as the ECML was shut and trains were being diverted via Spalding, Lincoln & Gainsborough - 55017 took us from Peterborough to Doncaster and 55005 took us back before a long fester ensued in the waiting room for anything to move on the Sunday morning! We headed for York on the Sunday and a look round the railway museum.
Monday 18th August and we only had 55006 and 47429 for haulage - but they got us from Grantham to Edinburgh and Edinburgh to Arbroath respectively. Change of scene and also classes for haulage;
| | |
| --- | --- |
| Date | Haulages |
| 19th August | 26040, 27109, 40064 & 40161 |
| 21st August | 27037, 27040, 40068 & 40103 |
| 28th August | 47427, 47706 & 87033 |
What a three weeks! It was then back to school and A-level studies for me.
September 6th and it was off to Derby for the loco works open day - loads of stuff to see and photograph, including the new "Inter-City APT". Personally I was more interested in the 25s', 45's & 46's that were in and around the works.
The rest of 1980 was seen out with a few day trips to the East Coast for Deltic haulages and also a day trip to the Barrow Hill depot open day on October 5th (using the school minibus again!). 55019 "Royal Highland Fusilier" looked a bit out of place on display there I remember. I had my first class 03 for haulage that day - 03129 being used on brake van and cab-rides.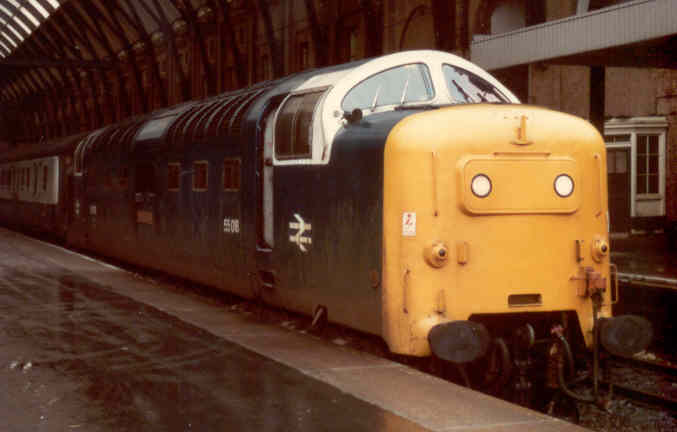 How I liked them best - 55018 "Ballymoss" shows off her white cab windows at Kings Cross.
1981 started off as 1980 finished - with day trips to Deltic country. My first, on January 8th, was made more special by the sight of a Deltic in two-tone green - 55002 "Kings Own Yorkshire Light Infantry" having been repainted in preparation for being passed on to the railway museum in York upon withdrawal from service.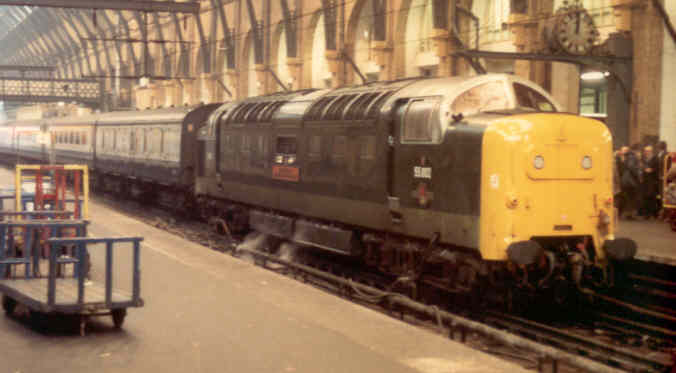 I wonder....will we ever see 55002 at the buffer-stops at "The Cross" again....?
Other highlights for me in 1981 included;
A visit to Barry scrapyard in South Wales - about 80 steam locos still rusting away, having lain there since they were taken out of service in the 1960's. Sadly I was a year too late to see "Warship" D601 or class 21 D6122 - both were chopped up in June 1980.
Summer spent in Scotland, Deltic bashing of course! I was pleased to get 55017 from Dundee to Edinburgh on one occasion and 55013 from Dundee to Aberdeen and back on another. My favourite Deltic, this also turned out (though I didn't know it at the time) to be my last Deltic haulage on a service train (ah, well until 1998 anyway!!).
This was the year that the Woodhead route closed and in November I was able to get a last look at the class 76's which were by then stored at Guide Bridge awaiting disposal. What a sad sight they made....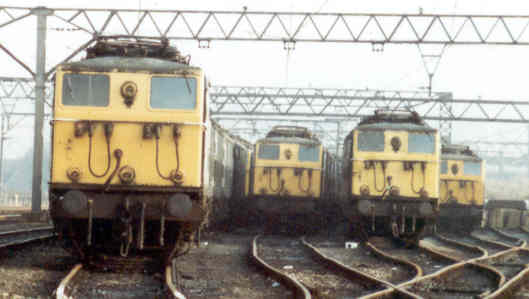 Waiting the cutters torch....Guide Bridge, November 1981.
1982
On January 2nd 1982 I very nearly gave up my interest in railways for good.....
As a devoted follower of Deltics it was a very sad day for me as this was the day the "Deltic Scotsman Farewell" ran - no more would the East Coast Main Line echo to the sound of this wonderful class.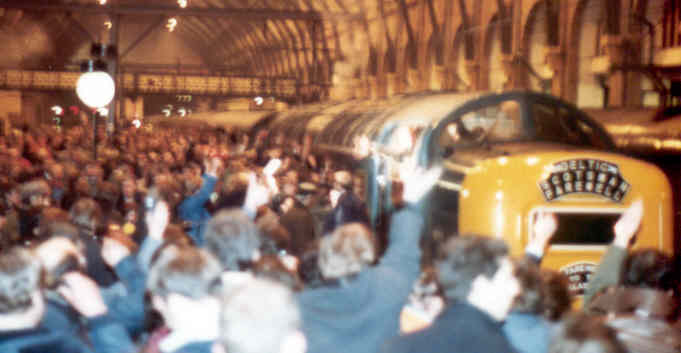 A horribly blurred picture, but one which captures the moment 55022's engines were silenced at the end of the "Deltic Scotsman Farewell" tour. It was one of those "you had to be there" moments.
For about six months I basically didn't go out on the railway at all. There seemed no point.
I left school that summer but spent most of the time off I had out in the Middle East in Oman where my Father was working at the time - no railways there at all!! In September I started working full-time for a local manufacturing company in Northampton then in October I moved to Coventry and started a Mechanical Engineering degree - this was a "sandwich course" so I spent some of my time at college and the rest working around the various departments of the company.
Slowly my interest in railways was re-awakened - living in Coventry gave a chance to do a lot of class 50 bashing as many worked through the station each day. I also got into "track bashing" - the pursuit of travelling over passenger and non-passenger routes. Being on a student grant, but with some money coming in from my job too, meant I could take advantage of the many special fares and "Merrymaker" trains that ran from Coventry. On Saturdays I could be found almost anywhere in the country!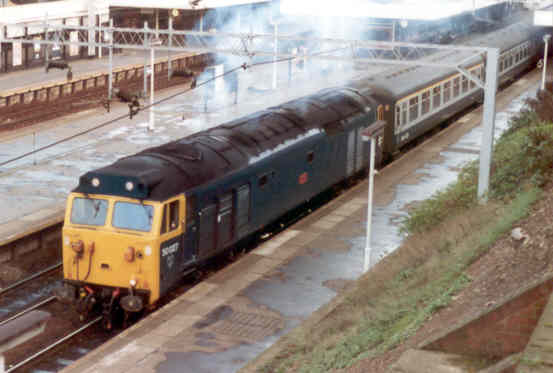 50027 makes a smoky exit from Coventry's platform 4 in November 1982.
In 1983 I took a couple of weeks out in the summer to "clear" my Scottish region passenger track - achievable using a gold "Freedom of Scotland" railrover. I succeeded in my task and had a thoroughly enjoyable fortnight to boot (check out this link if you want to read about it in more detail). The highlight of the two weeks I actually slept through - 40170 from Perth into Glasgow on one nights overnight from Inverness. It was only when I was woken up at Queen Street that I realised from the sound that it wasn't a 47 "up front".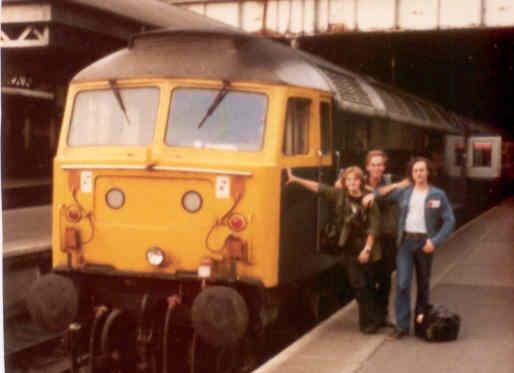 Seminar!! Myself (on the right) plus two other bashers I met-up with during the first Sunday on the "Freedom of Scotland" rover, with 47709 "The Lord Provost" for a backdrop. I don't remember their names but if you recognise them (or you're one of them) then please drop me an e-mail!! It's amazing to realise I survived two whole weeks of bashing with all I had in the small bag that is at my feet in this photo!!! Photo taken by ???
Much of 1983 and 1984 were spent track-bashing - including another "Freedom of Scotland" railrover (a silver one this time - just a week). That was done in the company of another friend and was a mix of loco bashing (remember - I'd cleared my track in Scotland in 1983) and track-bashing as Adrian needed a lot of it. Highlight on this trip was a pair of 26's from Brora to Georgemas Junction and back all the way to Inverness - in a snowstorm too!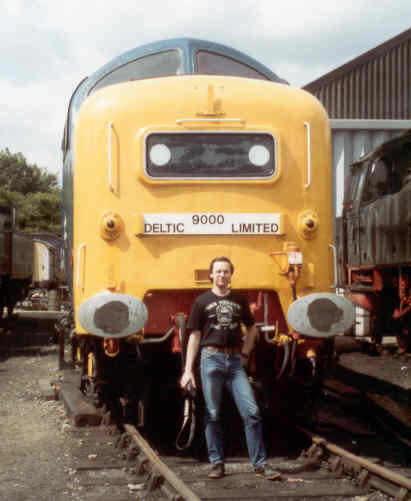 June 1984 : getting my regular "fix" of Napier-power!
Photo taken by my Father.
By now many regular railway sights from the 1970's had passed into history - The Deltics had gone, so had the Woodhead route. Class 40s' were now in their final couple of years, as were the "roarers" (electric classes 81-85). The Midland Main Line had been taken over by HST's and the class 45's were finishing their careers over the Pennines. In early 1985 I made a couple of trips to Merseyside to witness the passing of the class 502 and 503 EMU's - some examples dating from 1938! On April 13th 1985 the RCTS/LCGB ran a farewell tour to these EMU's, a trip I travelled on. Such was the demand for tickets that a second six-coach formation had to be chartered.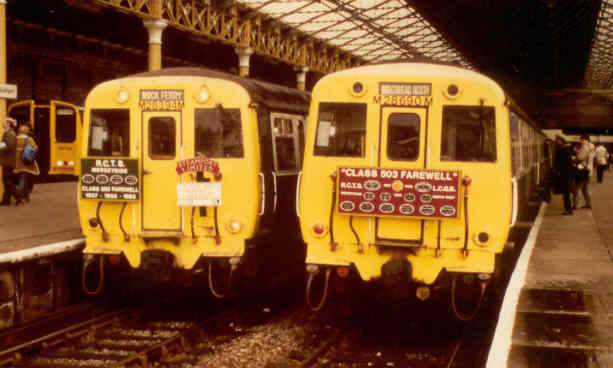 The two halves of the RCTS/LCGB "Class 503 Farewell" meet at Southport.
The rest of 1985 was spent using various "local" rover tickets to scratch-in various pieces of track I needed - it wasn't unusual to spend a whole week on one and not have a single loco for haulage!
Open days I visited in 1985 included Wolverton (17th August), Coalville (1st September) and Old Oak Common (15th September). The latter was a big event as it was the GWR 150th year. At some of these events we started to see the first of the "second generation" DMU's appearing - class 150's and 151's which joined the likes of the class 141 "nodding donkeys" which were introduced in 1983/4. The shape of things to come.....unfortunately.
I finished college in April 1986 and suddenly found myself with a reasonable working wage so I was able to spend more time out-and-about. June 1986 also saw the launch of "Network SouthEast" and on June 21st there was a "go anywhere" in NSE for the day for £1 - but what a wedge the day turned into with many services unable to cope with the crowds! Here was what I managed for my £1 :
| | |
| --- | --- |
| Traction | From - To |
| 317340 | Bedford - Moorgate |
| 7720 | Waterloo - Reading |
| 51074 | Reading - Redhill |
| 51079 | Redhill - Tonbridge |
| 7858 | Tonbridge - Paddock Wood |
| 6404 | Paddock Wood - Strood |
| 5180 | Strood - London Bridge East |
| 315821 | Liverpool Street - Cheshunt |
| 305503 | Cheshunt - Liverpool Street |
| 315853 | Liverpool Street - Chingford |
| 315853 | Chingford - Liverpool Street |
| 317322 | Moorgate - Luton |
| 317315 | Luton - Bedford |
Early 1987 and I discovered the "delights" of Vic Berrys scrapyard in Leicester - just a 40 minute or so drive from home. On many a Sunday morning I'd toddle up and have a wander round (£1 for their charity box was normally all it took to get permission). A whole host of locos were disposed there during the couple of years I was a regular visitor - 20's, 25's, 27's, 31's, 40's, 45's, 47's & 50's. I was a bit upset however when 37062 was sent to Berrys for scrap - one I needed for sight. I was on holiday at the time and it was cut within days so I never did see it!


Space-saving - Vic Berrys style! A December 1987 view of the famous "stack".
I have to say the mid to late 1980's were getting to be a pretty boring time for railways in the UK - the ranks of many popular loco classes were being rapidly depleted and decent loco haulages were becoming harder and harder to fall onto. I was still mucking about clearing odd pieces of passenger track but by 1988 I had started to travel more on railtours in order to get non-passenger track "in the book". I also took advantage of many a cheap day out on Network SouthEast but again this was nearly all unit haulages - but at least I cleared most of the older stuff (4-EPB's etc) for sight.
September 1988 saw a new departure for me - my first trip abroad in which I took time out to see what the local railways had to offer. I spent a couple of happy afternoons on the main station at Munich spotting and photting all manner of locos - no "white worms" (ICE's) around then! We then moved on to Austria and stayed close to Jenbach and the Zillertalbahn (narrow gauge line with steam hauled services) - so I even began track-bashing in foreign lands!
The only open day I went to that year was at Wolverton on Sunday 2nd October. My next open day wasn't until 1989 (May 20th) when Ilford depot threw open their doors. The following day I managed a pretty bad case of sunburn as I spent the day on the Midland Main Line photographing the goings on that was Hertfordshire Rail Tours "Inter City Day" - three "special" trains using locos selected from 20145, 20228, 33021, 33022, 37058, 37066, 47347, 56017 & 58050. Pairs of 33's through Wellingborough were never a common sight!
June 11th saw another Coalville open day - per usual I drove there and laughed at the chaos as special trains were severely delayed trying to get their passengers into the open day, it was the same every year!
I finished the decade in reasonable style - on December 29th I was on Hertfordshire Rail Tours "The Decennial Swansong" railtour with 31430 "Sister Dora" and the following day I travelled down to Weymouth to travel on one of the special shuttle trains down to Weymouth Quay - street running with a class 33!
So there you have it, the 1980's compressed into a couple of minutes of download off the Internet!
Already in the series :
Part 1 : 1976 - 1979
...and to come, sometime in the future....
Part 3 : The 1990's