What Tour - When?
This Page is your chance to find out some vital "gen" from an old railtour you were on. If you've a burning question about a loco used, route taken, an unidentified photo (or whatever), then please let me know.
I will not promise to upload every query received - most can/will go on the tour Page concerned if there is one (as has always been the case) but I may select a few to go on this Page where they might stand a better chance of getting answered.
Please note: Regrettably I am unable to provide a search service on your behalf, or enter into discussions/debates about what may or may have happened on a particular tour...I simply do not have the time for that as I prefer to use what time I do have available for adding more information from the massive backlog waiting processing. There is a search tool on the 'Railtour Files' index page (below the contributor links section), please use that. The section below is for unresolved queries which I am happy to post as a response will add to both your records as well as SBJ.
From Michael Coupe;
Can anyone throw any light on the origin/use of this headboard? [Webmaster comment: there are no references on Six Bells Junction to a tour with this name].
Michael comments that the lamp bracket looks well worn, suggesting it may have been been used multiple times?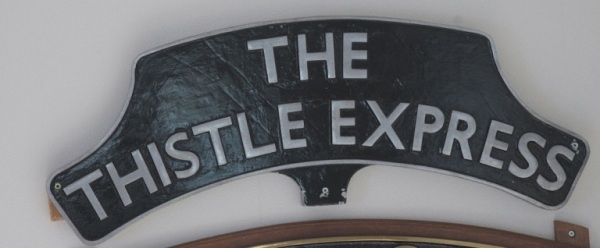 From Simon Burrell;
Can you help Simon with additional details of the following three trains;
Saturday 28 September 1974: Southampton (starting point?) to Folkestone Harbour for an afternoon in Boulogne
On Saturday 28 Sept 1974 two of us went on an excursion to Folkestone Harbour and then ferry to Boulogne. We joined the train at Winchester. It would have started in Southampton (or possibly Bournemouth?!). It was comprised of three 4VEP units. The route was up to Wimbledon, East Putney and Clapham Junction and on to Folkestone. Here we were put into the sidings at the top of the harbour line before reversing down to Harbour Station where were transferred onto the ferry to Boulogne. Unfortunately neither of us has kept any details of the organiser (BR(S) probably), head code, times or unit numbers. If anyone is able to help with further details this tour can then be added to the SBJ data base.
Southampton FC FA Cup run 1976: Two football specials organised by the Saints Travel Club (I think)
1. Saturday 14 Feb 1976: Southampton to Smethwick Rolfe Street (??)
On 14 Feb 1976 Southampton FC played an away game in the fourth round of the FA Cup at West Bromwich Albion. I seem to recall that there was a football special organised for us that would have left from Southampton and headed towards Reading (I cannot remember if we had to go to Southampton to get on it or whether it stopped at Winchester to pick-up passengers) and onwards to Birmingham. If anyone is able to confirm train reporting details, times, the loco and route that would be great.
2. Saturday 6 March 1976: Southampton to Bradford Forster Square
Having won on a replay the next round on 6 March 1976 saw us play away at Bradford. Again, we went on a football special. I think it was a 47 both ways. Again, if anyone is able to confirm train reporting details, times, loco and route that would be great too.
From Paul Vigor;
Can anyone date this headboard - to a specific tour (or tours) when it was used?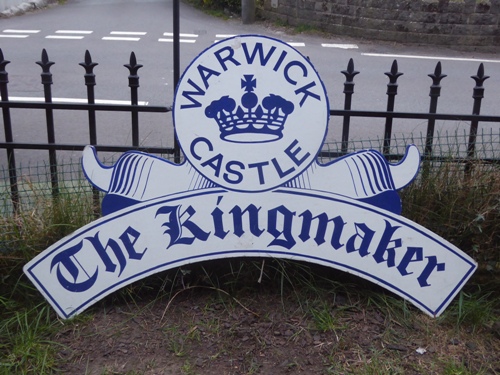 From Bill Merrill;
We were at Crewe station on Saturday 11th April 1959; on that day England were playing Scotland at Wembley (internet research shows the kick off was 1500hrs). At around noon on that day with the southbound flyer line through Crewe we saw a sight I have never since before or since. A Princess Royal Stanier Pacific No. 46211 Queen Maud approached down the straight from the North as it thundered through on the flyer line, we both observed she was pulling 19 coaches. Although the years have passed the memory is still of a loco pulling 19 coaches at speed. I would like to request if you or anyone else who has additional information on the sighting that day would be able to help as I have never been able to prove what I (and my mate) saw. Could your records or contacts verify that moment in time?
From Richard Mercer;
Can anyone identify if this loco was used on a rail tour, No 62045, I photographed it at Perth shed in green livery and very clean, I thought it was on a special but cannot find any record of it, I'm not sure of the year but might be 65 or 66, can you help?
From David Lindsell;
I attach a photo of 73004 plus one other and two 33's in the cutting between Mylen road and Weyhill road bridges in Andover. The main train is on the Ludgershall branch. The date is probably post 1986. Was this a railtour and did it travel up to Ludgershall?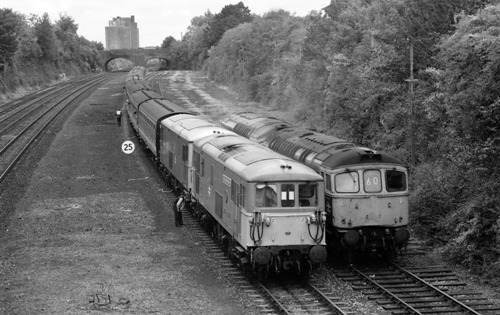 Webmaster comment: 73004 was paired with 73001 at Andover on 25th September 1988 however David does not believe this was the occasion and suspects we are looking for another date (and something not currently uploaded on SBJ).
From Dale;
My first ever tour was The Grampian Highlander in November 1984 which covered the Dufftown line amongst others. There is quite a bit on this tour which is awesome from the net but I'm wondering if you know or could find out who travelled on this tour and if anyone kept an exact log of track that was covered.
From Andy Muir;
I have been sorting through my collection of negatives and came across this one of the Highland Railway 103, at present I have not been able to confirm a date or location for the picture, could it possibly be the Scottish Rambler tour of 20th - 23rd April 1962?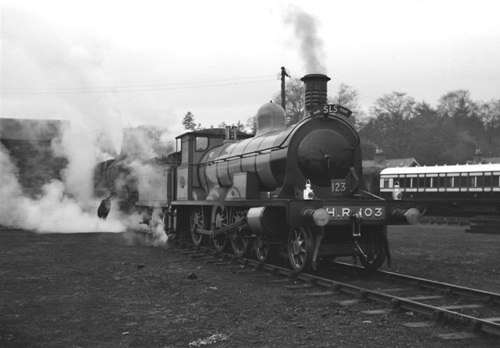 From John Turner;
This photo was originally uploaded as being taken on 25th May 1957 at Fenton on an SLS tour but this has since been questioned. The latest thinking is it may have been of 41328 the LCGB outing of 1st March 1959 however the headcode displayed in the stock is M800 which is at odds with the ticket for 1st March 1959 which was M989.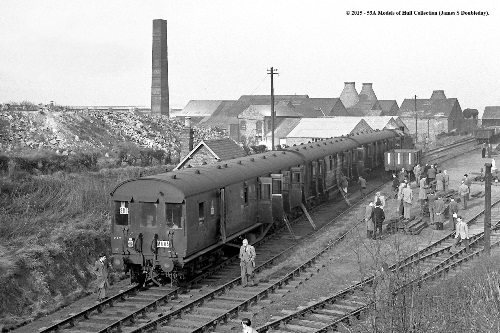 (photo: © 53A Models of Hull Collection/James S Doubleday)
From Michael Byng;
In the late 1970's early 1980's I went on a railtour by DMU, beginning at Birmingham New Street, with the following route. New Street – Soho- Perry Barr-Walsall-Sutton Park Line-Castle Bromwich- Landor Street- Kings Norton- Stoke Works Junction- Droitwich- Worcester (Shrub Hill)- Honeybourne-Long Marston (reverse)-Honeybourne-Oxford-Bicester-Claydon LNE Junction (reverse)-Aylesbury-Princes Risborough-Chinnor (reverse)-Princes Risborough (reverse)-Banbury-Leamington Spa-Small Heath-Bordesley Junction-St Andrews Junction-Exchange Sidings–New Street. I remember the tour as if it was yesterday. Sadly I cannot remember when yesterday was!
From Robert Harvey;
I was wondering if anyone had any information regarding the follow LNER Society Railtours:
Northern Highlander 6/10/1978 to 8/10/1978 (Wick and Thurso?)
Northern Highlander 18/10/1979 to 21/10/1979 (Wick and Thurso?)
West Highlander 13/6/1980 to 15/6/1980 (Mallaig?)
From Nick Catford;
Can you throw any light on this train:
43115 at Walton on the Thorpe Arch circular Railway (both photos: JCW Halliday courtesy of Nick Catford)
From Nigel Barnes-Evans;
I met and chatted to a gentleman at a swapmeet locally, who was a Head Steward on various trains, including Blue Pullmans. I our chat, he mentioned that he recalled working a football special from Swansea to Liverpool (I think it must be 28/29 Feb 1964??) . He has never seen any photos of the train, and I can't find it mentioned on your website. I have found the photo of a set working to Witton, but obviously not same occasion. Have you any information concerning, or have you perhaps ever seen any photos of this working please? He said he went to watch the game at Anfield,and records show Swansea won 2-1 against all the odds.
From Paul Harrison;
I'm trying to prepare an article about the football specials which ran in connection with Luton Town's journey to the FA Cup Final in 1959. I have a particular gap in my records for the Sixth Round tie at Blackpool on Saturday 28th February. I travelled on a special from Luton Bute Street via the West Coast Main Line to Blackpool but cannot remember to which station. I do remember that our destination was changed en route on police instructions but cannot recall the details nor which station we returned from after the match. Other trains ran from Luton Midland Road via the Midland Main Line on that date.
From Graeme Cattell;
I took a photo of 'Flying Scotsman' at Dent heading to Carlisle with an 'Ian Allan Jubilee' yellow headboard attached. I have commissioned a painting from the slide but I have lost the date and details of the excursion. I think it was around September 1992 on a Saturday lunchtime. As a complete record to go with the painting I would like to be able to have all the details. Can anyone help ?
From Andrew Spencer;
Query 1: I travelled on a Merrymaker excursion between Reading and Manchester Piccadilly on a Saturday in late 1976 or early 1977, but I'm pretty sure that I didn't travel on the return journey as I continued home for the weekend. The route was via Birmingham New Street and the train was composed of Mark 2 stock and electrically hauled north of Birmingham. Does anybody have any details of this excursion? It would presumably have started from London Paddington or Ealing Broadway and called at Southall, Hayes, West Drayton, Slough, Maidenhead, Reading and Oxford.
Query 2: I travelled on the return leg of a Merrymaker excursion between Loughborough and Reading in 1976 or 1977 (but no later than the end of September in the latter year). I would have travelled home earlier, visited a friend in the Nottingham or Loughborough area and then used the excursion to travel back to Reading. The excursion would have originated at London Paddington or Ealing Broadway and called at Southall, Hayes, West Drayton, Slough, Maidenhead, Reading and Oxford. I don't know what the ultimate destination was (York?) and presumably there was an event on the Great Central Railway that day. The route south of Loughborough, at least on the return journey, was Leicester – Hinckley – Nuneaton Midland – flyover across the West Coast Main Line – Water Orton – Landor Street Jn – Bordesley Jn – Banbury – Oxford and so on. I recall that it was dusk while I was waiting at Loughborough and was dark by the time we crossed the WCML flyover. I know that I was visiting there on 28th September 1977 and returned to Reading that evening but that was a Wednesday. Can anybody shed any light on this?
From the Webmaster;
Can anyone date these M&GNJRS tours from 1974 and provide further details; information from the M&GN Society 'Joint Line' magazine Winter 1974/5 copy that mentions 9 railtours in 1974 but no detail other than two undated pictures 'The Devonian' arriving at Paignton headed by Brush Class 47 no. 47030 & headcode ''IZ70' and 'The North Yorkshireman' head code IZ69 detail of diesel not known (with thanks to Andy Butler for the pointer to this gen).
From Martin Gemmell;
I have purchased a photo of 4498 'Sir Nigel Gresley' taken at York and with a white board just above the buffers with 'EVENING POST LIFESAVER 78 SPECIAL'
Can anyone provide the tour details?
From Terry Ayres;
Can anyone fill in the details for this 'Cheshire Rail' outing on 6th April 1991?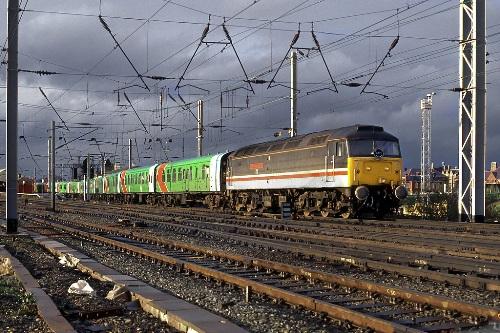 47973 leaving Warrington Bank Quay (photo: Terry Ayres)
From Colin Walker;
Colin has supplied details of what he believes were RCTS tours not on this Website however they do not appear in any established lists of RCTS railtours, can anyone therefore confirm who ran them, tour name (if other than given) etc?
14/07/1959 : DMU : West London Junctions Tour
Route: Clapham Junction (Windsor Side) - Kensington (Olympia) - North Pole Jn - Old Oak East Jn - Old Oak West Jn - Greenford (reverse) - West Ealing - London Paddington
19/04/1960 : DMU : West London Junctions Tour
London St Pancras- Cricklewood Jn - Neasden Jn (reverse down to GC and back) - Acton Canal Wharf Jn (reverse) - Willesden Yard (via LNW main line underpass) (reverse) - West London Jn (via LNW main line underpass then beside Freightliner Terminal ) (reverse) - Acton Wells Jn (via S.W.Sidings) - Acton East Jn- Acton Main Line( GW ) (reverse) - Old Oak - London Paddington
From Eddie Humphrey;
Can you date this trip please: On a Saturday In the spring of 1978, BR did a Merrymaker Excursion from St. Neots to Southport. Picking up at Peterbrough and Huntingdon. Route was ECML to Doncaster, Healey Mills, Manchester Victoria both ways. Class 47 from St. Neots loco change to Class 40 en-route and the class 40 working back to St. Neots. I couldn't find it on your webpage. Sorry to be so vague - I may even have the wrong year - it could be 1977 or any year up to 1981, but I went on the Wigan Wanderer in 1978 and I am sure that I went on the Southport trip before that.
From Geraint Phillips;
I am looking for some details of the CME (Northbound) on the 17th April 1993 behind 46229 Duchess of Hamilton. I filmed it at Skipton and on the Long Drag but I don't know where the tour started? Did the loco come off at Appleby or go through to Carlisle?
From Peter Mackie;
Not on your list as far as I can see, there was an Ian Allan excursion from Euston to Crewe Works. Could have been April '61 or possibly '62. The loco was 46110 and bizarrely the only stop was at Apsley. Confirmed date & details required...
From Andrew Crawford;
I am looking for information about a rail tour I travelled on as part of a school railway society outing. I think it was in 1975 because I have no records, except some photos I took when we got off at Bristol Temple Meads. It could have been 1976, but I had started keeping a notebook by then and it is not included. I recall it being an LNER Society rail tour that started north of London on the ECML or thereabouts that we saw advertised in the Railway Magazine, in which the LNER Society tours were regularly listed. We joined at Reading, where there was I seem to remember a delay because one of the coaches was defective, and got off at Bristol TM. We returned on the same tour. The only other thing I remember was that 1068 'Western Reliance' departed Reading shortly before our train – one of our party got on by mistake but was lucky as the Western's train also went to Bristol. I am in particular looking for the locomotive(s) used on the railtour – presumably Class 47 – and any other information including the route.
From Mike Breslin;
Can anyone provide a date and details for the following tour: I have memories of another charter organised by (I think!) the Wirral Railway Circle - sadly I do not appear to have kept the ticket for this one. I remember that it started from Rock Ferry, Birkenhead, behind a Class 40 to Goole, where we boarded the Humber paddle steamer "Lincoln Castle" for a short voyage to Hull. The same Class 40 and train was waiting at Hull Paragon for the return journey to (again I think!) Liverpool Lime Street. I simply cannot recall the date but, because the "Lincoln Castle" was taken out of service in 1978, it but may have been sometime around 1976
From Ian Clark (SLS);
Can you help Ian Clark identify the locations for these two SLS tour photos?

1st June 1954
58903 at an unknown single-track location - can you identify where it is?
(photo: W.A. Camwell / © Stephenson Locomotive Society)

27th September 1959
This shot of MR 1000 is thought to be taken at Toton - can you confirm?
(photo: W.A. Camwell / © Stephenson Locomotive Society)
From Roger Griffiths;
Can anyone confirm the date (and provide details) of this trip - location is Bristol Temple Meads and it is believed to be late 1976. Stock is Great Western in origin and the headboard reads 'The Severn Valley Limited'. Loco given as 47120 but a look at the original scan seems to suggest 470xx rather than 471xx and the headcode box is would to show wound to show [ · 0 6 9 ] implying it could in fact be 47069? Richard Lewis suggests a running date of 13th November 1976 for this trip - can anyone else confirm?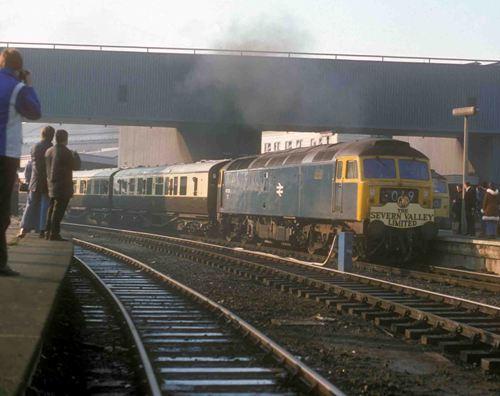 From Peter Brabham;
I have a photo of Caledonian 123 at Cardiff Canton on 08/04/1960 but no record of any railtour around that date. Also on Canton is City of Truro so probably working as a pair. Any ideas?
From John French;
I am trying to find details of the route of a special train organised by a group of junior schools in 1959, which travelled from Hemel Hempstead to Bristol by way of Bletchley, Yarnton and either Kingham and Andoversford or via Honeybourne. We went on to Cheddar caves and returned by the S&D – I remember being shocked to find there were coal mines in Somerset!
From David Grant;
I was on a Football Special day trip from Dundee direct to Old Trafford station for a UEFA Cup tie. The internet confirms the date as 28 Nov 1984 and the result as 2-2. The trip was organised (I believe) by British Rail staff based at Dundee Tay Bridge station. The tickets were either for Piccadilly or Victoria (can't remember now) but we were taken straight to Old Trafford! As we boarded we were told we would be taken to Mossend where an electric loco would be substituted for the trip south. Left Dundee mid-morning, arrived Manchester around 18:00, and got back to Dundee about 03:00 next morning. Can anyone confirm the details of this train?
From Greg Morse;
I'm hoping to write about this trip in a book or magazine article (or maybe both, if I'm lucky). It took place on my 9th birthday and (of course) involved a visit to the NRM. Being a little idiot, I didn't take any notes, merely scratching loco numbers off in my 1977 Locoshed book. I do have this, however:
24/08/80 Merrymaker xxxxx (not necessarily Swindon, I guess) - York
d. Swindon 06:00 a. York 12:00
d York 18:00 a. Swindon 00:00
We headed east from Swindon out of Platform 1 and the trip involved passing through Birmingham New Street (as they all did, in my small experience). Any tiny piece of information would be welcome on this; I have very little to offer in return bar full credit in whatever I end up writing.
From Pete Stamper;
I have recently acquired some photos taken in the 50s of a R&HCS visit to the S&M in the 1950s. They include 'Austerty' 143 crossing the new Shrawardine viaduct, Drewry railcars and a shot of a two coach train at Abbey Foregate. Unfortunately I have been unable to unearth any information about the trip. It certainly isn't one of the BLC or SLS trips. Can anyone suggest any other likely dates/trips which these photos may be of? Pete also adds: looking with a magnifier it is possible on Drewry railcar 9103 at Melverley to make out the headboard which has R&CHS along the bottom and what looks like a scroll above it (looks like a bent letter 'L' at first glance). The same headboard also appears on the austerity No 143 on Shrawardine viaduct, which was rebuilt by the army in 1949 and demolished in 1962. I'd appreciate any help you can give.
From Michael Byng;
In the 1980's, I am afraid I cannot remember when, I went on a Rail Tour starting from Birmingham New Street which took the following route;
Birmingham New Street - Soho Junction Perry Barr Junction - Bescot - Walsall - Sutton Park Line to Castle Bromwich - Landor Street - Kings Norton - Stoke Works Junction - Worcester Shrub Hill - Honeybourne - Oxford (reverse); Oxford - Bicester - Claydon LNE Junction - Quainton Road - Aylesbury - Princes Risborough - Chinnor (reverse) - Princes Risborough (reverse); Princes Risborough - Bicester - Banbury - Leamington Spa - Tyseley - Bordesley Junction - St Andrews Junction - Exchange Sidings - Birmingham New Street.
Does anyone remembers this tour, when it took place or, indeed, have any pictures or records of it?
From Steve Randall;
On 29th September 1984 I photographed 50017 at Newton abbot on a Milton Keynes to Penzance tour, possibly organised by LNER Society Railtours - further details are required.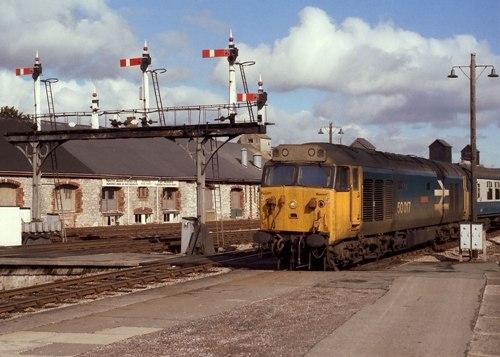 Steve Randall's photo of 50017 at Newton Abbot
From David Pickersgill;
In 1976 or 1977 (the former I think is most likely) I travelled on an excursion from Castleford to Edinburgh one day of the weekend before school started back after the summer holidays. There is a photo on Flickr of 40006 about to depart from Huddersfield on a BR 'Merrymaker' to Edinburgh on Saturday 4th September 1976. Can anyone confirm whether this ran via Castleford? If so, I am pretty confident that this will have been the one.
From Adrian Vaughan;
I have a photo here of GWR streamlined diesel railcar, No.W16W, stood at Faringdon station (Berks) supposedly in 1951 carrying a 'Southall Railway Society' board. Can someone please confirm the date and details? Webmaster comment: this is most likely to have been the Southall Railway Club trip of 24/04/1955.
I photographed a Gloucestershire Railway Society trip from Uffington to Faringdon using 1658 and 2 non-corridor coaches. I wonder when this took place? My guess is very wide; 1961-63 and in a season when the light was bad and no leaves on trees.
'William Shakespeare'; Below is a picture I took from Hinksey South Box when I was on early turn sometime before the end of September 1973. This is 6998 with the headboard up and 2 restored GWR coaches going into Oxford to pick up some Mk.1s and go to Stratford-on-Avon. 6998 came back around 7.30 that evening and I photographed the full train that time at Oxford North Jc. I'd like to know the correct date for this train, please.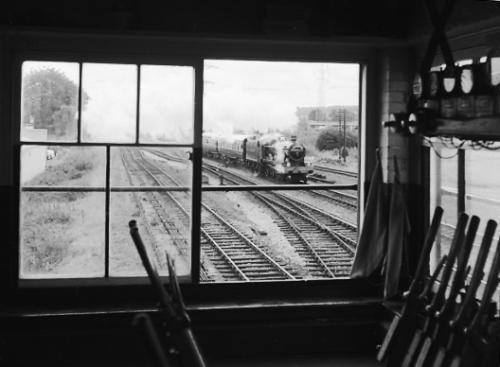 ..and finally, can you date this photo of 4472? It was taken at about 8.30pm possibly in June but certainly in 1972, heading south at Oxford, with two coaches. A 'positioning' run maybe?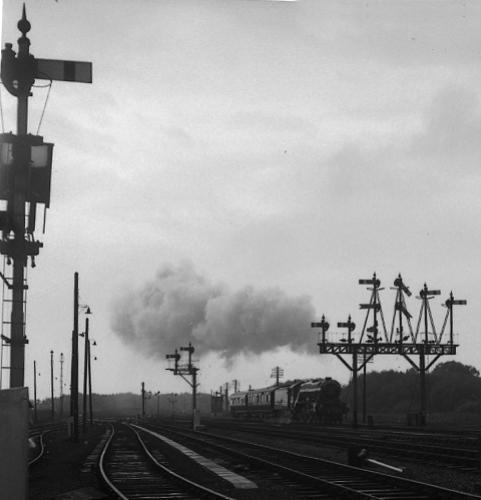 Received in response from Ian Bowskill;
There's a pic of 4472 near Oxford on this page that states it was taken in 1972. Impossible as she didn't return from the USA until February 1973. I recall her being on exhibition at Kensington Olympia in the summer of '73 but IIRC she from Derby via Princes Risborough with her two tenders but no other vehicles in tow.
From Steve Rueth;
I wonder if you can help me to track down the haulage for this TBLS rail charter to the Rainhill event. Train reporting number was advertised as 1Z38 It was scheduled to leave Kings Cross at 0710 and arrive at Manchester Victoria at 11.07, returning at 20.45 and arriving back at Kings Cross at 0050. It was loco-hauled with 8 Mk1 Vehicles in tow I have all the route details and numbers taken on the day, but absolutely no indication of which loco took us there and back. Could be that it was a class 47 which might not have merited recording in those days!
From Garth McLean;
I have some photos of 4472 'Flying Scotsman' on a special on the ECML to York and my records give the date as 1st May 1966 but there is no record of a special on this date on SBJ. Can anyone help with any details of this tour or might I have got the wrong date?
Garth is also after details for a tour which ran on 26th March 1967 but was not on SBJ. Hauled by 43121, it started at Carlisle and went to Alston and then Langholm. Who was the organiser and does anyone have any further details?
From Andy Parr;
Can you provide the date and details for the following: I have a photo of a mystery excursion at Shoeburyness taken in 1972. It was hauled throughout by D1526. I believe it went to Stratford on Avon. I was working at Stratford at the time and we worked it as far as Willesden.
A photo from Roger Geach;
This is a photo of 47411 on the down slow at West Ealing on 16th May 1986. The headboard reads '2060 Harrison Express' but Roger Geach suspects this may have been an ECS working...was there a tour of this name on this (or a close) date?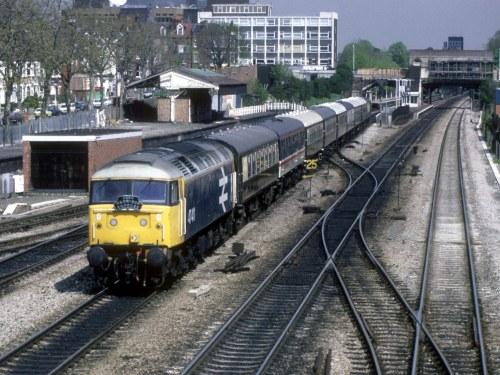 Three photos from Roy Lambeth;
These two photos taken by Roy Lambeth of 34092 'City of Wells' were taken in July 1983 or shortly before (from printed date of processing on the slide mount)...can anyone confirm the running date and provide details of the tour?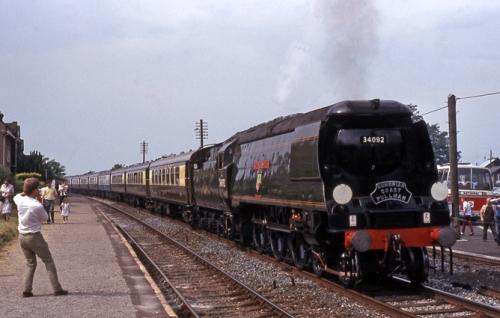 34092 at Ravenglass (outward above & return below)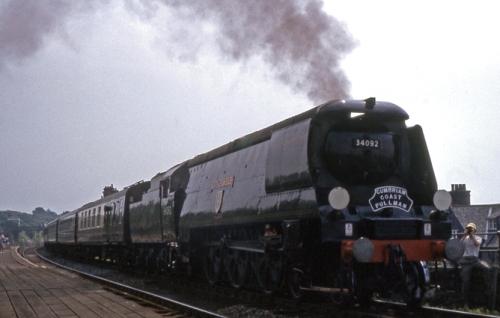 ...and this is one of 5690 'Leander' at Appleby is dated as processed in September 1979 - date and further details required;

From Jon Marsh;
...looking for details of the Welsh Mystery Flier hauled from Paddington by 4472 in, he thinks, think 9/10/64 - filmed passing Southall.
...and is also after confirmation of the headcode for the Ian Allan Great Western High Speed Railtour on 9th May 1964 - Z48?
From the Webmaster;
Can anyone confirm beyond reasonable doubt the return routing of the 3rd November 1984 'Swindon Ambassador III' tour? Originally uploaded as Birmingham - Derby (reverse) - Uttoxeter - Stoke-on-Trent - Stockport - Manchester Victoria - Bolton, gen recently received from two separate sources differs from both what was uploaded as well as each other;
1) Birmingham - Derby - Chesterfield - Sheffield - Hebden Bridge - Todmorden - Rochdale - Manchester Victoria - Bolton (passengers for Stoke-on-Trent and Stockport using service trains)
or
2) WCML from Birmingham, reverse of outward from Stoke-on-Trent (passengers for Derby using a service train from Birmingham)?
From David Wildgoose;
Can anyone confirm the date of these pictures? Believed to be 8th April 1989, the location is Appleby. I was on the northbound HST tour along the S&C when we stopped at Appleby and 35028 Clan Line came into the southbound platform. Since I can't find any record of 35028 hauling a tour southbound around that date, I wonder if it was hauling a positioning move south with empty stock?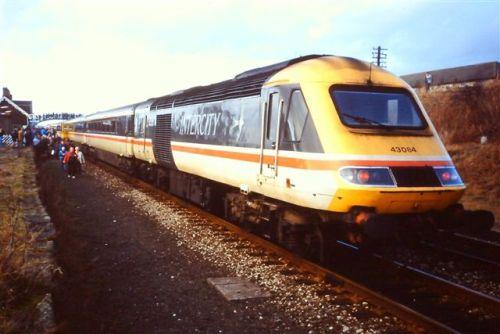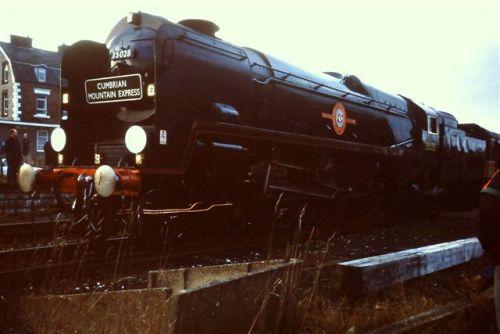 From Ken Robinson;
I'm trying to confirm the Cambrian Coast Express tour which took place on 5th April 1980. I have photographs of a tour at Porthmadog which I believe to be this one. The locos match i.e. 2x25 (but no numbers), the date I have is April 1980 (but may have been late March), but I saw no trace of a DMU as mentioned on the tour page. This was also I believe to be the last loco hauled passenger train for some time north of Barmouth Bridge as the discovery of the worms in the timber piles had been made that same week (or thereabouts) by civil engineers. All loco hauled trains were banned over the bridge as from w/e 12 April 1980. Can anyone help/confirm please?
From Adrian Vaughan;
Not much to go on here....simply 6998 on a GWS 'William Shakespeare' special (first photo: heading north past Oxford North Jn, second photo: heading south past same spot in the evening) sometime in June 1972 or 1973....date and details required.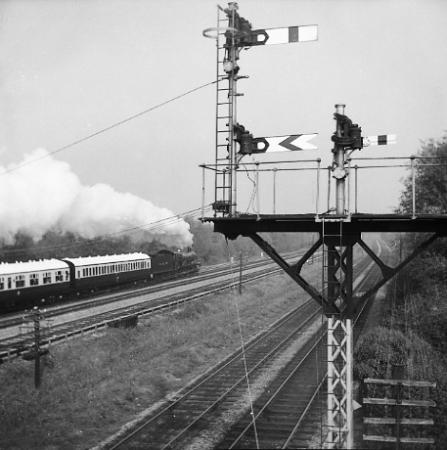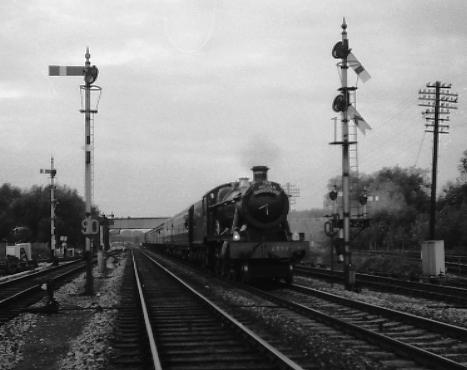 From Ewan Crawford;
Ewan knows this is a photo of 65345 on the "Scottish Rambler No.5" tour on 11th April 1966 - but can anyone confirm the location? Ewan suspects it may be Stoneyburn on the North British branch to Addiewell (NB) however according to the timings for this tour it did not traverse that branch....or did it? Garth Mclean suggests the location may be Westfield or Fauldhouse?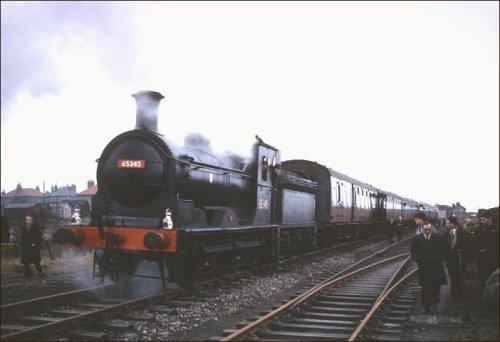 Is this Stoneyburn on the North British Railway branch to Addiewell?
(photo: The Robin Barbour Collection [Courtesy Bruce McCartney])
From Ivan Cadge;
I have been researching the Abingdon Branch for some years now and have accumulated a number of photos. This research was carried out with a view to building an 'OO' gauge layout of the station. The model is well under way but my interest in the branch has gone from strength to strength, including creation of a Website about the branch. During my research I noted that the OURS operated several trips along the branch line and I am keen to contact members of that group who travelled on these excursion. I would like to build a fully comprehensive photographic collection of the Branch Line, for no financial gain, but to make it available to any one with an interest in the railway. All credit would be given to the photographer at all times. I would therefore ask if you have any photographs of the Branch Line and if so would you be kind enough to allow me to have copies of them.
If you can help Ivan then please contact him directly via this e-mail address. If you have any new tour information please do not forget to include SBJ so I can create/update the Website accordingly.
From Brian Taylor;
I recall being on a railtour on 28th December 1979 which travelled to Dundee in memory of the Tay Bridge disaster. It was timed to stop on the Tay Bridge at exactly the time of the bridge collapse which occurred 100 years before and I recall a small service being held and a wreath thrown from the bridge into the Tay. The train started in the Durham/Sunderland area and I joined at Durham or Newcastle and seem to recall the train was formed of DMU stock and it returned to the North East of England very late. I remember the train arrived in Dundee earlier and we had time for a walk along waterfront on an extremely cold night! Can someone provide details of this tour please?
From John Broderick;
Can someone please confirm the ER (class 254) HST power cars and stock used on the "Ian Allan Limited" railtour of 26th June 1982?
From Richard Tuck;
I've been using your website trying to find what hauled a private excursion I went on from Burton - Blackpool in about 1982/83. It was organised by my dad's workplace at the time. If you can help with this despite it being vague it'd be great. It would've been for illuminations and was out on a Saturday and back on a Sunday (00.00 off Blackpool and back in Burton about 05.30)
From Dennis McDonald;
Some time in 1979 (after 13th Feb, which was the date of the postmark on the envelope which contained the tickets) George Ewer Group (owner of Grey-Green Coaches in London) chartered a train from London to Paignton, and then to Kingswear and back. Over the mainline the train was hauled by 47405. I have very few further details, and would be particularly interested to know the date of the trip, whether the train was hauled to Kingswear and back, or did passengers have to change trains at Paignton. Any information you can supply will be much appreciated.
From Brian Halford;
I have a return ticket from High Rocks Halt to Gatwick Airport for the Daily Express Air Pageant at Gatwick Airport on 23rd July 1949. This was at the original aerodrome (closed 1956) served by the first Gatwick Airport station closed in 1958. Both now superseded by the present airport and station. Research has found that the pageant was attended by 70,000 visitors and there were a number of additional special trains ran between a number of stations and Gatwick Airport station. The ticket below was from High Rocks Halt (closed 1952) on the line between Tunbridge Wells- Three Bridges although it would suggest there were even special trains (or maybe just fares) on this line. Anyone any further gen?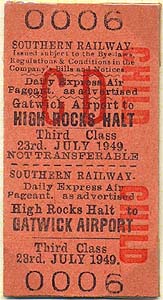 Richard Maund has responded with: The "Daily Express" advertising in their issue that morning contains the words: 'British Railways are issuing combined rail and admission tickets at stations within a 60 mile radius of Gatwick. Forty eight special trains will leave Victoria and London Bridge for Gatwick between 9 a.m. and 2 p.m. and 15 special services from the South Coast. Both railway stations at Gatwick adjoin the Airport.' That final sentence indicates that both the old Airport station (formerly Tinsley Green) and the Racecourse station (site of the current Gatwick station) were in use. Aerial activities at Gatwick were to be wound down in autumn 1949 and it seems almost certain that the last public use of Gatwick Racecourse station, in conjunction with air activities, would have been this event. For the following year, the event was replaced by the RAF Display (the first since 1937) held on 7 and 8 July 1950 at Farnborough.
From Alan Grange;
Can you answer a riddle for me? On 27th August 1966 I happened to be at Edinburgh Waverly as 60532 set out on a train. I don't see that listed on your website, so was it a regular service train? Several correspondents have confirmed this was NOT a railtour or special, simply a summer Saturday Edinburgh to Aberdeen working.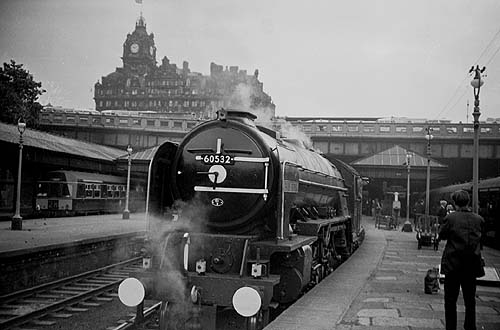 Photographed by Alan Grange at Edinburgh Waverley - not a railtour.
From Paul Reeve;
I'm going through slides at the moment and have come across some shots of 7029 Clun Castle hauling a railtour called 'The flying hippos'. I can't recognise where the photos were taken - one has an HST in an adjoining platform and must be the starting location, whilst the others are at a station on a two-track main line with colour light signalling. The photo would have been taken between approx. June and September 1987. Date confirmation & railtour info required. John Cowlishaw comments: The origin of the tour looks very much like Swansea hence the HST and I am fairly certain the shot passing through the station is west, say Kidwelly area.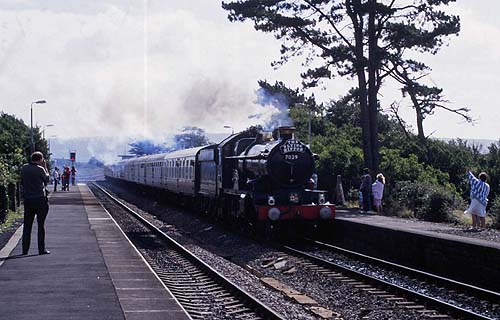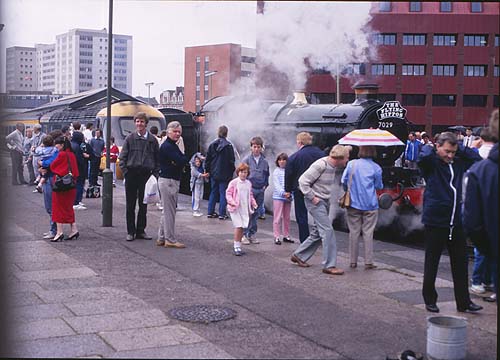 A response from Alan Williams: John Cowlishaw is correct in identifying Swansea (High Street) and Kidwelly stations. However, we are not talking about a conventional "railtour" here but a series of excursions run by BR over three weekends in September 1987 under the generic name of the 'Carmarthen Bay Express'. The 'Flying Hippos' headboard, carried by 7029 on, I think, its first outing (shall check my slides) was some sort of Tyseley in-joke if memory serves me correctly. The CBE headboard was carried by most of the trains although I seem to recall a 'Capitals United Express' headboard and a 'Railway Club of Wales' headboard.
The locomotives used were the aforementioned 7029, together with 6000 'King George V'. This latter locomotive caused great excitement locally as, of course, when we had a proper railway, the 'Kings' were prohibited west of Cardiff. The excursions ran Sats & Suns, 5 & 6, 12 & 13 and 19 & 20 September 1987, two trains per day out and back between Swansea and Carmarthen, each with convenient triangles to turn the locomotives. Each locomotive worked one of the two trains per day which resulted in the happy state of affairs whereby the a.m. locomotive would arrive back at High Street and the p.m. locomotive would then back on to train for its departure - steam everywhere! On Fri 4 Sept, 6000 ran E.C.S. Swansea to Carmarthen and back for clearance checking.
From Geoff Kerr;
I travelled on an excursion of some kind to Bressingham in September 1977 (date not known) from Durham. Presumably the train started from Newcastle and went on to Norwich, and we definitely had a class 40 for all or most of the journey. The main highlight, if that is the right word, is that the driver forgot to stop at Thetford for us to join our bus to Bressingham, and set us down instead at Eccles Road, which is in the middle of nowhere, where our buses had to be summoned. After visiting Bressingham, I ended up at Diss (no idea how I got there as I think it was a Sunday) and caught a train from there to Norwich, to rejoin the excursion. Details in my photograph database are very sketchy. Any details would be welcome! (i.e. date, route taken, motive power)
From Paul Green;
Not sure if this was a special, but I saw 46049 at York on 03/11/79 heading north with a train under the headcode of 1F50. I would estimate the time to be about 09:00-10:00 - can anyone confirm if this was a special and, if so, provide more details?
From Brian Robertson;
I was just trying to answer a query from someone on the uk.railway newsgroup about electric locos to Altrincham. I recalled that there were a couple of photographs of such events in a book that I have about the MSJ&A, so I dug it out. The first one is AL6 No. E3155 on a special from Altrincham to Euston to commemorate the conversion of the Line to 25kv. It is said to have run in May 1971, but no date is given. Can anyone confirm the date and more full details for this trip?
From Andre (Stratford 47 Group);
Have been sent two Photo's of 47596 at Bournemouth on 6th May 1989 on a NENTA charter - All we know is that it went to Weymouth and of course NENTA charters start from East Anglia but not always from Norwich. Can anyone provide full details for this tour please?
From Martin Perry;
I have been trying to find details of an incident on the S&C where LNER A4 'Sir Nigel Gresley' was involved (with 2x Class 25) in rescuing a failed freight …… any ideas? Martin believes this took place sometime in the 1980's and did involve 4498 whilst involved in a railtour.
From Peter Whitaker;
I took this picture at Windermere, I am fairly sure, during August 1967 but I think it was a weekday!
It is of 45000 with a Border Railway Soc. and 1P77 head boards - can someone please confirm the date and route etc?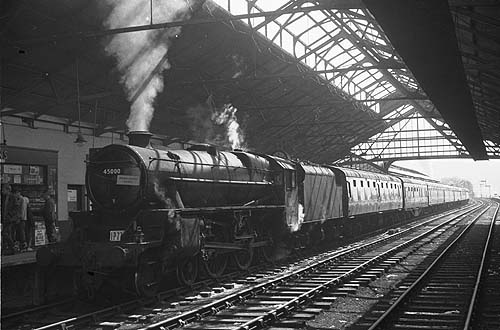 From Rab Jacobs;
I have been going through my photo collection recently and found a few pictures of GWR 6000 'King George V' at Shrewsbury on Tuesday 22nd of January 1985, all I have on notes is that it worked up from Hereford. 37255 worked the ECS bit whilst the King was coaled and turned for the return working. I wasn't the only photographer there that day so hopefully someone could help shed some light on it.
From Derek Evans;
Not strictly railtour-related (though the information referenced may well contain railtour information) but here is Derek's request which I am sure someone can enlighten him on;
During the 1980's there used to be at Man Vic 'the sheet' which was kept in the top of a pipe near the Gents on Platform 12. This was a pre-printed xerox sheet with all the days workings listed which had the loco numbers filled in by the regulars. This sheet appeared by magic every morning and disappeared every night. It was obviously generated by someone in the know as it had all the workings with reporting numbers etc. I have always been intrigued by the fact that no-one ever saw it being removed or replaced, but what an invaluable source of historic information these sheets would be. Now the question, does anyone know anything about these sheets, do they still exist or does someone have log of them ??
From Henry Allum;
Some time in November 1993 The Sarum railtour was ran to Salisbury via Sherborne with 34027 Taw Valley. also in November 1993 I assume the same day or weekend 70000 Britanina was seen in Salisbury Station and 828 and 34027 worked a Salisbury to Yeovil Jn railtour - this may have been the The Sarum Railtours return.
From Mike Hunt;
I am desperately trying to find out more about the railtour on Saturday 10th July 1999, which took D172 vice a "Deltic" to Edinburgh. Further to what is on your website, I have established that this was by Pathfinder Tours, and ran from Cardiff via Hereford. Further details required.
From Nick Braddick;
Nick is after details of Hertfordshire Rail Tours outings on 27/09/92 (Eastleigh Works Open Day) & 27th/28th August 1994 'The Aberdeen Angus'
From Matty Valentine;
Trying to find, think was in 2002, D9016 on a tour from Colchester to York (I was on that). She was in purple livery. Am after the scheduled and actual times. I think she was 50 late arr at Stratford, cant remember how much time she mad up at York but was impressive. Date is now confirmed as 14/12/2002 and the operator as Steamy Affairs - any and all info on this tour will be gratefully received.
From Phil Bartlett;
Phil is after details of an RCTS railtour which ran on 27th April 1968 using a class 20 and which visited "Wolverhampton New Goods" and Soho Pool. (Webmasters comment: as this train isn't on SBJ I'm after details too!)
Two from Geoff Kerr;
I've a photograph of 33208 in green arriving at Cardiff Central with brown and cream Mk1 stock, showing headcode "33" and just dated 1989 - is this a special, if so when and what?
September 1977; I was on a tour (Merrymaker?) from Durham (it must have started from Newcastle) to Bressingham. We had a class 40. Going out, we were scheduled to stop at Thetford, but the driver forgot and stopped at Eccles Road!! The buses were summoned and took us to Bressingham. The return started from Norwich - I can't remember how we got there, via Diss, I think. I've no details of the route taken or loco number, nor the exact date.
From Brian Halford;
Can anyone confirm the running date of an SLS tour called "The South Wales (Cardiff Area)" which used (at least) loco 6432 and a 2-coach auto-train rake? Reported as running: Cardiff (Queen Street)-Radyr, Ystrad Mynach, Pontypool Road - Cardiff. SLS ran two tours called "South Wales" on 13th July 1957 & 2nd July 1960 - was it one of these, or run on another date?
From Tim Barber;
I supplied details of an FSE trip from Leeds to London on 20th Oct 1968 on which I was a passenger - and didn't take any photos all day!! The main purpose was to record the start out of Kings Cross which I managed and is a cherished recording. I have never seen any pictures of this special. Does anyone out there have one?
From John Simmonds;
On Sunday, June 23rd 1974 there were 2 Penistone to Rhyl & return charters shown. I have the Western Lines STN for this period which shows them as going via Ordsall Lane Jn-Winwick Jn-Acton Grange-Frodsham-Chester. They were both loco hauled with timing loads of D455. Arrival in Rhyl was 10.21 & 10.34, departing at 17.57 & 18.05, the headcodes were 1Z26 & 1Z27 both ways. What I would like to know is the route they took east of Manchester over the Pennines-was it Woodhead, Standedge or Hope Valley? & what was the motive power?
From David Wilson;
I have a photo of A4 60009 heading round the curve at Saughton (Edinburgh) with a headboard showing "The Forth Centennial" however by my photos either side on the reel I can only place this as being on the 1st of September 1990. The railtour files list it as running on June 16th 1990 and also state that it is believed the train also ran on 19th May, but I can state for sure that I took my photo on 01/09/90. (Webmaster comment: details of the trips on 19/05 & 01/09 are required).
From Andy Hoare;
Andy is fairly sure these photos he took of 4498 'Sir Nigel Gresley' were taken on 2nd August 1981 - can anyone confirm this and provide details of the trip? The headboard is "The A4 Locomotive Society Limited".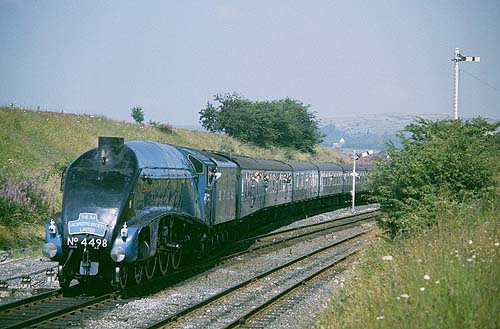 Settle Jn (above) & Skipton (below).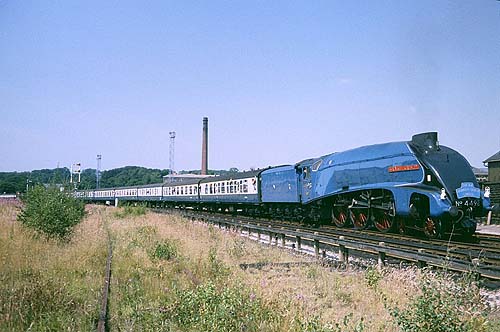 From Brian Halford;
On a number of dates in 1967 and 1968 the GWS arranged a special steam hauled service between Cholsey and Wallingford in connection with their Open Days and Wallingford Carnival. Further details (dates, traction & times) required. It is confirmed that it ran on 6th July 1968, formed using 1466 plus an ex-GW auto-coach and Brian also has a stamped ticket dated 15th April 1968.
Chris Totty comments: I went on one of these trips on 17 June 1967 in connexion with the Wallingford Carnival. The stock was a DMU, but I don't have the individual coach numbers, and was, I think, the first time these trips were run. A shuttle service was run all day and I was on the 16:15 ex Wallingford returning at 17:00 from Cholsey and Moulsford.
From Andy Parr;
I was a secondman at Stratford in the 70s, I have a photo taken at Shoeburyness of a mystery excursion that we worked to Willesden where LMR men took over,I think the train went to Straford-upon-Avon.This would have been 1971/72. The loco used was class 47 no. 1526 and the stock included a Gresley buffet car. Can anyone confirm the date & provide route details?
From John Hyde;
Back in 1987/8 the East Lancs managed a couple of railtours out from Ramsbottom.. one to London, another to the Severn Valley. The SVR was noteworthy as this consisted of 3x2 car 150/2 sprinters to Kidderminster, where we changed for 7819 and 4566.. I know one of these was 150201 and have a picture of it at Bury at about 6am... I don't know the others. I remember it had to be out and off Cheetham Hill junction before regular Saturday service started with the 504 units.. does anyone have any details on these trips?
From Andy Pullar;
My notebook makes a passing reference on 01/11/1980 to LEV1 working a charter which I passed at Westerfield when I took spin to Felixstowe and back on the 10.00 from Ipswich (or was it a driver training turn or even a service train?).
Some photos from Mike Morant which need identifying;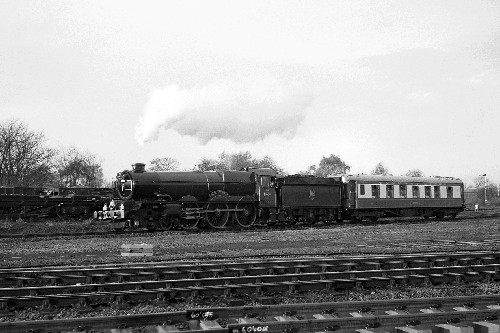 01/11/80 - Chester - 6000 - Zenith

??/??/?? - 7029 on "The Fenman" (presumably 1Z27), location unknown.
John Cowlishaw comments: This looks exceedingly like a down train to the south of Ruabon station (between the A539 overbridge and the site of Llangollen Line Junction. The give away is the stone retaining wall forming a recess in the cutting and the easing of the gradient at the rear. I was unsure on whether there was this recess but had a look yesterday to confirm.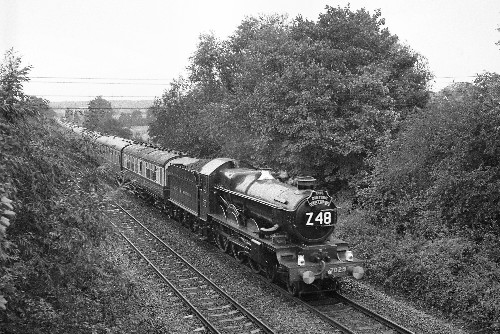 10/10/81 - 7029 on "The Dinting Venturer" (presumably 1Z48), location unknown.
Location & tour details required.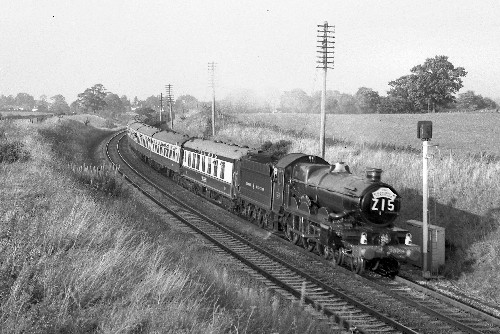 ??/??/76 - 7029 near Gobowen (presumably 1Z15).
John Cowlishaw comments: The location is north of Gobowen, passing the up distant.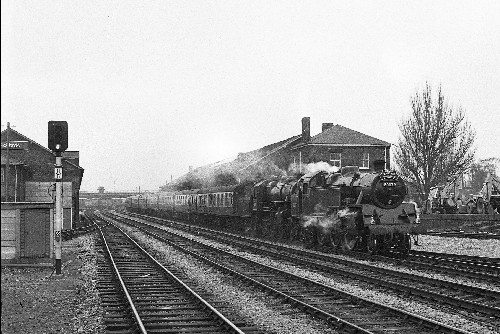 26/03/83 - 80079 leading 43106 on the "Welsh Marches Pullman" - at Hereford?
John Cowlishaw comments: This to my mind is most definitely Hereford with the train coming in from the north.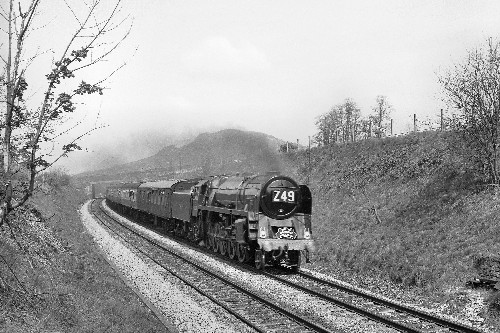 Both 92220 on the "Welsh Marches Pullman" - nothing else known!
John Cowlishaw comments: The upper photo is somewhere near Church Stretton. The give away are the hills behind (Caer Caradog and The Lawley). Cannot identify the location as I do not recognise the more modern bridge in the background.
Paul James comments: The location of the above photo is Abergavenny on the Down line. The loco is just about to pass the Down Outer Home signal. The photo was taken from what was a minor crossing untill the Abergavenny by-pass was built but the footbridge that crossed at the same is still there.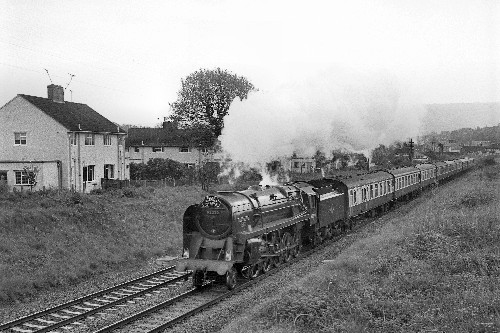 Paul James comments: This photo is just South of the old Llangollen line junction south of Ruabon with the loco on the Down line climbing the bank up from Cefn Viaduct. The photo was taken from a bridge that is nowadays by a school that exists in the "V" between the Salop-Chester line and the old Llangollen Branch.
Garth McLean;
...is after details of a railtour hauled by 4472 'Flying Scotsman' that he photographed - he thinks the tour was in 1968 and took 4472 to Newcastle (?) via the coast route through Stockton & Hartlepool, returning via the ECML. Roy Lambeth offers: The date was 25th May 1968. I seem to remember it was a "Gainsborough Model Railway Soc" or "Northern Rubber Special". Probably the Gainsborough one though. I photographed it through Seaham and later back through Durham running very late being hauled by a Deltic. I believe it went to The Forth Bridge and at some point near Edinburgh 4472 burst a superheater element, hence the double-headed return with a Deltic.
John Debens;
...has an un-dated ticket for the "Pied Piper Special" from Paddington to Weymouth, believed to have been in the early 60's - can someone confirm the date and other details please? John Clifford comments: The term "Pied Piper" was one used by the Western Region for many of its seaside excursions so it could be for any time in the 70's or 80's (possibly earlier).
From Carl Ford;
I was the fireman on Clun Castle on March 4th 1967 Ian Allan 'Zulu' tour. I also fired on the September 1966 11th SLS tour when 9630 blew the front of one of the cylinders off. Before we left Chester on the return leg of the 'Zulu' tour to Snow Hill a man who said he was press took a photo of myself and the driver on the footplate I would dearly love to have a copy of this photo now, if you have any idea where I might find photos of that day or the SLS tour I would be very grateful. Webmasters comment: If anyone has any photos please get in touch, I'd also like to use them on the tour pages also, as well as helping out Carl with his request.
From Adrian Vaughan;
I photographed 4472 'Flying Scotsman' on 1Z12 'The Moorlands' on Grayrigg bank sometime in 1966-67-68. Took picture, have negative, kept no record. Can anyone say when this run took place?
Garth McLean has responded to suggest it was early 1969 however Robin Lush suggests the date as 26/10/1967. A tour name of "The Moorlander" is also commented on - could they be two different, but similarly named, tours a couple of years apart? Tim Barber says "The Moorlands" was an RCTS-organised tour that ran on 26th October 1968.
From Alistair Nisbet;
I am looking for details of an excursion which BR Scottish Region ran and promoted on 25 May 1957 from Glasgow Queen Street Low Level to Crianlarich, Killin and back to Buchanan Street via Callander and Stirling. I have seen the basic details of the outing as they were advertised (there is a file in the National Archives of Scotland) but would like to find out more: how the train actually ran e.g. to time or late, loading and no of coaches, types of loco(s) used and numbers if known, and finally I would love to get hold of some photos of it - my aim is to produce an article for Backtrack or possibly BRILL. Apparently the train arrived back in Buchanan Street hauled by a Black 5.
Can anyone confirm the details?
From Paul Barrett;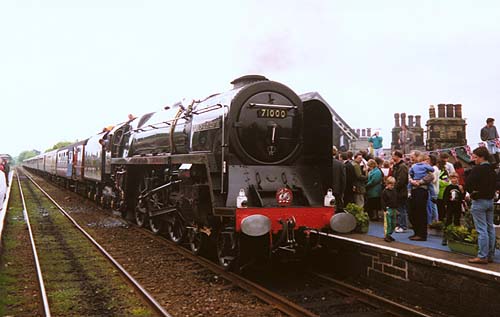 Nothing to go on except it is 71000 'Duke of Gloucester, possibly in 1991, at (possibly) Settle? Maybe the small headboard of what looks to be a Midland Railway dragon may give a clue as to the date and what tour it is?
From Richard Astley;
Richard Astley comments regarding a "did it run" entry on 11th March 2006 (Past Time Rail's 'York Flyer'): Was this the tour worked by 67006/016? I have photo's of a train at Tamworth but have lost my records. I'm sure it was a Taunton - York charter, I think operated by PTR but I was trying to locate the date from Six Bells Junction. From the photos it would appear to have been in late spring/early summer, judging by the foliage on trees (so maybe not 11th March, but a later trip, if there was one? - the original suggestion it may have been the 8th April trip (same name & route) has been dispelled as that was hauled by 67012 on its own, banked by 66057 up the Lickey). Can someone please confirm if this train ran and, if so, were the locos as suggested above by Richard? Any other details on the tour would also be appreciated. David Wood comments: I had a look at South West Rail Gen for messages on or about 11th March but found nothing about any Taunton - York tour. This particular Yahoo group has many more contributors than most groups and very little gets past them, so I would strongly suspect that the tour didn't run on 11th March.
From the Webmaster;
Have just completed a trawl through the Hertfordshire Rail Tours "125 Special" series (1988-?1993?) using a brochure from tour no. 94 of the series which ran on 16/01/1993. All 94 are now listed but many could do with more details. Also, confirmation of tours from 95 onwards is required (some listed but unknown if all captured).
From Geoffrey May;
Geoffrey May requests details of the Hertfordshire Rail Tours Eurostar outing to La Rochelle in ?May? 2000.
An unusual request for information from Richard Evans, plus stock info requested by David Layland;
Richard Evans has requested any information and/or photos of the catering crew on board 1T57, the Fifteen Guinea Special that marked the end of steam on 11th August 1968 as he is trying to recreate the uniform - can anyone oblige?
David Layland from the East Lancs Railway Preservation Society adds: We are trying to find the coaching stock formation of 1T57 on 11/8/68 (15 guinea special) - we know that we have 4933 and 4937 from this train on the ELR but know nothing else. We would like to obtain the numbers and order of the stock so we can see if there any any other coaches from that set preserved. Any help or ideas welcome. Thanks for any response.
From Brian Reid;
I notice that your web site does not have any record of the annual tours organised by the Kettering Anglican Deanery in the early 1980's, some on which I travelled on. I can remember that these at least went to Chester (Class 25 hauled), Canterbury (Class 47 hauled), York (Class 45 hauled), and Liverpool (Class 47 hauled) - I was on the first three of these. Can anyone expand on this information please (dates, routes, locos...)?
From Rob Wosley;
There was a BR(W) Merrymaker in August 1983 Plymouth - York & Return via the standard NE/SW route, 46010 up and 46032 back, cannot remember date and have no timings or pictures, even though I was on board. Can anyone help? Kevin Law offers it may have been on 29th August 1983, headcode 1Z40? He comments that this is a train referenced on his Website (The Chesterfield Observer), seen passing southbound through Chesterfield at 19.19
From Nige Paine;
An unidentified slide from Nige's collection, believed to be from the mid-60's: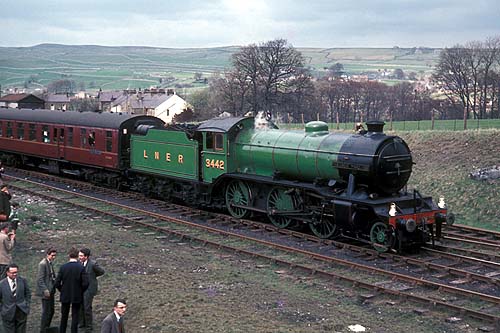 3442 on an RCTS railtour, location unknown.
Garth McLean comments: The Great Marquess headed a railtour from Bradford Forster Square on 4 May 1963. It probably went into the dales and the photo looks very much like typical dales scenery. It also worked an RCTS special up Weardale on 10 April 1965. I was on that tour and the trackwork at the run round point which was I think St Johns Chapel did not have as many tracks as those in the picture.
Robin Lush comments: The picture of the Great Marquess on an RCTS railtour was the Dalesman from Bradford Foster Sq and was taken at Grassington station. When I have a bit more time can give you the date and itinerary since I was on it. Ran very late!
From Alan Sainty;
An unidentified slide from Alans collection: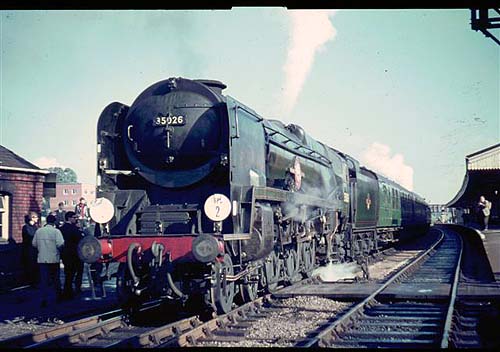 No clues whatsoever offered! Over to you...
John Clifford offers: I think that this was the "Steam Again to the West Country" tour on 15/10/66. It looks like Westbury where the train reversed. The coaches in Southern green & there seems to be smoke or steam from the other engine (35023) at the back of the train.
From Chris Morley;
I would welcome any information, including just the actual dates, destinations & pick-up points, relating to any WR London Division Merrymakers which ran between July 1977 and December 1979. These would have picked up from WR stations such as Ealing Broadway, Southall, Hayes, West Drayton, Slough, Maidenhead, Reading and Oxford / Newbury. From memory the locos used on those adex's that I travelled on include 31273 & another 31 (on a Crich excursion), another pair of 31s on a Clacton train, 47055 & another class 47 (to Tenby, Spring 1978), 47075 (York, late 1977/early 1978), 47097 (Paignton), 47119, 47151 (Yarmouth), 47186, 47250, 47316 (pushing 'dead' 250), 47509 (to York). 86212 & or 86240 (Coventry to/from Liverpool)."
From Tony Davies;
5th July 1962 an excursion was run from Somersham (Huntingdonshire) to Gloucester. The return run was via Andoversford and there is a photograph (ref. Bluebell News, Winter 1990, page 164) of 92240 near that place on the return run. Any further information on this tour would be most welcome.
From Alan Sainty;
Alan Sainty has the shot below of loco 251, presumably working a Railtour around 1958 and believed to be taken at Edge Hill - confirmation and further details are required.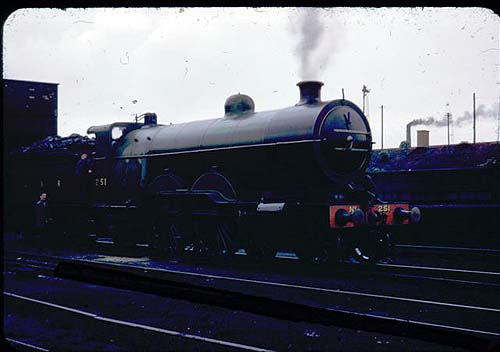 (This photo has been identified as taken on 4th September 1954)
Alan also has the shot below taken during the LCGB "Derbyshire Rail Tour" of 17/10/65 - but an you confirm the location - Alan has suggested Marehay Crossing but as the train was propelled by 44113 to this location where it reversed why would the loco have been detached from the train?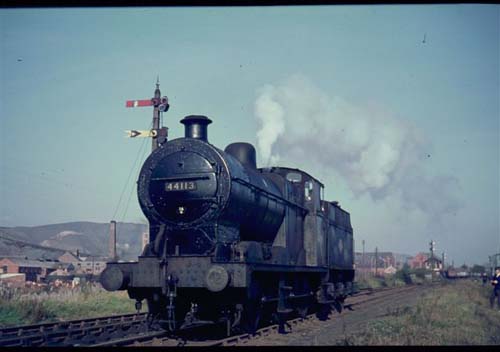 ..and finally, this of 78009 on a Railway Club brake-van railtour at Shipston-on-Stour - sometime between 1957 & 1959 possibly? Mike Barnsley has responded with: photo ACE333 in the HMRS collection shows 78009 on presumably the same brake van special at Shipston on Stour and is dated 7/6/1958.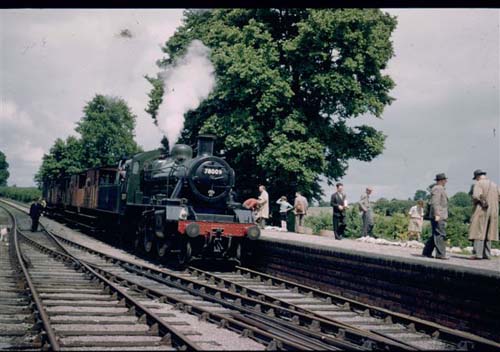 From Neil Dimmer;
A Welsh Marches Express - date (maybe 1977 or around then?) and other details unknown:
40033: Crewe to Shrewsbury
steam 6201: Shrewsbury to Hereford
6000: Hereford - Newport - Hereford
From Nicholas Braddick;
Nicholas Braddick reports the following Hertfordshire Rail Tours outings missing from SBJ - details therefore are required;
28th August 1990 - The Blyth Spirit (did it run, or was it cancelled?)
16th September 1990 - The InterCity Diesels Day
11th July 1992 The Speke Lord
27th September 1992 The Hampshire Hog
3rd July 1993 The Dorset Ooser
28th August 1993 The Allen Quay
26th September 1993 The Wight Cat
18th June 1994 The North Briton 225
26th June 1994 The Corfe Mixture
29th October 1994 The Peak Forest Gateau
4th November 1995 The Crompton Bulb
14th September 1996 The Doctor Syn 2
16th May 1998 The Bournemouth and Purbeck
13th March 1999 The Edgehill Secret
16th October 1999 The Wymondham Willows
23rd September 2006 The Redmire Shuttle
11th November 2006 The Humber High Ordinary
From Geoff Kerr;
This is not a railtour but a seven day coach tour Geoff Kerr was on in 1960: I kept no details and I'm trying to reassemble some, including the dates. The tour started from Gloucester and was led by Pete Sharpe. We visited, I think, around 70 sheds, starting with Brecon, then going round west and north Wales, Merseyside, Cumbria up to Carlisle then back to the sheds in the Leeds and Bradford area. I remember seeing one of the last Sheffield trams, which ended in October 1960.
From Mick Baker;
Am after the locos used (and I'm after the route etc - Webmaster) for the West Midlands Travel Club outing from Birmingham New Street to Oban on 23/09/77.
From Craig Oliphant;
Shots of 40086 at Ais Gill & Warcop - headboard says 'Whistler' but is this the SPS 'Border Raider' tour of 13/10/84?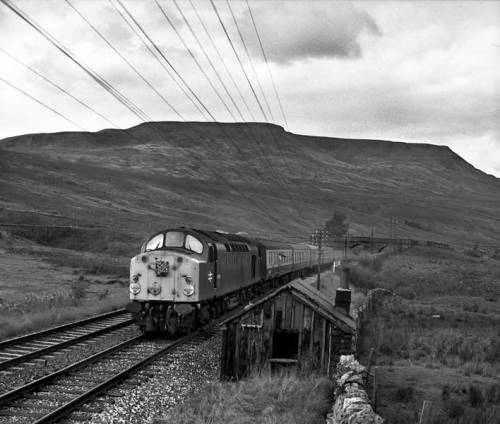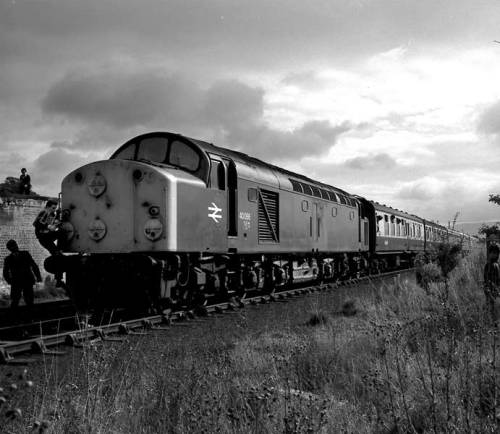 From Jonathan Wealleans;
In either the late 70s or early 80s I travelled with my dad on a railtour which started at King's Cross, went up to Edinburgh , over the bridges (behind Union of South Africa) and on to Inverness. We then went west, don't recall the exact route, down the WCML, picked up King George V along the way and ended up in Newport. Then back through Swindon to Paddington.
From John;
Date & details for: 6000 'King George V' on a railtour , THE ROYAL SUNSET, perhaps 1971-ish.
From Dave Goodyear;
I have a Colour Rail slide (BRE 1886) of N7 69614 at Canonbury , dated October 1958 in the CR catalogue. Judging by the people on the platform it must have been a special, but there is no headboard. I cannot identify this tour and any help would be appreciated.
Nigel Wassell offers: The answer, quite simply, is that the slide he refers to (which is by the late H.M. Robinson) is misdated in the Colour-Rail catalogue – sadly, not a particularly rare occurrence. The tour is the RCTS (London Branch) London & North Kent on 21 March 1959 and is fully documented on the site, along with a similar photograph of 69614 after arrival at Canonbury, the main difference between the two being that in the C-R view the reporting number has been removed from the centre lamp bracket on the buffer beam and the engine is clearly impatient to be off!
From Paul Morris;
I travelled on a Ffestioniog Railway Society (Cheshire Railtours) Special from Manchester Piccadilly to Wolverhampton via Crewe on Saturday September 9th 1978. A fleet of buses then took all the Tour Participants to the Severn Valley for 70000 Britannia & Black Five 45110 which were running along the recent SVR extension from Bewdley thro' Foley Tunnel. The tour definitely left Wolverhampton behind 40 013 but I never got chance to see the electric loco which hauled us down from Piccadilly. From a distance it looked like a Class 81,82 or even an 83 ???
From Ian Prince;
Works staff outing for British Ropes Ltd of Retford - summer of 1968 or '69 (a very hot day). Route: Retford - Sheffield - Hope Valley - Belle Vue & return, hauled by ?2x? class 31. Date and loco confirmation anyone? Work on New Mills tunnel was being carried out and single line operation was taking place which may well date this better? A problem with one carriage at Sheffield on return was resolved by staff using a borrowed penknife on the return journey.
From Tim Hall;
Does anyone have any record of the NENTA "Boulby Ghost" tour (since confirmed by Roger Elliott as 26/10/96) - I photographed it passing through Redcar, past my front door, hauled by RES St Peter (47783) (Boulby end), two tone grey 56 (since confirmed by Roger Elliott as 56081) at the other end. The photo I have clearly shows a headboard confirming the operator and name as stated above. The stock, with a DBSO, is clearly Anglian.
From David Tomlinson;
I went on a number of rail tours in the 1970's and hopefully some of your readers might help me fill in the full details. The tours would have started at MANCHESTER, not sure of the organisers but we booked them through my uncle Gerald Tomlinson, (Dinting and Bahamas Steam seem to ring bells but may be unconnected) The trips I went on were:
PORTMADHOG (September 1973 ?)
ISLE OF SKYE (July 1975 ?), sleeper via Inverness to Kyle of Lochalsh, then coach trip to Portree
NORFOLK BROADS
HEREFORD and Bulmer's Cider for the Steam Cavalcade
NEW FOREST , BROCKENHURST and a trip to BEAULIEU motor museum
From Roger Newman;
Can anyone confirm the exact sequence of events that took place on the morning of 5th March 1966 at Templecombe on the LCGB 'Somerset & Dorset' tour. Specifically, where did the train reverse/loco change - the station, down main west of Templecombe or Templecombe yard? Was it a straightforward case of 35028 coming off at the same location that 41307 + 41249 were added?
From Alister Betts;
Did a Brockenhurst-Chester ADEX on 25/8/79 which started (and ended) with 33103 to Mitre Bridge. I suspect it was a can to Crewe, for a 40 or Chester and a different one back. The fun really began on the way back when our roarer failed around Norton Bridge and was assisted by a 47/3. At some point another AC electric took over for the run back to Willesden, upon which another hour's delay was accumulated awaiting traincrew. Details someone please?
From Andy Fullar;
Not much to go on - just that it's 50027 at Stafford and the fact it has a headboard suggests it's on railtour duty?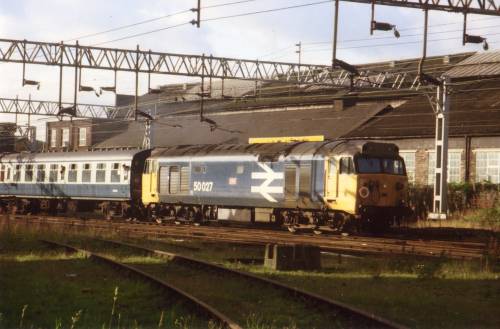 From Chronicles of Napier (thanks to Nige Paine for spotting);
On June 22nd 1966 D9004 worked an unidentified excursion back from Edinburgh (17.15d) to ??? - further details are required.
From Mike Morant;
In my negatives collection are four shots depicting the `Saracens Head' Railtour which was organised by the REC. I'm pretty sure it ran at some date in 1956 but I no longer have the ticket (unusual for me) and there's no mention of it on the Six Bells Junction site. The negs depict ex-works 80135 at an unrecalled location (possibly Palace Gates) and N2 69594 at Watton-at-Stone and possibly Cole Green. Webmasters note: This has now been dated as 15/06/1957 but I would appreciate more details if anyone has them (locos, route, timings...)
From Tom Robinson;
On 24th April 1959 I have heard that three excursions were worked from Glasgow via S&C, Leeds and Sheffield to Birmingham for a match between Celtic and Aston Villa. Each train was double-headed by Jubilees throughout -four from Corkerhill and two loaned from Perth. Further information required...
From Alan Simpson;
There was a BR excursion on 12/06/76 that possibly started at Spalding, certainly called at Sleaford (where I boarded with my parents). It went to Whitby and I am informed that 37118 was the power, did it go all the way there and back?
From Steve Chandler;
Need loco numbers & routing for a railtour on January 9th 1999 from Alton to Alresford via London circular route involving a steam loco from/to Alton thence 33xxx to Alresford.
A memory from Irvine Cresswell which needs some more details adding;
My first railtour was on 30 Aug 1961. This was the day that I went from Paddington to Crewe works open day, an Ian Allen trip, I believe it was hauled by Clun Castle to Wolverhampton low Level where a loco named 'Old Contemtables' was added. My only other memory is being in the leading brake going through the water troughs. Any information would be very interesting as I still have the ticket.
Andrew Porter has some unidentified photos:
BR 46254 in open moorland scenery with 11 coaches in tow, and a "SLS Special" headboard - could be 1960s?
BR 41224 at a derelict station platform on single track line in winter (bare trees), headboard reading "SLS Special" - everyone seems to have got off the train and is standing around or taking photos. Eric Oates suggests this was almost certainly the 23rd March 1957 Stafford - Bromshall Jn Last Train.
BR 61175 at a station somewhere in London with 10+ coaches in tow, and "S.L.S. Special" headboard
...any further information will be appreciated...
Stuart Ravenscroft asks:
Does anyone know the details on two tours in the late sixties? I think they were run by BR Western Region London area and they used DMU's starting from Paddington. The tours included the following branches: Henley, Marlow and High Wycombe to Maidenhead, Thame, Welford Park, Willesden Junction.
Martin Thorn asks:
In the spring of 1981 an excursion, hauled by a 45, worked to the Severn Valley Railway ran from St Pancras. I boarded at Bedford and the train passed through Water Orton, but did not pass through Birmingham NS. Can anyone, after all these years, positively id the route from Water Orton to Kidderminster please?
Although Keith Hayward suggested: This is certain to be the LVRC Sonnet Special, which ran on 31 January 1981. Full details are already on SBJ, Martin Thorn has responded: The excursion was definitely later than January and was probably April-ish. It was definitely a Peak hauling when we boarded at Bedford.
Alan Freer would like any loco info on the following Merrymaker workings:
31/08/1975 07.05 Paddington – Newquay , 17.50 Newquay - Paddington
07/05/1979 07.xx Paddington-Paignton , 18.xx Paignton- Paddington
20/09/1980 09.12 Slough – Blackpool , 22.25 Blackpool – Slough/Oxford
03/07/1983 08.xx Paddington – Paignton , 18.xx Paignton – Paddington
...and I'd like route details if available!
David West would like info on following BR adexes, (joined at Cheltenham);
12.04.80 : BR adex to Newcastle. cost £6. details of locos and route req
10.05.80 : BR adex to Spalding 1Z38, cost £4.70. Loco details and route req
(believed class 47 via Camp Hill Birmingham both ways)
27.07.80 : BR adex to Plymouth, cost £4.50 child. loco details req, poss class 47
(route main line to Plymouth and return)
Can anyone provide information for Jan Arne Rodland, an enthusiast from Norway?
Between 17th & 21st August 1971 NMRA (National Model Railroad Association) held its annual convention in London, with the British Region of NMRA being responsible for the event. One of the events was a visit to York and the old railway museum. The train, to my memory, left Euston behind two electrics, changed to diesel traction at Stockport then went via Stalybridge to York. The return journey was behind a Deltic to Kings Cross. Further, to my memory, the train consisted of ten diners and two kitchen cars, drawn from both Euston and KX stock. The headcode was, I think, 1Z09.
Anyone remember this, from Mark Honey;
I'm sure there was a Dundee-Lincoln ADEX/special during the summer of '85 with 47249 from Lincoln where it came off because the driver 'didn't like it'. So 37005 was supplied which I think was some massive Thornaby machine at the time. I think it may have been run by Tayrail?
Paul Wood would like some assistance to identify the following;
I'm after information about a couple of railtours run from Gloucester in the mid-late 70's.
First was a day-ex to Blackpool, probably around 1975/6 47-hauled both ways - organised by local BR staff, as I recall.
Then Gloucester to Twickenham (I recall that there were two or three trains via Swindon, Reading, Ascot) for the 1978 John Player Cup Final (which Gloucester won!).
Can you provide the gen for these trains, gen from Shaun Courtnage;
23/04/94 : 47704 on 1Z38 Leamington Spa to Carlisle
23/04/94 : 47823 on 1Z23 Hooton to Winchester
Can you provide the gen for this tour for Alex McGlasham;
Am after gen for a railtour that left Newcastle and went to Largs. I believe that it was a Newcastle area Merrymaker and run either spring/summer 1979 or 1980.
...and you add to this tour information from "Devonian" (taken from photographs in a book);
1. Sun 18/5/58. Large circular headboard on smokebox read "Amateur Photographers Special". The photo shows 5007 Rougemont Castle near Long Marston en route from Paddington to Stratford. No other details of the route were given.
2. Sat 30/4/66. Photo of Black Five 44872 at Snow Hill. Described as a special from Paddington to Portmadoc.
3. Sun 29/9/68. Birmingham Railway Museum open day shuttle from Tyseley shed to nearby junction with N. Warwickshire line (must rank as one of the shortest specials!!). Described as possibly the first steam working on BR after the ban imposed when steam ceased in August 1968, apart from the special arrangement for Flying Scotsman. Castle 7029 and Jubilee 5593 Kholopur top and tailed 4 coaches.
4. 3/6/73. A4 4498 Sir Nigel Gresley and V2 Green Arrow 4771 repeated the Tyseley shuttle.
5. 26/10/74. Photo of SR MN 35028 Clan Line on return leg of a Didcot to Stratford trip.
6. 7/6/86. Birmingham (presumably Moor St) - Stratford & back. Featured Jubilee 5593 Kholopur and 7029 Clun Castle.
7. Sun 2/11/86. Photo of A4 4468 Mallard's return to steam hauling a Marylebone - Stratford and return steam special.
8. 15/4/90. Tyseley - Stratford shuttles use King Edward I and Castle 5080 Defiant.
Can you add to this tour information from Peter Toogood;
31st August 1975 : Stour Valley Rly Pres Soc "Cavalcade of Steam" - locos & route?
8th May 1976 : Thompson B1 LPS "Master Cutler/NCC/Scandinavian" - locos 47076, 47351 + 1 other. Route?
19th June 1976 : LNER Soc "Gresley Centenarian" - 45407, 1306 & 4478. Route?
19th October 1977 : LVRC "Atlantic Coast Express" - locos & route?
9th October 1978 : BR (ER) - to Barrow Hill Open Day - locos & route?
27th August 1979 : DAA/DEG "Vulcan Voyager" - 47097, 33014/33056, 33102/33112, 47317 & ???. Route?
13th October 1979 : RPPR "Hull Hornet" - 37221/37252 & ???. Route?
7th July 1984 : BLS "Eastgate Explorer" - loco(s) & DMU plus route?
Can you help Ray Humphries with info on this tour;
22nd June 1958 : SLS ~ Birmingham - Derby (for shed & works visit) - Horwich (works visit) - Crewe - (works visit) - Birmingham. It is reported that this train was a re-run of one the previous week (15th June?) that was a complete sell-out.
From the Webmaster, can you provide details for this "schools special":
About a week or so before I started noting down sights & haulages I travelled on a "school special". Date was in 1976 - early June (or maybe very late May). I boarded at Northampton but the train may have started further north. We ended up at one of the channel ports - unless I am mixing up memories with another trip then it was one where the train pulls up alongside the ferry berth and we then caught Sealink ferry "Hengist" to Bolougne for a few hours sightseeing. I recall a very rounded loco on the train (class 71 or 74?) but again my memory may be playing tricks on me. Can anyone confirm the date, traction & details?
From Craig Browning, can you provide details for this tour:
?October 1978? BR day excursion.
45036: ?? - Cheltenham - Birmingham
?82005?: Birmingham - Preston
?40019? Preston - Blackpool North
??? return using same locos ???
From Martin Barnsdall, can you identify this tour from his description:
I picked it up in Derby (can't remember where it came from) and it went via Shirebrook and South Yorks. Joint to Doncaster then via Hambleton S to W Juncs. (It was booked to do Selby canal Curve, but was running late), then Milford Juncs. The Tour terminated at York ( about 2 hours break I think) I can't remember the return routing, but it may have been via Castleford. I think the tour was at run between 1985 and 1991. It was a warm sunny day, so maybe between April and October, I dropped the car at Matlock and was rewarded with a pair of 20's on a 2 coach service train, (good start to the day!), then managed to do the Sinfin branch - I think in a 151/154 DMU.
Chris Higginbottom offers : I can probably narrow the date down a bit, as the Class 20s were not used on the Matlock branch as early as 1985, as far as I know. More likely to be 1989-91 I believe.
A plea for help from Mark Harrison:
Back in the Autumn of 1978, when I used to live in Norwich, BR ran two Merrymaker/Adex specials to Blackpool from Ipswich, each with a portion from Norwich attaching at Ely. One ran on a Saturday late in the September, the other, a couple of weeks later in the October. I travelled on the special which ran on the Saturday in that October from Norwich. The outward route from Norwich was via Thetford to Ely, where the Norwich portion attached to the Ipswich portion. The special then went forward to Blackpool via Peterborough, Syston North Curve, Toton, Sheffield, Wakefield Kirkgate, Healey Mills & Copy Pitt Summit. The return journey was via Copy Pitt Summit, Wakefield Kirkgate, Doncaster, then the ECML to Peterborough, arriving at Ely, where the Norwich portion was detached to continue back to Norwich via Thetford. I recall that the train loco forward from Ely to Blackpool and on the return as far as Ely was 47170. However what I don't know is which loco worked the Norwich portion on the Saturday morning to Ely and likewise, which SF 47 worked the return Norwich portion back from Ely in the small hours of the Saturday night/Sunday morning ?
Does anybody know which Saturday in October 1978 this excursion ran, along with any details of reporting headcodes, as well as which locos were used on the Norwich portions ?
And one from Steven Porter;
Having read the report of the railtour on 7th April 1979 from Nottingham to Aberdeen, it evoked memories as I too travelled on it. Due to sleep though I do not know which route the tour took in each direction between Sheffield and Leeds. I know that on the return journey we passed Darnall, where 76039 was noted on the stabling point. Quite which route we took to arrive at Darnall has is a mystery to me, I don't think there was a reversal in Sheffield station. If you could therefore shed some light on the routing, I would be grateful.
...and one from Adam Muriss;
Sat 25th May 1980. BR - operated special train for the Rainhill cavalcade ~ Euston - Watford (pu) - Weedon - Rugby (pu) - Crewe (pu) - Liverpool Lime St
Loco: 81008
The routing of the return was the same, but I was unable to find out what worked this leg - can anyone confirm the details (i.e. loco and confirm routing)?
Please use your back button to return to Six Bells Junction.